Granite Gear Crown VC 60 Overview
Some people like cars, others have closets built for their shoes. I, am a pack man. As such, I have enjoyed the veritable explosion of lightweight, ingeniously designed packs over the last few years. Being a pack man (I bet you can't read that without thinking of the video game) I heard through the grapevine that while the Granite Gear Vapor Trail was wildly popular, the next generation Granite Gear Crown VC 60 was perhaps even better.
Let me spare you the suspense. It is.
The Granite Gear Crown VC 60 is extremely light for its volume capabilities (just under 2 pounds if you remove the frame), smartly designed, and perhaps more compressible than anything else on the market. That, plus it's low-entry cost, are the reason the Granite Gear Crown VC 60 is our Budget Pick for the Ultralight Backpacker.
Granite Gear Crown VC 60 Star Rating
Comfort

Durability

Packability

Fit and Adjustability
Summary
The Granite Gear Crown VC 60 is an ultralight trail classic. Built with robust materials, plenty of exterior pockets, and a functional roll-top design, you can go fast and light through any wilderness with this beast.
Top off your backpack knowledge tank by visiting our comprehensive backpack guide, and see why we recommend the Granite Gear Crown VC 60 below.
Update: Granite Gear has released an update to the Crown VC 60, called the Crown2 60. The new Crown2 60 is in the same ballpark as the old one, but has some major changes. First, it comes with a removable floating top lid. The old model did not. Second, the frame has been updated to the Mark 2 frame. It has a 35 pound load rating, and is still fully removable. Lastly, the hip belt is now the RE-FIT hip belt, which is used in other Granite Gear backpacks. It is fully adjustable. Overall we believe this pack is as good, or better than, the Crown VC 60, and recommend it for those who loved the original.
Granite Gear Crown VC 60 Specifications
| | | |
| --- | --- | --- |
| Feature Type | Feature Specs | What This Means |
| Frame Type | Internal, HDPE die-cut sheet | Removable frame, basically a large sheet of special plastic. |
| Adjustable Torso | No | Check sizes for torso length and try before you buy! |
| Number of Exterior Pockets | 3 | All stretch mesh pockets for quick stuffing. |
| Sleeping Bag Compartment | No | Just the one place to put stuff (up top). |
| Hydration Sleeve | Yes | Comes with port, too. Sip. |
| Main Pack Access | Top Compartment | The roll-top lid is where you put all your stuff. |
| Detachable Top Lid | No | Roll-top is standard, but you can purchase a LineLoc Lid if you need one. |
| Trekking Pole/Ice Axe Loops | Yes | Specifically Ice Axe in shape, but they'll work with the Lineloc compression straps. |
| Sternum Strap | Yes, adjustable. | Hug the pack to you, great for ultralight loads. |
| Materials | Cordura 100D and 210 D Sil-Nylon | Standard, solid fabric. |
| Load Range | 35 LBS | More than necessary for an ultralight load. Versatile. |
| Warranty | Limited Lifetime | Lifetime warranty to the original owner for manufacturer defects. |
| Pack Size Ranges | Regular | Long |
| Capacity | 60 L / 3660 in3 | 65 L / 4000 in3 |
| Dimensions | Not Listed by Manufacturer | Not Listed by Manufacturer |
| Weight | 2 LBS 2 oz. | 2 LBS 4 oz. |
| Torso Fit | 18-21 in. | 21-24 in. |
| Waist/Hip Belt Fit | 26-42 in. | 26-42 in. |
| Retail Cost | $199.95 | A solid pack for an entry-level price. |
Gear Review of the Granite Gear Crown VC 60
Origins: Easing You In
I normally use a 32 L pack when going ultralight, so I immediately knew the Crown VC 60 was going to challenge me. How was I going to fill this thing up enough to really see what it's made of? I took out all 147 bins of backpacking equipment I own (it's more like 6, but my wife is still not thrilled by the amount of real estate my gear requires) and started throwing things into the pack.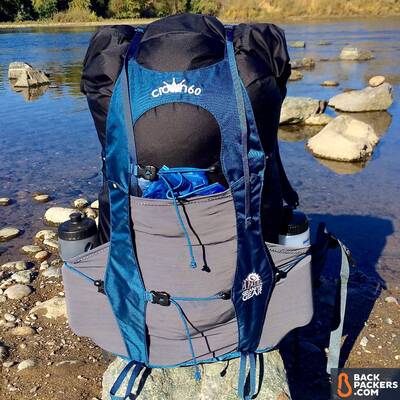 It's a standard top loader, but it does have a very cool roll down lid so there is a ton of flexibility in volume. The Crown VC 60 also sports 2 large side pockets (that I used for water bottles) and a deep front pocket (where I stored my rain jacket and map). Pack loaded, I hit the road for a favorite trail near Tahoe that loops around a handful of small, beautiful lakes.
Revelation: The Moment I Knew
The first thing I noticed as my boots hit dirt was that the weight felt solid against my back. Almost like the pack was a part of me. As I moved quickly around obstacles and changed directions at switchback corners, this feeling was intensified.
Then, at some point, I started daydreaming about the burger I was going to inhale on my way home (I'm not the only one who fantasizes about food in the backcountry, trust me) and lost focus for just long enough to catch a tree root and launch hiney over tea kettle. It was epic. I rolled and bounced a few times. I'm sure it was exceedingly graceful.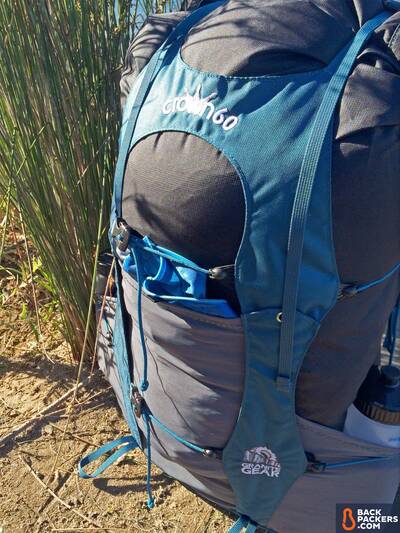 The cool part?  After dusting myself off I checked out the Crown VC 60 — not only was it still spotless (if dusty), nothing in or on the pack had shifted at all. I was officially in love. The unique outer compression system  is truly a marvel of design. There are so many possible variations of loosening and tightening, of creating more room and compacting unnecessary space. I was way impressed. In fact, I found myself wanting to take the pack mountaineering or bouldering because of its ability to move with me.
Digging Deeper
The day gradually became warmer. Soon my hat was caked with salt and my water almost (i.e., I was sweaty and tired). Then I noticed that my back (under the pack) wasn't as sweat drenched as I would have expected. Apparently the back cooling panel — Granite Gear likes to call it, the "Vapor Current Suspension" — works.
I'm not saying you'd want to build a summer home with these panels, but the effect was "quite lovely." The Princess Bride references aside, I could tell the difference and it was appreciated.
The other feature I greatly appreciated was the ability to reach my side water bottles. Seems fairly straightforward, doesn't it? You would think all pack designers would make this a top priority, but sadly almost nobody does. However, with the Crown VC 60 I could easily access my water bottles on either side without taking my pack off, allowing me to move and drink at the same time. So simple, so refreshing. Thank you Granite Gear.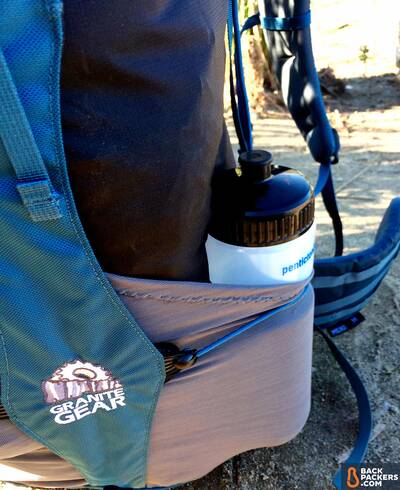 Comfort
Admirable. I especially enjoyed how well the Crown VC 60 moved with me as I flew through the wilderness like a gazelle trained by Arthur Murray — and then as I toppled down the hill.
Durability
This beautiful beast is made with 100-denier sil-nylon hybrid Cordura, and reinforced with 210 Cordura in key hot spots. I don't know what that means (nobody does), but it sounds tremendous. What I do know is that the Crown VC 60 didn't get a scratch during my little "accident."
Packability
For a single-chute roll-top backpack the packability is actually quite good. With the mesh panel on the back, two accessible water bottle pockets, and hip belt pockets, there is plenty storage on the outside. This means you just stuff what you don't need most of the day inside, and then you pull it out at night. Classic.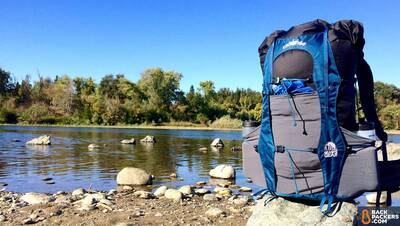 Fit and Adjustability
This pack is minimal, yet has a surprising amount of adjustability. From the cordlock on the outside, which tightens your gear nad pack overall, to the removable frame, you can pretty much dial in what you want.
Grievances
I had only one minor issue with the Crown VC 60. After loading the pack for the first time and walking around the house with it, I have to admit I was a tad uncomfortable. Then I realized the frame is removable. I removed it. Problem solved. I like to feel the pack against my back, and the thin plastic frame just felt foreign. The good news is that it is easy to remove, and lighter without it — you can decide which way is more comfortable for you.
Final Word
The Granite Gear Crown VC 60 had some cavernous shoes to fill given how popular its predecessor was. Oh mama did those shoes get filled. Light, lean, well-made, and so splendidly compressible, this pack may be worth twice what they are asking for it. Go get one before they figure that out.
Where to Buy Granite Gear Crown VC 60
The men's Regular version of the Crown VC 60 was used for this review. It's also available in a women's specific model, the Crown VC 60 Ki.
Granite Gear has also updated this line with the Crown2 60. It is a very similar pack in build, but with some major upgrades.
Compare Granite Gear Crown VC 60 and Crown2 60 prices below.
Review Policy: We do not accept payments or gifts from brands and vendors, and strive to provide unbiased, independent advice. Brands typically provide review samples which we return, and in some cases we purchase the item so we can keep using it long after the review. Affiliate Policy: We support the hours that go into our reviews and testing through affiliate commissions on purchases made through links in this article. These don't effect the outcome of our reviews or selection of gear, as per our Review Policy.