HOKA ONE ONE Challenger ATR 3 Overview
The Hoka One One Challenger ATR 3 represents the height of Hoka innovation and engineering for light, medium, and heavy trails. But first, we must recognize the unique difference Hoka has made.
"All truth passes through three stages. First, it is ridiculed. Second, it is violently opposed. Third, it is accepted as being self evident." – Arthur Schopenhauer
When I first started backpacking and hiking with trail running shoes (back in the covered wagon days) people would raise their eyebrows and scoff. What about ankle support? Or protection from jagged rocks? Don't you need gigantic boots to shield you from the wilderness you are moving through? Nope. It turns out I was onto something, and the rest of the world has embraced it.
Hoka One One saw it before most, and have been leading the trail running turned hiking charge for years.
Rugged, smooth riding, uncommonly light, and with the signature Hoka cushioned comfort — this shoe is one bad mama jama (that's still a thing, I promise).
Read the full Hoka One One Challenger ATR 3 review below.
HOKA ONE ONE Challenger ATR 3 Star Rating
Summary
The HOKA ONE ONE Challenger ATR 3 trail running shoes are grippy, breathable, exceedingly nimble, and lace effectively. If you're looking for a super light trail runner with huge cushion that can take on rough terrain (but too much snow), the Challenger ATR 3 is a good bet.
While we often give out awards and Picks for gear, we won't be for shoes. After testing many shoes and finding a solid fit for each member of our team, we realized that a shoe is simply too subjective to unequivocally recommend to anyone.
Our advice is to know what brands of shoe fit you generally by trying them on in store, and then look for excellent models, which we review here. Look in our specifications table (below) to see if the shoe generally fits wide, narrow, or standard-sized feet. There are a lot of differing elements among shoes, but this is the one that matters right off the bat.
Update: We tested the Challenger ATR 3 in 2017/2018, and HOKA ONE ONE has since released two new versions, the ATR 4 and 5. The company has an extremely quick cycle, which is good and bad. The 4 (still available) had improved upper durability and a redesigned aesthetic (cleaner), but was pretty much the same as the 3. The Challenger ATR 5's lugs are arranged closer to the heel and have a wider spread in the forefoot for better traction. The ATR 5 also has midfoot overlays for a better fit, and a more supportive heel. This update was significant, and you should try on a pair if you're curious.
HOKA ONE ONE Challenger ATR 3 Specifications
| | | |
| --- | --- | --- |
| Feature Type | Feature Specs | What This Means |
| Weight | 9.5 oz. (269 g) per shoe | Quite light for a shoe, and a versatile trail runner at that. You will barely feel them on your feet. |
| General Fit | Standard | The Challenger ATR 3 is not extremely narrow or wide, but fit a more standard foot. The toe-box is a little narrow. |
| Cushion | High | The cushioning on the Challenger ATR 3 is very thick, meaning you can run for longer without discomfort. |
| Heel-Toe Drop | 5 mm | This is a low/medium heel-toe drop, and works for those who don't want zero drop but also don't want the typical hiking shoe experience. |
| Stack Height | 29 mm heel, 24 mm forefoot | The midsole is 29 mm, which is a ton of cushion. |
| Arch Type | Neutral (Normal Arch) | The arch type is fairly neutral. HOKA ONE ONE does use their Meta-Rocker design, which means the shoe will naturally rock more, but the arch is neutral. |
| Lugs | 4 mm | Decently large lugs. They aren't spikey, and don't feel like cleats, but they are decent in dirt and gravel. |
| Rock Plate? | No | The Challenger ATR 3 does not have a rock plate. This means you'll feel the ground more, which is good or bad depending on what you like in a shoe. |
| Lace System | Traditional, Flat | The neon laces tie up traditionally, but are flat in true trail runner style. |
| Sizes Available | 7-15 for Men, 5-11 for Women, with half sizes | A wide range of sizes for men and women. |
| Manufacturer Warranty | One Year Return | The HOKA ONE ONE warranty applies to footwear less than one year old from date of purchase. It applies to defective materials and workmanship. All items sent to HOKA ONE ONE which are past one year from date of purchase will be evaluated on a case-by-case basis. |
| Retail Price | $130 | A premium price for one of the lightest, most versatile trail running shoes out there. |
Gear Review of the HOKA ONE ONE Challenger ATR 3
Origins: Easing You In
Trail running shoes have been my preferred backcountry footwear for years. In fact, I used to wear road running shoes on the trail before trail-specific shoes were invented. More comfort, more agility, less weight: a no brainer. Such a no-brainer that it didn't take long for other people to come to the same conclusion, Which means I no longer get to feel intellectually and morally superior (I'm seeing a therapist, I promise). The upside: there are so many great trail shoes now!
Like most adventurers, I have many different shoes for all the things I do. With that said, Hoka One One is one of the brands I have really grown to rely upon for backpacking, hiking, and trail running. When I got the new Challenger ATR 3, I decided to put it to the test. These puppies came with me on a bachelor party backpacking trip above June Lake in the Ansel Adams Wilderness, a 50K race through the wilds of Patagonia, and multiple hikes and trail runs in the Auburn hills near Tahoe.
I have always been impressed by the supreme comfort and cushioning of Hoka footwear. Years ago I completed my first 50-mile running race in a pair of Hokas, and I distinctly remember how incredible my legs felt at the end. With that said, they don't always fit my feet properly. After that transcendent first pair I returned a series of different models because they just didn't feel right. That hasn't been an issue for awhile though, and the new pair of Challenger ATR 3s felt like warm butter.
Revelation: The Moment I Knew
My first experience with the Challenger ATR 3 was an epic one — racing through the Patagonian bushland on a 50K. I trained in another Hoka shoe (the Speed Instinct) but when these orange and black beauties showed up on my doorstep just before my flight to Buenos Aires, I decided it was fate.
And I'm so glad I brought them. They carried me along sandy beaches, over rocky outcroppings, and through soul sucking mud. Across rivers, plains, and mountains. All of this without a blister, stubbed toe, hotspot, or one single iota of discomfort. My feet felt amazing, and I didn't even notice my shoes — which is exactly how it should be!
Something I love about wearing trail running shoes in the wild is the feeling of the ground beneath my feet. The connection between myself and the earth. This doesn't exist with boots or overly clunky shoes. It's also a carefully crafted illusion. If I was actually barefoot my feet would get cut and bruised. So the ideal trail shoe offers cushion and support while still allowing for a certain tactile sensitivity. In my experience Hoka excels at creating this beautiful balance, and the Challenger ATR 3 delivers this is spades.
Digging Deeper
My next excursion with the ATR 3 was a quick backpacking trip for my cousin's bachelor party. (Completely unrelated side note: It was just me and eight awesome millennials, and the trip left me feeling so much hope for the future.)
In Patagonia I was in extremely varied terrain, and running with five pounds on my back. This time, I was walking on mostly hard packed trail with 30 pounds on my back. Different conditions, same amazing comfort.
I immediately appreciated the lugs as I stumbled into a rock on our initial climb out of the parking lot. I struck it at an odd angle with a fair amount of force, but my foot barely noticed.
Shortly after that I took a moment to appreciate how light the Challenger ATR 3 is — about 10 ounces per shoe. An atavistic thrill ran up my spine as I noticed how hard the youngsters were working to climb the mountain as I danced up. As I've said in a few different gear reviews, when you are climbing a mountain you feel every ounce — and light feet is my favorite antidote.
Finally, one cannot forget to mention cushion when it comes to Hoka. The company is perhaps best known for its exorbitantly large stack height (cushion), and the shoes can, at times, look like they have a giant layer of marshmallow attached to the bottom. The Challenger ATR 3 is not as beefy as some other models, and comes in at 29mm, which was perfect for solid cushioning while also feeling the trail.
Durability
I've had many different pairs of Hokas and have found them to be extremely durable given the high mileage and tough conditions I subject them to. There are two caveats though:
First, I tend to replace my shoes quickly, both because I like the ride of a newer shoe and because… well, I like buying shoes. So I may not wear them long enough to truly determine their full lifespan.
Second, while I have never experienced this first hand, I have talked to multiple ultrarunners who complain about their Hokas blowing out right at the pinky toe knuckle. If you aren't ultrarunning this probably isn't an issue. And, perhaps most importantly, these folks still buy Hokas even while complaining about the blowouts.
Soles
The Challenger ATR 3 soles are full of grooves and edges, providing fantastic grip across multiple terrains. They are designed for this specific purpose, and took me through a variety of terrains, including the road. I have found them to be extremely versatile and well made, if not the grippiest shoes on the planet.
Uppers
The uppers are somewhere in between a traditional road running shoe and a minimalistic water shoe. There is some substance and cushion (including a much appreciated notch for the laces to pass through which hold the upper in place), but they are also light and wick well. The laces are standard trail fare — flat, rather than old school rounded, and brightly colored.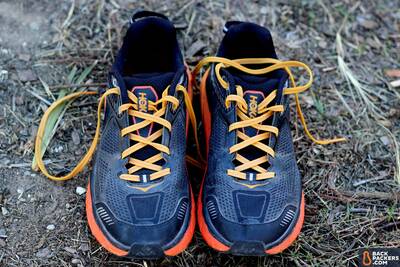 Fit
I wear a 10.5 in most running shoes, and the Challenger ATR 3 runs fairly true to size. I find it slightly narrow, however I have pyramid-shaped feet that generally prefer a large toebox. The narrowness is not enough to keep me from loving the shoe.
Trail Running vs Hiking and Backpacking
As mentioned above, I love trail running in the Challenger ATR 3. They have enough cushion and support to provide a smooth ride over the rocks but maintain a lean physique. Oh yeah.
The one other thing I'll mention here is that these shoes drain water and dry fairly well. Most trail runners know a thing or two about wet feet, and I've definitely submerged these boys on more than one occasion. In fact, the race in Patagonia featured so many water crossings that I lost count. What you're hoping for at that point isn't a magic fairy with a tiny blow dryer — your shoes won't be dry for awhile no matter what you do. Instead, a good shoe will drain and breath well so that your feet stay comfortable and your shoes stay light while they are wet. And the Challenger ATR 3 performed well in this regard.
After using the Challenger ATR 3 for both trail running and backpacking, I'd say they work equally well. This is a running shoe, and that's its primary purpose, but as long as your load is reasonably light, backpacking should be no issue due to the thick cushion and great breathability.
Grievances
I already mentioned the few issues I have with the Challenger ATR 3: it is a bit narrow for me, and may lack durability at certain stress points.
The former is really about your personal preference. For my feet, and even for Hoka's line, they were on the narrow side, especially in the toe-box. Try these on before you buy, or buy with the full knowledge of how to return if they don't fit. The best shoe in the world will suck if it doesn't fit right.
The latter is based on hearsay, and I didn't notice any points suffering. That said, I happen to know quite a few folks in the ultra community, and they talk real about gear, and test it to the bitter end.
Final Word
Despite my addiction to filling my closet with more shoes than Imelda Marcos, I consistently stick with Hoka One One's because they just plain rock. My current favorite, the Challenger ATR 3, is everything a trail shoe should be. Imagine Zeus giving you little clouds to wrap around your feet. Unfortunately, I can't offer you that. But, the Hoka One One  Challenger ATR 3 is the next best thing.
Where to Buy HOKA ONE ONE Challenger ATR 3
We tested the men's version of the Hoka One One Challenger ATR 3. There is a women's Hoka One One Challenger ATR 3, which is the exact same material and construction, with fit being the only difference.
As of 2018, Hoka One One released the Challenger ATR 4, the next edition of this shoe. Shoe companies update their models every 6-12 months, so it's hard to keep up. The Challenger ATR 3 was award-winning and got a ton of praise — time will tell with the ATR 4. For now you can find the ATR 3 for a discount, and they are great shoes.
Compare HOKA ONE ONE Challenger ATR 3 men's and women's prices below.
Review Policy: We do not accept payments or gifts from brands and vendors, and strive to provide unbiased, independent advice. Brands typically provide review samples which we return, and in some cases we purchase the item so we can keep using it long after the review. Affiliate Policy: We support the hours that go into our reviews and testing through affiliate commissions on purchases made through links in this article. These don't effect the outcome of our reviews or selection of gear, as per our Review Policy.