Hyperlite Mountain Gear Southwest 3400 Overview
The world of ultralight backpacking has undergone a dramatic shift over the last few years. At one time a small group of wanderers with wild hair and distant eyes, painstakingly sewing their own tents and sawing toothbrushes in half, ultralight backpackers have quickly transformed into a major industry. And it's about time! Those of us interested in saving some weight and energy expenditure now have a plethora of options to choose from. The Hyperlite Mountain Gear Southwest 3400 pack represents the best that this brave new world has to offer.
Great for an overnighter or extended through-hiking expedition, the versatility and smart design of this pack are impressive. An ultralight waterproof backpack, the Southwest 3400 is comfortable, and gigantic, able to carry up to 40 pounds. As the kids would say it's just plain dope.
Given its superior strength to weight ratio and space-age construction, the Hyperlite Mountain Gear Southwest 3400 is Premium pick for the Ultralight Backpacker. It really is one of the best out there, and you'll pay for it.
Check out the wide world of delicious backpacks in our comprehensive backpack guide, and see why we recommend the Hyperlite Mountain Gear Southwest 3400 below.
Hyperlite Mountain Gear Southwest 3400 Star Rating
Comfort

Durability

Packability

Fit and Adjustability
Summary
The Hyperlite Mountain Gear Southwest 3400 is an ultralight diehard's dream. A single chute for packing, ultra-durable DFC fabric, a decently comfy back panel, and roll-top closure. It's watertight, too.
Update: We tested the Hyperlite Mountain Gear Southwest 3400 backpack in 2016. This is a core product for HMG and it has not changed. We still think it's an incredible ultralight backpack.
HMG Southwest 3400 Specifications
| | | |
| --- | --- | --- |
| Feature Type | Feature Specs | What This Means |
| Weight | White: 2.02 LBS (32.4 oz), Black: 2.10 LBS (33.6 oz) | Crazy light for a large backpack. |
| Frame Type | Internal | It's on the inside. |
| Adjustable Torso | No | One size fits all (see below). |
| Number of Exterior Pockets | 5 | Three main pockets, two gun holsters in the belt. Pew pew. |
| Sleeping Bag Compartment | No | One long chute. |
| Hydration Sleeve | Yes | A port and sleeve. Drink up! |
| Main Pack Access | Top | Everything in one hole. |
| Detachable Top Lid | No | No top lid, even. Minimalism. |
| Trekking Pole/Ice Axe Loops | Yes | Specifically for ice axe, but you can jerry-rig, right? |
| Sternum Strap | Yes, adjustable | Elastic for your stretchy needs. |
| Materials | White: DCH50 Body, DCH150 Bottom, Black: DCH150 Body and Bottom | DCH is Dyneema Composite fabric, a space-age material that's waterproof, doesn't stretch, and crazy strong. This whole pack is made of it. |
| Load Range | 25-40 LBS | Ultralight load bearing and thensome. |
| Capacity | Interior: 55 L / 3400 in3, External: 9.8 L / 600 in3 | A lot of room for your ultralight load. |
| Dimensions | 34H x 10.5W x 33.5-40D in. | A tube of the finest caliber. |
| Torso Fit | S: 15-17 in., M: 17-19 in., L: 19-21 in., Tall: 21+ in. | Measure your torso before buying. |
| Waist/Hip Belt Fit | 24-55 in. | Basically any hip size. |
| Warranty | Limited Lifetime | HMG will fix your gear for its useful lifetime, a solid, standard warranty. |
| Retail Price | Black: $350.00, White: $330.00 | A premium cost for a premium pack. You're paying for DFC fabric and intelligent design. |
Gear Review of the Hyperlite Mountain Gear Southwest 3400
Origins: Easing You In
I pulled the HMG Southwest 3400 (name shortened for your sake) out of the box and was immediately struck by a few things. It's really light. It's huge. And it looks freaking cool. Kind of one of those Jerry Maguire moments: "You had me at hello".
I generally use an aging Osprey Aether 75 when going on a more "traditional" trip that requires room and durability; for fast and light I use an OMM Classic Marathon. I like both of these packs, but it's always bothered me that I had to choose one based on the goals of the trip.  Why couldn't I find a pack that allows me to do everything? Carry as much gear as I want, move quickly, fit snug and lean, and still — dare I even think it — be ultralight?
Apparently HMG can read minds as well as make superb packs, because this is precisely what they have delivered.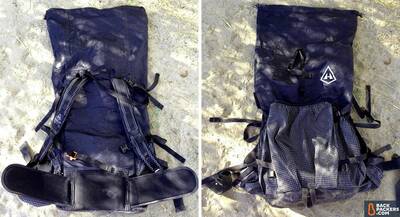 With my anniversary on Tuesday, birthday on Wednesday, and a flight to Nepal on Friday, I decided to head up to Tahoe on Sunday for a quick overnighter. I pulled out my bins of backpacking gear to decide what to pack and almost laughed out loud — the HMG Southwest 3400 is so damn big! I would only fill half of it if I brought my ultralight paraphernalia.
So, first, I packed it like I would my smaller pack: bear canister and tarp-tent at the bottom; warm clothes filling in the gaps and creating some more back padding; quilt, stove, and sleeping pad at the top; miscellaneous items in the pockets. I wanted to see if this pack was only useful if you needed to carry a ton of gear. Turns out, it works just fine if you fill it halfway. It has a nifty strap system on top that allows you to roll it down (like a dry-bag) and then secure it so that it's beautifully compressed and compact.
That done, I decided to throw in more items that I wouldn't normally bring if trying to go ultralight (Frisbee, big pot, fishing gear, etc.). I wanted to give this pack a run for its money and see if it could handle the weight, from both a durability and comfort standpoint.
Finally, awash in the glow of high expectations realized, I placed the HMG Southwest 3400 in my Nissan Juke with more than a measure of reverence, and began my drive up the hill.
I chose a trail I've hiked once before because it's easily accessible from Sacramento, short, intense, and beautiful. I would be hiking straight up for a few miles (including some cross country shenanigans) with Horsetail Falls on my right, and camp at a little lake right at the top.
As I shouldered the HMG Southwest 3400 and looked up at my destination high on the horizon, I quickly noticed how comfortable the pack was, even with the weight (I was carrying just over 30 pounds with water). My Osprey has shoulder straps that twist and dig into my arms, and my OMM just kind of sits on me. The HMG Southwest 3400 is by far the most comfortable thing I've had on my back — maybe ever.
Revelation: The Moment I Knew
As I powered my way up the hill, a light rain began to fall. This would normally be a source of concern on a backpacking trip, but not this time! Knowing the HMG Southwest 3400 is virtually waterproof, I welcomed the rain as a perfect way to test the pack and reveled in the knowledge that my gear would stay dry.
At that moment I stopped, looked up into the descending droplets of water, and smiled. I can't count the number of times I've climbed into a soggy sleeping bag and wondered why someone couldn't develop a waterproof pack. (Not always due to rain, either — once I fell full body submersion into a river after my bear ate my food. Talk about sopping wet.) I knew water-proof-ness had to be possible! Thank you HMG for proving me right — and for giving this hydrophobic backpacker some much needed peace of mind.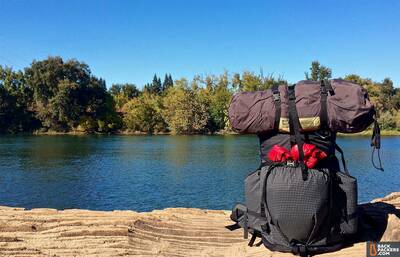 The rain had subsided by the time I made it to camp, and when I opened the bag my optimism was rewarded. Not a drop of water had burrowed its way into the nether regions of my pack. Take that H2O.
Digging Deeper
While the water resistance proved to be my true love moment, there are so many things about this pack that make it sexy. As I already mentioned, it looks great — and this is less trivial than it might seem.
The HMG Southwest 3400 also sports 3 large external pockets big enough to hold a variety of extra gear, as well as 2 belt pouches. I used the side pockets for water bottles and still had some room to spare. The front pocket is cavernous, which is one of my favorite features of any pack. I like to use the front pocket for items I need to access quickly — map, rain jacket, gaiters — and even with those there was space for more. Lastly, I put snacks in the hip belt pouches. These proved to be very easily accessible and … yes, waterproof. I love small details like that! HMG made all the zippers on this bad boy watertight. Just fantastic construction and usability.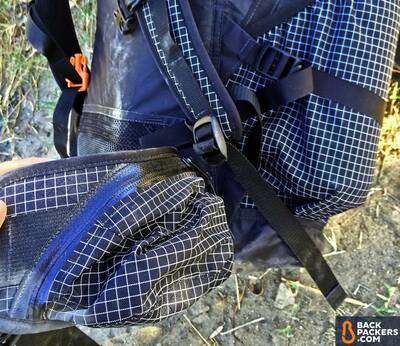 Comfort
3.5 Stars
Yummy. This thing felt like the glove to my hand. The butter to my bread. The … you get the picture.  Super comfortable pack.
Durability
5 Stars
The early polls are favorable. I wasn't dainty with it as I bouldered and threw it around my campsite, and it still looks new. Also, it's made of Dyneema (once called cuben fiber), which is a thicker version of the stuff my tarp-tent is made of, so I have high hopes for some serious staying power. Apparently ship sails are made out of the same material and I believe it – while it's thin as paper, I've set up that tarp-tent at least 100 times and there isn't a scratch on it.
Style
Did I already say yummy? This pack looks like it's made for a Navy Seal who happens to be going on an ultralight backpacking trip. No frills, just pure moxie.
Grievances
This is going to be a short section since I loved the pack so much, but perfect would be so boring, wouldn't it? The HMG Southwest 3400 really only had two minor issues that cooled my jets.
First, it doesn't have a floating lid compartment like most traditional internal frame packs. I've become accustomed to throwing all of my small, miscellaneous gear in this pocket because it provides easy access and storage. True, I could use the external pockets of this pack for the same purpose, or simply put all of those items in a small sack and pack them anywhere — but I found myself missing the top zippered pocket.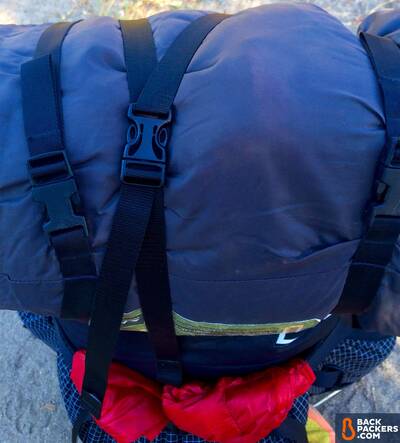 Second, while the side pouches are awesome and easily held my water bottles (as opposed to other packs I own), I wasn't able to reach the water bottles while wearing my pack. This is a common issue — on most trips people can't reach their water bottles while hiking. That said, the HMG Southwest 3400 has water bladder capability (including an exit hole for the hose) so the designers might not have had water bottles in mind for the side pouches. Not a huge deal, but I really like being able to reach my water while on the move.
Final Word
I might consider proposing marriage to the Hyperlite Mountain Gear Southwest 3400, except for the fact that I'm already taken — and textile love is probably illegal in California. Comfortable, light, roomy, and devastatingly attractive, this pack should be on every ultralight backpackers "must have" list.
Where to Buy Hyperlite Mountain Gear Southwest 3400
The black version of the Southwest 3400 was used in this review. It's also offered in white. There is a slight difference in the material toughness and weight (see the spec table), but for the most part the pack is the same.
Hyperlite Mountain Gear makes all of its packs in the U.S., in Maine, and offers its products through its store. The Black Southwest 3400 is $350, the White Southwest 3400 is $330. You can buy either below. You can also find them on a few online retailers.
Compare Hyperlite Mountain Gear Southwest 3400 prices below.
Review Policy: We do not accept payments or gifts from brands and vendors, and strive to provide unbiased, independent advice. Brands typically provide review samples which we return, and in some cases we purchase the item so we can keep using it long after the review. Affiliate Policy: We support the hours that go into our reviews and testing through affiliate commissions on purchases made through links in this article. These don't effect the outcome of our reviews or selection of gear, as per our Review Policy.