Katadyn Hiker Pro Microfilter Overview
Through all the misery of water gathering, the Katadyn Hiker Pro has won me over, and I've been using the series for almost 10 years. The Hiker Pro pumps quickly, is relatively lightweight, simple, and makes water taste great.
Water treatment is one of the most loathsome activities we have to do in the backcountry due to ever-present bacteria and protozoa in surface water. There are plenty of ways to filter water, but some hikers don't want to pump water because it's time-consuming and laborious. Others don't want to use a gravity or squeeze filter because gathering water can be tricky and flow may be slow. People are picky and exhausting, especially when it comes to how they filter water. Despite the above, pumping water remains very effective.
These features, and the fact that it has found a happy home in backpacks for more than a decade, have led us to award the Katadyn Hiker Pro our Classic Pick for the Wilderness Backpacker.
While we highly recommend this filter, we are aware that pump-style filters are not as popular as they once were. We think they have some solid points over other types of filters, and the Hiker Pro optimizes these points. That said, if pumping is a laborious chore for you, consider a different treatment style, like UV purification with the SteriPEN Adventurer Opti, or the gravity-based Platypus GravityWorks.
Even the clearest glacial stream is suspect, so don't risk it. Check out our guide to water filters and purifiers to learn how to protect yourself from water-borne illnesses and the inevitable trail tales that follow. Read the full Katadyn Hiker Pro review below.
Update: The Katadyn Hiker Pro was tested in 2017, and has not changed since then. We still think it's an excellent filter.
Katadyn Hiker Pro Star Rating
Ease of Use

Compatibility

Portability

Filtration Rate
Summary
The Katadyn Hiker Pro is a standout pump-based water filter. It will turn nearly any backcountry stream into clear drinking water, eliminate the taste with carbon filtering, and you can pull water from raging streams or tiny puddles. If you don't mind the workout, the consider this filter.
Katadyn Hiker Pro Clear Microfilter Specifications
| Feature Type | Feature Specs | What This Means |
| --- | --- | --- |
| Weight | 11 oz. (311 g) | A moderate weight for a pump filter, but heavy in the big scheme of things. |
| Filter or Purifier? | Filter | The Hiker Pro is a filter, not a purifier. Learn about the difference between a filter and purifier in our Guide. |
| Treatment Type | Pump | You have to physically pump to draw water through the filter. This takes effort. More on different treatment types in our Guide. |
| Effective Against | Protozoa and Bacteria | The Hiker Pro will clear out all protozoa and bacteria, which is most common in the US backcountry. It will not filter out viruses. |
| Filter Pore Size (Microns) | 0.2 microns | This is the standard micron size for water filters. More on filter pore size in our Guide. |
| Filter Media | Pleated Glass Fiber w/ Activated Carbon Core | Unlike hollow fiber filer media, which is more common, glass fiber is not susceptible to freezing temperatures, so this will work in any environment. The activated carbon core makes water taste good. Yum! More on Filter media in our Guide. |
| Flow Rate | 1 liter per minute (claimed) | The quickest rate possible is one liter per minute, but you have to really work it. We found one liter per two minutes was more accurate. |
| Filter Life | Doesn't Say | Katadyn doesn't list the filter life. It's a long time, and with the multiple cleaning methods you can extend it. A replacement cartridge is $49.95. |
| Filters Particulate? | Yes | The Hiker Pro has a prefilter that bobs in the water. This filters out particles that are more than 150 microns in size, reducing larger contaminants before they ever reach the main filter. |
| Components | Hiker Pro Filter, Pre-filter, Field Maintenance Kit, Quick Connect Fittings, Two Hoses, Water Bottle Adaptor, Carry Sack | This kit comes with a lot of pieces. You can mix and match for your setup, but you will always need the filter, two hoses, the prefilter, and one quick connect. |
| Works With | Water Bottles, Any Quick Connect Fittings, Most Hydration Bladders | The Hiker Pro is designed to work with many different water carriers. With the extra Quick Connects included you can find the right setup for you. |
| Manufacturer Warranty | Two Year Warranty | Katadyn is an international company, and offers a two year warranty to the original purchaser of the Hiker Pro. This is less than other companies, but they are known for quality products. You can also replace any component (except the filter housing/pump), so if something breaks it's easily fixable. |
| Retail Price | $84.95 | For what this filter does, it's a pretty low cost. If you want one filter for any situation this is it. |
Gear Review of Katadyn Hiker Pro Microfilter
Revelation: The Moment I Knew
I was two weeks into a four-week trip to Montana when the Katadyn Hiker Pro arrived at the forest service ranger station. I had already been on the trail for eight of those 14 days and was ready to test a new piece of gear.
My next outing with the Bob Marshall Wilderness Foundation was a two-day float on the South Fork of the Flathead River on the hunt for spotted knapweed: an invasive plant that is spreading quickly through Montana's wild spaces. Water levels were low as the last weeks of summer brought warm, dry weather to the area. Several fires were burning in the national forest and air quality was deteriorating almost daily. Despite this, the float was a dream. Gliding through the rugged river canyon we saw eagle and osprey flying overhead and cruised over emerald pools teeming with giant schools of trout and whitefish.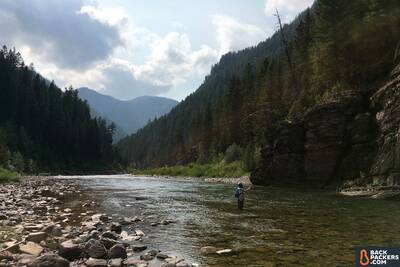 We would use the Katadyn Base Camp Pro in camp, but on the river the water jug was on a different  boat and inaccessible. After a warm day of slow going and no sign of our takeout point, I swooped in with the Hiker Pro. The bottle adaptor made pumping water from the boat's edge and into everyone's Nalgene's a spill-free snap even as we bounced over riffles and mid-stream boulders.
Two days later I found myself hiking 35 miles one way into Glacier National Park. The hike from Two Medicine to St. Mary's was challenging and overwhelmingly beautiful. Late summer in the high country, however, meant normally raging streams and waterfalls were reduced to muddy trickles.
In a particularly hot and exposed area, a small, flowing spring sprawled across the trail. No more than two inches deep, treating this water with a different style of water filter may have been nearly impossible. But, the Hiker Pro was able to draw even this shallow stream into my CamelBak and Nalgene using its small screened pre-filter, which also helps extend filter cartridge life.
These were the moments I knew I had chosen wisely when I first picked up my Katadyn Hiker Series filter 10 years before, and why I still use one today in the right circumstances.
Digging Deeper
Ease of Use 
3 Stars
Once you learn where and how everything on the Hiker Pro goes, filtering water is straightforward. That said, I recommend familiarizing yourself with the filter before use in the field as some assembly is required and may not be intuitive. Also, the Hiker Pro comes with a lot of pieces that, if not secured, can fall out of the carrying pouch.
Some filters require a separate carbon filter to remove odors, flavors, and chemicals from water. The Hiker Pro's pleated glass filter has an integrated carbon core that makes water taste great, and makes it so you don't have to figure out a separate piece of the puzzle. Even cloudy water is clear and tasty when using the Hiker Pro, which is comforting and delicious during a hot hike. (Filter longevity is greatly reduced by frequent use in heavily clouded water and even the best filter can't remove high levels of toxic or malodorous chemicals, whether naturally occurring or otherwise).
I prefer pleated glass over hollow fiber filters. With pleated glass you don't have to worry about freezing temperatures. If hollow fiber filters with water in them are exposed to freezing temperatures, the fibers can break and render the filter useless. This makes the Hiker Pro a sure thing in all types of weather, which means it's better when the going gets tough.
Compatibility 
5 Stars
The Hiker Pro is king when it comes to compatibility and versatility. During a two-day float trip in Montana, the Hiker Pro saved the day when we were separated from our gear boat and in need of a refill. I was able to fill everyone's Nalgene's of all sizes in a flash with the included adapter. When traveling solo, the Quick Connect fittings were key for quickly filling my CamelBak reservoir.
That said, doing all of them at once isn't the easiest thing, so I'd recommend picking a system and sticking to it.
Portability 
3 Stars
The Hiker Pro packs up to a manageable size. As previously mentioned, there are lots of parts, two hoses, and the main filter is relatively large by today's standards. It's not the smallest filter available, but it easily slips into a daypack or external pocket of a trekking pack.
Filtration Rate 
4 Stars
The filtration rate of the Hiker Pro is solid. It takes about two minutes to filter a liter and the filter maintains performance even after heavy use in silty water. You can clean the filter screen to keep the filtration rate at peak performance, and make sure to clean the prefilter occasionally, too.
That said, this is a pump filter, and the act of filtering is labor and time intensive. The Hiker Pro only pumps on the down stroke, so I would recommend it for solo use or groups no larger than three people. Pumping large quantities of water for more people would be nightmarish.
The Hiker Pro never slowed down when filtering. I only used the filter for a few days, but other personal Katadyn models I've used with the same type of filter have lasted months of heavy use. Flow rate does slow down at the end of the cartridge's life, but has never been a problem. You can see when the white pleated glass is extremely dirty, and now that there's a transparent version of the Hiker Pro, you can see when the internal filter screen needs a scrub.
Bonus Points
In case you didn't notice, the newest model of the Hiker Pro is clear! You can now see how your filter works and wow all your friends with the miracle of water filtration. Move over David Blaine.
Grievances
I like simplicity. The Hiker Pro is simple. But, could it be simpler? There are a lot of pieces and operation can be cumbersome when you're alone and straddling two wet stones at a high water crossing trying to filter water. I don't know what I would suggest to simplify a great machine like the Hiker Pro, but I am really bad at simultaneously holding a water bottle, keeping the clean hose out of the lake, watching for bears and not falling in.
My other grievance is small, but ground my gears in the field. If you've ever used a pump water filter, you're familiar with the rubber hosing that accompanies it. The water bottle adaptor has a smooth barb that slides in and out of the hose with minimal effort. The Quick Connect fittings, however, have a ribbed barb that is semi permanent to create a better seal. While I appreciate the Quick Connect, it makes it very difficult, if not impossible, to switch between the water bottle adaptor and the Quick Connect fittings to be used with hydration bladders.
The only solution I could think of would be to buy another length of hose (more weight) or cut the existing clean hose in two (more difficult to filter in some situations with less length of tubing). I don't usually carry the bottle adaptor as I mostly use a CamelBak reservoir, but I don't like that I have to make a choice between using either when in the field.
I wish manufacturers would either make their whole system compatible with Quick Connects, or refrain from using them at all. The in-between is a bit of a headache.
Final Word
If you've ever had giardia, you know the importance of proper water treatment in the field. Instead of reaching for extra two-ply, grab the Katadyn Hiker Pro for quick filtration, easy use, and trusted water treatment on your next backcountry trip. (Maybe bring a roll and some Immodium just in case).
Where to Buy Katadyn Hiker Pro Microfilter
The Katadyn Hiker Pro we tested is technically called the Katadyn Hiker Pro Clear Microfilter, which is the newest edition.
Katadyn also sells the Hiker Microfilter (not the Pro). The differences are the Quick Connect fittings, which the Pro has and the regular version does not. This allows for better connection to hydration bladders. The Pro also comes with a screen on the filter, which helps to reduce clogs. These two elements are worth the extra $10 to us, but if you don't need them, get the regular Hiker Microfilter, in grey.
Compare Katadyn Hiker Pro Microfilter prices below.
Review Policy: We do not accept payments or gifts from brands and vendors, and strive to provide unbiased, independent advice. Brands typically provide review samples which we return, and in some cases we purchase the item so we can keep using it long after the review. Affiliate Policy: We support the hours that go into our reviews and testing through affiliate commissions on purchases made through links in this article. These don't effect the outcome of our reviews or selection of gear, as per our Review Policy.