Kelty Salida 2 Overview
Chances are, you are looking at this article because you're in search of a home-away-from-home for when you trek into the woods. And, chances are, you're looking for a lightweight, easy-to-set-up shelter that can withstand a few seasons, all within a reasonable price. You, my fellow budget adventurer, have come to the right place for your tent quest.
The Kelty Salida 2 enhances a backpacking trip with sturdy components and smart design, which make setting up the tent almost too easy, and a roomy interior that welcomes another companion. In the time it takes you to read this review, you could have already set up the tent and be setting in the stakes.
With a price tag of $150, a comfortable living space, and solid reputation, the Kelty Salida 2 tent wins our Budget Pick award for the Wilderness Backpacker.
Kelty Salida 2 Star Rating
Sleep Comfort

Durability

Ease of Setup

Space

Vibe
Summary
The Kelty Salida 2 is a solid 2-person backpacking tent. It hits an even balance of weight, space, setup, and comfort, making it a perfect choice for new backpackers and those who want a small tent for many uses.
Eliminate tent-xiety by reading the full Kelty Salida 2 review.
Update: Kelty has made no major updates to the Salida 2. It remains an excellent choice for budget backpackers!
Kelty Salida 2 Specifications
| Feature Type | Feature Specs | What This Means |
| --- | --- | --- |
| Packed Weight | 4 lbs 9 oz. (2.07 kg) | A respectable weight for a budget two-person backpacking tent. Wouldn't want to go much heavier. |
| Type | Freestanding | The Salida 2 stands up with poles, and doesn't require tension. Staking down is still a good idea. |
| Wall Type | Double | The tent is separate from the rain fly, which means it's a double-walled tent. This helps keep out condensation. |
| No. of Doors | 1 | The Salida 2 only has one door. This is a deal-breaker for some, but most won't mind it. |
| Sleeping Capacity | 2-Person | The Salida 2 is a legitimate 2-person tent. You will be close to the other person, but not literally on top of them. |
| Seasons | 3-season | There's a lot of mesh in the top of the tent, meaning it's not best in freezing, snowy conditions. |
| Packed Size | 13 x 15 in. (33 x 38 cm) | The Salida 2 packs into a cube-shape, rather than a long rectangle. This helps with packing and stuffing. |
| Floor Dimensions | 88 x 55 in., tapers to 45 in. (224 cm x 140 cm, tapers to 114 cm) | Plenty of room in the head area, but the tent as a whole gets tight toward the bottom. You can fit two 20-inch sleeping pads side by side no problem. |
| Floor Area | 30.5 sqft | A surprising amount of space for such a cheap, light tent. |
| Peak Height | 43 in. (109 cm) | You can sit up easily in this tent. |
| No. of Vestibules | 1 | One door means one vestibule. Technically enough to store some gear, but our testers found it small. |
| Vestibule Area | 10 sqft | Not quite enough for two full backpacks, shoes, and other odds and ends. Good thing the interior of the tent is large! |
| No. of Poles | 2 | A simple two-pole design with clips makes for quick setup. |
| Pole Material | Aluminum Pressfit | It's not the fanciest or lightest material, but it's really solid. Bends well, won't snap, and will last. |
| Rain Fly Material | 68D Polyester, 1800 mm | Average to high material thickness (Denier), and average water resistance (mm). |
| Floor Material | 68D Nylon, 18000 mm | Average to high material thickness (Denier), and average water resistance (mm). |
| Mesh/Body Material | 68 D polyester, 30D NoSeeUm Mesh | Average to high material thickness (Denier), and average water resistance (mm). Standard mesh to keep out the bugs. |
| Footprint, Fast Setup? | Salida 2 Footprint, $39.95 | The Salida 2's floor is durable, but having a footprint is always a good idea. It cannot do a fast setup, where stake the fly to the footprint. |
| Manufacturer Warranty | Limited Lifetime Warranty | Kelty offers lifetime warranty for its tents for manufacturing defects and workmanship issues. They have a solid program, so get in touch if pieces of your tent are failing. |
| Retail Price | $149.95 | A low price for such a high quality tent. Often on sale as well. |
Gear Review of the Kelty Salida 2
Origins: Easing You In
My summer flew by: weeks and weekends filled with work, social outings, and random errands, you know, the things that happen so fast that by the time you take a moment to breathe you realize, "Oh man, it's Fall!"
A weekend aligned with absolutely nothing on my calendar, which meant I was a free woman! I had already set a destination and my gear was good-to-go — the Kelty Salida 2 backpacking tent was on the top of my list and itching to get into the woods.
This particular trip called to me because the slow, steady climb and descent resulted in Pratt Lake Basin — and I love me a basin lake. The well-kept trail is nestled in the Snoqualmie National Forest and has decent mileage.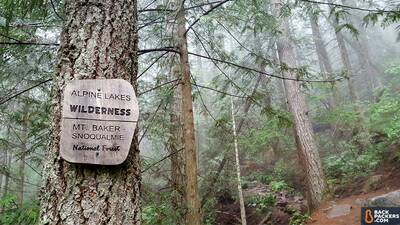 Saturday came and I woke up with a ferocious "Let's go!" mentality. Except, in order to go I had to gather some backpacking essentials from the motherland of outdoor equipment –the REI Seattle Flagship store. By the time I hit the road I was leaving three hours later than planned and would need to hike with purpose to get to my destination before dark. Nobody loves a solo dark setup, and the Kelty Salida 2 deserved to be assembled in the light.
The trail was lovely: evergreens above and red, soft forest floor below. I jammed up the soft slope, taking mental snapshots. After a sweaty ascent I came to the topmost point in the trail and sloped down towards the lake, traversing the side of the basin. I made it to the permitted campsite and much to my non-surprise, the spots were full. A forest ranger kindly showed me to a clearing underneath a thick tree covering and I quickly got to unloading my pack.
Revelation: The Moment I Knew
When it was time to set up the tent in the quickly diminishing light, the Salida 2 unfolded like a champ. The process was so easy that I laughed out loud after realizing how much I had stressed over setting it up in the dark. Plus, it would have been easy with a headlamp.
As the sun set the clouds crept in and I remembered that this was the first forecasted day of rain for the Seattle area in 54 days. Go figure. I was glad I brought my waterproof windbreaker and that the Salida 2 had a rain fly.
That night, the temperature dropped significantly and the patter of raindrops started to come down over the lake, then on the top of the Kelty Salida 2. The rain fly proved to be a super fly — it kept the inside of the tent bone dry.
Morning came as white fog, the sun miles away, shielded by a post-apocalypitc haze of light rain and zero visibility.  The Kelty Salida 2 was damp, but not soaked. After a heavy night of rain, the material seemed to be efficient at repelling water from the inside, but it would need more time to dry. It was time to break it down, and there was an ample amount of wetness and tree matter on the tent. No matter — I quickly bunched the Salida 2 up and stuffed it into the fantastically large, square-shaped tent bag (no one likes those too-tiny-to-repack bags). The whole tent, even poorly packed, fit easily.
Digging Deeper
The Salida 2 has two aluminum poles, which are held together by black elastic cords so it's almost impossible to lose 'em. To attach the poles to the tent, there are sturdy clip-ons (hooray for no shoving the tent poles through tiny slots of fabric!). I liked the clip-ons, but they are a little funky.
I had minor complications with them at first, mostly due to my tired body and overactive brain (must set up quickly, sun is going down, must go to lake before it is too late). Once I grasped the concept of twisting and snapping the clip-ons in the appropriate (logical) way, I actually enjoyed it, so much so that I was mildly disappointed when I ran out of clip-ons to twist on.
The interior of the tent tapers, and is 4.5 feet at the wide end and 3.75 feet at the narrow end. It's a little over seven feet long. With my head at the wider end, my gear had ample space by my feet. Keep in mind, this is a two-person tent, and lives up to that name (which is more than most two-person tents can say!). Inside, the space did not feel cramped, my legs were able to fully extend, and I was able to spread out easily, starfish style. I tested it later on with another person and fell asleep with plenty of space between us — no body parts awkwardly leaned against the other person!
The Kelty Salida 2 comes in a neutral color palette: cool grey, apple green, and putty (Kelty's words, not mine!). Personally, I am used to rockin' audaciously decorated tents, and I felt instantly more like a respectable adult with a classy, conservative tent color (yawn). Over time, I feel this tent will fade well (if at all), holding up a good look for it's lifetime.
Sleep Comfort 
4 Stars
In my experience backpacking tents always have a thin layer of polyester between me and the ground and a meshy roof between me and the sky. The Salida 2 lives up to those expectations. However, some tents have low sloped ceilings, leading to claustrophobic feels. The Salida 2 does have a sloped ceiling, but it was quite high, which led to no claustrophobic feels!
Durability
4 Stars
The Kelty Salida 2 and I have yet to spend many nights together, but I get the impression it will last. The quality components and construction indicate that this tent will make it through quite a few seasons. I have used cheaper (similarly priced) tents constructed with less-than-durable materials that proved to be purely superficial — not committed to the long haul.
Ease of Setup 
4.5 Stars
I am all about that swift pole propping and smooth zipping. The Kelty Salida 2 poles easily snapped into place and the zippers zipped without glitches. The rivets holding the poles were placed perfectly, making it simple to guide the poles without feeling like they were going to snap.
Space 
3 Stars
The Kelty Salida 2 tent is quite large for your typical two-person backpacking shelter.  The ceiling was high enough for me to sit upright and even get a little stretching in. All of my gear easily stashed at the foot of the tent when alone, and there's a vestibule if you want to put it outside the tent. The Kelty Salida 2 is intended to be a two-man (woman) tent, and I have happily shared space with a friend without feeling crowded.
However, the vestibule space isn't incredible.
Vibe 
3.5 Stars
The Kelty Salida 2 and I became instant friends because it is simple and easy-going. While it doesn't have windows, it does have a mesh upper half and a rain fly that leaves enough space for airflow. And I like airflow.
The tent walls also provided ample artistic space for making shadow puppets.
The pockets at the head of the tent were perfect for holding small essentials, such as lights and chapstick. Overall, it was a good place to spend a cold, rainy night alone (or with a friend) in the wilderness without snacks. The tent vibe would skyrocket if it came with snacks. Just a suggestion, Kelty.
Grievances
My main complaint about this tent (and many tents) is the lack of windows. It's like, "Yo, I just hiked all this way with an extra 25 pounds on my back to get some quality time with nature, I have prime real estate, I deserve some advantageous viewing!"
The tent has a mesh ceiling, so on a warm, rain-free night you could leave off the fly and stargaze. But that rarely happens in the Pacific Northwest, and greatly reduces privacy. A window on the fly would be nice. And yes, I know few tents have this, so the Salida 2 is not at fault by itself.
My other grievance: When sharing the Salida 2 I was not impressed with the space the vestibule created outside of the tent. Both our boots and bottles stayed dry overnight, but there was little room left for storage. To accommodate this, it was easy to store all essentials inside the actual tent, which, as mentioned, is roomy.
The Salida 2 also only has one door, so if you absolutely need to have your own midnight-tent-escape, make sure to grab the door side. Some people won't dig this, but the room of the tent made up for the single door.
Final Word
Investing in new gear can be burdensome and expensive, but the Kelty Salida 2 is an easy option for those looking for a tent that is packable, shareable, and durable. It works, and it won't destroy your wallet.
Where to Buy Kelty Salida 2
We tested the Kelty Salida 2, which comes in one color scheme. Kelty does offer the Salida 1 and Salida 4, which are the same construction but meant for different sizes. While they are good tents, we find that most backpackers need a two-person tent. It allows for group camping and more room if you're going by yourself.
Compare Kelty Salida 2 prices below.
Review Policy: We do not accept payments or gifts from brands and vendors, and strive to provide unbiased, independent advice. Brands typically provide review samples which we return, and in some cases we purchase the item so we can keep using it long after the review. Affiliate Policy: We support the hours that go into our reviews and testing through affiliate commissions on purchases made through links in this article. These don't effect the outcome of our reviews or selection of gear, as per our Review Policy.