Klymit Insulated Static V Overview
Cotton candy, cotton balls, clouds, and stuffed teddy bears are all things that come to mind when I think about the Klymit Insulated Static V sleeping pad. Maybe I'm just obsessed with comfy and cozy, but this sleeping pad has somehow made its way into my "happy times" memories.
Many backpackers, myself included, are used to using a self-inflating pad (or closed-cell foam pad) when they're on a budget. Air pad technology has caught up, and I find this pad from Klymit to outperform comparable self-inflating pads. It weighs 25 ounces, which is not ultralight, but plenty light for most backpackers and lighter than most comparable self-inflating pads. It also compresses down to a relatively small package and should fit in your backpack without an issue.
For these reasons we have selected the Klymit Insulated Static V as our Budget Pick for the Wilderness Backpacker.
Klymit Insulated Static V Star Rating
Comfort

Durability

Inflation and Deflation

Packability
Summary
The Klymit Insulated Static V is an air pad with a unique baffle system that provides 2.5-inches of thick, premium air cushioning. It's a budget-conscious pad from an innovative company. Plus, it manages to blow up with only 10-15 breaths, which is less than other air pads.
To learn more about sleeping pads, including the difference between self-inflating pads and air pads, you can check out our comprehensive guide. To read the full review for the Klymit Insulated Static V sleeping pad, just scroll down.
Klymit Insulated Static V Specifications
| | | |
| --- | --- | --- |
| Feature Type | Feature Specs | What This Means |
| Weight | 25 oz. (709 g) | A moderate weight for an insulated air pad. There are lighter options, but you'll have to pay more for them. |
| Type | Air Pad | Your breath inflates this pad. That makes it lighter, but it takes effort to set up at the end of the day. More on the different sleeping pad types in our Guide. |
| R-Value/Temperature Rating | 4.4 R-Value | This is an insulated pad with a relatively high R-Value. Above 4 is enough for all 4 seasons. More on R-Value and Temperature rating in our Guide. |
| Shape | Rectangle | The Klymit Insulated Static V does not taper. This makes it weigh more and pack down bigger, but you have more room to splay out. More on sleeping pad shapes in our Guide. |
| Sizes | Regular, Luxe, Double, Junior | We tested the Regular pad, which is sized for a single adult, male or female. Klymit offers the Luxe, which is the same pad with 30 inch width and 3 inch thickness. The Double is a couple's pad, and the Junior is for children or ultralighter's that want a torso pad. |
| Thickness | 2.5 in. (6.5 cm) | This is slowly becoming the standard thickness for air pads. Enough height to keep you off the ground, but not so high that you bounce around. |
| Length | 72 in. (183 cm) | This is the standard length for almost all sleeping pads. |
| Width | 23 in. (58.4 cm) | The Klymit Insulated Static V is three inches wider than your standard sleeping pad. This gives you more room for a better sleep. Your elbows might not fall off! |
| Packed Size | 5″ x 8″ (12.7 cm x 20.3 cm) | Not a small pack size, but not huge either. Most backpackers will find the size perfectly fine. More on sleeping pad packed size in our Guide. |
| Baffle Type | V-shaped Baffles | These baffles are unique to Klymit. Klymit created and uses Body Mapping Technology, which puts pressure in key places for sleep comfort. More on sleeping pad baffle types in our Guide. |
| Valve Type | Twist and Pull | Klymit uses a standard twist and pull valve. It's well made and works well. More on sleeping pad valve types in our Guide. |
| Material Type/Thickness | 75D Polyester | 75-Denier is thick, durable material for sleeping pads. It adds weight, but helps to keep the pad from ripping or popping. More on Denier in our sleeping pad guide Guide. |
| Breaths to Inflate | 10-15 Breaths | You have to inflate this air pad with your breath, but it doesn't take as many breaths as other pads. This is due to the V-shaped baffles. |
| Manufacturer Warranty | Limited Lifetime | Klymit's sleeping pads are warrantied for life against manufacturing defects and workmanship issues. However, sleeping pad are notorious for being difficult to return and replace because of user error, popping, etc. Klymit has a great reputation, so if you think your pad is faulty, let them know. |
| Retail Price | $84.95 | An incredible price for a fully featured insulated sleeping pad. |
Gear Review of the Klymit Insulated Static V Sleeping Pad
Origins: Easing You In
When you live in Hawaii and want to hit the north shore of Oahu and the west side of the island, you only have two options: drive two hours out of your way, or hike past Kaena Point. My friends and I decided two hours in the car was a lot of unnecessary sitting, so we packed up our backpacks for an overnight. The goal was to swim and dive, so in addition to our tents, sleeping bags, stoves, sleeping pads, and all the other typical gear, we had dive gear and a few hammocks (because comfort is key!).
This was my second trip with the Klymit Insulated Static V and, as it had the first time, it fit perfectly into my backpack. It's definitely not large, but it's also not small. I found it comparable in size to my other backpacking sleeping pad, the Therm-a-Rest ProLite, one of the most used pads out there.
We started off on the north shore and headed towards the bend around the point. It was a hot and dry day — Hawaii isn't always humid. After two solid hours of hiking, stunning views off the coast, and a ton of sweat, we reached the beach. This was our makeshift campsite for the night.
The heat had gotten to us, so we threw down our equipment and set up as quickly as possible. After the tent went up I pulled out the Klymit Insulated Static V and began blowing it up. It only took me about 15 breaths to blow up, which was nice because we were all pretty tired. The quick setup proved to be simple — unroll, blow, place in tent. As long as you have a few minutes and breath, the pad will be ready to use in no time.
I placed it in my two-person backpacking tent (the kind that claim they're for two people but really fit one person and their stuff) and it was a perfect fit, leaving about a foot at the entrance for my backpack. With everything set up, it was time for a night dive in the turquoise ocean. After that a roaring fire, dinner, and s'mores.
Revelation: The Moment I Knew
Just around sleepy time I climbed into my tent and collapsed on the Klymit Insulated Static V. I was immediately taken by how much more comfortable this sleeping pad was compared to other ones I've used. This was the moment I realized I was an air pad convert.
Much of my experience is with closed-cell foam mats (pads that barely get the job done, and are not there to help you sleep well) and lightweight self-inflating pads. Self-inflating pads for backpacking are usually an 1.5 inches thick, if that, and while they are stable and comfortable, the first thing I felt on the Insulated Static V was the extra inch of inflation.
I was off the ground, and supported. While I normally sleep on my side, I found the most comfortable positions on the Klymit Insulated Static V were on my stomach or back. When lying flat like that the V-shaped baffles offer the widest support, so my weight was distributed correctly.
I woke up rested, which is the most important part of any sleeping pad.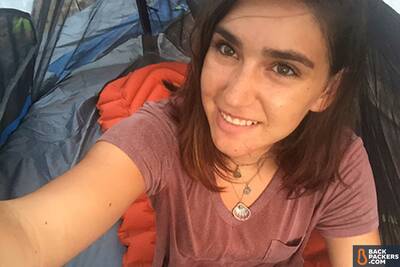 Digging Deeper
Beyond comfort, the Klymit Insulated Static V Sleeping Pad thoroughly surprised me with its ease of use.
As a self-inflating pad user, I'm fond of the whole self-inflation thing. You open the valve, wait 30 minutes, and your mat is almost completely blown up for you. (Yes, you still have to put in the final few breaths for firmness.)
So, I thought an air pad would be a bummer. And some air pads can be — they often take 25 or more breaths to inflate, which is a lot at the end of a long hike. But the Klymit Insulated Static V's design makes it so that with roughly 15 breaths it's fully inflated. Instead of waiting 30 minutes, I could have a fully inflated pad in under a minute, and it never felt like a burden.
The second ease of use element, and comfort, really, is the extra room. The Klymit Insulated Static V is a standard length (72 inches), but the width is 23 inches, which is 3 more inches than most "normal" sized backpacking pads. I never had any issues with falling off the pad and I had a lot of extra room, which equates to a better night's sleep. Klymit put small side channels on this pad, which is where the extra inches come in. They're not full air rails because they're not raised enough to keep you in, but they do provide extra room for your elbows, arms, and rolling around.
The most unique thing about this pad is the shape of the baffles. They are giant Vs. Klymit has a whole philosophy behind its sleeping pad designs, which it calls Body Mapping Technology. The Static V line is actually pretty tame compared to some of their other models, but they all focus on providing support in the exact places your body needs, rather than on the whole pad. Thus the V's down the center of your back.
Finally, the Insulated Static V has a solid R-Value. It's a warm pad, meant for 4-season use. This didn't matter much in Hawaii — an extra warm pad won't make you hot, like an extra warm sleeping bag — but the first backpacking trip I used it on was in the Sierra Nevada mountains in California. Temperatures were in the 50's, and I wasn't ever cold, which I have been with other pads in similar conditions.
Comfort
The Klymit Insulated Static V is as comfortable as lying on a cloud of cotton candy. I love the thickness of the pad (2.5 inches), especially for back and stomach sleeping. I felt like I was sinking a bit when I would lay on my side, so I mostly stayed on my back. The 23-inch width also helped with general comfort.
Durability
The Klymit Sleeping Pad was durable enough for me to use it directly on dirt for cowboy camping. It uses a 75D polyester fabric, which is way thicker than most pads. It feels tough as can be, but I still wouldn't take a sharp rock to it.
Inflation and Deflation
The set up and take down is extremely easy compared to what I thought it might be. When inflating the pad, I used somewhere between 15-18 breaths, ending with sealing the valve. When deflating the sleeping pad, it took me around 3-5 minutes to get the air out, roll it up, and put it back in the stuff sack, which was all really easy. Just fold it in thirds.
Packability
The Klymit Insulated Static V pad won't win awards for its pack size, but it's very respectable. It was easy to deflate and roll up, and the included stuff sack is large enough that if you don't roll it perfectly it will still fit.
Grievances
Beyond wishing the Insulated Static V had the same width, thickness, weight, and size all while being a self-inflating pad (I do love the auto-inflate feature!), the only real grievance I can find is that it's not perfect for side sleepers. The baffle system works best when on your back or stomach, so if you're intent on side sleeping, I'd recommend trying out this pad before making the purchase.
Final Word
Laying on a cloud may seem like a luxury reserved for the Gods, but with Klymit Insulated Static V sleeping pad, even a basic backpacker looking for a budget pad can experience the comfort.
Where to Buy Klymit Insulated Static V
We tested and reviewed the Klymit Insulated Static V. Klymit makes a number of different versions of this sleeping pad — all them have the V-shaped baffles, a twist and pull valve, and are wider than normal pads. If you want an uninsulated pad, the Static V or Static V2 are good options. They weigh around a pound each, but know that they have no insulation.
While we recommend the classic Insulated Static V, Klymit also offers the Insulated Static V Lite. The two differences for the Lite version are the weight, which is 19.6 ounces instead of 25 ounces, and the fabric, which is 30D instead of 75D. The Lite costs $10 more than the regular version. Both are great options, so they are both listed below. We like the original for its durability and don't find the weight to be a significant difference for most wilderness backpackers.
Review Policy: We do not accept payments or gifts from brands and vendors, and strive to provide unbiased, independent advice. Brands typically provide review samples which we return, and in some cases we purchase the item so we can keep using it long after the review. Affiliate Policy: We support the hours that go into our reviews and testing through affiliate commissions on purchases made through links in this article. These don't effect the outcome of our reviews or selection of gear, as per our Review Policy.