La Sportiva Bushido Review Overview
An Italian-designed shoe with a Japanese name tested by a Chilean in the American Rockies: meet the La Sportiva Bushido. Nimble, versatile, tough, and beautiful, the Bushido can take you around the world through difficult terrain and long days on the trail.
Read the full La Sportiva Bushido review below.
La Sportiva Bushido Star Rating
Summary
The La Sportiva Bushido checks off many must-haves for the the fast-and-light hiker and runner, crushing everything but the gnarliest off-trail travel. Solid grip, incredible breathability, and high sensitivity make this a powerful trail runner, and a decent hiking shoe.
While we often give out awards and Picks for gear, we won't be for shoes. After testing many shoes and finding the right fit for each member of our team, we realized that a shoe is simply too subjective to unequivocally recommend to anyone.
Our advice is to know what brands of shoe fit you generally by trying them on in store, and then look for excellent models, which we review here. Look in our specifications table to see if the shoe generally fits wide, narrow, or standard-sized feet. There are a lot of differing elements among shoes, but this is the one that matters right off the bat.
Update: We tested the La Sportiva Bushido in 2017, and it received an update in 2018/2019. It is now the Bushido II, and features an updated heel design, wrapping lugs, and an updated tongue. Shoes change often, and we do our best to keep up. We still think the original Bushido is a fantastic shoe, and recommend getting it on sale while you can, or trying on the new version.
Bushido Specifications
| Feature Type | Feature Specs | What This Means |
| --- | --- | --- |
| Weight | 10.5 oz (298 g) per shoe | Right in the middle for trail runners: not heavy, not light. They are quite durable, so the extra couple ounces comes from that. |
| General Fit | Standard | The Bushido fits medium-sized feet well. It can work for those with slightly narrow or slightly wide feet, but you'll want to try it first to see. |
| Cushion | Low | The Bushido does not have much in the way of cushion, especially compared to many other trail runners. This gives a tactical, close to the ground feel. |
| Stack Height | 19 mm heel, 13 mm forefoot | A max cushion of 19 mm is quite low. |
| Heel-Toe Drop | 6 mm | The heel-toe drop is about average for trail runners. You'll feel the drop but not as much as normal hiking shoes or boots. |
| Arch Type | Neutral (Normal Arch) | The Bushido's arch will work for most people. |
| Rock Plate? | Yes | The Rock Protection Plate is in the forefoot of thes hoe, and does a decent job protecting from sharp objects. This provides a bit more protection and resistance for the low cushion. |
| Lace System | Traditional (Flat) | These laces are flat, and you have to tie them yourself. There's an extra eyelet for tightening. |
| Sizes Available | EU 38-47.5 US 6-14, with half sizes for Men, EU 36-43 US 5-12 for Women, with half sizes | La Sportiva uses European sizes for shoes. Make sure you know what shoe size corresponds best. |
| Manufacturer Warranty | Manufacturer Warranty | La Sportiva materials and workmanship are covered, but does not cover wear and tear, improper fit, improper use, or improper care. There is no implied life span of a shoe, due to the variables that can affect footwear. |
| Retail Price | $130 | A premium price for a fine-tuned trail runner that will last. |
Gear Review of the La Sportiva Bushido
Origins: Easing You In
I'm of the opinion that everyone needs about 4-6 weeks away from their daily life each year to maintain sanity and to show up better at home and at work. At least that's what I need. In 2016 I took five weeks away from work to hike the High Sierra. In 2017 I had the unique opportunity to intern with the Bob Marshall Wilderness Foundation (BMWF) in northwest Montana. It wasn't a vacation: I worked hard pulling weeds and doing grunt work as part of my internship. But it mixed things up, connected me with a vital nonprofit group, and honed some of my skills.
The process involved working with crew leaders and volunteers to hike, raft, and mule-train into remote areas to survey, map, and pull invasive plant species. I spent three weeks camping on the trail or near town as projects took me in and out of the woods. This gave me plenty of time to dial my personal gear kit and do some heavy testing on new products: namely, the La Sportiva Bushido trail runners.
I wore the Bushido trail runners on every adventure for five weeks. I ran the rim of Tsegi Canyon in Navajo National Monument. I trekked over Pitamakan and Triple Divide Passes where I scoped mountain goats and stood my ground just 50 feet from a grizzly bear. The La Sportiva Bushido shoes saw me through some high times and a few unforgettable moments, and performed well.
Revelation: The Moment I Knew
When our "day off" came up during a five-day volunteer outing in the Great Bear Wilderness, I decided to walk upstream and explore the quieter stretches of the Middle Fork Flathead River along which we were camped. We had already spent two days hiking, mapping, and pulling weeds, so I was ready for a little personal time with the rocks and trees and eagles.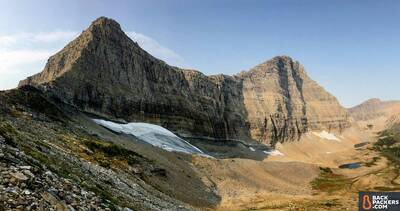 The river winds and barrels against towering cliffs, creating amazing swimming and fishing holes at every bend. This winding path, however, makes walking the river bed challenging, even during the low-flow late-summer months when I was visiting.
Unable to find the designated trails left by packers, hikers, and wild game, I decided to walk the river bed itself. Let's just say this decision led to some type two fun. I forded the Middle Fork no less than 12 times on a 6-mile round trip hike. Frigid water and 30-foot or greater crossings made for a long day.
I had planned for some river crossings, and brought my Keen Clearwater sandals along with the Bushido trail runners to tackle the hike. The sandals are great for fording, light hiking, and swimming, but, after the frustration of not finding the trail and against my better judgment, I decided it wasn't worth the time to change shoes every few hundred feet.
I left the Bushido on at each crossing and slogged through the icy water with wool socks and all. You might think I will tell you that after the first mile and first three crossings that my feet were pruned and blistered. Think again.
The highly breathable mesh upper of the Bushido paired with my ultra-thin wool socks for super-quick draining and fast dry times, even after repeated saturation. The FriXion XT rubber outsole gripped even the slimiest river rocks and made for safe yet exhilarating crossings and dips in the river.
It can run, but it can swim, too. This was the moment I knew the Bushido would be a trusted partner for the following weeks in Montana and beyond.
Digging Deeper
If you've been tuned into the outdoor shoe game over the last five years, things have been interesting. You might have gone through the barefoot phase – I certainly did. And we've all tried trail running sandals. "Drop" is everyone's new favorite footwear tech term.
With the Bushido, and most La Sportiva shoes however, I find a familiar and formidable ally.
The Bushido features a 6 mm drop with a 19 mm heel and 13 mm forefoot, which all adds up to stack height, or general cushion. This moderate drop, relatively low thickness, and EVA midsole material provide a very, shall we say, sensitive feel. The Bushido has a rigid sidewall, which provided lateral stability and prevented a handful of slides during my river walk, which are all-too common on technical terrains and rough landings.
The Bushido is a shoe with a relatively thin midsole, and to make up for it La Sportiva included an EVA forefoot rock plate, which made impacts on stones and rock faces a little more bearable. This is a crucial feature now standard in most trail running shoes, especially those with low-to-moderate cushion.
Finally, a pattern of U-shaped ridges on the rubber outsole round out the sole package for grip on loose terrain and bare rock. And these bad boys work.
In terms of the upper, there is copious mesh on the Bushido. This provides superior drainage and dry times, and an overlay foot cage gives shape and security for a snug and precise fit. The cushioned tongue and stitched webbing eyelets offer a flexible, comfortable fit with little binding on the foot. Below the upper is a wide elastic midfoot band that keeps the foot in place and gives a sock-like racing feel.
All in all the Bushido is a highly breathable, traction-oriented speedster of a shoe.
Fit
The Bushido fits like a glove. The close-fitting upper and low-profile sole package give a very light, sensitive feel and tunes you into the nuances of technical trails.
The Bushido has a medium width last and I have medium-wide feet. You can likely predict what comes next: blisters. I developed a blister on my left pinky toe that needed dressing, but it didn't ruin any days.
I didn't, however, have any major issues with hot spots and blisters. My first pinky knuckles also protrude quite a bit, and the uppers put some pressure on them. I used pressure-release lacing on the forefoot and this relieved most of the issue.
If you have medium width feet, this will be a good fit. Wide and narrow may not find their ultimate zen.
Comfort
For day hikes, mellow runs on moderate terrain, and low-mileage days with a full pack the Bushido was comfortable. However, they are one of La Sportiva's least-cushioned models, and I was feeling it in my feet and joints on long days. Frankly, I'm used to more cushion in a shoe. To each their own.
In terms of comfort, I've got a little trade secret for you: most stock insoles are more useful as a bookmark or a pool floatie. I used a SuperFeet Orange insole to offer better arch-support and thicker cushioning than the included insoles. This made a huge difference! I've been using SuperFeet for five years in all of my shoes and I'll never go back. This, again, comes down to personal preference and your actual foot.
Durability 
5 Stars
I used the Bushido exclusively for four weeks of trail running, day hikes, and multi-day backpacking trips in Montana and racked up over 100 miles. Even after all that, and a full fall and winter of Southern California hiking, they still look amazing! A little dust on the uppers and some dirt in the sole grooves, but no worse for wear.
The La Spotiva Bushido is durable despite its streamlined construction.
Soles 
4 Stars
I am stoked on the Bushido's outsole. The FriXion XT rubber gripped even smooth, bare rock in Navajo National Monument and the V-Grooves provided excellent braking on steep downhills in loose gravel. Outsoles are typically the first thing to show wear, but the Bushido's soles show few signs of the epic few months I've had.
The midsoles are a medium-thickness EVA, making the Bushido one of La Sportiva's least cushioned models. Shock-absorption was therefore moderate. After a 14-mile day with a full pack, my knees and feet were a bit sore after hiking over two passes. I'm not an ultralight backpacker, so I asked for it with this combination of weight and footwear. I  don't dock the Bushido since it isn't designed for bearing tons of weight, but backpackers should take note: if you like or need cushion, this probably isn't the shoe for you.
Uppers 
5 Stars
The Bushido's uppers are light and airy. Mesh and a matrix of fabric reinforcement provide breathability and stability. Even on hot, exposed ridges and passes, my feet stayed cool.
A cushioned tongue and an offset lacing cage add to the nimble feel without sacrificing comfort. The stock laces are actually usable! They are the flattened style of round laces that secure your foot without digging in when cranked down on technical terrain.
All that said, abundant mesh may be breathable, but it does allow fine glacial dust to enter through the toe box.
Trail Running vs Backpacking and Hiking
I am not a trail runner. I am a person who at times runs on trails, and I do love it, but it's not my "thing."  My knees aren't equipped for high-impact, long-distance running, so I stick to mellow local trails. The Bushido felt great for trail running, which is what they were really designed for. That responsive, nimble feel I mentioned really came through when moving fast on rocky trails. The forefoot rock guard was decent, but heavy impacts on sharp or isolated rocks didn't always feel great.
One of La Sportiva's more cushy models would be better suited for more uneven terrain. I've owned three pairs of the La Sportiva Wildcat, and it is my preferred model for high-mileage and moderate-to-heavy pack weights — also known as backpacking.
Grievances
If you really think about shoes, an individual can find issues with any of them because our feet are so different. Low cushion and a slightly different last made the Bushido a bit difficult for me, but that's not really the shoe's fault.
That said, my one real gripe about the Bushido is a small detail that makes a big difference: the heel notch, or lack thereof.
The Bushido has no heel notch. In fact, the back of the shoe is rounded upward in an arch, rather than creating room for your Achilles tendon. The material is flexible and lightly cushioned, but I prefer a cutout heel notch to reduce pressure on the tendon. On long slogs up alpine passes in Glacier National Park, I developed sore heels. Loosening laces on the way up helped alleviate this pressure and prevented blistering, but a heel notch would have been ideal.
Final Word
Does buying the La Sportiva Bushido make you a samurai? Not quite. But you'll feel like a trail ninja as you take on the toughest of outdoor objectives, from fast-and-light backpacking to technical trail running. The risk of beheading is overrated anyway.
Where to Buy La Sportiva Bushido
We tested the men's La Sportiva Bushido. There is also a women's La Sportiva Bushido, and everything is the same except for fit. There is only one version of the shoe!
Compare La Sportiva Bushido prices below.
Review Policy: We do not accept payments or gifts from brands and vendors, and strive to provide unbiased, independent advice. Brands typically provide review samples which we return, and in some cases we purchase the item so we can keep using it long after the review. Affiliate Policy: We support the hours that go into our reviews and testing through affiliate commissions on purchases made through links in this article. These don't effect the outcome of our reviews or selection of gear, as per our Review Policy.