Mission Workshop Sanction Overview
I've been told one cannot be a hipster if they classify themselves as a hipster, and those who reject the romanticism inherent in hipster-ism are indeed hipsters themselves. At first sight, the Mission Workshop Sanction backpack cries single-speed bikes, curled moustaches, and the-first-album-only. After running it through my daily grind you can call me whatever you want, as long as I get to keep the bag.
The Mission Workshop Sanction pack is practically perfect for the Urban Hiker with loads to carry for long city treks. Along with its simple and straightforward style it carries with it an essence of individuality, adventure, and durability that can withstand all weather and last, basically, forever.
The pack is made in the U.S., utilizes military grade materials, has a lifetime warranty from a rock-solid company, and was designed as one of the finer things in your life. For these reasons we've chosen the Mission Workshop Sanction backpack as our Premium Pick for the Urban Hiker.
Mission Workshop Sanction Star Rating
Comfort

Durability

Packability

Style
Summary
The Mission Workshop sanction is a classy, incredibly well constructed style statement of a backpack. It has unique pockets on the front that hold a good amount, a long chute for storing your day's essentials, and a zippered internal laptop sleeve for safe transport.
All materials are premium, and it has a lifetime warranty, though we don't think you'll need it.
Read more about backpacks in our comprehensive guide, and read the full Mission Workshop Sanction review below.
Mission Workshop Sanction Specifications
| | | |
| --- | --- | --- |
| Feature Type | Feature Specs | What This Means |
| Number of Pockets | 5 | Two zippered exterior pockets, one velcro pocket, one open slide-in pocket, and one zipped laptop-size pocket. Pockets galore! |
| Other Attachment | No | You could use the clip straps or folding top to attach things, but it's not meant for that. |
| Laptop/Hydration Sleeve | Yes | Fits 15-inch laptops and hydration bladder, but doesn't have a built in port for the hose. |
| Lined Pockets | No | The material is "weatherproof" though, so they may not need a lining. |
| Sternum Strap | Yes | With whistle! |
| Hip Belt | Not included | You can purchase a Deluxe Waist Belt for an extra $34.00. |
| Materials | 1000 Denier Nylon | Military grade construction. Super freaking tough. |
| Load Range | 10-15 LBS | Nice padding, just don't overdo it. |
| Warranty | Guaranteed Forever | Lifetime warranty from a dedicated company. |
| Pack Size | One Size, Unisex | Gotta' fit 'em all. |
| Capacity | 20 L, 1,250 in3 | It feels like it can fit more. |
| Dimensions | 12 x 18 x 5 in. | Slim and tall. |
| Weight | 2.6 LBS (41.6 oz) | All that gnarly material adds up. |
| Retail Price | $205.00 | A premium price for a premium pack. |
Gear Review of the Mission Workshop Sanction
Origins: Easing You In
Los Angeles is a strange beast of a city. Each time I enter the metropolis I feel as though I'm diving head-first into the mouth of a giant foul-breathed monster who eats a bowl of actors for breakfast every morning, right after an hour of hot yoga. I had a long day ahead of me — one of those days that requires everything you need from the very start because you will have no breaks until after the sun sets. After testing the backpack for weeks, I figured this day was the perfect story for the Mission Workshop Sanction.
I stuffed it with my usual necessities for the day: my laptop, one large textbook, two novels, two rather thick binders, and a change of clothes, along with half a dozen tiny miscellaneous items.
The day required a lot of shuffling around, removing, replacing, and adding more items to the Sanction as it stretched on. While I first thought, "There certainly aren't a lot of pockets, and I love pockets", I was pleasantly surprised after digging around the pack. The design of the bag is near perfect.
I have never seen an angel in the "City of Angels" — it doesn't really seem like their kind of town. The closest thing would be a guy named Angel who lives in the San Fernando Valley and sells marijuana to his neighbors. But with this bag, I felt like a messenger of God for two reasons: I had heaps of materials to carry around and no amount of weather or brutality could get in my way of doing so.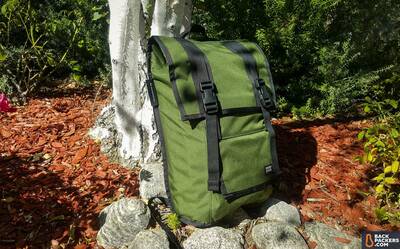 Revelation: The Moment I Knew
Around midday I nestled myself into a coffee shop off Santa Monica Boulevard to grab a quick boost of caffeine. I placed the Mission Workshop Sanction down by my side and realized: It never felt like I had a ton of gear in there, yet it was practically stuffed full. With the design of The Sanction comes the proper distribution of weight, so carrying loads of books and binders and such ain't a problem at all.
I remember the kind of bags I used in high school and college: the cheapest ones I could find. They held all of the weight below your hips or stressed out your shoulders. Not so with The Sanction. It certainly isn't cheap like those packs I used in college, but it makes up for that with a clever distribution weight, making the actual carry convenient and pain free.
I decided to really test it out — I had a thirty minute break between recording material in Glendale and a meeting in North Hollywood, so I took The Sanction for a hike around Griffith Park.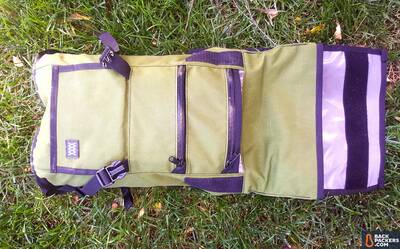 After the hike I noticed no pain in my back or neck. I didn't even have to use the sternum strap. It's a dream to carry, simple as that.
Digging Deeper
If I am given a pocket, I will use that pocket. For a day out and about like this one, The Sanction had just what I needed. Even though there are only four pockets, they were all seamless in varying sizes and usability.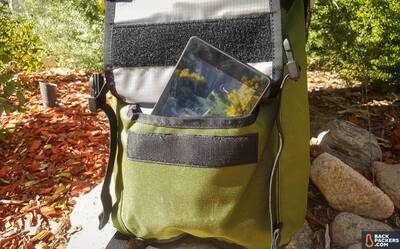 The bottom front Velcro pocket was perfect for snacks like granola bars and nuts; the two middle zippered pockets (one three times the size as the other) spot on for keys, a wallet, and even a few small books; and the large front pocket great for a tablet.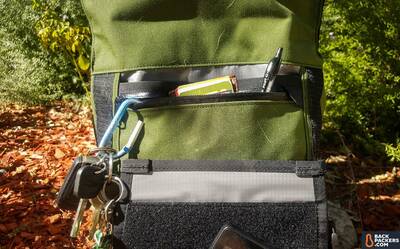 The main compartment has a divider splitting it in two, which was great for separating my clothing from my laptop and binders. What's more, the divider actually zips, giving you the option of using it or not.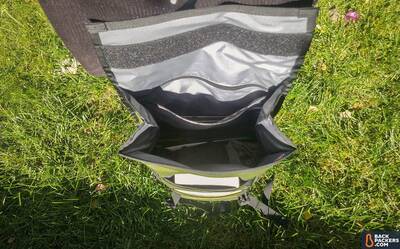 Comfort
The Sanction backpack was the big spoon in our day-long cuddle session. It was consoling and warm without overheating. All joking aside, this backpack is seriuosly comfortable. Mission Workshop uses high quality foam in the back panel and shoulders, making it a sincerely pleasant carrying experience, even when loaded down.
Durability
After using this backpack for a few weeks I can see why Mission Workshop offers a  lifetime warranty. Like Los Angeles's insatiable hunger for crappy reboots and sequels, this pack will never die. I had a feeling I could be using this at 97 years old, on my death bead, passing out my prized possessions to the ones I love.
Packability
The Sanction has some excellent pockets, and some less-than-steller lack of pockets. I'm talking about water bottle pockets. It's sleek on the edges because there are no dedicated water bottle pockets, and while that adds up in style points it makes bringing water — and drinking it easily — tough. A full point is lost there.
The rest of the pockets, especially the external, are very well made and deep, but all except one require you to unbuckle and remove the folding top lid. This makes things secure, but not very easy to access. This pack holds a good deal, and secures itself well for carrying, but actually getting to what you need requires a lot of initial time invested.
Style
As I said before, I'm not a hip fella (hence the usage of the term "hip fella"), but The Sanction made me feel very cool. What's great is that it doesn't sacrifice its comfort or durability for the style.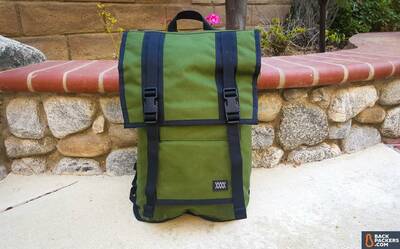 Grievances
The only thing that I did not truly love about the Mission Workshop Sanction was the lack of a side pocket for a water bottle or canteen. It's a huge bummer considering the swelter that L.A. can bring after a long day of trekking and my need for constant hydration. I love being prepared, and the absence of the bottle holder made me feel like I was missing that one thing I needed when I packed up for the first time.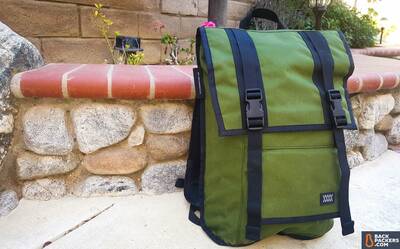 The sternum strap caused a bit of a dilemma as well because it's moveable. A nice feature at first, especially because the straps (like all of the other straps) stretch well, but it did tend to get a bit slippy depending on how much you have in the pack. A waist belt can be purchased for an extra $34, but I'm not sure how much good it would have done. I'm not one to use waist belts normally, even if they are included. A good investment if you can't live without one.
Lastly, as you can see from the photos, it attracts some dog hair. Purely cosmetic, but the velcro makes it hard to make the pack shine like new.
Final Word
As the sun began to set over a long day in Los Angeles, I drove home with The Mission Workshop Sanction in the front passenger seat. It was as if we were in a pop-punk music video about my high school crush from the early 2000's. Unfortunately, like a pop-punk music video about my high-school break up from the early 2000's, it was time to give it up. Overall, it's a great piece for the Urban Hiker — one who treks through the sprawl of a big city with many places to go, lots of people to see, and an endless list of things to do.
Where to Buy Mission Workshop Sanction
The Mission Workshop Sanction is unisex, and we've found that while the design is male-physique oriented, it works well for women too.
Mission Workshop offers two higher-end versions of the Sanction: the Sanction Advanced and the Sanction SV. The Advanced uses a lighter, higher quality yarn called HT500 fabric, and the custom Arkiv closure system instead of yoru standard buckles. The SV uses the same Arkiv closure system, an even burlier 1000 denier VX Cordura ripstop shell, and a PET waterproof membrane on the inside for full water resistance.
We think these are all good options, depending on how much you want to spend. The form factor is very similar, so let cost be your main deciding factor.
Compare Mission Workshop Sanction prices below.
Review Policy: We do not accept payments or gifts from brands and vendors, and strive to provide unbiased, independent advice. Brands typically provide review samples which we return, and in some cases we purchase the item so we can keep using it long after the review. Affiliate Policy: We support the hours that go into our reviews and testing through affiliate commissions on purchases made through links in this article. These don't effect the outcome of our reviews or selection of gear, as per our Review Policy.