Montbell EX Light Down Anorak Overview
In British slang, an "anorak" is a person who has an unusually obsessive interest in a niche subject. I find this ironic because that perfectly describes my relationship with ultralight backpacking. And from one anorak to another, I say well done sir.
What do you want from a piece of cold weather clothing when you're moving light and fast through the backcountry? Easy: light, packable, and warm. The Montbell EX Light Down Anorak delivers these three essentials in spades, and includes a couple other cool features that make this bad boy pretty darn impressive. (The jacket is actually unisex so that gender assignment is simply poetic license.)
Even at a modest price point, there is no other jacket I've found that offers a warmth to weight ratio like the Montbell EX Light Down Anorak (6.2 oz and 900-fill goose down).
Montbell EX Light Down Anorak Star Rating
Comfort

Durability

Warmth

Packability
Summary
The Montbell EX Light Down Anorak is a half-zip down jacket built for lightweight warmth. It weighs just over 6 ounces, is filled with premium 900-fill down, and has a full hood. It packs down to nearly nothing and will heat you up quickly once you stop moving.
You can learn everything you ever wanted to know about down jackets (and perhaps a few things you don't know you want to know) in our comprehensive down jacket guide, and see why we recommend the Montbell EX Light Down Anorak below.
Update: When we originally reviewed this product it was $219, and the cost to warmth ratio made it the Budget Pick for the Ultralight Backpacker. In 2018 the cost is $269, a significant jump. While we think this is still an excellent down jacket for those that want its specific functionality, it is no longer cheap enough to justify a Budget Pick rating.
Montbell EX Light Down Anorak Specifications
| | | |
| --- | --- | --- |
| Feature Type | Feature Specs | What This Means |
| Insulation Quality | 900-fill power | Nearly the highest fill power anywhere. So high. |
| Insulation Type | Non-Treated Goose Down | Au naturel. The finest. |
| Fill Weight | 2.3 oz (65 g) | Slightly lower than the standard amount of plumes per sewn square. |
| Shell Fabric | 7D Ballistic Airlight rip-stop nylon | Very lightweight, "silky", and tough. |
| DWR Treatment | Yes | Sprayed with water repellant. |
| Number of Pockets | 1 | One kangaroo pocket to rule them all. |
| Stuffs Into Itself | Yes, stuff sack included | Stuff it! |
| Hood/Jacket Option | Only hood | Sold in one style. |
| Adjustable Hood | No | Oversized hood for coziness and looking good. |
| Adjustable Waist | Yes | Hem is adjustable to conserve heat. |
| Average Weight | 6.2 oz (177 g) | So freaking light. |
| Gender | Unisex | Cold people don't have genders. |
| Sizes Available | XS-XXL | Check sizing instructions for gender. |
| Manufacturer Warranty | Lifetime Guarantee | Protects against defects on their part. Not on yours. |
| Retail Cost | $269.00 | Incredible warmth for weight for cost. |
Gear Review of the Montbell EX Light Down Anorak
Origins: Easing You In
The hardest part of reviewing this jacket appropriately is that it was fall in Sacramento, and we're talking about a jacket with some serious warming chops! I was worried I'd have to take a trip to the grocery store and beg them to lock me in their freezer for a couple hours — just me, the Montbell EX Light Down Anorak, and nicely quartered slabs of grass fed beef. Alas, a cold front moved into town just as I headed for the mountains and I was able to use this jacket in its natural habitat.
I hit one of my favorite trails near Tahoe; it was temperate as I began my climb to the lake, but once I got to camp the scattered clouds formed ranks and a chill rapidly descended. The Montbell EX Light Down Anorak was snug in its stuff sack, secured in one of the large side pockets of my pack, and as I pulled it out I was again struck by how light and packable it is. As an ultralight backpacker one needs to be hyper aware of where everything fits, and this will fit anywhere.
Revelation: The Moment I Knew
As soon as I pulled the Montbell EX Light Down Anorak over my head, I was warm. A light but steady wind teased me as I set up my tarp-tent and despite having only a short sleeve shirt on underneath the jacket, I stayed toasty. In fact, the activity made me warm enough that I had to remove the hood and take the zipper down as far as it would go — but that was enough to leave me very comfortable.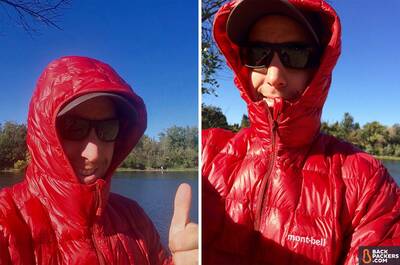 Full disclosure — I already use (and love) a Montbell vest on all my backpacking adventures, so I was primed to be impressed with this new offering. And it did not disappoint.
It's tough to have it all when you're in the wild. We are always trying to choose between comfort and weight. But when I slipped into the Montbell EX Light Down Anorak, it not only transported me to a sunny, Caribbean beach, it did so while being so light I could barely tell I was wearing it!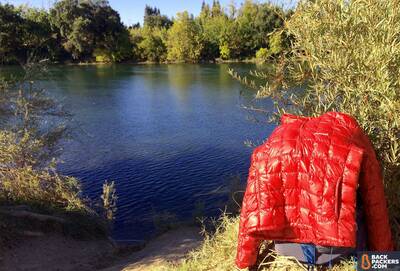 Digging Deeper
The Montbell EX Light Down Anorak is simple. That's one of the things I like about it. You shouldn't need an advanced degree to figure out how to use your outerwear. However, it does have a couple bonus features that I enjoyed.
As I moved around my campsite, and then wandered to the lakefront as dusk captured the sky, I found myself constantly using the jacket's down-lined kangaroo pocket. I have jackets with no pockets (no pockets equals no good) and others with pockets that are too small to effectively keep your hands warm. The kangaroo pocket on the Montbell EX Light Down Anorak is Goldilocks perfect.
I also quite appreciated the oversized hood. It provided enough room that I could easily wear it over my baseball cap (something I do frequently and deem very important) as well as burrow into the jacket when the wind really got ripping.
Comfort
Top marks. Like a warm cloud giving you a hug.
Durability
It's made of premium, ballistic materials (and I haven't had a single issue with my Montbell vest) so I'm going to give this a solid bomber class rating. The nature of down jackets is such that you're not going to want to run through a rose garden with a blindfold on, but that just comes with the territory. Treat it well, and it will treat you well.
Style
If a tree falls in the forest with no one around, does it make a sound? Can one look sexy in a puffy jacket? These are unanswerable questions. What I can say is that I looked (and felt) like a mountain man while wearing the Montbell EX Light Down Anorak, and that's just fine by me.
Grievances
As much as I enjoyed this jacket there were a couple small issues I had. First, the sizing runs big. Of course we all have different preferences and it's meant to be used as part of an entire layering system, so the designers may have done this on purpose. However, I don't like excess material when I'm on a lightweight walkabout, and I found the extra volume slightly cumbersome under my pack. Not a big deal, but be aware when ordering online that you may need a size smaller than usual (even accounting for the unisex design).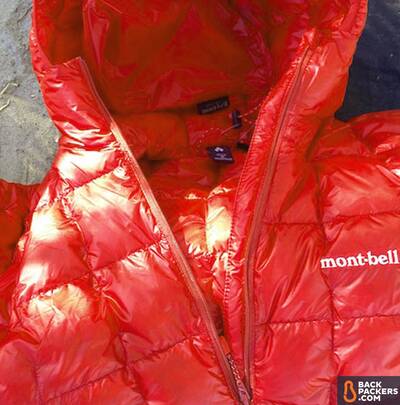 Secondly (and once again this is just a preference thing), I like to wear a few of my layers while hiking and then regulate temperature while on the move by opening and closing zippers as needed. Since this jacket doesn't have a full zipper, I was not able to cool off as much as I would have liked and decided to remove it completely.
Final Word
This is first class jacket for an exceptional price and absolutely delivers on its promise to keep you warm, fit in your small pack, and help you stay light on your toes. Most ultralight backpackers have their own layering preferences, poring over stats and trading pieces of clothing in and out like fantasy football owners worrying over a weekly lineup.  If that's you (it's certainly me), I strongly encourage you to promote the Montbell EX Light Down Anorak to first string status.
Where to Buy Montbell EX Light Down Anorak
Montbell products are notoriously difficult to find, and they are no longer carried in online retailers. You can purchase the Montbell EX Light Down Anorak from their official web store, or look for the physical product in stores in your area.
Review Policy: We do not accept payments or gifts from brands and vendors, and strive to provide unbiased, independent advice. Brands typically provide review samples which we return, and in some cases we purchase the item so we can keep using it long after the review. Affiliate Policy: We support the hours that go into our reviews and testing through affiliate commissions on purchases made through links in this article. These don't effect the outcome of our reviews or selection of gear, as per our Review Policy.