Mystery Ranch Urban Assault Overview
The Mystery Ranch Urban Assault is the love child between a hearty backpacking pack and a sleek, sophisticated city pack. Crafted with sturdy canvas, chest straps and adjustable shoulders, the Urban Assault shows off Mystery Ranch's fine work in heavy-duty gear. Yet it has a clean, urbanite aesthetic, a 15-inch laptop sleep, and multifunctional clever storage options! This 21-liter bag clearly thrives in the city, and will last a lifetime.
Mystery Ranch Urban Assault Star Rating
Comfort

Durability

Packability

Fit and Adjustability

Style
Summary
Integrating simplicity and rugged purpose, the Urban Assault commuter backpack is a streamlined backpack to stuff a day's worth of goods. It has a unique 3-ZIP design, is watertight, and screams of both function and form. It's an easy choice for those looking to roam, dart, and dash in a city.
The Urban Assault is a close contender for our Classic Pick for Urban Hikers, but due to its lack of key features (water bottles holders!) and high cost, this pack will remain a highly suggested item for commuters who want something unique and durable. The current Classic Pick is The North Face Borealis, a time-tested, highly capable city backpack with less aesthetic appeal, but a lot more functionality.
See the Mystery Ranch Urban Assault review below!
Mystery Ranch Urban Assault Specifications
| Feature Type | Feature Specs | What This Means |
| --- | --- | --- |
| Weight | 2 lbs 12.8 oz. (1.27 kg) | A bit heavy for the size. The weight comes from super durable and thick materials and high-density foam. |
| Capacity | 21 L (1282 cu-in) | A good size for a small commuter pack. Enough room to fit your laptop, a change of clothes, and some food, but certainly not an overwhelming amount of space. Learn more about backpack capacity in our Guide. |
| Materials | 500D Cordura, YKK Zippers | Mystery Ranch uses extremley high-quality, heavyweight fabrics for the Urban Assault (and a lot of their products). These will take a beating and shed water easily. |
| Hip Belt? | No | The Urban Assault doesn't have a hip belt. Our tester thinks it should! Learn more about backpack hip belts and how to measure in our Guide. |
| Adjustable Torso? | No | This is a fixed torso pack, as are most urban hiking backpacks. To learn more about backpack torso measurement and adjustable torsos see our Guide. |
| Number of Exterior Pockets | 1 | There's just one external zippered stash pocket at the top for storing small at-hand items. |
| Laptop Sleeve? | Yes | The Urban Assault has a 15-inch laptop sleeve, and a slightly smaller sleeve to protect documents. |
| Hydration Sleeve? | No | You can use the laptop sleeve for a hydration bladder, but there's not a dedicated hole for the tube to go through. |
| Main Pack Access | Zippers (3-ZIP) | This is the unique part of the Urban Assault. The 3-ZIP design means you can open just the top or zip down the whole bag like a duffel. |
| Sternum Strap? | Yes | A solid, adjustable sternum strap helps to secure the pack. |
| Load Range | 10-18 lbs. (4.5-8.1 kg) | The Urban Assault can hold a decent amount for a small backpack, but we don't recommend overloading it as there's no hip belt. |
| Warranty | Limited Lifetime | Mystery Ranch has a limited lifetime warranty on all their products, and they stick by it. That said, their materials and construction are top notch, so they're unlikely to fail. |
| Retail Price | $125 | A high price for a medium-sized, streamlined backpack. You're paying for materials and construction. |
Gear Review of the Mystery Ranch Urban Assault
Origins: Easing You In
The world of commuter backpacks is saturated, packed with options for everyone. On one end we have packs designed for the fashion-forward (a.k.a. shoulder torture packs), and on the other we have utilitarian packs that bridge function and ergonomic design (with the occasional attempt to be trendy). Actually, there are 3 hands here, because there's also the very outdoor-themed backpacks of the Osprey variety, with very little nod to style and a ton of functionality.
When you narrow down your options to commuter, utilitarian bags, there are some top notch brands that know commuters need the ability to go from foot to bike to bus easily.
When comparing the Mystery Ranch Urban Assault to its cohort of bags, it falls between urban commuter, like a Chrome or Timbuk2 pack, and small backpacking packs, such as Osprey or Kelty. Quite honestly, just in the middle is the perfect place to be for me. The Urban Assault has a sleek, minimal design and offers functionality while being made with adventure-ready materials. Have your cake AND eat it too.
For those out of the loop, Mystery Ranch is known for extremely rugged backpacking and hunting backpacks — the kind that can haul hundreds of pounds. They took all that design sense and threw it into a small commuter backpack, and the result, as I've said, is like cake you can eat!
I like to think I am the resident Urban Hiker in the Backpackers.com crew, as I live in the middle of Seattle and spend a fair amount of time commuting via foot, bike, or bus. In a given week I cover nearly 20 miles by foot while carrying about 17 pounds, going from home to Wi-Fi-enabled shops to grocery stores to happy hour with friends. My laptop is not for the gram-conscious and there is a good chance I have a jacket, full Nalgene, workout shoes, a notebook, snacks, and whatever else I need for that day. With that in mind, my shoulders are fairly particular about what backpack I use.
The Mystery Ranch Urban Assault is 100% capable of not only fitting all the things, but it carries them with support, and is water-tight — how's that for a cherry on top!
Revelation: The Moment I Knew
It was not love at first sight. In fact, the Urban Assault reminded me of those Red Bull backpacks that promotional models carry. Despite the silver bullet appearance, the Urban Assault quickly proved to be far more advanced than a Red Bull promo vessel.
It was a rainy day and I had to rely on the Urban Assault to transport my laptop dryly, as my other commuter bag was not even close to waterproof. Throughout the day I realized the Urban Assault was a solid commuter pack for a variety of reasons. The sturdy design and rigidity of the Urban Assault allows for strategic packing when storing unconventional items.
At the end of my day I stopped by my favorite pho place about two miles from home, got a soup to-go, and stashed the precarious plastic container upright in the bag, ignoring the fact that the heat of the soup was melting the plastic. After securing the soup in between my climbing shoes, groceries, and jacket, it stood upright and was able to withstand over two miles of hungered power walking.
In short: it fits what you need, has a unique packing feature, and holds up in any weather. Did I mention it holds a laptop too?
Digging Deeper
The Urban Assault is a unique looking pack with a zipper that runs down the front center, topped with a triangular zippered lid. The backpack is 21 liters and operates like a duffel bag —  the center zipper can be opened without the need to unzip the lid, meaning you can lay the bag on its back and access your items. This is an interesting design that takes getting used to, and quickly becomes highly convenient. You can unzip the top to grab things vertically, or open the whole back like a duffel to get at all your goods.
The interior has two mesh pockets on each flap that hold small items, about the size of 3 rolled up running socks. The very top portion of the bag is an external zipper pouch that's intended for the essentials and items that need to be accessed easily. The Urban Assault really shines when used as a gym bag because of this accommodating, secure storage.
The bag becomes backpacker-approved with a chest strap that can easily slide up and down to adjust, upper shoulder straps to change the positioning, and thickly padded shoulder straps. These features help pull the bag in close to your body, which is handy when you're wedging in-between strangers on a packed bus. The Urban Assault's low profile is also beneficial while riding bicycles because the bag does not block any visibility, and remains secured with the chest strap.
Comfort
– 3.5 Stars
The Urban Assault is light and features padded straps that can adjust up or down, and an adjustable chest strap. The back is flat and stiff but is cushioned well-enough. The bag is comfortable up until a point and the weight can be shifted in small degrees, but the length and flatness of the back did leave my shoulders feeling worn at the end of a day. The Urban Assault sings when it is carrying less than 15 pounds.
Durability
– 5 Stars
The Urban Assault is impenetrable. The zippers are watertight and burly, and the fabric is a durable 500D Cordura that would potentially survive apocalyptic scenarios.
Water Experiment: In the name of Science, I was really curious exactly how waterproof this seemingly-indestructible bag would be. I put the Urban Assault through an extreme water showering, letting a stream of water puddle for upwards of 5 minutes (anything longer seemed like an excessive use of water). Using a towel as my "dry-barometer" I was unable to detect excessive moisture in the bag, but did notice that the sides were cold from being damp. It would have required a couple of hours of direct water soaking for the inside to get wet.
The top pouch, however, felt fairly damp after I soaked it with water. In conclusion, if you ever find yourself standing under a waterfall for longer than 5 minutes you may have to remove the Urban Assault from your back.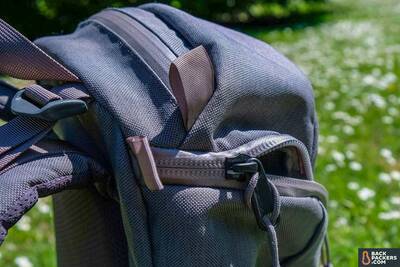 Packability
– 3.5 Stars
The interior storage of the Urban Assault is smart and functional. The interior mesh pockets operate like little shelves and can store 3 pairs of rolled up socks, for reference. There's also a full laptop sleeve and a smaller flat-backed sleeve so you can store your computer and not crush important documents. Due to the structure of the bag it is easy to pack things and keep them that way.
The reason for a less-than-perfect score is because the top pouch is not easy to access in a quick manner, like grabbing bus fare or paying for a coffee, and there are no external pockets, specifically for water bottles. This makes the Urban Assault very streamlined, and great for certain scenarios, but having an external water bottle pocket comes in handy.
Pro Tip: Get a carabiner to keep your water bottle easily accessible!
Fit and Adjustability
– 4 Stars
With adjustable chest and shoulder straps and a padded mesh back, the Urban Assault speaks to my functional side that enjoys adjustment options throughout a hike — I mean, commute. At 5'6'' with a shorter torso, I find this bag to be a bit long for my own back, and it's only offered in one size. Some taller friends borrowed the bag and found it to work well.
Style
– 4 Stars
The first time I got a complement on the Urban Assault I was caught off-guard and immediately reacted with, "Well, it has no external pockets". After that moment I remembered how function and fashion are not often thought of simultaneously and that, yes, the Urban Assault is a nice-looking bag. It has a clean design that comes in a variety of chic colors and perpetually looks like it is ready for adventure.
Grievances
Much room for pocket improvement, there is. First, there are no external pockets and the top pouch, while being spacious, is also a blackhole for all your easy-access crap. An external pocket for a phone or water bottle would improve the functionality for commuters immensely.
One last suggestion would be to include a hip belt, especially since the pack has the potential for a higher carrying capacity. Often I would tie the excess straps below my chest, creating the ultra-unflattering "squished chest window", just so I could alleviate weight on my shoulders.
Final Word
What do you get when a Wilderness Backpacker and an Urban Hiker design a bag? The Mystery Ranch Urban Assault! Worlds collide productively to unite function and fashion for commuters of all kinds.
Where to Mystery Ranch Urban Assault
We tested the Mystery Ranch Urban Assault in the Gravel color-way. Mystery Ranch only offers this pack in one version, one size, but with many colors.
Compare Mystery Ranch Urban Assault prices below.
Review Policy: We do not accept payments or gifts from brands and vendors, and strive to provide unbiased, independent advice. Brands typically provide review samples which we return, and in some cases we purchase the item so we can keep using it long after the review. Affiliate Policy: We support the hours that go into our reviews and testing through affiliate commissions on purchases made through links in this article. These don't effect the outcome of our reviews or selection of gear, as per our Review Policy.