NEMO Tensor Overview
I was told never to settle on three things in life: my mate, my career, and my mattress. Granted my parents told me the first two and a mattress salesman told me the third, but I still find guidance in those words today. I feel like I've got the first two dialed in, but the "perfect" sleeping pad eludes me to this day.
If you're like me and still on the hunt for your best night's sleep, then look out for the NEMO Tensor sleeping pad. Featuring ultralight fabrics, heat-reflecting technology, one of the most stable sleep surfaces I've ever tried, and three inches of plush comfort, the NEMO Tensor could very well check off one of your life's goals.
You'll find the NEMO Tensor 20R in hot competition with many pads, including self-inflating pads and air pads, but we found it's unique and dialed-in features top notch, while also being competitively priced.
This makes the NEMO Tensor 20R our Classic Pick for the Wilderness Backpacker.
NEMO Tensor Star Rating
Comfort

Durability

Inflation and Deflation

Packability
Summary
The NEMO Tensor is a sleeping pad that hits nearly every mark well in an overcrowded field. In both insulated and non-insulated versions it has a respectable weight for an air pad, has 3 inches of cushion that's dispersed very evenly through the quilted baffles, and is nice and quiet when you roll over.
The Tensor is priced competitively, and holds up over time, making it an excellent choice for your backcountry sleeping pad.
A good night's sleep is crucial for success on the trail. Check out our comprehensive guide to sleeping pads to find (and understand) your dream mattress, and read the full NEMO Tensor review below. Your back will thank you in the end.
Update: We tested the NEMO Tensor in 2017 (technically the Tensor 20R Mummy, which indicates the width, shape, and insulation of the pad). NEMO is updating the pad in 2019 with a redesigned flat valve, which looks to be much more functional than the previous valve. The pad is a tad lighter, includes a pump sack, and has a slightly more refined look. Overall we think these improvements are excellent, and still recommend the Tensor (and all its variations).
NEMO Tensor 20R Mummy Specifications
Feature Type
Feature Specs
What This Means
Weight
12.7 oz (385 g)
Essentially ultralight. There are lighter pads, but only by an ounce or two.
Type
Air Pad
The Tensor is inflated with air, and only air. It'll leave you a little winded. More on sleeping pad types in our Guide.
R-Value/
Temperature Rating
30°F to 40°F (-1° to 4°C)
NEMO doesn't participate in R-Value testing, so it lists a temperature range. This is roughly equivalent to an R-Value of 2-2.5. 30 degrees is pushing it though. More on R-Value and temperature ratings in our Guide.
Shapes
Mummy, Rectangle
We tested a mummy version, but it's also offered in a Rectangle shape. More on sleeping pad shapes in our Guide.
Sizes
20R, 20L, 25R, 25L, 20S
In NEMO-speak, the number is the width, and "R" means Regular, "L" means Large, and "S" means Short. We tested the 20R Mummy, but it's offered in many other sizes, as you can see.
Thickness
3 in (8 cm)
Three inches is the high end of thickness for a sleeping pad, especially an air pad. It's plus, and makes sure you won't touch the ground.
Length
72 in (183 cm)
Standard length for Regular-sized sleeping pads. The Larges are longer, the Shorts shorter (obviously).
Width
20 in (51 cm)
Standard with for Regular-sized pads. This mummy pad tapers to 16 in (41 cm) at the feet. The Tensor products with "25" in their name have a 25-inch width.
Packed Size
8 x 3 in (20 x 7.5 cm)
About the size of a standard Nalgene bottle. Really, really small. More on sleeping pad size in our Guide.
Baffle Type
Quilted
Unique (and new) baffles on the Tensor utilize horizontal and vertical baffles to create stable, quilted pockets. Very nice. More on sleeping pad baffle types in our Guide.
Valve Type
Two-Step Locking Valve
A fancy valve that lets you inflate and deflate easier than other twist and pull valves. More on sleeping pad valve types in our Guide.
Material Type/Thickness
20D PU Polyester Ripstop
Very thin material, almost see-through. About the thinnest you can go with a sleeping pad. More on Denier count in our Guide.
Breaths to Inflate
20-24
An air pad with twist and pull valve usually takes this many breaths to inflate. You'll be huffing and puffing.
Manufacturer Warranty
Lifetime Warranty
Nemo provides a lifetime warranty for all its products, specifically for defects in manufacturing. You have to be the original purchaser and have a receipt from an authorized Nemo dealer.
Retail Price
$119.95
A mid-range price for a very nice sleeping pad. If you want it insulated or larger the price goes up. Nemo has the same color pad for insulated and uninsulated, and many retailers list them in one page, so the prices below won't always be accurate. If you want the pad we tested, look for the Nemo Tensor 20R Mummy sleeping pad.
Gear Review of the NEMO Tensor
Origins: Easing You In
I've been told I have an old soul (whatever that means). I'm pretty sure, though, that I have an old everything. I like to go to bed early, I enjoy "Antiques Roadshow," and hearty soups are high on my list of favorite things. When it comes to sleeping in the backcountry, I'm no less crotchety: I've gone through so many sleeping pads in the pursuit of the Holy Grail that I've lost count of how many I've woken up on with a stiff back.
Naturally, when I picked up the NEMO Tensor 20R, I was incredulous that this sleeping pad would be any different. It's my job to be impartial when writing gear reviews, but my spine has its own agenda and better funding in swing districts. With an open mind and a full pack, I took the Tensor on two overnight trips in the local mountains in hopes of attaining my two loftiest goals: restful sleep and a hearty dehydrated soup.
My second hike took me to Bear Trap Camp and was truly pleasant. The spring days were warm and breezy, and the nights were crisp and serene. My first hike to Sheep Camp, however, was quite the opposite with sub-freezing temperatures, gusting wind, and a surprise ice storm. This made for some good gear testing.
Revelation: The Moment I Knew
After a cold, gusty hike up the foothills of Mount Piños, I settled in at Sheep Camp, one of the highest camps in Los Padres National Forest at 8,400 feet. I setup my tent with much protest from the wind and arranged my bedding for the night. After a quick rehydrated meal, the clouds moved into camp and I made my way to the tent.
I was tired from the hike in and from being at altitude, but I couldn't sleep. (Yes, 8,400 feet is "at altitude" when you live 10 minutes from the beach.) Even though I found a decent spot to put my tent, the large tree branches above made me anxious enough to fend off sleep. After an hour of reading I turned off my headlamp and attempted sleep in earnest. Through the night the wind picked up and the temperature fell.
The thermometer on my watch read 25 degrees Fahrenheit for most of the night. My sleeping bag was rated to 20 degrees, but the Tensor is only rated for 30-40 degrees. (NEMO doesn't use R-Values, but general temperature ranges). My legs were cold, and my frustration grew as I realized I had misjudged the weather.
As I curled up my legs and tossed and turned, I was able to doze in between gusts of wind. My sleeping bag helped with the cold, and the Tensor's comfort in any position kept me relatively happy as I battled the elements for some solid shuteye. From lying on my back, to flopping on my stomach, and settling on my side, the Tensor stayed with me and kept me sane through the night. It's a three-inch pad when fully inflated, which feels like a deluxe mattress out in the woods. And the quilted baffle pattern emulates a true mattress.
This was the moment I knew the Tensor was packing serious comfort and was going to be stiff competition for my chiropractic praise.
Digging Deeper
The NEMO Tensor 20R is another in NEMO's growing line of equipment inspired by tried and true designs but with innovative twists.
The Tensor's fabric is a 20-denier polyurethane-coated polyester ripstop. This relatively low denier reduces weight and increases packability while maintaining its strength and durability. The silky smooth fabric is comfortable to lie on directly when relaxing around camp.
NEMO uses unique "undulating lateral baffles" that are spaced closely to create a flatter surface that feels more like a normal mattress. I found the quilting more stable and comfortable than pads I've used with large longitudinal baffles.
I've gotten used to a 25-inch wide sleeping pad for my personal gear. I don't mind the minor weight penalty since it gives me a little more wiggle room and lets me put my arms at my side while sleeping. At 20 inches wide, which is standard for most regular sleeping pads, I found my arms falling off the side of the Tensor 20R when sleeping on my back. (Note that the "20R" in the name specifies the width and length of the pad). I won't dock NEMO any serious points for this, however, as the Tensor series does feature 25-inch wide insulated and uninsulated models.
Even though the Tensor 20R was narrower in the torso than I prefer, the mummy shape I tested is dialed and I appreciated it. The sleeping pad maintains its width for most of its length. When it begins to narrow near the knee area it only tapers slightly to about 16 inches by time it reaches the end. This gave my feet more room to splay out without falling off of the edge and allowed for a more natural position when on my back. Some mummy models taper too dramatically and you end up with less usable sleep surface. The regular model is 20 inches all around.
NEMO rates the Tensor as comfortable down to 30 degrees Fahrenheit, and it works to this limit as promised. Sleeping in temperatures down to the the mid-30s at Bear Trap Camp, I was cozy and warm in a 20-degree sleeping bag. Below 30 degrees I was feeling the chill. This is not an instance where the Tensor fell short. This accurate rating makes the Tensor 20R a great 2-3 season sleeping pad depending on the conditions you encounter most. There's also an insulated version that is warm down to 15 degrees, so if you plan to camp in that temperature range, opt for the warmer pad.
Comfort
I found the Tensor 20R comfortable in every position. The three inches of padding supported me well and was thick enough to keep my shoulders and hips from touching the ground when sleeping on my side (an issue with thinner pads). I flop around like a sturgeon on a boat deck when I'm sleeping, but the Tensor's quilted surface kept me from sliding off the pad in the middle of the night.
Durability
The NEMO Tensor's 20D fabric had me concerned about durability, but it did well even when camped on pine needles and lying on rocky sand. I like the design of the inflation valve, but it protrudes significantly. Many other brands like Big Agnes and Exped are moving to flat plug valves because twist and pull valves can rip off by accident, and are generally more snag-prone. Plugs make deflation quicker and easier, so for full durability points I'd want to see a flat valve on this pad.
Deflation and Inflation
The two-step locking valve on the Tensor is a variation of the twist and pull, and makes inflation and deflation simple. Snap the valve closed to take a break between breaths or to release air and fine tune comfort while you are laying down. Turn the valve to lock it while you sleep and prevent accidental air release. The Tensor does not fully deflate without folding or rolling it, but it does so relatively quickly.
It took me 22 breaths and about 60 seconds to inflate the Tensor 20R at 8,4000 feet. I'm not sure if it was the cold temperatures or the valve itself, but the Tensor collected moisture inside which was visible through the light fabric. I hang my pads indoors to dry for a couple days after repeated use to reduce the possibility of mildew. Fortunately, the Tensor has a loop at the head for doing just that.
Packability
The Tensor 20R is one of the fastest pads to pack I've ever used. Its lightweight fabric makes rolling up the pad easy, and the included strap with hook-and-loop closure keeps the roll tight when placing it back in the stuff sack. When packaged, the Tensor 20R is about the size of a 32 ounce Nalgene bottle (the Gold Standard for comparing packability) and slides easily into my pack.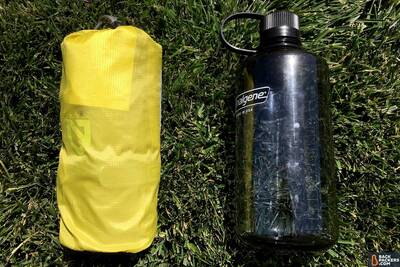 Although standard for most inflatable pads, it's worth mentioning that the Tensor comes with a patch kit for field repairs. This is a must whether on an overnight or a thru-hike, especially when using pads with no foam or insulation.
Grievances
Two grievances come to mind when considering the NEMO Tensor 20R: the valve and the crinkle factor.
The advanced design of the valve is practical and sets it apart from other brands, but why put it on top of the sleeping pad? It sticks up 1.5 inches above the sleeping surface and I found myself rolling onto it with my beautiful face, especially when lying on it without a sleeping bag, which I do often. I feel like the valve could easily be placed on the side of the pad.
And now to the crinkle factor. Even after all of the sleeping pads I've owned and tried, I never had one with metallic heat reflector technology. The Tensor reminded me why: the crinkle! The Tensor isn't the original or main offender with the crinkle (that honor goes to the Therm-a-Rest NeoAir XLite), but where does the madness end? I wasn't woken up by the noise of the heat reflecting panels, but I did find it irritating every time I turned over.
This is an issue of debate among backpackers — do you care about the crinkle, or not? And does your tent-mate care about it? This really comes down to personal preference, but note that pads with the metallic heat reflector technology will crinkle.
Final Word
The NEMO Tensor 20R competes as the lightest pad on the market, has three inches of plush comfort, and packs down to the size of a water bottle. It's comfortable and packable — every backpacker's dream. While it may not get my parents off my back, it will make my backcountry mornings more enjoyable. And isn't that what life's really about?
Where to Buy NEMO Tensor
A NEMO Tensor 20R Mummy sleeping pad was tested for the review. When broken down, that name means the Tensor pad (yellow in color) with a 20 inch width, in a size regular (72″ long), in the "uninsulated" version. Nemo offers the Tensor line in many other varieties: a Rectangular pad with a 20- and 25-inch width, Small and Large sizes, and insulated and uninsulated versions. While we think the Mummy shape in a 20-inch variety is what most backpackers will prefer, the number of options are part of the reason we love this pad. You can get the right pad for you. Get the uninsulated version if you do 2-season backpacking, and the insulated version if you plan for 4-season backpacking or always want to be warm.
Below you'll find various versions of the NEMO Tensor line. Make sure to select the correct model when buying the sleeping pad.
Review Policy: We do not accept payments or gifts from brands and vendors, and strive to provide unbiased, independent advice. Brands typically provide review samples which we return, and in some cases we purchase the item so we can keep using it long after the review. Affiliate Policy: We support the hours that go into our reviews and testing through affiliate commissions on purchases made through links in this article. These don't effect the outcome of our reviews or selection of gear, as per our Review Policy.