The North Face Jester Backpack Overview
Tough, comfy, sexy, and spacious…sounds like the latest full-sized pickup truck on the market! No, no, I'm referring to The North Face Jester backpack, a sleek and sturdy sidekick for any tech-savvy Urban Hiker. With its variety of compartments and well-crafted materials, not only is it ready for the commute around town, but it effortlessly carries the load for that post-work sunset trek. All without putting a cramp on your wallet.
The North Face Jester backpack is our Budget Pick for the Urban Hiker due to its relatively small cost for what you get: a burly backpack that will handle your daily commute with ease.
The North Face Jester Backpack Star Rating
Comfort

Durability

Packability

Style
Summary
The North Face Jester Backpack is a straightforward pack for daily urban life. It has a single large zippered compartment to store a laptop and other essentials, a smaller zippered compartment with micro-fleece for pens and other items, and a robust FlexVent support on the back panel.
The exterior pockets aren't outstanding, and overall the pack is very basic, but it gets the job done.
Come, let us share with you everything we know about backpacks in our comprehensive backpack guide, and see why we recommend The North Face Jester backpack below.
Update: The North Face updated the Jester in 2017/2018, and made the padded straps and back panel more comfortable. they also streamlined the pack shape itself a bit, and gave it a more modern look. There are new colors for men's and women's pack, and overall we think the improvements are positive.
North Face Jester Backpack Specifications
Feature Type
Feature Specs
What This Means
Number of Pockets
4
Two small stretch mesh water bottle pockets on the outside, two separate zippered pockets to main pack.
Other Attachment
Yes
External bungee storage system.
Laptop/Hydration Sleeve
Yes
Fits 15-inch laptops and a hydration sleeve, but no port for the hose.
Lined Pockets
No
The laptop sleeve is lightly padded, but that's about it.
Sternum Strap
Yes
With whistle!
Hip Belt
No
You're on your own.
Materials

600D polyester

450D x 300D heather polyester

1200D polyester

Many different fabric types, all very strong.
Load Range
10-12 LBS
Decent padding, but a small pack without hip belt. Don't overdo it.
Warranty
Lifetime Guarantee
Covered for manufacturing defects, only eligible for original owner.
Pack Size
Men's
Women's
Capacity
26 L, 1,587 in3
26 L, 1,587 in3
Dimensions
19.75 x 13.5 x 7.5 in.
18.75 x 14 x 7 in.
Weight
2 LBS (32 oz.)
1 LB 15 oz. (31 oz.)
Retail Price
$65.00
A budget price for a durable pack.
Gear Review of the The North Face Jester Backpack
Origins: Easing You In
I've worn many hats in my life thus far — formerly student, hippie world traveler, and construction worker, these days I'm tour guide, handyman, day hiker, fiancé, tiny house builder, and (last but not least) gear reviewer.
Over the last three weeks the North Face Jester has joined me on all my escapades, from the hardware store to the coffee shop to the trailhead. It was there to witness my endorphin-inspired elation from ascending mountain tops.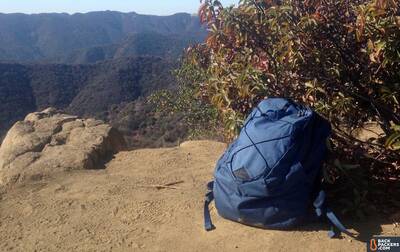 It was beside me during the emotional valleys that come from sitting for too many hours in bumper-to-bumper L.A. traffic. I've shaken drywall dust off this pack at my tiny house project, and it has been caressed by the warm ocean breeze while cruising down the beachside bike path on a Segway.
I've taken it out this morning for its last hiking adventure and the nostalgia is beginning to set in. I'm starting to get all teary-eyed at the thought of parting ways from my new, blue friend, since I must turn it back in with this review. Over all there is a lot I love about The North Face Jester and only a couple things I wish were different.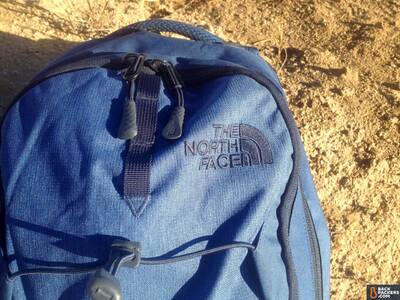 Let's dive a little deeper, shall we?
Revelation: The Moment I Knew
I've had a soft spot for the Jester since I first tried it on. It felt snug and comfortable on my back right out of the gate. However, it was really this morning when I tried to max out its capacity and put it through the wringer for its final, technical hike that it truly impressed me.
Although I know that most people, including myself, would not normally hike with both their trail gear and their laptop together, I wanted to see how it would perform fully-loaded like this. And man, it did very well!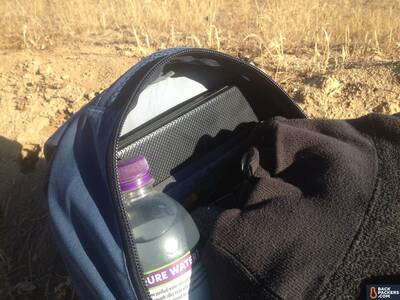 As I slid my way down the steep embankment I noticed my feet digging deeper into the sand under the weight of the pack. Yet the backpack itself stayed firmly plastered to my torso throughout all the bouncing and jarring.
I couldn't believe how form fitting the Jester was even when loaded close to max capacity. Between the foam back pads, The North Face's FlexVent suspension system, and cushy shoulder straps with their built-in adjustable sternum strap (safety whistle included!), the pack stayed glued to my back throughout the steep, slippery descent on my hike. It truly is a sweet backpack, no matter the load.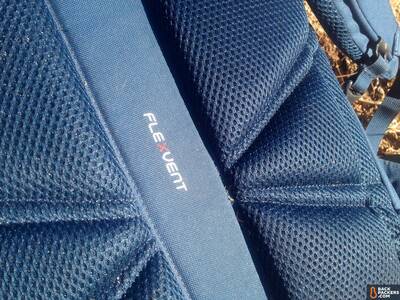 Digging Deeper
For years my usual daypacks have been of the frameless, squash-able type that resemble a stuff sack with a couple straps sewn on for good measure. In the past, whenever I needed to bring my laptop along for the ride I would lug it around separately in a briefcase-style bag.
However, the Jester has inspired me to reconsider my approach. It's constructed with a 15-inch laptop sleeve on the inside of the massive main compartment that lies snugly against your back. Along with the laptop in its sleeve, I've been able to fit a bulky hoody, two liters of water, a can of kippered herring (yum), and various miscellaneous trail items into that same main zippered compartment. There there was still room to spare, too. And that's just in the main pocket!
On the outside of the pack they've also included an elastic draw cord that could hold a sweatshirt or beach towel (if you somehow managed to fill up all the available space inside). Better yet, you could hang those wet board shorts out to dry while keeping them isolated from your electronics.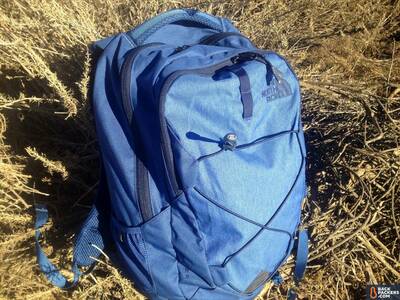 If all that wasn't enough storage space, they've also integrated two mesh side pockets that could hold a couple small water bottles, or other miscellaneous items if need be.
Comfort 
4 Stars
Not only did it feel plush against my back, but it also made a great pillow for a post-work beach nap. The Flex Vent is rigid, and provides more support than very basic backpacks, so it will handle a decent load for its size. Surprising comfort for a budget pack.
Durability 
4 Stars
The nylon fabric feels tough as Louisiana gator jerky and the thick zippers slide as smoothly on their tracks as one of those Japanese bullet trains. There were no obvious weak points in the construction, but only time will truly put its durability to the test.
Packability 
3.5 Stars
The packability on the Jester is top notch for the price and size. Included laptop sleeve, pen pockets, and well contoured space allows for easy packing. The water bottle pockets are pretty useless though.
Style 
4 Stars
Unlike my other daypack, this one actually doesn't look like a flapjack when it's empty. And boy, do I like that grey blue hue. It matches well with my blue phone case, my blue watch, my blue house…
If you want a super hip pack, this probably isn't it, but for most people it'll do just fine.
Grievances
Just like most products and people have room for improvement (including myself), so does the Jester. Although it seems to be nearly a perfect backpack for the Urban Hiker, there are just a couple things about this product that I wish were designed differently.
First off, although there's somewhat of a ventilation system built into the design of the back pads, it didn't really seem to prevent the majority of my back and shoulders from getting saturated with sweat. (This will vary based on user, because the same FlexVent system is on the The North Face Borealis, and it fended off the sweat quite well.)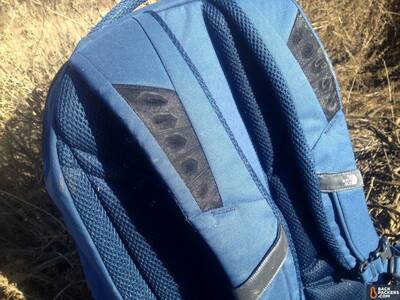 Next, I noticed that the two mesh side pockets are very, very small. It seems that anything larger than .5 liter bottles would be likely to fall out of these pockets, and the lack of compression straps means you can't easily keep bigger ones secured.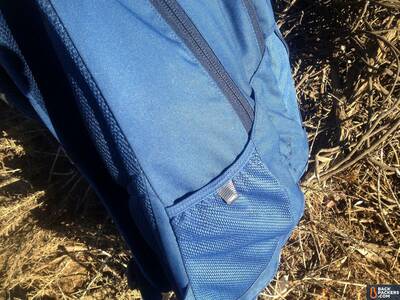 Finally, the one thing I really wish was different on this backpack is the laptop sleeve design. Although my excessively large laptop can easily slide in and out of its sleeve, it seems strange to me that there's not any protection for my laptop against rain or a leaky water bottle. If the laptop sleeve was constructed with some kind of waterproof lining to isolate it from the rest of the pack, and with a flap over the opening of the sleeve to shed off potential rain or coffee spills, that would make it literally perfect. Of course, this is the Budget Pick, so it's hard to fault it for a basic sleeve.
Final Word
The North Face Jester backpack is a sexy sack that will hold your important junk close to your trunk while impressing anyone who watches you walk.
Where to Buy The North Face Jester Backpack
The Men's version of The North Face Jester Backpack was used for this review. There is also a Women's version, which has a slightly different shape and back panel, though it's pretty much the same. The biggest difference is color options.
Compare The North Face Jester Backpack prices below.
Review Policy: We do not accept payments or gifts from brands and vendors, and strive to provide unbiased, independent advice. Brands typically provide review samples which we return, and in some cases we purchase the item so we can keep using it long after the review. Affiliate Policy: We support the hours that go into our reviews and testing through affiliate commissions on purchases made through links in this article. These don't effect the outcome of our reviews or selection of gear, as per our Review Policy.