Osprey Atmos 65 AG Overview
The Osprey Atmos 65 AG is both revolutionary and stalwart. It fits every requirement of an excellent wilderness backpack, like well-designed storage, durable materials, and an array of customization, yet takes the suspension of weight to an entirely new level.
If there were an angel carrying our pack for every long mile, hovering inches above, we would still take the Atmos. Those angels are way too chatty. It's made for (and excels at) weekend and week-long trips while hauling 30-50 pounds.
The sheer comfort and usability make the Osprey Atmos 65 AG our Classic Pick for the Wilderness Backpacker, the standard by which all others are measured.
Osprey Atmos 65 AG Star Rating
Comfort

Durability

Packability

Fit and Adjustability
Summary
The Osprey Atmos 65 AG backpacking pack is a standout in a crowded field. The Anti-Gravity suspension system hugs the back for incredible support, lots of venting to keep sweat off your body, and wraps into the hipbelt for a seamless feeling as you hike. There are well-thought out pockets inside and out, a stretchy mesh pocket for storing quick-access items, and a removable top lid.  It is durable, easy to figure out, and fits most people.
Explore the world of backpacks (kind of our obsession) with our comprehensive backpack guide, and see why we recommend the Osprey Atmos 65 AG below.
Update: In late 2017 Osprey updated the Atmos 65 AG and Aura 65 AG. There are new distinct colors, a refined logo, a slightly more refined look, and a few more breathable mesh components used in the suspension system. All the features and material is the same. We think the new updates make the pack a little better, and it remains a standout backpacking backpack.
Osprey Atmos 65 AG Video Review
Osprey Atmos 65 AG Specifications
| Feature Type | Feature Specs | What This Means |
| --- | --- | --- |
| Weight | 4.58 lbs (1.98 kg) | An average weight for a solid backpack today. Not crazy heavy, but also not exceptionally light. |
| Capacity | 65 L | Standard size for most backpacking backpacks. You'll be able to fit what you need, even bulky things. Learn more about backpack capacity in our Guide. |
| Frame | Internal | Form fitting, internal frame is the standard in backpacking today. |
| Frame Material | Anti-Gravity | The Anti-Gravity frame is exceptionally comfortable and has great ventilation. |
| Hip Belt Fit | 27-48 in (68-122 cm) for Medium | Fit on the Fly hip belts are highly adjustable. You should definitely be able to find a hip size that's right for you. Different sizes offered for S and L packs. Learn more about backpack hip belts and how to measure in our Guide. |
| Torso Fit | Adjustable,18-21 in (#-# cm) for Medium | The torso can be adjusted up to three inches. This means the pack will fit most people. The torso ranges change for a S and L backpack. To learn more about backpack torso measurement and adjustable torsos see our Guide. |
| Number of Exterior Pockets | 9 | That's a whole lot of pockets. Exceptional storage. |
| Sleeping Bag Compartment | Yes | Separate section accessible via zipper at bottom of pack. |
| Hydration Sleeve | Yes | Sip sip. Bladder not included, don't forget one. |
| Main Pack Access | Drawstring Top | Accessible via drawstring top closure or Sleeping Bag Compartment. |
| Detachable Top Lid | Yes, 5.6 oz | Easily de-attaches for a lid-less pack. Comes with secondary lid to cover the opening. |
| Trekking Pole/Ice Axe Loops | Yes | Specific slots for both. |
| Materials | Main Pack: 100 x 630D Nylon Dobby, Accent: 210D High Tenacity Nylon, Bottom of Pack: 420D Nylon Packcloth | Fancy nylon materials that are quite tough for a generally lightweight backpack. |
| Load Range | 30-50 lbs (#-# kg) | Wide range for variety of trips. |
| Warranty | Osprey All Mighty Guarantee | Lifetime warranty, One of the best in the business. Get in touch if something on your pack breaks. |
| Retail Price | $270 | A solid price for a solid backpack. You won't be disapointed. |
Gear Review of the Osprey Atmos 65 AG
Origins: Easing You In
A backpacking trip typically starts in the predawn hours, double checking the contents of your pack, throwing everything in the car, hitting the road before the sun has crested over whatever mountain, plain or sea you live near. In my case it was a foggy morning up the Pacific Coast Highway. I was headed to Big Sur for three days of uphill hiking, waterfall hunting, and generally basking in low elevation backpacking.
Yeah, the brand-spankin'-new pack — the Osprey Atmos 65 AG — lay like a beached whale in the back of my car, ready to get some dirt on it.
I met my brother and dad at the trailhead by 9 a.m., consolidated food, took out redundant items, and cinched the Atmos 65 AG all the way down.
The first thing you'll notice when this pack is fully loaded is how good it looks. That's a point for Osprey, a company that knows design, but it's more than looks. There's something to be said for a backpack that invites you to store items correctly on the first try, and doing so makes the pack stand up right and look great.
I did this by moving around my gear from their usual spots — placing the sleeping bag and tent in the main tunnel chute, my rolled up clothes in the bottom compartment, and odds and ends in the two huge exterior pockets.
I lifted it onto my back, wrenched the hip-hugging belt around to my front, buckled in, and adjusted my shoulder straps. Ready, set — where's the weight?
Like a viral mountain goat I led the way through a smattering of tall oaks and poison oak, up the rigorous slope of Big Sur's epic coast and into the Silver Peak Wilderness.
Revelation: The Moment I Knew
The singular moment would have to be at the top of the 1,200 foot climb, the peak of our hike, at the camp that was supposed to abut a stunning waterfall. Said torrent of water was, instead, a small trickle. Coupled with that was the dry, noon heat and a haze of smoke in the air from fires much farther north.
At that precise moment I unbuckled the Osprey Atmos 65 AG, set it down, and began to rock hop. I'm an active person, sure, but no professional athlete. Usually after any amount of haul, whether it's two miles or 10, I take a breather. Setting the pack down has typically been mandatory for me, but on this hike, with this pack, I was never compelled to stop completely. And once we did stop, I was ready to scramble around.
It could be the injection of horse steroids I took at the trailhead, or it could be the pack. It was the suspension of weight, of course. The very thing the new Atmos AG 65 is known for — the "Anti-Gravity" wonder of its trampoline-style suspension — is what induced this revelatory moment for me.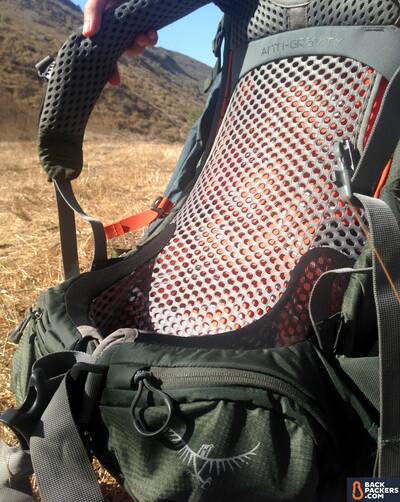 My pack was otherwise packed in a typical fashion for me — around 35 pounds with food and water for this two-night trip. I do have a lightweight sleeping pad, but my tent and sleeping bag were both engineered before any "ultralight" movement existed, and as such take up room and settle like a brick — usually. Not this time, though.
Digging Deeper
The Osprey Atmos 65 AG is more than the suspension, of course. That's just what everyone raves about — tripping on the holes in the material, testing gravity, questioning what sort of space-age we're in that part of a wilderness backpack looks like it came out Dr. Seuss. The one other thing I'll say about the rave-worthy suspension: it kept the sweat off my back better than anything I've ever worn on the trail.
There are features that will make you wonder why every pack can't be so simple. I mean, really, why can't every pack be so simple?
The first is the massive external pockets. The genius of this seems simple, and something many packs lack. They are large enough to store food, any on-hand items you might need, and are always accessible. Osprey sewed them to have valuable space no matter how filled up your main chute is, too.
There's the floating detachable lid, which you can take off if you're worried about weight or want a slimmer pack.
The hip belt has two oversized pockets — I stored a gold bar in one (standard size), and the paperback edition of Harry Potter 7 in the other. No, really, they are decently sized.
Finally, there was the joy of zipping and unzipping the Osprey Atmos 65 AG. Each zipper has a circular hoop for easy pulling, they slid without getting snagged anywhere and I thoroughly enjoyed myself. But maybe I'm a nut who loves the feel of a well-made zipper.
Comfort 
5 Stars
Icy angel breath upon an otherwise sweaty back and a grip like the strong, supportive hands of a veteran wrestler, the Atmos 65 AG made mince-meat out of weight. In short, this pack is exceptionally comfortable if you like a very close fitting backpack. The ventilation is supreme on hot hikes, and the waist belt snugs tight to transfer the load.
Durability 
5 Stars
The bald eagle that swooped down to steal my salami sandwich tore through my shoulder, the ziplock bag, and the meat, but the pack didn't have a scratch. Ok, it has a scratch, but the claws didn't puncture.
In all seriousness, the fabric feels quite robust. I've used this pack on multiple trips and have yet to see a single issue with durability, including the mesh pocket, which I wrangle all the time to fit in lots of gear. I see this pack holding up for years.
Packability 
5 Stars
The Atmos AG 65 is all about packability. There is a huge chute, a sleeping bag compartment, hip belt pockets, a lid with pockets, and two large separate external pockets. It's easy to pack and easy to find gear, which is just how I like it.
Fit and Adjustability 
4 Stars
The fit and adjustability of the Atmos AG 65 is excellent. The Fit on the Fly hip belt accommodates for pretty much every waist size. The torso length is only adjustable by a few inches, but Osprey sells the pack in Small, Medium, and Large variations so you can usually get the right torso. It gets one star off because some backpacks allow you to completely swap out the hip belt and/or shoulder straps to customize fit, and you can't do that with this pack.
Grievances
For an unknown reason angels have come up in this narrative review, so I'll stick with that theme. As legend goes, Satan was an angel who fell from heaven. Despite the glorious nature of the Osprey Atmos 65 AG, there were a couple of grievances.
This backpack features Osprey's "Fit-on-the-Fly" hip belt system, which means it can extend or contract to fit multiple hip widths. This customization is coupled with a movable harness, also meant to dial in the fit for individuals.
I used the small version of the Osprey Atmos AG 65 — the hip belt was magic, fit like a glove, and, as you know, kept the weight off. I was, however, at the peak height of the toros harness, which wasn't tall enough in the end. This meant some of the weight fell on my shoulders when it shouldn't have.
What's amazing is that even with this annoyance, the pack felt better than any I've tried. What would have happened if it fit perfectly? My point — make sure you fit in the Small, Medium, or Large version of this pack because you can't swap out the hip belt for a mix and match party like some of Osprey's other models.
Next grievance again takes the radiant light of this pack's lid — the brainy buddy that can be detached — and seriously wonders why it can't be converted to a day pack. An easy strap addition would make this even more excellent, and lord knows a backpacker loves a multi-functional tool.
There are tiny other things, ant-sized issues that any old complainer could complain about — a main compartment drawstring that isn't standard; the awkward "FlapJacket" that just sort of stares at you, uselessly, when you're using the main lid; the lack of an embedded speaker that plays you soothing nature sounds while you walk through nature…the usual.
Final Word
The Osprey Atmos AG 65 is angelic, beastly, and carries the load better than Sam Gamgee would have if Frodo wasn't so psychotically possessive of his little ring.
Where to Buy Osprey Atmos 65 AG
An Osprey Atmos 65 AG was used for this review. A women's version of the pack, called the Osprey Aura 65 AG, is also available. All the features are the same, but the hip belt and shoulder straps are dialed in for the female figure. We've found both packs to be excellent.
Osprey also offers the Atmos/Aura line in a 50 liter capacity. Much of the pack is the same, with less pockets and overall space. These are excellent if you want to take less and have a lighter load.
Compare Osprey Atmos and Aura prices below.
Review Policy: We do not accept payments or gifts from brands and vendors, and strive to provide unbiased, independent advice. Brands typically provide review samples which we return, and in some cases we purchase the item so we can keep using it long after the review. Affiliate Policy: We support the hours that go into our reviews and testing through affiliate commissions on purchases made through links in this article. These don't effect the outcome of our reviews or selection of gear, as per our Review Policy.