Outdoor Research Helium II Overview
I have to come clean. I'm not who you think I am. Contrary to what some may think, I am not an ultralight backpacker. I make ultralight gear decisions, but I do need some comfort items, like a cushy pad and copious amounts of chocolate. I'm not an ultra ultralight backpacker. The gram-counting, toothbrush-cutting, unstoppable weight-shaving thing just isn't my gig. But if the gear is super light and works super well, I'm keen to take it out.
The Outdoor Research Helium II rain jacket, weighing in at a scant 6.2 ounces (for a men's medium), is fully wind- and waterproof, decently well-featured, and fits the bill for both ultralight die-hards and comfort ultralighters. It sets the bar as our Classic Pick for the Ultralight Backpacker.
Check out the full review of the Outdoor Research Helium II below for more details, and get the rundown on waterproof shells in our comprehensive (almost exhaustive, really) Guide to Rain Jackets.
Outdoor Research Helium II Star Rating
Comfort

Durability

Breathability

Waterproofness
Summary
The Outdoor Research Helium II rain shell is light, decently comfortable, and sheds rain and snow in a pinch. If you're looking for an ultralight shell that won't bankrupt you, this is the place to start.
Update: We tested the Helium II in 2016, and beyond colorway updates, it remains the same. It's a core piece of gear  for Outdoor Research, and remains one of our favorites!
Outdoor Research Helium II Specifications
| | | |
| --- | --- | --- |
| Feature Type | Feature Specs | What This Means |
| Weight | 6.2 oz. (175 g) for a Men's Medium | As they say, ultralight. Less than half a pound. |
| Layer | 2.5-Layer | 2.5-layer shells breathe decently, shed water, and typically weigh less than 3-layer. Learn more about rain jacket layers in our Guide. |
| Waterproof Membrane | Pertex Shield+ | A PU-based membrane used for many ultralight jackets. Known for its weight and decent breathability. More on waterproof membranes in our Guide. |
| Face Fabric | 30D Nylon Ripstop | 30-denier nylon is not the thickest for rain jackets, but this shell isn't built for rugged durability. |
| No. of Pockets | 2 | Ultralight shell means cutting down on anything extraneous, like pockets. |
| Pocket Placement | One Exterior Chest Pocket, One Interior Stuff Pocket | Zippered chest pocket on the exterior is excellent for storing a phone or basic items. Interior pocket has a hook and loop closure and is meant for stuffing the jacket, but no other real function. |
| Pit Zips/Vents | No | Ultralight means cutting out extras. No pit zips or vents. |
| Water Resistant Zippers | Yes | The main zipper and chest pocket zipper are AquaGuard zippers, which stop rain from getting through. |
| Storm Flaps | No | Don't often need storm flaps when you have water resistant zippers, and flaps are extra weight. |
| Packs Into Itself? | Yes, Internal Pocket | Packs up really easy into the hook and loop internal stuff pocket. Complete with a small loop for carabiner. |
| Hood | Adjustable | Single adjustable pull on the back of the hood combines with a stiff, curved brim for excellent protection. |
| Fit | Standard Fit | Not tight, not too bulky. Meant for layering underneath. |
| Seams | Fully taped | Small seams, all of which are taped solidly. |
| Manufacturer Warranty | Infinity Guarantee | Covers all products for their lifetime for manufacturer defects and workmanship. Outdoor Research has a stellar reputation for fixes and warranty returns. |
| Retail Price | $159.00 | A decent price for an ultralight storm shell. Often on sale, too. |
Gear Review of the Outdoor Research Helium II
Origins: Easing You In
I have a few favorite mountains. Each offers different opportunities for adventure, solitude, and mischief. In winter, Mount Piños in Los Padres National Forest offers good snow, great views, and wilderness all within a 90-minute drive from my house. I've been hiking and snowshoeing the same trail on Piños for the past three winters, so I knew I needed to expand my repertoire, risk going insane or, worse, lose interest.
I scanned my map of the area and found two camps along North Fork Lockwood Creek Trail, popular among local hikers, and hit the road for two separate overnight trips. The first trip made for pleasant camping on a bed of crunchy snow. The second trip, however, had all the makings of an epic overnight.
Hiking in, the first four miles was great. The weather was crisp but pleasant, and the trail was hard-packed with a moderate incline. The last two miles and everything after that was serious fun. The trail pitched upward as gusty winds came from the west and low clouds moved in. Wind-chapped and stoked on the beautiful pine forest (yes, there are pine forests in Southern California) I arrived at Sheep Camp overjoyed to see both springs flowing serenely, creating a stark contrast to the now whipping wind.
It took some time to scout a tent pad that wasn't beneath a widowmaker (a branch that could be disastrous if it falls while you're camped underneath), and the wind didn't help in setting up my shelter. Clouds continued to roll in, but precipitation, and a thorough test of the Helium II rain jacket, seemed unlikely. Famous last words.
Revelation: The Moment I Knew
I spent the night tossing and turning as the wind shifted my tent around. I reluctantly woke up to still-howling winds and a thick blanket of clouds surrounding the camp. I got out and made breakfast per usual.
Just as I finished my last sip of coffee a barrage of ice pellets began to fall, pelting me in the face as I ran to the tent. I wasn't worried, just taken off-guard. The Helium II was in there, it would protect me…right? I sat in the tent feeling unsure as to my next move.
I set to task packing my sleeping bag and rolling my pad in hopes the weather would clear. But, after 30 minutes, I was already losing patience. I hate packing a wet tent, but I wanted to get moving and it wasn't looking like it would clear up any time soon. I put my shell pants and the Helium II over my thermal weight baselayers. With my back to the wind and cold hands moving quickly, I worked to break camp. In short order, I was on the move.
I am a believer in a cold start. This means that if you're going to be moving quickly soon, layer to be cold initially, so when you get to stepping you don't overheat and have to make a costume change. The Helium II, shell pants, and baselayers were freezing initially, but as I descended the mountain I quickly warmed up, managing to stay comfortable in minimal underlayers as I hoofed it.
The ice continued to come down in sheets, driven by the wind, and became mixed rain and sleet. My body heat melted everything and soon the Helium II was soaked. I hate hiking in shells, but the Helium II breathed just enough to keep the wet and wind off my body. This was the moment I knew this minimalist shell was maxing on performance.
Digging Deeper
For an ultralight minimalist rain jacket, often referred to as a "shell", the Helium II is feature-rich. A drawcord at the hem helped to keep the jacket from flapping in high winds, while another on the hood kept ice and rain out of my shirt. The hood also has a stiffened brim, which sat nicely on the bill of my hat and performed well when worn close to the face. Low-profile cuffs offer some protection, specifically when worn over gloves.
The Helium II has watertight AquaGaurd zippers, which kept moisture at bay even in high winds, and I was confident enough in their ability to keep my small camera in the chest pocket in the rain. (Yes, I still carry a point-and-shoot. Don't judge me). The chin guard at the top of the main zipper blocked my whiskers from getting caught  and felt comfortable next to my skin.
The Helium II is lightweight and feels like nothing when you put it on. The goal of most ultralight gear is to "feel like nothing", so the Helium II performed well here. I subbed it in as a windbreaker many times and stashed it in my work bag for windy days and winter showers. I also took it on a number of chilly trail runs — it blocked the wind on extended breaks and heated up quickly in the sun after dips in cold swimming holes.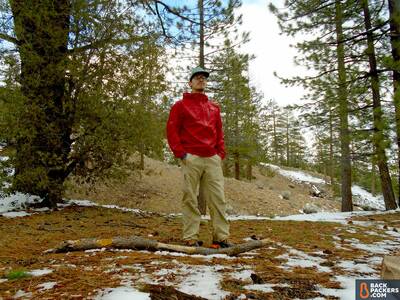 The last feature a backpacker will look for is stuffability. Now, I'm full of opinions, and honestly don't think self-stuffability is very useful for overnight trips. Why not just shove your jacket into whatever corner of your pack will take it? If you're harnessed up and need to have a shell clipped to your waist, then it makes sense, otherwise…
That being said, the Helium II has an internal pocket at the hip meant for self-stuffing. It's actually big enough to take a small package, like a cell phone, and is semi-protected from the elements. You can pack the shell away in this pocket utilizing a simple hook-and-loop closure instead of a zipper, which is nice. Some brands are far too conservative with the stuff pocket and create more of a frustration than a feature, but the time and effort required to stuff the Helium II in this pocket was next to nothing.
I personally don't need this feature, as the Helium II is small enough to stuff literally anywhere, but for those who love packing down tiny, this shell can do it easily.
Comfort
Like most rain jackets, the Helium is swishy and crinkly out of the box. But the Pertex Shield+ fabric is supple and softened up quickly. The membrane feels better against the skin than most 2.5-layer jackets, even in warmer weather, which is saying a lot because typically it's a very wet, clammy sensation.
Durability
I tested the Helium for two months and it looks brand new. I wore it under pack straps, shoved it in my work bag, biked around with it and did not baby it in any way. All things considered it has stood up really well for such a lightweight garment. However, I do worry about the longevity of the zippers over time as the 3C size tends to wear quickly (more on that below).
Breathability
The Helium's breathability comes in just ahead of middle of the pack. The light face fabric and thin coating performed better than most entry-level shells, but it didn't blow away high-end competitors. I wouldn't want to run a summer marathon in the Helium, but I was able to keep charging in nasty conditions. Like any waterproof shell, breathability and comfort decreased in warm, humid conditions or during high exertion.
Fit
I like the fit a lot. The medium is true-to-size, as I wear mediums regularly. The cut is close but not slim, what Outdoor Research calls "Standard". I could wear appropriate midlayers under the Helium II and still be comfortable in the high-20s (just below freezing).
Style
For a rain jacket, this thing is pretty damn slick. It has a sporty and technical look, but is definitely not over-built or out-of-place on the street.
Grievances
Ultralight gear almost always comes with the caveat of cuts. Whether it's materials or features, you will lose something in exchange for weight. The cuts on the Helium II left me with a few grievances.
First, I'm not stoked on the zippers. Outdoor Research uses YKK 3C zippers with AquaGuard waterproof coatings. I've seen many pulls and coils fail on 3Cs, and they've never inspired confidence. Size 4C and 5C (C for coil) and 4V or 5V (V for Vislon, the toothed zippers you see on many jackets) are higher gauge and a bit heavier, but tend to be more durable.
Also, the coatings make both the main and chest-pocket zipper very stiff. It required two hands to get the pocket open or adjust the main zip for venting, one to pull the zipper and one to hold the fabric. They may loosen up over time, but didn't over two months of moderate use. AquaGuard is used to cut down on weight — it's lighter than storm flaps, and makes a coat seem more waterproof. But it comes with a few negatives, like sticky zippers and potentially wearing out over the years.
I do want to note that Outdoor Research includes an Infinity Guarantee on all of its products, which is a lifetime warranty for parts. The company's reputation for fixes is very high, and if a zipper did fail you could send it in.
Next grievance: the hand-cuffs are a little half-baked. In an effort to reduce weight (and a method used by many other brands making emergency rain shells), Outdoor Research uses a half-elastic to seal the cuffs. The problem is the cuff hole is too big. It would be great with gloves, but without anything under at the wrist, the openings gape. Wind and some precipitation can get in when on the move.
Finally: pockets. The Helium had me flying high until I examined the pocket layout. Why a separate pocket for stuffing? This pocket opens inside the jacket, so you might put a small electronic device in there to better shield it from weather, but it would be inaccessible if worn under a pack hip belt. If Outdoor Research was trying to pare ounces, why not make the chest pocket a stuff sack and lose some grams? Or why not include this second pocket on the outside and make it usable with a hip belt?
I would also dock the Helium for not having two standard side pockets if I could. It was difficult to warm my hands without them. But, I refuse to blame a purposely-simple jacket for my personal preferences. It does the job well for which it is intended. For those that can't live without hand-pockets (or those who want pit zips as well), Outdoor Research offers the Helium HD Jacket.
Final Word
The Helium II is a performance hard shell distilled to elemental purity: functional, simple, ultralight, and it makes your voice sound funny (feature sold separately).
Where to Buy Outdoor Research Helium II
The Men's Medium Helium II rain jacket was used for testing. It's also available in a women's version, which is also called the Helium II. The features are the same, but the fit and cut is different. You can see both below. For those that want a slightly more feature-filled shell (that also costs more and weighs a bit more), check out the Helium HD rain jacket.
Review Policy: We do not accept payments or gifts from brands and vendors, and strive to provide unbiased, independent advice. Brands typically provide review samples which we return, and in some cases we purchase the item so we can keep using it long after the review. Affiliate Policy: We support the hours that go into our reviews and testing through affiliate commissions on purchases made through links in this article. These don't effect the outcome of our reviews or selection of gear, as per our Review Policy.