Patagonia Better Sweater Overview
Upon first glance of the Patagonia Better Sweater Jacket you can't help but imagine yourself in a picturesque cabin, next to a fire, with a cup of coffee. The exterior heather fabric pairs well with interior fluffy fleece and the style seems very simple on the outside, but once unzipped and worn it'll be the fleece you grab every time you head out the door.
The Better Sweater Jacket has functional pockets, stylish colors options, and a comfort level that will send other fleeces straight Goodwill. It's suited for those brisk mornings, treks through the city, or your commute to and from the grocery store.
These features make the Patagonia Better Sweater Jacket our Classic Pick for the Urban Hiker.
Patagonia Better Sweater Star Rating
Comfort

Durability

Warmth

Breathability
Summary
The Patagonia Better Sweater is a cozy, fine-looking fleece that fits in well in any urban environment. It's heathered design appeals to the eye as much as the skin, and wearing it is truly like wearing your favorite sweater. The jacket has high quality zippers, cozy hand pockets, and a chest or arm zip for small items. The perfect mid-layer for chilly days around town, or an excellent outer layer for moderate weather when you a want a durable and warm jacket on-hand.
Read the full Patagonia Better Sweater review below, and demystify fleece with our comprehensive guide.
Update: The Better Sweater is a staple in the Patagonia collection of fleeces, and gets small updates to color and fit every year. The jacket is now made with Fair Trade Certified sewing, and the fabric is bluesign approved. There are no major changes to this jacket in 2020.
Patagonia Better Sweater Specifications
| Feature Type | Feature Specs | What This Means |
| --- | --- | --- |
| Weight | 18 oz (510 g) | Heavy for a fleece jacket. The knitted fabric makes the material thicker than most fleeces. |
| Fabric Weight | Midweight/Heavyweight, 283 g/m2 (10 oz/y2) | In between midweight (200) and heavyweight (300). Feels like a midweight in terms of warmth and layering but has heavy fabric. |
| Fabric Material | 100% polyester knitted fleece | Unique heather feel on outside, soft fleece on interior. bluesign approved, which means an environmentally savvy jacket. |
| Fit | Casual | Not quite athletic, but not baggy. |
| Number of Pockets | 4-5 | Two zippered hand-warmer pockets, one external zippered sleeve pocket for women's (or chest pocket for men's), and two internal drop-in pockets for women's (or one internal drop-in for men's). |
| Thumb Holes | No | Doesn't retain heat as well. |
| Hood/Jacket Option | No | The Better Sweater doesn't have a hood option, but the Performance Better Sweater does. |
| Zipper Options | Full Zip, 1/4 Zip | You can choose. We like the full zip for ventilation. |
| Adjustable Waist | No | Not the warmest thing in the world. |
| Gender | Mens and Women's | Styled for each gender. Major difference is placement of chest or arm pocket. |
| Sizes Available | XXS-3XL | Depends on gender, but plenty of sizes. |
| Manufacturer Warranty | Ironclad Guarantee | Lifetime warranty, can return for repair easily. One of the best in the business. |
| Retail Cost | $139.00 | A solid price for a solid fleece jacket. |
Gear Review of the Patagonia Better Sweater
Origins: Easing You In
My friends had talked me into the North Face Endurance Run, a 50K (32 mile) trail race in the Muir woods north of San Francisco. When I travel, I try to pack as minimally as possible, selecting outfits that can be reused in multiple ways. I had been wearing the Better Sweater Jacket on my way to and from work, but I was excited test its mettle in the (comparatively) colder climates of the Bay Area. I packed it, hoping it would be the one stylish, toasty garment I could wear while touring the city.
I settled into my "long" 45-minute plane ride to SFO. The air blowing in from the tarmac hit me as soon as I stepped off the plane: that Bay Area chill is no joke. I quickly found the right train and headed out to meet my friends at Union Square. From there a fancy restaurant.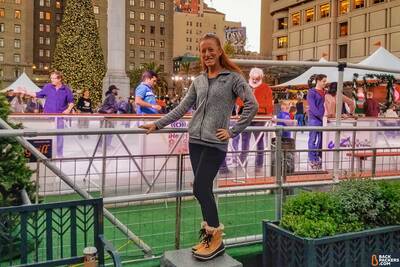 With its contoured seams and earth tone color, the Better Sweater was the perfect outer layer for an upscale restaurant and evening temperatures. I definitely didn't feel like I looked like I just hopped off a plane (no primping required).
As the weekend continued I was constantly zipped up in the Better Sweater Jacket — from cold winds in the Muir Woods on race morning to hopping on the trolley to Union Square, I felt like I was cuddled in a fleece blanket the entire weekend.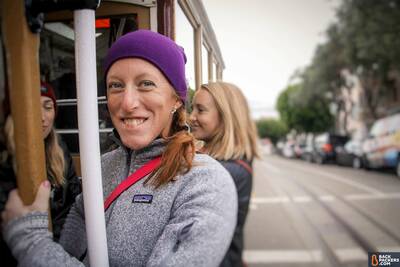 Revelation: The Moment I Knew
When it comes to packing for trips or preparing to be out on the town for a while, less is more. I want items that will function while being a tourist, layers that are comfortable, and pieces that are stylish in case I'm somewhere that requires a little more dressing up. The Better Sweater pulls each of these off easily, especially for San Francisco's climate and vibe.
It does this in two ways: the style and the fabric.
When I arrived at Union Square, the air was chilly, but with the Better Sweater on I was still quite warm. As the sun set we went to dinner — I walked right to the restaurant and slipped into a table. Not having to go through the process of changing or adding another layer makes basic daily tasks, like eating out, super simple.
Then there's the fabric: Patagonia's Better Sweater Jacket is made up of bulk free knitted polyester fleece. It's in between midweight and heavyweight at 283 grams per square meter (10 oz. per square yard), and somehow sheds tons of bulk while retaining warmth.
A lot of other fleece jackets feel big and bulky, or are too lightweight to keep you warm. It's hard to find one that does both, but the Better Sweater manages in a city setting. It kept off most of the evening's chill just over a t-shirt. Or, if you're in much colder areas (we're not all in California), it's a solid midlayer to place between a long sleeve base and a waterproof shell.
Whether I was hailing an Uber, careening down a hill in a trolley, eating lunch on a deck, or enjoying a view at a city park the Better Sweater rocked the changing temperatures and venues.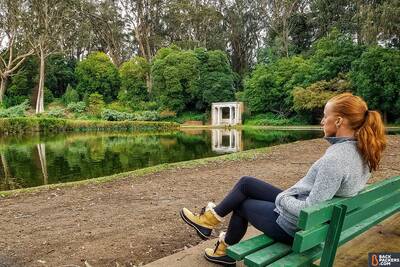 Digging Deeper
Style and fabric are critical to a city fleece, but the Better Sweater has a bunch of other features backing it up.
The one that impresses me most is the production quality. One issue I have with fleece is over time it seems to ball up (pile) and lose its fluffiness. I've washed the Better Sweater a few times (cold wash, air dry) and it still retains the fluffy, soft fleece interior.
After doing further research it's more understandable to see why: The Better Sweater's fabric is bluesign approved. So, what does that mean? When a fabric is bluesign approved it means it's produced in an environmentally responsible way for the planet and workers who make it. It also means the Better Sweater is dyed with a low-impact process that significantly reduces the use of dyestuffs, energy, and water compared to conventional dyeing methods.
I have sensitive skin, so any product that reduces the amount of chemicals used has my business.
Moving on from the high quality construction — let's talk pockets.
The two zippered hand-warmer pockets provide easy access to multiple items, like your ID, debit/credit card, or, in my case, Ghirardelli chocolate squares. (I don't share my chocolate easily.)
There's also two inner drop-in pockets on the women's Better Sweater (just one on the men's), which are deep enough to keep my hands free of my Samsung Galaxy 7. (Except when I'm texting pictures of my Ghirardelli to all my friends, of course.)
When you're not wanting to carry your purse or wallet around for a few hours, the pockets provide a great substitution as well as security.
The men's version of the coat has a chest pocket, whereas the women's has a sleeve pocket.
Comfort 
5 Stars
The Better Sweater Fleece Jacket is super soft. Wearing it is like wrapping yourself in a fleece blanket. You too could be like Linus from Peanuts and carry your blanket with you wherever you go.
Durability 
4 Stars
I wouldn't recommend you go rock climbing with this jacket, but it does well with a light mist in the air. I've had great experience with the soft jersey trimming on the collar, cuffs, and hems, which hold up through multiple washes and daily use.
The jacket does pile, as most fleeces do, so long term durability may be an issue.
Warmth 
4 Stars
The Better Sweater does a good job warming you up on a slightly chilly day, but don't expect extreme warmth. The thick, heathered fabric makes it slightly warmer than thinner fleeces, but for the added weight we think this piece could be even warmer.
Breathability 
4 Stars
While the Better Sweater doesn't blow me away with breathability, it works well on moderate hikes and walks. The thickness of the heathered fleece doesn't let out as much air as the fuzzier kind does, so it feels warmer and more solid when you're wearing it.
Style
The style just works. In a fancy restaurant or on a hike around the city, the coat looks good. There are tons of color options for both genders, and you can get the jacket in a quarter-zip if you want. But I'm not a fan of pulling things over my head: static hair.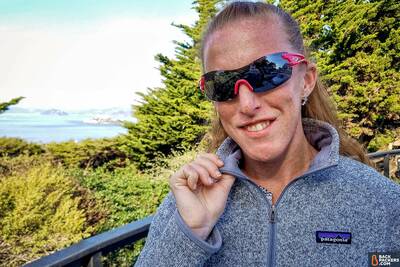 Fit
The fit in the upper torso is great; the seams around the arms allow a lot of mobility. However, I've noticed the fit around the waist isn't as trimmed as I would like. I was torn between two sizes of this jacket — the Small and Medium. The Medium was longer but lacked fit around the stomach area, whereas the smaller didn't quite fit the length of my torso. I wish this jacket fit a bit snugger along the waist line. That's all for a women's fit…the men's cut seems to be more of a block style, and is long in the torso and arms.
Grievances
There are two things that come to mind that could be improved for the next production of the Better Sweater Jacket.
First is that I wish a hood was available. I believe it would be a great addition to the overall warmth. Patagonia does make the Performance Better Sweater, which is offered with a hood. But that coat is more sporty, has stretchy athletic fabric in certain areas, and is lighter weight overall. That might work for some, but the style is thrown off a bit.
Second: warmth. As far as warmth goes, during the day and onto the early evening I was warm, however once the wind picked up I became quite chilled and had to add another insulating layer. The Better Sweater Jacket is perfect as a middle insulation layer, but I wouldn't recommend it for your final layer on a truly chilly evening. An additional wind breaker would suffice — or a much warmer coat if you're somewhere truly cold.
Final Word
The Patagonia Better Sweater Jacket by far is the better sweater to choose. It's a staple that will leave the house with you when there's a chill in the air, and looks good pretty much everywhere.
Where to Buy Patagonia Better Sweater
The Women's Patagonia Better Sweater Jacket was used in this review. There are also some pictures of the Men's version (with the chest pocket). The jackets are the same except for the placement of the third pocket, the fit, and only one drop-in pocket on the Men's. The Better Sweater is also offered in a 1/4 zip pullover, but we like the flexibility of the full zipper.
Compare Patagonia Better Sweater Jacket prices below.
Review Policy: We do not accept payments or gifts from brands and vendors, and strive to provide unbiased, independent advice. Brands typically provide review samples which we return, and in some cases we purchase the item so we can keep using it long after the review. Affiliate Policy: We support the hours that go into our reviews and testing through affiliate commissions on purchases made through links in this article. These don't effect the outcome of our reviews or selection of gear, as per our Review Policy.