Petzl e+LITE Overview
If you've read my other reviews, you know I'm not a hardcore ultralight backpacker. After years of finding my backcountry style, I'll still take that extra beer to crack on the summit and be damn happy I did. Yet certain pieces of gear come along that make me question my methods. Or at least entertain them until the next six pack comes around.
Coming in at less than an ounce, featuring five output settings and an integrated emergency whistle, the Petzl e+LITE headlamp is an ultralighter's dream come true. The new version for 2017 has 50 lumens and a new headband, two features that continue to give this tiny light an edge.
We've awarded the Petzl e+LITE the Classic Pick for the Ultralight Backpacker for its minuscule weight and size, and its hearty feature set.
Petzl e+LITE Star Rating
Comfort

Durability

Brightness

Battery Life
Summary
The Petzl e+Lite headlamp is an emergency light turned ultralight backpacking headlamp extraordinaire, mostly for its sub-one-ounce weight, use of CR2032 batteries (which are very light), and longer than normal battery life. It's not going to blow you away with brightness, or be super comfortable, but it's a tiny light that's perfect around camp and for minimal activities.
Need help shedding light on everything about noggin lights? Check out our comprehensive guide to headlamps and hit the night with confidence. Continue reading for the full gear review of the Petzl e+LITE headlamp.
Petzl e+LITE Specifications Specifications
Feature Type
Feature Specs
What This Means
Weight
.9 oz. (26 g)
This weight is pretty close to "nothing". Feels like nothing on you, feels like nothing in your pack. As ultralight as it gets.
Max Lumens (Light Output)*
50
Not a very high output, but enough for tent and around-the-camp activities. Don't expect to go trail finding in the dark.
Max Beam Distance*
32.8 ft. (10 M)
A generally low output means a generally low beam distance. Again, more than enough for camp, but not for trail finding.
Battery Time*
High White: 9 hours
Low White: 12 hours
White Strobe: 95 hours
High Red:15 hours
Red Strobe: 70 hours
In general the e+LITE can stay on for a max of 9 hours if used on full brightness. It's meant to last a lot more, as you wouldn't have it on for 9 straight hours. The battery life is great, one of its highlights.
Beam Type(s)
Wide Beam
Diffuse beam for close-up viewing. Not a Spot light.
Modes
White, Red, Low, High, Strobe
Basic modes, including red and white strobe.
Red or Green Light?
Red
Comes with a red light for use in tent and to not blind your campmates.
Water Resistance
IPX7
Official rating that means it's waterproof when submerged in roughly 3 feet (1 meter) of water for 30 minutes.
Tilt
Yes
Simple tilt with one hand. Doesn't always stay in place though.
Lock Mode?
Yes
Twist the main dial to the "lock" icon and you're all set.
Battery Type
2 lithium CR2032 batteries (included)
CR2032 batteries aren't the most common (like AAA), but they weigh very little and last forever. Always take a couple on your trips as a backup.
Headband Type
Single Band
Comfy, adjustable band with a whistle.
Manufacturer Warranty
3 Year Warranty
Petzl products are warrantied for three years against defects in manufacturing and workmanship. This is decent for a headlamp (an electronic device), but not the best in the business. If you do have issues with your headlamp, make sure to get in touch with Petzl right away.
Retail Price
$29.95
If weight matters most to you, this is a fair price. If you don't mind a bigger headlamp, you can get a cheaper one that's brighter.
*Studies show that manufacturer claims on Max Lumens, Beam Distance, and Battery Time are inflated compared to traditional ANSI standards. Our listed specs are those of the manufacturer, which are typically accurate for the first 2-10 minutes of the headlamp's use with a full charge. While this is unfortunate, it is currently industry standard, which means most headlamps suffer from these inflated specs and wash across the board.
Gear Review of Petzl e+LITE
Origins: Easing You In
Summer in California is in full swing. That means days by the river and nights driving to the trailhead. An actual dream come true for this Texas boy.
I received the Petzl e+LITE and some other pieces of gear knowing I had several trips coming up: fly fishing near Lone Pine, backpacking in Los Padres National Forest, hiking in Sequoia-Kings Canyon, and an overnight in the Eastern Sierra. I still feel residual stoke just writing about it!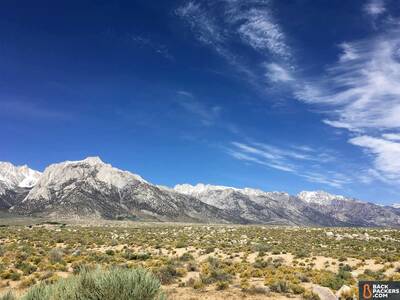 Revelation: The Moment I Knew
My current reigning headlamp is the Petzl Tikka R+. I love the reactive lighting, the relatively high lumens, and the rechargeable battery that pairs beautifully with my Goal Zero solar panel. My backup is an old but good Black Diamond Storm from back when 100 lumens was mind-blowing. (Is the pace of increasing headlamp output freaking anyone else out?)
My most recently reviewed headlamp for Backpackers.com, the ZebraLight H52w, set the bar high with 280 lumens, a fully waterproof metal casing, and single-battery operation. All that in my quiver, and there were still several moments on my travels when the e+LITE surprised me.
When thru-hiking the Gene Marshall-Piedra Blanca Trail in Los Padres National Forest, a beautiful 18-mile ramble from high chaparral to pine forest to riparian paradise, I did attempt to go light. I would've succeeded if I hadn't brought my bear can, but I truly despise hanging a bear bag.
After settling in at Three-Mile Camp I dozed off in the afternoon sun, then woke to darkness. I had taken an unintended yet welcome nap after a hot 10-mile day. The e+LITE's pill-shaped carrying case was easy to grab from my tent's wall pocket and made deployment and activation super easy. I found my way to my bear can, dinner came and went quickly, and then I headed back to the comfort of my tent. All very easy.
The week before, a friend and I setup basecamp outside Lone Pine near the Alabama Hills of the Eastern Sierra Nevada for a weekend of fly fishing and swimming in the spring creeks of the foothills. We got skunked in the water, but there's so much to do in the Sierra, the stoke level stayed high. Fishing trips always result in late nights by the fire and midnight trips to the restroom after a few rounds of ale. The e+LITE's red light function kept my night vision intact and helped guide me back to the comforts of the campsite.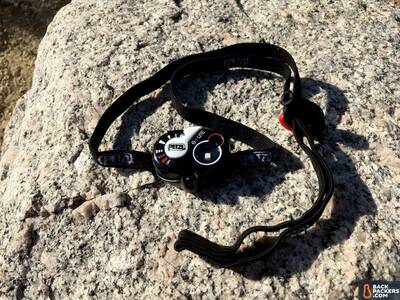 When I'm testing gear, I sometimes tote my standby favorite product around (whatever it is) in case the new gear is frustrating or uncomfortable. Even with my backup light around, I repeatedly reached for the e+LITE on the first two trips. It's small, easy to access, no hassle, and the battery life is epic. The third trip didn't have a standby favorite — the tiny emergency light had burrowed itself into my heart.
Digging Deeper
For its size, the e+LITE is chock full of features that give even Petzl's other industry-leading models a run for their money.
Two white light settings (15 and 50 lumens) keep things simple. The low setting was perfect for reading in my sleeping bag and prepping dinner. High was good for finding my way to the nearest tree at night. No, I couldn't see hundreds of feet or navigate a steep descent with the headlamp — but it's not built for that.
The e+LITE also has a white strobe, red light, and red strobe. I used the solid red setting quite often to retain night vision. Although I never utilized the strobes, they would be great for emergency signaling and for a back light when cycling.
I don't know about you, but I've been scorned more than once by a headlamp turning on by itself in my pack. Not only does the e+LITE have a locking on/off switch that is easy to turn (with gloves, even), but it comes with a water-resistant carry case with belt/strap loop to keep even the most unlucky hiker from losing light when they need it most.
The lamp has an IPX7 rating, meaning it can be submerged at a depth of three meters for up to 30 minutes and still maintain its integrity. Petzl claims the e+LITE can be stored for emergency use with batteries for up to 10 years! I didn't test that (10 years is kind of a long time), but was impressed by the battery life on my trips.
The e+LITE has a thin headband, but it's stretchy and comfortable. It's tightened with a patented spring toggle at the back that has an integrated emergency whistle. Because the e+LITE was built for emergency use and backup, the whistle has the Morse code pattern for "S-O-S" embossed on the side and the carry case has the arm signals for "S-O-S" and "OK" embossed for when signaling flyovers.
Comfort
I thought the G-string headband (yeah, I went there) would dig into my skull, but it proved comfortable even over caps and beanies. Other lamps I own are heavy and require the straps to be cranked down to keep the light in place. The e+LITE is so lightweight it only needed basic tension to stay in place even when bending over to set up my tent.
Durability
I typically stored the e+LITE in the included carry case, and as a result I saw no signs of wear after four trips and regular use.
Brightness
The e+LITE is tiny yet it puts out a solid amount of light. I wouldn't be comfortable night hiking technical trails with it, but it does the trick for setting up camp and midnight trips to the loo. Two brightness settings made reading in my tent quite enjoyable.
Battery Life
I was pleasantly surprised by the e+LITE's battery life. After four trips and normal use around camp, I saw no drop in light output. Even if you were on a thru-hike, the batteries are so small you could carry extras and only have a gram or two of weight to worry about. I can hear you gram-weenies cringing from my living room!
Style
The e+LITE gets lots of points for style: it looks techy and cool despite its Lilliputian dimensions. Bonus: I get to feel like a giant, which is key for a short man in a tall man's world.
Grievances
I have three grievances with the e+LITE.
First, the beam is very diffuse. Since the lamp is ultralight and meant for emergencies only, it appears Petzl chose a multi-use spread beam, as opposed to a focused spot beam. This makes the 50 lumens less effective in open spaces and reinforces apprehension for use outside of camp.
Second, the ball joint that allows the user to direct the light is loose and easily bumped. When in my sleeping bag or even working about camp, I found myself knocking the light and having to readjust it for the correct direction.
Lastly, the toggle for adjusting the light settings began to stick after only a few trips. It requires force to put in lock mode, and I fear excessive pressure could break it.
Final Word
Whether you've found yourself without light when it mattered most, you're prepping for Armageddon, or you're shaving down the grams, the Petzl e+LITE's rich feature set, miniscule weight, and ease of use will keep you sane when the proverbial shit hits the fan.
Where to Buy Petzl e+LITE
There is only one version of the Petzl e+LITE, and we tested it. This model is new for 2017, and updates the old (and very popular) e+LITE. The main differences on the new verison are increased lumens and a new headband. Both are excellent additions.
You can find links to buy the Petzl e+LITE below.
Review Policy: We do not accept payments or gifts from brands and vendors, and strive to provide unbiased, independent advice. Brands typically provide review samples which we return, and in some cases we purchase the item so we can keep using it long after the review. Affiliate Policy: We support the hours that go into our reviews and testing through affiliate commissions on purchases made through links in this article. These don't effect the outcome of our reviews or selection of gear, as per our Review Policy.