Platypus SoftBottle Overview
The Platypus SoftBottle is about as lightweight as a water bottle can get, it attaches to popular ultralight water filters, and is as reliable as a soft bottle can be.
There is an endless array of water-carrying devices on the market, everything from old-fashioned canteens to high-tech hydration packs. As the ultralight mindset has become more mainstream among today's modern backpackers, these products have had to slim down to meet the needs of the lightweight adventurer.
Platypus has been making water bottles for over 20 years, and in that time the company has refined its designs to be leaner, stronger, and more versatile.
For these reasons and more we're awarding the Platypus SoftBottle as our Classic Pick for the Ultralight Backpacker.
Platypus SoftBottle Star Rating
Lid

Durability

Form Factor

Drinkability
Summary
The Platypus SoftBottle is a frequenlty used water container that doubles as a drinkable bottle for thru-hikes and day hikes alike. It comes in different sizes, but the 1 Liter size allows you to easily store a lot of water in a slim form factor just about anywhere in your pack.
You can use it to house dirty water before filtering, clean water once filtered, or as your standard water bottle. When it's not in use it rolls up very small and it weighs only 1.2 ounces when empty.
Read the full Platypus SoftBottle review below.
Platypus SoftBottle Specifications
| | | |
| --- | --- | --- |
| Feature Type | Feature Specs | What This Means |
| Weight | 1.2 oz. (34 g) (when empty) | An almost imperceptible weight. Only a thin plastic bottle is going to be lighter. |
| Volume | 34 oz. (1.01 L) | We've found that a liter of water is best for backcountry use. You don't have to fill it up all the way, but it allows you to carry a lot over dry stretches. |
| Body Material | Plastic with food-grade liner and rugged exterior | This bottle is a soft plastic that's surprisingly durable for what it is. It's made in the USA, free of the bad things, and has a food-grade liner for safe drinking. |
| Mouth Type | Narrow | The mouth is very narrow. The same size as common one-off water bottles like Smartwater or Dasani. You cannot fit ice cubes. Works with Sawyer MINI and Squeeze filters. |
| Lid | Simple Screw or Push-Pull Cap | We tested the simple screw lid, which is very basic and does not leak. You can also buy it with a push-pull lid for fast drinking. |
| Height | 13 in. (33 cm) | Not too tall, not too short. |
| Base Diameter | 6 in. (15 cm) | This is the base length. The base width fluctuates depending on how full the bottle is. It's never very wide. |
| Mouth Diameter | Not Listed | Mouth diameter is not listed, but it's the standard diameter of generic water bottles. |
| Free Of | BPA, BPS, Phthalate-free | Platypus has made sure these bottles don't contain harmful chemicals to your body with a food-grade lining. |
| Other Sizes | .5L, Duolock Versions | The SoftBottle is also offered in a .5L version. The DuoLock SoftBottle is a similar bottle with more features, and is offered in .75L, 1L versions, and 2L versions. |
| Manufacturer Warranty | Limited Lifetime Warranty | Platypus offers  a limited lifetime warranty on manufacturing defects and workmanship issues. However, this does not include wear and tear. The SoftBottle has one moving piece, so defects are rare. |
| Retail Price | $8.95 | Surprisingly cheap for such a lightweight, solidly made collapsible water bottle. Pick up two and you're all set for the backcountry! |
Gear Review of the Platypus SoftBottle
Revelation: The Moment I Knew
My appreciation for the Platypus SoftBottle has culminated over many adventures. I've used Platypus' collapsible water bottles for years, rarely sparing a thought for them because they've simply done what they were supposed to do.
On long backpacking trips I've carried several, cramming them deep within the darkest corners of my backpack, filling the spaces between my food bag and dirty socks. They'd always fit in somewhere, whether full or empty. The most I've ever hauled was seven liters of water across a dry 45 mile stretch of the Mojave Desert, and those SoftBottles sure were easier to pack than a bunch of hard plastic bottles would have been.
On my latest venture I filled my SoftBottles and took them into the Panamint Mountain Range of Eastern California where I had the opportunity to compare the classic 1L Platypus SoftBottle to the new 1L DuoLock SoftBottle.
A quick note on the DuoLock: it's more useful than I had expected it to be, especially the attached carabiner clip that doubles as a handle. It made the bottle much easier to use as an actual bottle rather than just like a water storage bladder, which I tend to use the original SoftBottles for.
Ultimately the original Platypus SoftBottle won me over because of its simplicity and lighter weight. I'd recommend the DuoLock for an average day hiker, but if you're going ultralight there's no beating the Platypus SoftBottle, especially if you're already using the Sawyer MINI or Squeeze, as the DuoLock doesn't have threads for those filters. The original SoftBottles are better than any other bottle I've ever used for lightweight water storage and drinking.
Digging Deeper
Lid
Twist on, twist off. The lid is sturdy, tight, and the universally common threading will fit with small-mouthed water filtration systems. Its mouth is wide enough to pour liquid into and is comfortable for drinking, but not large enough for ice.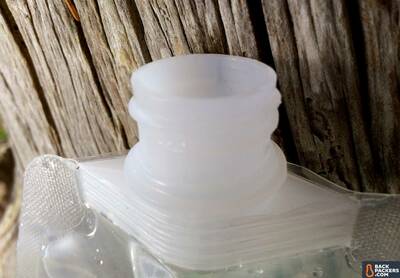 Durability
The Platypus SoftBottle's plastic is capable of withstanding the typical drops and scrapes that every water bottle on a backpacking trip tends to go through. That means no plastic surgery required! I haven't tested this specific bottle's durability extensively, but my larger 2L SoftBottles have lasted me for literally thousands of miles and dozens of spills.
That said, it's called "Soft" Bottle for a reason. This is not a Nalgene or stainless steel bottle, and won't stand up to a skewering.
Form Factor
The Platypus SoftBottle rolls up like a little taquito when empty. You can stuff that baby anywhere. As for when it's filled with water? Well, that's the beauty of a collapsible bottle. It'll slide into any nook or cranny large enough to hold the water within.
Drinkability
My favorite part of the Platypus SoftBottle is what I like to call the "chug factor" (trademark pending). The bottle's mouth is wide enough for a good flow, and since it's collapsible it'll shrink as you swig, allowing you to down the whole bottle in one go. Pro-tip: if you have decent access to water and feel dehydrated, chug it all in one go. You won't have to carry that weight!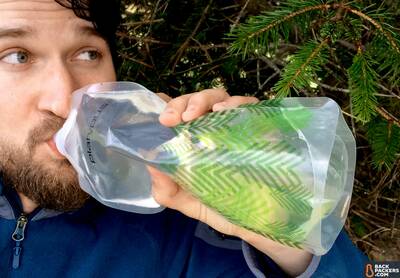 Grievances
This is less of a grievance with the product (which I think works perfectly well for what it is) and more of a reminder to use it as intended. I've busted open a couple of these bottles on the seam below the threading when squeezing the life out of them to filter water through my Sawyer Squeeze. Using a Sawyer filter with a Platypus SoftBottle is common for thru-hikers, so be forewarned.
The SoftBottle was not technically designed to be used for this purpose, so it's not at fault, but I wanted to let you know before you popped a Platypus.
Final Word
The Platypus SoftBottle is a lightweight and flexible water bottle that will fit just about anywhere you can shove it, and it connects to standard small thread water filters. What are you waiting for?
Where to Buy Platypus SoftBottle
We tested the Platypus SoftBottle 1L, which is the largest size they make in this form factor. It's also offered in a .5L — we like the larger one because the weight is not that much more, and you can haul a lot more water.
Platypus has also recently released the DuoLock SoftBottle. We tested this as well, and while it's a great bottle, we still like the original SoftBottle for ultralight backpacking. The DuoLock has a carabiner clip for hanging, a locking opening to drink from, and a screw-off opening for easy filling. All of these are good features, and work surprisingly well. If you don't plan to use the SoftBottle with a water filter or want a more feature-filled water bottle that weighs a bit more, consider the DuoLock.
Compare Platypus SoftBottle and DuoLock prices below.
Review Policy: We do not accept payments or gifts from brands and vendors, and strive to provide unbiased, independent advice. Brands typically provide review samples which we return, and in some cases we purchase the item so we can keep using it long after the review. Affiliate Policy: We support the hours that go into our reviews and testing through affiliate commissions on purchases made through links in this article. These don't effect the outcome of our reviews or selection of gear, as per our Review Policy.