Princeton Tec Byte Overview
Hiking in the pitch black has a certain eerie feeling to it. The sense of adventure is extreme, and you'll need a light to make sure you don't fall off a cliff or whack into a tree. A headlamp usually does the trick, and a tiny headlamp with a bright enough light is the best scenario for most backpackers.
The Princeton Tec Byte headlamp fills those shoes. Coming in at 2.2 oz., you can fully experience hiking in the dark without the fear of stumbling off a cliff thanks to the modest (yet bright!) 70 lumens. There's also a low white light and red light for around camp use, a battery lock, and a five-year warranty (rare for an electronic product), all for $22.95.
These attributes make the Princeton Tec Byte headlamp our Budget Pick for the Ultralight Backpacker and Wilderness Backpacker.
Princeton Tec Byte Star Rating
Comfort

Durability

Brightness

Battery Life
Summary
The Princeton Tec Byte is a small, practical headlamp at an introductory cost. With it you get 100 lumens in a 2.2 ounce package, a bright white spot LED and a red light. All that you need for finding your way around camp at night, all for less than $25.
The Byte's size and multiple light modes make it excellent for backpacking excursions. You often don't need a ton of light, but rather one that is comfortable and functions at night in and around a tent. If you want a much brighter headlamp that weighs a bit more and doesn't have the red light, yet costs a little less, consider the Petzl Tikkina.
To learn more about the dark and mysterious world of headlamps, check out our comprehensive guide. For the full review of the Princeton Tec Byte headlamp read on.
Update: We reviewed the Princeton Tec Byte in 2017. This is a staple model for PTEC and since then they have released one update to the Byte, namely giving it 100 lumens instead of 70. We find this upgrade to help improve its usefulness around camp and when looking for a trail, but otherwise the light is pretty much the same.
Princeton Tec Byte Specifications
Feature Type
Feature Specs
What This Means
Weight
2.2 oz. (64 g)
Almost a full ounce lighter than most other headlamps. Tiny and feels like nothing.
Max Lumens (Light Output)*
70 Lumens
Seventy lumens may not be very many when compared with other headlamps, but it's enough light for basic activities. More on Lumens in our Guide.
Max Beam Distance*
98 ft. (30 M)
This is far enough for basic tasks and basic low-light hiking. More on Beam Distance in our Guide.
Max Battery Time*

High: 2 hours

Low: 96 hours

Red: 146 hours

Battery life is not the Byte's strongest feature. Make sure it's fully charged before your trip, and the battery lock is on.
Beam Type(s)
Spot and Flood
High is a spot beam, low is a flood beam.
Modes
Low White, High White, Red
Rotate between the modes for your environment.
Red or Green Light?
Red
A solid red light on the Byte is great for in-tent use.
Water Resistance
IPX4
Safe to take out in a drizzle, but this headlamp isn't made for water sports.
Tilt
Yes
The tilt is basic, but works.
Lock Mode?
Yes
You lock the battery by clicking the small button inside outside battery enclosure. Remember to do this, because it also reduces battery drain.
Battery Type
2 AAA
This headlamp only needs two AAA's to function. This reduces battery life and weight. It also works with AAA NiMH rechargeable batteries.
Headband Type
Single band
Basic headband that's comfy and stays put.
Manufacturer Warranty
5 Year Warranty
Princeton Tec is a reputable company that provides a 5 year warranty for the Byte. Pretty good for an electronic product.
Retail Price
$22.95
A low price for a small headlamp with the right features for backpacking. Often found on sale, too.
*Studies show that manufacturer claims on Max Lumens, Beam Distance, and Battery Time are inflated compared to traditional ANSI standards. Our listed specs are those of the manufacturer, which are typically accurate for the first 2-10 minutes of the headlamp's use with a full charge. While this is unfortunate, it is currently industry standard, which means most headlamps suffer from these inflated specs and wash across the board.
Gear Review of the Princeton Tec Byte
Origins: Easing You In
Waking up at 4 a.m. to hike 4,000 stairs isn't something I do often, but after hearing about the "Stairway to Heaven" hike I decided it was time to check it out. I've lived in Hawai'i for a month now, and "heaven" out here must look pretty good. We were heading up there to catch the sunrise and camp. I packed my bag, including my stove, hammock, rain jacket, and the Princeton Tec Byte headlamp.
We arrived at the trailhead at 5 a.m. and started towards the daunting stairway – although I couldn't see it because it was still dark. I could feel the high mountain towering above us as we got closer. Throwing on the Byte, I turned it onto the highest setting. As we continued uphill for the next hour, it started to rain (it rains about every other minute in Hawaii) and the Byte proved to light up the trail. It wasn't a blinding beacon, but it was enough to provide me safe passage to the top, and it worked through the drizzle. Keep in mind these were steps and a well-worn trail. If I was bushwhacking off trail, 70 lumens would not have been enough.
We reached the top and I switched the Byte to the lower white light setting with an easy push of a button. The lower light was really useful in this pre-dawn, post-hike stage — it provided enough light to see the people around me, but not so much that I was blinding everyone.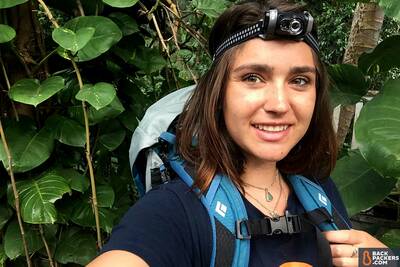 Revelation: The Moment I Knew
There were two revelatory moments for the Princeton Tec Byte.
The first, and what has really sold me, is the comfort level. Once the sun came up over the horizon on that epic trek, I took off the Byte and was surprised that after wearing it for about two hours, it hadn't caused any headache or pain. The strap was easy to adjust and flexible enough to provide comfort during those grueling 4,000 steps.
Part of this is that the headband is stretchy and easy to adjust. Once I found a good fit, I forgot anything was strapped to my head. It didn't bounce or move around, either. The second part is the weight — 2.2 ounces feels like nothing, whereas a more traditional headlamp is about four or five ounces, and after many hours you feel it.
The second moment was reflecting on the quality of headlamp. I figured that, due to the price, it wouldn't work as well as a more expensive headlamp. Sure, it's not as bright as other models, but I was able to hike in that blue, pre-dawn darkness and toggle to red or lower white light in a second. For under $25 that's a pretty sweet deal.
Digging Deeper
The Princeton Tec Byte has a simple, efficient design that met my basic backpacking needs. The low weight was excellent, and 70 lumens was enough for basic hiking in the dark.  Beyond those two things, which are the major specs of this headlamp, the Byte has a few other features.
The light itself can swivel up or down and is easy to adjust with one hand, which makes dialing in an angle simple. It holds the individual positions well, too.
One of the ways the Byte stays so light is that it takes two AAA batteries. A lot of headlamps use three AAAs which definitely adds weight to your lamp and to your pack if you carry extra (and you definitely should). As I started a second trip with the headlamp, I realized I needed to change out the batteries, and it was easy to do on the trail. You just pop open the side of the headlamp, empty the batteries, and put new ones in. There was no need for a screwdriver or any extra equipment.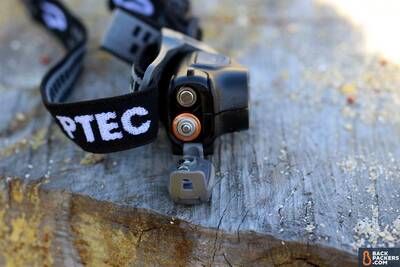 In the same battery enclosure is a battery lock, which can be switched on to make sure the headlamp doesn't accidentally get turned on. This is a critical feature for backpackers. There's nothing worse than a dead headlamp after getting to camp because it was shining like a disco light the whole way out.
Finally, the Princeton Tec Byte has a water resistant rating of IPX4. Although it's not waterproof, the first time I used it, I got caught in a rainstorm. The headlamp got wet in a number of rainstorms and it didn't cause any issues. Although I wouldn't recommend dunking it in the ocean and diving with it (definitely don't do that), I felt comfortable using it in a light rain.
Comfort
Wearing the Princeton Tec Byte was comparable to wearing a soft beanie. It didn't provide any warmth, but was cozy in its own way. The band felt loose enough that it didn't cause any pain, but it was tight enough that it wouldn't slip off.
Durability
I would be comfortable taking this on any trips and am confident it would last under normal wear and tear, as long as you treat it well. The Byte doesn't need dinner and a movie, but don't go banging into every tree you pass. I also find comfort in the fact that Princeton Tec has a five year warranty on this product, which is unique, because this is an electronic product, and electronics have a bad habit of failing.
Brightness
Going from the highest setting to the lowest setting of light, I realized that for the most part I would use the highest setting most frequently. Seventy lumens was enough to climb stairs, hike, and look at objects around camp when packing or setting up the tent. The softer white light and red light were great for in-tent activities, but too dim to see much else.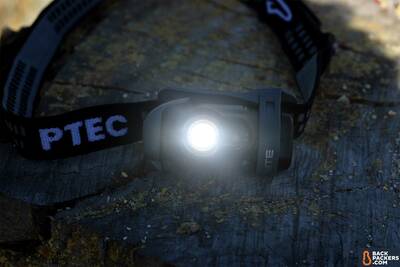 I will say that 70 lumens is a lot less than other backpacking headlamps (like the Black Diamond Spot, Black Diamond ReVolt, or the ZebraLight H52w), so think about how much light you really need.
Battery Life
Princeton Tec lists the "burn time" of the Byte at 146 hours, but that's at the lowest light setting. However, the battery was close to done after my two and half hour hike, so on the brightest setting (which I used most) it doesn't last all that long.
Style
Throwing on this headlamp made me feel like the backpacking equivalent of Warren Miller skiing down the slopes of Utah. There was no question of whether I looked cool, I had the style of a true backpacker.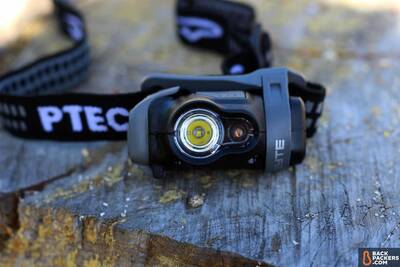 Grievances
Knowing this is a Budget Pick, I would say my only grievance with the Princeton Tec Byte is the battery life. I replaced the batteries after my dawn hike for another trip, and just a few hours into that I started to see that the light was fading. I would probably have to replace them again. I was using it on the high setting, so if you used the lower light setting more it would last a lot longer.
Part of this is the fact that it only has two AAA batteries in it, so the overall battery time is going to be less than a headlamp that has more batteries. But it also felt like it was draining them pretty quickly. I'd look at getting rechargeable batteries for this headlamp so I don't burn through a bunch of Alkaline ones.
Also, make sure to use the battery lock, because if you don't the batteries will drain a bit even while the headlamp is off.
Final Word
Bright enough, ultralight, and basic in its design, the Princeton Tec Byte headlamp is an excellent budget choice for non-technical backpacking trips.
Where to Buy Princeton Tec Byte
There's only one version of the Princeton Tec Byte, which is what we tested. It has 70 lumens, a locking mechanism, and three light modes. You can see where to buy the Princeton Tec Byte below.
Review Policy: We do not accept payments or gifts from brands and vendors, and strive to provide unbiased, independent advice. Brands typically provide review samples which we return, and in some cases we purchase the item so we can keep using it long after the review. Affiliate Policy: We support the hours that go into our reviews and testing through affiliate commissions on purchases made through links in this article. These don't effect the outcome of our reviews or selection of gear, as per our Review Policy.