REI Flash 55 Review Overview
If you're looking to get a lightweight backpack with lots of organization and the ability to be very minimal, the REI Flash 55 is an excellent choice! It's a pack that's built to be flexible, yet go the distance on small and large trips alike.
With a host of removable features, the Flash 55 features REI's PackMod features, which are pockets and straps that can be added, removed, and swapped to your liking. Weighing in at 2.5 pounds with up to 9 pockets and a 30-pound max load rating, the Flash 55 does everything a fast and light backpack needs to do.
REI Flash 55 Review Star Rating
Comfort

Durability

Packability

Fit and Adjustability
Summary
The REI Flash 55 is an extremely solid backpacking pack for quick overnights and extended lightweight backpacking adventures. Its thoughtful features and supreme comfort warrant a higher price, but it's actually fairly affordable.
The REI Flash 55 is a top competitor for our Budget Pick for the Ultralight Backpacker. It competes evenly with the Sierra Designs Flex Capacitor in cost, weight, and overall function. For those who want a more customizable pack, we recommend for the Flash 55. For those who want a one-and-done pack with supreme comfort and unique compression, we recommend the Flex Capacitor.
Read the full REI Flash 55 review below.
REI Flash 55 Review Women's Specifications (Size Small)
| Feature Type | Feature Specs | What This Means |
| --- | --- | --- |
| Weight | 2 lbs 10 oz. (1.19 kg) | Fairly light for a backpacking pack, and many pieces are removable to decrease weight. |
| Capacity | 55 liters | For those who prioritize lightweight gear, 55 liters is more than enough room. If you are hauling large gear for longer treks it will feel small. Learn more about backpack capacity in our Guide. |
| Frame | Internal | Internal frame backpacks are the most common today. |
| Frame Material | Steel | REI doesn't list in detail what materials it uses, but it's a very lightweight steel frame. |
| Hip Belt Fit | 30-40 in. (76- 101 cm) | Large amount of flexibility in the hip belt size, and each size of pack (XS, S, M) has a couple more inches of room. Learn more about backpack hip belts and how to measure in our Guide. |
| Torso Fit | Not Adjustable, 17 in. for Small | The torso length is not adjustable on the Flash 55. To learn more about backpack torso measurement and adjustable torsos see our Guide. |
| Number of Exterior Pockets | 9 | Tons of pockets on the Flash 55, many of which are removable. You can even change the location on a few. |
| Sleeping Bag Compartment | No | This is a streamlined backpack that loads from the main chute, and the main chute only. |
| Hydration Sleeve | Yes | Internal sleeve for a hydration bladder. |
| Main Pack Access | Roll Top | Simple roll top closure helps keep water out and use volume of bag well. |
| Detachable Top Lid | Yes | You can take or leave the detachable top lid, a definite plus on such a light and small backpack. |
| Trekking Pole/Ice Axe Loops | Yes | Store your poles or axes as you please. |
| Materials | Ripstop nylon; Oxford nylon | High quality, lightweight materials that are bluesign approved. |
| Load Range | 30 lbs (13 kg) | The stated weight limit is 30 pounds, and we tested just above that. It held up well. |
| Warranty | One Year Warranty | REI's one-year no-questions-asked return policy is great. After that year, you  may be able to exchange the product, but will need to get in touch on a per item basis. |
| Retail Price | $199 | A decent price for a seriously lightweight, functional backpacking pack. Meant for the fast and light crowd, built for customization. |
Gear Review of the REI Flash 55 Review
This spring, I had a few trips that involved backpacking in and around the Sonoran Desert. Coming from the high mountains, I have a hard time dealing with the heat of the desert. With that in mind, I selected my gear with weight as a primary concern. The lighter the load, the better! I was happy to review the REI Flash 55 during these trips, because as far as specs are concerned, it was exactly what I was looking for: a lightweight, fully functional backpacking pack.
My profession is photography, which means I always push backpacks to the limit of what they're capable of. I am known to overpack. There is no shame here, but it can be hard to find a backpack that really fits the bill for me. The REI Flash 55 proved to be perfect for the tests it was about to go through due to its comfort and versatility.
I was able to fit so much into the REI Flash 55. A 20-degree sleeping bag, sleeping pad, photography setup, food for four days, my stove, and some extra clothing. I didn't need to carry the tent (my partner did that), but if these had been solo trips and the tent was part of my setup, it would have fit externally with no issues.
Revelation: The Moment I Knew
I thought the REI Flash 55 was incredibly comfortable on the hip and shoulders. I gathered that from the moment I put this fully loaded pack on, but was most impressed after hiking 12 miles in the heat of Southern Arizona. I finished the trek, and still felt pretty fresh.
I tend to get shoulder and hip discomfort after backpacking over 10 miles, so I was surprised when we stopped hiking for the day, because I had no rubbing, chafing, or discomfort. I had loaded up the REI Flash 55 with 30.2 pounds (just over its stated capacity) and it was handling that weight better than many backpacks I've used.
On the second day of backpacking, I had the same results. And the next day, and the next. And by the time my second trip came around, I knew that I could depend on this backpack to carry everything I would need with ease. And that it would take a minimal toll on my body.
My Second trip was to Northern Arizona and it covered about 15 miles over three days. I was able to test out the REI Flash 55 with less weight and I removed most of the pockets and bits you can remove on this very customizable pack.
The comfort of this pack is phenomenal and I was impressed by that alone. But on my second backpacking trip, I truly appreciated being able to remove excess weight and bulk by taking off the top lid and some pockets that I didn't need. This streamlined version of the pack was fantastic for some very fast miles on trail.
Digging Deeper
For a lightweight backpacking pack with a rather minimal looking design, the REI Flash 55 is surprisingly capable of keeping you very organized with its many pockets. Along with an internal hydration sleeve, the Flash 55 has two removable (and large!) hip pockets, a removable shoulder strap pocket and two very large mesh water bottle/side pockets.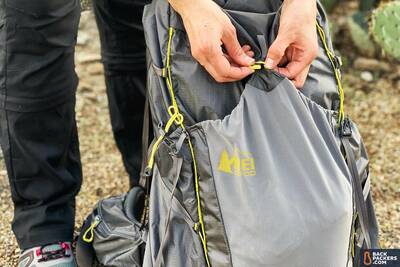 It's also got a big stretch pocket on the front. I found all of the mesh pockets to be extra stretchy, which is awesome for stashing camera gear, snacks, and easily accessible rain gear.
All of the straps on this pack are adjustable, so when you pair that with its roll-top design, you really can streamline your setup and create a bulk-free backpack. That said, if you want more room and some extra waterproofing, the included top lid does the trick. A truly versatile backpack, if you remove the REI Flash 55's top lid, the backpack will remain rolled closed, keeping all your gear safe (though a bit more susceptible to water).
There are many lash points on the outside of the REI Flash 55 and two ice axe loops. These thoughtful additions allow you to stash gear on the outside of your pack if that's your thing, or if you can't quite squeeze everything into the 55-liter chute. I tend to keep a tripod and a pair of sandals attached externally and was happy with how the REI Flash 55 held them securely in place.
REI created a special term (because of course they did) for the versatility of this pack: Packmod. Basically, this means that the pack has tons of features that can be affixed to different parts of the backpack, and can be removed if you don't need them. It's great for the picky packer who obsesses over how everything works.
If you choose to remove all the Packmod additions from the REI Flash 55, you'll save seven ounces, or nearly half a pound. To me, this isn't a huge deal, but for ultralight folks or during much longer trips, that weight can really add up. The ability to choose which Packmods to keep and which to ditch is fantastic.
Comfort
– 4.5 Stars
The REI Flash 55 is a solid choice if you're interested in comfort. I found the padding to be just right and the shape to be great for a female-specific backpacking pack. The shoulder straps curve in a way that created zero-chafe for me. And, because the straps are adjustable, you can create a very tight load that stays put, so this pack also manages to avoid giving you the dreaded hip blisters.
Durability
– 5 Stars
The Flash 55 is made from Ripstop nylon and is quite durable because of it. I didn't aggressively test the durability, but it got its fair share of being dropped on rocks and tugged on by cacti. After many days of normal use, and three full backpacking trips, it looks brand new. There is no snagging and those mesh pockets have kept their shape.
Packability
– 5 Stars
I love the packability of the REI Flash 55 — which is good, because the whole Packmod system is one of its main selling points. First, all of the actual pockets are great. I love it when stretch pockets are outrageously stretchy and that's what you get here. The hip belt pockets are actually large enough for a modern phone, and the water bottle pockets are easy to access.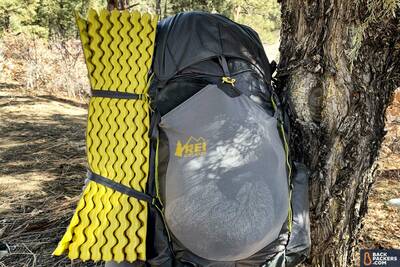 I also love the roll-top design. And the straps. My way of packing is to throw everything in and then tighten everything tight as can be. With the REI Flash 55, I am locked and loaded and know nothing is going to fall out of the pack.
Fit and Adjustability
– 4 Stars
You can adjust the REI Flash 55 via the hip belt and with the shoulder straps, which is really nice. This goes a long way in helping to create a good fit. For me, this pack has a near perfect fit. I tested the Small size, which fit my specs pretty well.
I am particularly impressed by the way the hip belt seems to mold perfectly to my hips. I would assume this pack would be a great fit for most bodies, as long as you've purchased the correct size.
That said, it doesn't have torso adjustability, which many packs do these days. So, if doesn't fit your torso, you won't be able to dial it in.
Grievances
My only real grievance is the way the REI Flash 55 Packmods attach and detach. They use toggles and I find them cumbersome. They aren't hard to remove, but they're more annoying than they could be.
I also found that the toggles on the hip pockets, which attach to your hip belt, could come loose over time. It wasn't enough of an issue to make me concerned they'd fall off, but it is worth noting. Especially for long trips. On a very long trip, I might even find a way to sew a couple stitches into the webbing to be sure those pockets aren't going anywhere.
Final Word
The REI Flash 55 is an extremely solid backpacking pack for quick overnights and extended lightweight backpacking adventures. Its thoughtful features and supreme comfort warrant a higher price, but it's actually fairly affordable. It has an excellent overall gear capacity and can be broken down to a more streamlined form with the unique Packmod system. The price makes it nice for a backpacking newbie, and the customization makes it great for the seasoned explorer who likes to keep the weight down. I was shocked to find that the REI Flash 55 was so versatile, and would definitely consider this if you're looking for a new pack.
Where to Buy REI Flash 55 Review
REI makes and sells the Flash 55. We tested the women's pack, but there is also a men's version of the pack. They are functionally the same, with slightly different size volumes and shoulder straps.
REI also makes the Flash 45 for men and women, a smaller version of the Flash 55. These are great packs for those want to go even lighter, but we find that most people will enjoy the extra 10 liters for the additional 3 or so ounces.
See REI Flash 55 prices below.
Review Policy: We do not accept payments or gifts from brands and vendors, and strive to provide unbiased, independent advice. Brands typically provide review samples which we return, and in some cases we purchase the item so we can keep using it long after the review. Affiliate Policy: We support the hours that go into our reviews and testing through affiliate commissions on purchases made through links in this article. These don't effect the outcome of our reviews or selection of gear, as per our Review Policy.