REI Half Dome 2 Plus Overview
Let's be honest — most two-person backpacking tents expect you to squeeze in next to each other like sardines in a tin can. The tent walls threaten your head and feet with condensation if you dare stretch too far, an all-night battle ensues between you and your sleeping buddy over the non-existent neutral zone between your sleeping pads, and if you roll around too much you'll end up pressed against the door mesh where mosquitoes will have a field day on your face.
The REI Half Dome 2 Plus eliminates all of those threats with its incredibly spacious interior. Why sleep in conflict when you can choose to sleep in comfort? With a floor area of roughly 38 feet, the Half Dome 2 Plus is about 10 inches longer and six inches wider than most comparable tents. It also happens to come loaded with numerous interior storage options, as well as dual doors and vestibules.
Given its space and ease of use, we've chosen the REI Half Dome 2 Plus tent as our Classic Pick for the Wilderness Backpacker.
REI Half Dome 2 Star Rating
Sleep Comfort

Durability

Ease of Setup

Space

Vibe
Summary
The REI Half Dome 2 Plus is a cavernous tent that can legitimately fit two adults, of any size, which is not true of most other "2P" backpacking tents. It has excellent features like star gazing, venting, and optimized headspace, and is made with high quality materials. It weighs more than other tents, but for the space and quality it's hard to beat, especially for the cost.
REI continues to update this line of tents, so it always has sparkly new materials and thoughtful design. Ditch the tin can for this luxurious tent. You're not a fish, you're a hiker! And you deserve to sleep like one.
Read further to learn more about the super roomy REI Half Dome 2 Plus.
Update: The REI Half Dome 2 Plus line received an update for Spring 2018. It includes a slightly revamped pole architecture for more headroom, more mesh in the top of the tent for stargazing, and extra internal pockets for storing gear. The rain fly doors are angled better for easier access, and the fly now has four propped vents in the ceiling, rather than two. The biggest change is that REI is no longer offering a non- "Plus" size of this tent — the Plus sizes are super popular, and REI has done away with the slimmer version. The Half Dome 2 Plus (and other person sizes) are offered in some cool prints, and have a greener manufacturing process as well. Overall we love these changes, and think it builds upon the standout tent we reviewed.
Half Dome 2 Plus Specifications
| Feature Type | Feature Specs | What This Means |
| --- | --- | --- |
| Packed Weight | 5 lbs. 7 oz. (2.46 kg) | Fairly heavy for a backpacking tent today. You get a lot of size and comfort for this weight, so we feel it's worth it for some people. |
| Type | Freestanding | Freestanding tents stand entirely on their own, meaning they don't need to be staked out for support. Most tents are freestanding. |
| No. of Doors | 2 | The REI Half Dome 2 Plus has two large doors that open fully. |
| Sleeping Capacity | 2-person plus | Comfortably fits two people of nearly any size. Most people could also fit a dog or child in this tent. It's huge! |
| Seasons | 3-season | Best used in Spring, Summer, and Fall. A large mesh top means it's not the best for winter camping or extreme cold. |
| Packed Size | 21 in. x 7 in. (53 cm x 17.8 cm) | Doesn't pack down tiny. The length includes the poles, so if you pack those elsewhere you can reduce the overall size. |
| Floor Dimensions | 96 in. x 56 in. (243 cm x 142 cm) | This is a monstrous floor size. You can fit two 25-inch pads side by side and still have room to spare. The extra length means you can store gear, a dog, or a child inside the tent. |
| Floor Area | 38.1 sqft | The average area of a backpacking tent is 30 square feet, give or take. The Half Dome 2 Plus is simply huge. |
| Peak Height | 42 in. (106.7 cm) | This is an average peak height, which is how high the highest part of the tent is. Not enough room to stand, but plenty of room to sit crosslegged or on your knees. The design is well lofted, too, so there is a lot of room to sit in the whole tent, not just in the peak height. |
| No. of Vestibules | 2 | The Half Dome 2 Plus has two full vestibules. They offer weather protection and gear storage, and can be used to cook meals in poor weather. One of both sides makes for comfortable living. |
| Vestibule Area | 10.2 sqft per vestibule | Average-sized vestibules. Not gigantic, but enough room to store a backpack, hiking boots, and other small items. Enough room to cook on a small stove if necessary. |
| No. of Poles | 3 | There are technically three poles, but the design is one big hub, so all them are connected. This makes assembly very easy, and you won't lose a pole by accident. |
| Pole Material | DAC Pressfit Aluminum | This is standard material for backpacking tent poles. It is not ultralight or high-end, but pretty sturdy. |
| No. of Interior Pockets | 8 | There are two large ceiling pockets, two small ceiling pockets, and four large low corner pockets. Plenty of storage for two. |
| Rain Fly Material | 40D Nylon | The rainfly is pretty sturdy. 40-Denier material is not the thickest or the thinnest. Average weight and durability. |
| Floor Material | 72D Taffeta Nylon | This is a tough floor. We still recommend using a footprint or some sort of ground cloth, but in dirt environments you don't have to worry much about this floor. |
| Mesh/Body Material | 40D ripstop nylon/20D nylon mesh | The tent body is the same as the fly, but with ripstop material. This means it's tougher. Pretty solid, but also not the lightest on the market. |
| Rainfly, Fast Setup? | Fast Setup Possible, Half Dome 2 Plus Footprint ($34.95) | If you buy the footprint by REI you can do a fast setup. You attach the rainfly directly to the footprint and don't use the tent body. This gives you a very large area that can be used for shade, sleeping without mesh, or for setting up the tent in rain without getting it wet. |
| Manufacturer Warranty | Limited Lifetime Warranty | REI warranties all of its products against manufacturing defects and workmanship issues for their lifetime. This tent is solid, so if something is broken immediately be sure to get in contact. You can also return the product within one year of purchase, no questions asked. |
| Retail Price | $219 | A surprisingly reasonable price for such a large, quality tent. It's hard to go wrong, especially since REI puts it on sale a few times a year. |
Gear Review of the REI Half Dome 2 Plus
Origins: Easing You In
Mountains and valleys have tremendous impact on the weather, especially the temperature. Any hiker who has walked along a windy alpine ridge and then dropped low into a humid dale can testify that terrain plays a key role in climate.
That's exactly what I experienced as I led my father and sister into the Rogue River-Siskiyou National Forest on their first backpacking trip, a journey I partially described in my review of the Kelty Cosmic Down 20 sleeping bag. That first night we spent on the ridge was freezing cold, but as we descended into the river valley we were inundated with a muggy heat.
The beauty of the Rogue River was astounding. It was difficult to enjoy, though, as my sister was hit hard by a bout of heat exhaustion early in the day. We pulled off trail around noon and hung out along the cool river water. Rafts and jet boats passed by, their occupants waving at us while we soaked our feet and ate lunch.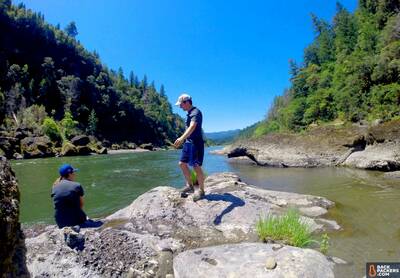 My sister struggled to cool off, so we decided to call it a short day. After a long break in the shade we made it a few more miles downriver to where we set up camp under a canopy of alder and oak trees. Dad and I pitched the Half Dome 2 Plus for my sister to use. She rested in the shade for the remainder of the day with the Dome's vents fully open for the evening's breeze.
Revelation: The Moment I Knew
That night I shared the Half Dome 2 Plus with my sister. She had recovered from the worst of the heat exhaustion, but it was a warm night as well. We rolled back the rain cover so that we could cool down as much as possible. This was perfect. It kept us cool and allowed us to stargaze — the Half Dome 2 Plus' rainfly rolls back specifically for night sky viewing. But mostly it was perfect for laughing at the bloodthirsty mosquitoes that desperately clung to the mesh ceiling of the tent.
Having a door and vestibule on both sides of the tent was convenient, allowing each of us to store our backpacks and smelly shoes far away from one another, yet close at hand incase we needed to grab something in the middle of the night.
The large interior storage pockets kept our iPhones and other vital necessities within arm's reach.
These features combined with the amount of space inside the tent left me feeling like I was sleeping in the lap of luxury. That's what this tent is: luxury without the high price tag. It's like I was in my own comfortably cool bedroom at home with the stars of the night's sky shining through the roof.
Digging Deeper
I was so content that I didn't care when I was woken in the middle of the night by a beast that pounded at the metal bear box just up the hill. So what if all of our food was in there? It was a locked bear box. Everything was going to be just fine.
In the morning I found there wasn't a scrap of food left to call my own. The bear had pushed the box off its foundation and broken open the door, leaving only its calling card behind— a fresh pile of blackberry-filled scat.
Luckily the beast never disturbed our camp and a friendly group of rafters nearby cooked us breakfast after hearing our woes.
The sturdy structure and durable walls of the Half Dome 2 Plus may not have been able to hold back the bold bear if she decided to come over to say hello, but for a backpacking tent this thing felt like a castle. The massive floor space spreads to 96 x 56 inches, which is almost wide enough to fit a third sleeping pad (if they are all 20 inches wide), and with 42 inches of height there's plenty of sitting room.
The removable rainfly makes this a double wall tent, meaning that it will be better at protecting you from the elements than single wall alternatives. The fly also comes in a variety of colors so you can add a little bit of your own pizzazz to the wilderness.
When we broke camp I piled the polls in a bundle and rolled up the tent, sliding all of it into the slightly oversized stuff sack with ease. The whole package packed away efficiently and strapped down tight for easy carrying.
Sleep Comfort 
5 Stars
The ventilation options are through the roof (literally). I loved the roll-back feature of the rainfly, which was ideal for a warm night under the stars. Most tents make you take off the rainfly entirely to view the stars through mesh, but the Half Dome 2 Plus allows you to roll it back halfway so you can see the night sky without having to completely remove your rain protection.
The excess floor space allowed me to keep off the tent walls without invading my sister's personal bubble, leading to a comfortable night for the both of us.
Durability 
4 Stars
The nylon fabric and DAC aluminum poles seem like they would hold up for a good while with regular use, as would the thicker floor material. Everything else from the stakes to the guy lines are standard and solid.
Nothing stands out as subpar, but nothing is over-the-top either — well, except for the rainfly, that uh…goes over the top of the tent I suppose.
Ease of Setup 
5 Stars
I had never used a hub-centric pole system before, so I was confused at first. After a few moments of playing with it I figured out the trick (go me!). No excessive exertion was needed, every piece of the puzzle fit right where it was supposed to. It's freestanding, so you don't need to stake it down or tie it up with guy lines, but the options are there if you need them.
I was able to put it together on my own in no time flat. At first, the positioning of the rainfly wasn't clear, though once I located the peak's grommets it all fell into place.
Space 
5 Stars
If you're still wondering about space, you haven't been paying enough attention! My sister and I — two adult humans in the 5'10 range — fit more than comfortably in the tent. Tossing in a small child or dog wouldn't have been much of a bother. The Half Dome 2 Plus really is "2 Plus."
Vibe 
5 Stars
As a home, the Half Dome 2 Plus is the ideal wilderness living space as far as I'm concerned. It has as many ventilation options as an organ has pipes, as much lounging space as your best friend's couch, and better storage than your high school locker.
Grievances
The wilderness luxury you're getting with this baby has to come at a price, right? Well, the cost (a cool $220 at full retail) isn't bad, so what's the catch?
The packed weight and size.
Weight and size are all relative. I wouldn't say the REI Half Dome 2 weight and size are excessive for what you're getting, but realistically such a spacious tent means it's large and heavy. And you have to strap it to your backpack. Then carry it for a while.  At five pounds seven ounces you're going to feel it.
It's a matter of give and take: extreme comfort at camp means putting more weight on your back than you might normally do. The reality is, though, that the Half Dome 2 Plus is only a couple of pounds heavier than most ultralight two-person backpacking tents.
And for those of you upgrading from a tent that's five years old (or more), you'll probably find that the Half Dome 2 Plus is actually lighter than what you have, and has way more space. Not everyone, of course, but the tent game has really lightened up in the last few years.
For a weekend backpacking trip (or even car camping) this tent is worth its weight in gold. Not literally gold, that would be way too heavy. I know people who have taken the Half Dome 2 Plus tent on massively long backpacking trips — I wouldn't recommend doing that. For extended thru-hikes I'd opt for something lighter, but for the more casual user, this tent just makes sense.
Final Word
The REI Half Dome 2 Plus is a two-person backpacking tent fit for a King and Queen and their corgi. Sleep like a royal family out on the trail in a well-designed space filled with abundant features and comforts. Now if only you could get a guard or servant to carry it for you.
Where to Buy REI Half Dome 2 Plus
We tested the 2017 model of the REI Half Dome 2 Plus. This model has a "stargaze" mode where you roll back the rainfly to look at the night sky and different colored rainflys that you can pick at purchase.
The 2018 model has some upgrades from the 2017 model, and overall we think the tent is even better. You can find the 2017 version, the 2018 version, and the 2018 version with a unique print below.
Review Policy: We do not accept payments or gifts from brands and vendors, and strive to provide unbiased, independent advice. Brands typically provide review samples which we return, and in some cases we purchase the item so we can keep using it long after the review. Affiliate Policy: We support the hours that go into our reviews and testing through affiliate commissions on purchases made through links in this article. These don't effect the outcome of our reviews or selection of gear, as per our Review Policy.