SteriPEN Adventurer Opti Overview
When I first began exploring the wilds in the 1980's, my father and I would dip our Kelty cups into lakes and rivers as we passed by, drinking the icy water without a second thought. Shortly thereafter, water borne illness became a real concern in the backcountry (as humans and livestock activity increased), and the outdoor industry exploded with options for creating safe drinking water. But holy cow was it a grind. The first selections were heavy, cumbersome filters that took half a day and Herculean strength to use. Or, you could also use tablets that took just as long and gave your water a distinctly nasty flavor and color. No bueno.
Then, to the delight of thirsty backpackers everywhere, the industry evolved again. With some really cool options. Now we are in a "Silver Age" of water purification (the Golden Age belonging to the days when we didn't have to worry about man-eating bacteria) where there are a plethora of options that are effective, fast, and easy to use.
So let's cut to the chase. Of everything I have used to filter, purify, or sterilize my drinking water (which is a lengthy list), my standout favorite is the SteriPEN Adventurer Opti. Nothing else is even a close second. Feather light (3.6 oz), small enough to fit into a hip pouch, insanely easy to use, and effective — it's supposed to kill 99.99% of bacteria, viruses, and protozoa with its UV light wand. I've been using it exclusively since 2013 and haven't been sick once. In short, I flat-out love this thing. For these reasons, the SteriPEN Adventurer Opti is our Classic Pick for the Ultralight Backpacker, Day Hiker, and Urban Hiker.
SteriPEN Adventurer Opti Star Rating
Ease of Use

Compatibility

Packability

Filtration Rate
Summary
The SteriPEN Adventurer Opti may be the ultimate in lightweight water purification. It's a wand that purifies with UV light — just stick it in your water, swirl, wait 90 seconds, and your water is free of protozoa and viruses. The minimal weight (3.8 oz) and size make it easy to toss in a pack for a day hike or during international travel. Just make sure you have a spare set of batteries!
We invite you to visit our comprehensive water filter and purification guide, drink in our accumulated knowledge, and see why we recommend the SteriPEN Adventurer Opti below.
SteriPEN Adventurer Opti Specifications
| | | |
| --- | --- | --- |
| Feature Type | Feature Specs | What This Means |
| Weight | 3.8 oz. (108 g) | Super lightweight, it fits just about anywhere in your pack. |
| Filter or Purifier? | Purifier | Kills any water-borne pathogens, but won't remove sediment or other particles. Learn more in our Guide. |
| Treatment Type | UV | Utilizes UV (ultraviolet) light to keep pathogens from hurting you. Learn more in our complete guide. |
| Effective Against | Protozoa, Bacteria, and Viruses | These nasty things can leave you with a tummy ache for days. |
| Filter Pore Size (Microns) |  N/A | Microns and filter pore size requires a physical filter, but this is just a UV light. |
| Filter Media | None | Sorry, no filter included. |
| Flow Rate | 1L in 90 seconds | Each zap takes 90 seconds to purify a 1L bottle. You can use a smaller bottle, but don't go any larger. This isn't meant for huge bottles. |
| Filter Life | 8,000 Treatments of 32 oz/1L of water | If you actually reach the lamp life limit (8,000 treatments) SteriPEN offers a new replacement. |
| Filters Particulate? | No | You can buy a fancy prefilter that fits in nicely with the Adventurer Opti, or just a bandana like most people. |
| Components | The Pen, Carrying Case | Just bring the compact Pen unit and that's all there is. No chance of forgetting lots of extra pieces. You can bring the carrying case, which is neoprene and handy, but it's not required. |
| Works With | 32 oz/1L bottle with a 1.5 in. opening | Works best with bottles with a larger opening — like the 32 oz/1L Nalgene bottle. You can also use with smaller bottles, but they have to have a large opening. |
| Manufacturer Warranty | Three-year limited warranty | Covers manufacturer defects which impact operation, but not normal wear and tear. |
| Cost | $89.95 |  Batteries not included. A good price for a solid piece of equipment. |
Gear Review of the SteriPEN Adventurer Opti
Origins: Easing You In
When I decided to run the John Muir Trail (JMT) in 2013, I knew that light and lean was going to be the only way to fly. Which meant I had to get rid of the water filter beast in my kit. I scoured every source of information I could get my hands on, and ultimately decided on the SteriPEN Adventurer Opti. It was love at first sight. I picked it up and laughed out loud! It's so light as to be a complete non-issue. Then I experimented with packing options, placing the sleek, neoprene case in a few different locations. I realized it would fit anywhere in my pack, and ultimately decided to make its home my right hip belt pouch for easy access while on the trail.
Revelation: The Moment I Knew
I didn't have to actually use the Adventurer Opti until late morning on my first day on the JMT. I started the long climb out of Yosemite Valley in the cold, pre-dawn fog, and didn't start drinking in earnest until the sun's first rays embraced me.
When my water-bottles were finally spent, I stopped at a rivulet that bisected the trail and pulled out my SteriPEN. The moment of truth had arrived. I dunked my bottle, filling it to the brim. Then I took the Adventurer Opti out of its case, removed the plastic cap, pushed the "On" button, and stuck it in the bottle. Per the instructions, I swirled it in a circular motion for 90 seconds (really, until the UV light turns off). Then I waited for a breathless second, and rejoiced when the indicator light flashed green – letting me know the water was safe to drink (if it flashes red you need to treat it again). Then I drank the luscious mountain water until my belly was full and my mood lifted.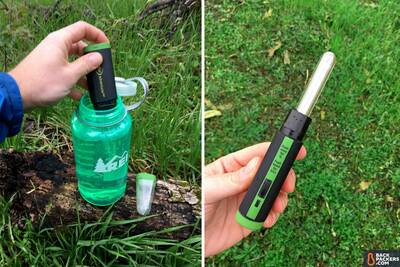 It was by far the quickest, easiest water purification of my life.
Digging Deeper
While the Adventurer Opti stole my heart on this first trip, I have been continuously using it since then and have grown even fonder of it for a few reasons.
First, the CR123 batteries last forever. (Well, not forever.) I have never actually had to replace the batteries because they've run out of juice; I just get jumpy after multiple trips and end up replacing them to be safe. The SteriPEN website tells you to expect 50 treatments from a single set of batteries, and in my experience you'll get at least that many. The UV lights are also supposed to be good for 8,000 liters. That, my friends, is a lot of purified water.
Second, while you do need to use the unit in a bottle of some kind (you'll need at least a 1.75 inch opening), it isn't an issue at all to purify water in a bottle and then pour it into a bladder or something else.
Finally, since using the SteriPEN is so quick, easy, and reliable, it's fantastic for helping people in need! I can't count the number of times I have donned my Superman cape (where the "S" stands for SteriPEN) and helped backpackers whose filtration or purification equipment is clogged or broken; or simply people on the trail who are too thirsty to wait for their tablets or too tired to use their filters.
Ease of Use
Ridiculously easy. No more sore arms, clogged filters, or 87 different pieces to fit together. It almost seems too good to be true – but it's not.
Durability
Fantastic. I've used the SteriPEN Adventurer Opti on over 20 trips (a couple hundred treatments). It has been dropped, jostled in my pack, and used with thirsty vigor, And it hasn't failed me once. Not one time.
Compatibility
The Adventurer Opti is different than other filters that screw onto bottles or in-line into bladders, but it's compatbility is actually greater. All you need is a water contained with a wide enough opening to stick the device inside, and then it's compatible. You'll likely have a water bottle already, so just make sure it's wide enough to fit.
Portability
This is like asking about the "blue-ability" of the summer sky. The Adventurer Opti is so small and packable that I often carry it on training runs and just stick it in my run pack. It is way portable.
Filtration Rate
It takes roughly 90 seconds to treat one liter (32 ounces) of water, which is the typical size of a wide-mouthed Nalgene. Unlike other filters this rate doesn't really change based on usage; it's 90 seconds every time, or less if you have less water. Just wait for the light to go off.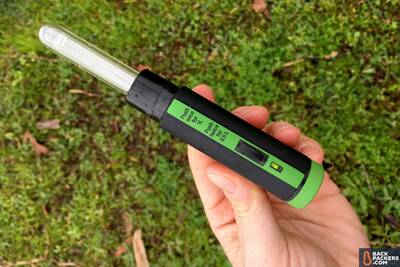 Grievances
As much as I love the SteriPEN Adventurer Opti there are a few potential issues that are worth pointing out.
While the CR123 batteries last forever, they can be hard to find. SteriPEN also makes a version that comes with rechargeable CR302 batteries, but finding those is even more difficult. Not a deal breaker, but it requires some forethought.
Also, remember that the Adventurer Opti is a purifier not a filter. This means if you find yourself in an area with murky, sediment filled, scummy water you will have to figure out another way to remove the gunk before you purify. You can get creative and use a piece of clothing or a gravel system (look online for how to do this), but keep this in mind when planning your trip.
Finally, when using the Adventurer Opti in the daylight, the UV and indicator lights can be challenging to see. My suggestion is to find a shady spot that offers as much contrast as possible so you know for certain it has purified the water.
Final Word
The SteriPEN Adventurer Opti has been my right-hand purification system for years, and I've used it all over the world. It is exceptionally light, packable, simple, and fast-acting – and it hasn't failed me a single time. In fact, it's so easy and efficient that I can almost… almost, pretend that I'm drinking right from the stream the way we used to.
Where to Buy SteriPEN Adventurer Opti
The SteriPEN Adventurer Opti was tested for this review. There are a few other models of the SteriPEN, each packaged for slightly different use cases. We've found that the Adventurer Opti is the best option for backpackers, due to its weight, simplicity, and battery life.
Compare SteriPen Adventurer Opti prices below.
Review Policy: We do not accept payments or gifts from brands and vendors, and strive to provide unbiased, independent advice. Brands typically provide review samples which we return, and in some cases we purchase the item so we can keep using it long after the review. Affiliate Policy: We support the hours that go into our reviews and testing through affiliate commissions on purchases made through links in this article. These don't effect the outcome of our reviews or selection of gear, as per our Review Policy.