The North Face Borealis Overview
The North Face Borealis is a functional backpack that will amuse the most organized of all urban hikers, whether running late to class or fighting traffic on a bike to get to the library. The FlexVent suspension system in the shoulder pads and back paneling provides a support system that makes carrying any load an easy feat. It also means you won't be jabbed in the back by any sharp corners or unruly objects.
City commuters rely on walking, busses, subways, and bikes to get from point A to point B (and often C, D, and E). The North Face has heard the cry of "more functionality, more pockets, more comfortable!" and created the Borealis backpack to answer that call.
Due to the versatility of uses, quality materials, and moderate price, The North Face Borealis is our Classic Pick for the Urban Hiker.
The North Face Borealis Star Rating
Comfort

Durability

Packability

Style
Summary
The North Face Borealis is a standout backpack for urban trekkers. It has two large zippered compartments, one with a laptop sleeve, the other with micro-fleece lined pockets. Water bottle exterior pockets and a bungee strap system allows you store items in an easy-to-reach way, and the back panel is vented for breathability and comfort.
Check out our comprehensive backpack guide, and read on for the full North Face Borealis review, and see why it may just fit you and your needs like Cinderella's shoe.
2018 Update: The North Face Borealis got an update in 2017/2018 to have a slightly new suspension system, though it's still called Flex Vent and the panels are largely the same. The North Face also updates the colors of these packs every year, and you'll see a wide range for both men and women to choose from.
Borealis Specifications
Feature Type
Feature Specs
What This Means
Number of Pockets
5
Two stretch mesh water bottle pockets on the outside, three separate zippered pockets to main pack.
Other Attachment
Yes
Bungee storage system.
Laptop/Hydration Sleeve
Yes
Fits 15-inch laptops and has a port for a hydration bladder hose.
Lined Pockets
Yes
Three fleece-lined pockets to reduce scratches.
Sternum Strap
Yes
With whistle!
Hip Belt
Yes
Basic detachable hip belt.
Materials
210 Denier Cordura Ripstop Nylon
Industry standard material for an Urban Hiker backpack.
Load Range
10-15 LBS
Decent padding, but still a small backpack.
Warranty
Lifetime Guarantee
Covered for manufacturing defects, only eligible for original owner.
Pack Size
Men's
Women's
Capacity
28 L, 1,709 in3
25 L, 1,526 in3
Dimensions
19.75 x 13.5 x 8.5 in.
18.75 x 12.5 x 8 in.
Weight
2 LBS 12.45 oz. (44.45 oz.)
2 LBS 9.62 oz. (41.62 oz.)
Retail Price
$89.00
A solid price for a solid pack.
Gear Review of the The North Face Borealis
Origins: Easing You In
Back in the day of ramen noodles, cheap coffee, and staying up until 3 a.m. (aka college circa 2004) my Walmart-purchased Jansport backpack was my faithful companion. It endured a lot of commuting, tossing, throwing, and general misuse. It was heavy, bulky, and unless you loaded it just right something was always jabbing you in the back. When I was given The North Face Borealis to review, I instantly remembered my college Jansport and wished I had something like this "back in the day."
Fast forward to the present — due to my family's current one car situation, I have the luxury of commuting to work by foot. It's less than a mile and I love soaking up the sunshine before I commit to eight hours of florescent shade. I'm not the type of girl that likes to have multiple bags, yet I carry a lot with me.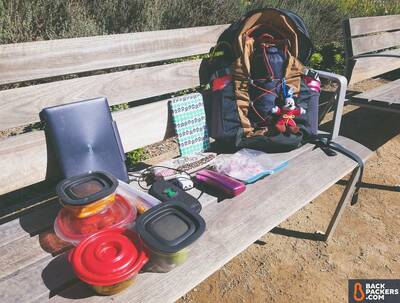 Usually the contents of my bag include:
Long sleeve shirt (florescent shading isn't as warm as the real thing)
Wallet (did I remember this?)
Keys (crap where did I put these again?)
Three water bottles (water, protein, coffee…yep, just ask me how many water bottles I have)
Library book (so I stay away from Facebook — far away)
Glasses (where did I put these? maybe they're with my missing keys!)
Tablet  (to write this review, of course)
Phone charger (sorry mom, I can't call you, my phone is dead, again)
Lunch box (so my coworkers don't eat the food I stash in the fridge!)
Headphones (so people don't try to sell me things while I'm walking on the street)
Sunglasses with case (so I can see when I'm 70)
Folder of notes for the nights I teach a class (what, you think I memorize all that stuff?)
If you're not keen on reading lists, I basically carry more than a purse can contain.
I'm also the type of person that is usually in a rush, so knowing where my items are and where they "live" is very important. In fact, without a specific place to live my daily items are usually spread out everywhere. In my vest, on the table, on the work bench, basically anywhere my coworkers can mess with them. Then I leave them there, which means I either have to walk back to work or go an entire night without said objects (who can do that?).
Revelation: The Moment I Knew
When I picked up the North Face Borealis backpack, I remember thinking, "There's so many pockets!" The revelatory moment came the next morning when I packed my items for work. I realized my huge heap of stuff wasn't floating around in a single, big compartment like an '80s lava lamp.
First, I love a pack that has a smaller, outer pocket for quick accessibility. If I have to remove the entire bag's contents to reach down into the bottom for my glasses, the bag instantly loses my interest. The outer top zipper pocket is great for those smaller, easy to access items. I usually put my keys, phone, and glasses in there. It's the first thing I get into as soon as I get to work.
The first body pocket is full of little pockets and zippers. They can hold other smaller items like writing utensils, headphones, note cards, etc. Then there's a bigger pocket that holds my Asus keyboard tablet perfectly in place.
The main compartment of the North Face Borealis is divided into two sections. The outer section is great for folders, notebooks, jackets, and your favorite Hydro Flask — in my case three. What? I'm thirsty.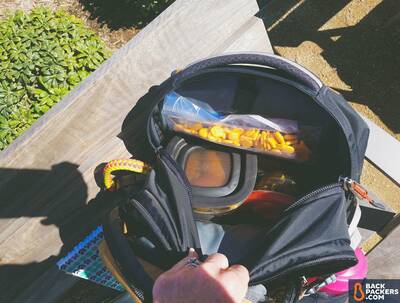 The inner section compartment is multifunctional. It can be used for a laptop (up to 15 inches) or, if you're commuting for longer period of time, a water bladder. There's even a nozzle hole between in the backpack so your hose can slip onto your shoulders.
To make things cozier, three of the pockets have a fleece lining. It may seem odd to look at, but the first time your tablet or glasses slide in you'll realize just how protected they are. The pockets are amazing, no questions asked.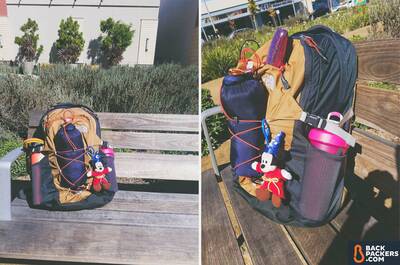 It's rare to find a bag that that can hold all the items, plus more (as if I could have more).
Digging Deeper
Pockets are one thing, but there is more to a backpack than storage.
Once saddled up on my walk to work I noticed the back paneling. It was a bit odd and slightly bulky at first. I realized it felt this way because I wasn't used to the amount of padding this pack offers.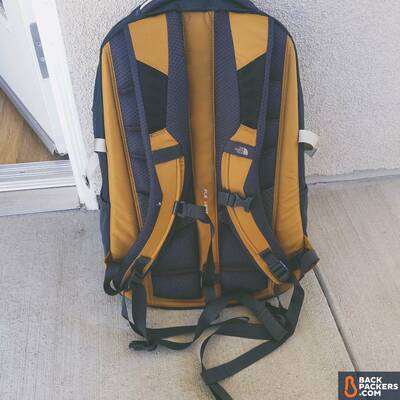 Most small backpacks we carry have either little or no support, and are tailored to fit snug to our backs. Little do companies in Colorado or New York realize — there is heat here in Southern California all year. When fabric and bags are tightly snug against our bodies they usually end up soaked, as well as the contents of our bags.
Yes, I admit it: I sweat. Shocking, I'm sure.
Unfortunately if a bag I'm carrying is made of cheap material, after a long walk to multiple stores and home, I usually find the back of my pack is quite sweaty. My beautiful bag is stained and worse, smelly. Sometimes the contents — papers and books — tend to become victims of this incident. No one likes to pull out half soggy grocery lists out of their bags and have to think "Now, what was I supposed to get?"
Due its enhanced features the North Face Borealis features two columns of padding, opposite of each other to allow ventilation through the spine as well as mesh shoulder straps for breathability. No sweaty grocery lists!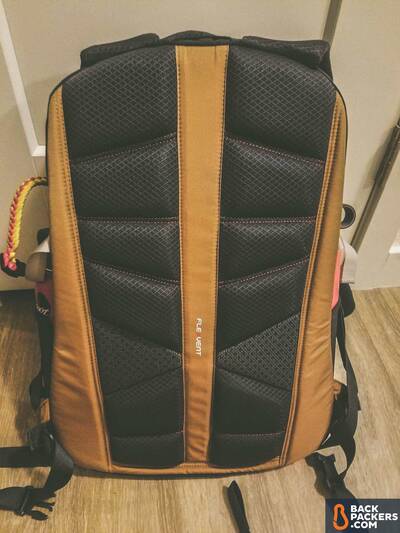 Beyond the sweat-factor, the back padding also allows me to put multiple items in the big zipper compartment without getting poked in the back throughout my walk.
The outside of the bag features two stretch mesh bottle holders. These are perfect for your coffee and water Hydro Flask — both of my Hydro Flasks hold 32 ounces of water and fit perfectly. (Hint: That's a lot for a little backpack.)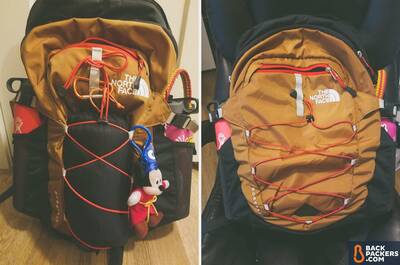 These pockets can also accommodate the big Smart Water bottles, Bottle Blenders, or a Camelback bike bottle. It's also important to note that the Borealis side straps are a perfect height to wrap around the bottles, which means they won't slip out. This is a great feature for when you're racing to catch the bus before the doors close on you.
Lastly, the external bungee cord is great for holding in smaller items that either don't fit perfectly in the bag or are at needed at an arm's reach. I think my navy down jacket and Mickey Mouse go great with this pack.
Comfort 
4 Stars
The FlexVent padding is a great feature to keep from feeling like you're getting stabbed in the back as you walk. It's a little stiff for some, but it's way more padding than most urban hiking backpacks have. The shoulder straps are padded too, which is nice.
Durability 
5 Stars
With multiple commutes this bag shows no wear or tear, no matter how many bagged potatoes, oranges, and nuts I push to the bottom.
Packability 
5 Stars
As mentioned, this bag packs incredibly well. You can fit a huge amount of stuff in it for your daily commute, and with specific slots for a laptop, pens, etc. you should be able to pack no problem.
Style 
4 Stars
While I'm not extremely fond of the burnt orange color, other people will be. With further investigation I found a turquoise and pink women's option, which is right up my alley. (I can hear my husband say, "Now, don't pick that particular one just because it's pink.") There are over 17 different color options, so I'm sure a color combination exists that will match your personality.
All that said, it's a bit of a dorky shape, so if you're looking for ultra-smooth, this may not be the right fit for you.
Grievances
As much as I liked the features of this pack, the back padding does require an adjustment period. I felt a little like Frankenstein at first wear due to its stiff padding.
When you look at the padding on the Borealis you can see they're in a square shape. If The North Face reduced the volume or density of these pads or maybe even made them out of a different material, the padding could seem more comfortable at first.
However, over time they breathed a little, broke in, and seemed to become a bit more flexible with my Muppet like movement.
Final Word
For any city dweller that must "have a home" for all their items, The North Face Borealis backpack is a standout. It's even big enough for your tiny purse dog.
Where to Buy The North Face Borealis
We reviewed the Men's version of The North Face Borealis pack, despite the reviewer being a woman. There is a Women's specific version as well. Both are available below, and we believe both packs work excellently for either gender, as there is no substantial difference. The main difference is size — the Men's is three liters bigger.
Compare The North Face Borealis prices below.
Review Policy: We do not accept payments or gifts from brands and vendors, and strive to provide unbiased, independent advice. Brands typically provide review samples which we return, and in some cases we purchase the item so we can keep using it long after the review. Affiliate Policy: We support the hours that go into our reviews and testing through affiliate commissions on purchases made through links in this article. These don't effect the outcome of our reviews or selection of gear, as per our Review Policy.