Therm-a-Rest NeoAir XLite Overview
A bad night of sleep in the backcountry is basically the worst. No, scratch that, it is the worst, short of being mauled by a rabid troop of Boy Scouts. So it's logical that when considering new gear, your sleep system should be the top priority in terms of research and cost.
When looking for a sleeping pad, I search for something light, warm, reasonably durable, and comfortable enough to get a full night's sleep without aching hips the next morning (notorious side sleeper here). The Therm-a-Rest NeoAir XLite crushes all four requirements: stable at 2.5-inches high, a pack size that rivals a water bottle, and a weight that's barely noticeable. Not to mention Therm-a-Rest's reputation as a sleeping pad innovator, and the countless years of field testing that have gone into this pad.
For these reasons we've chosen the Therm-a-Rest NeoAir XLite as the Classic Pick for the Ultralight Backpacker.
Therm-a-Rest NeoAir XLite Star Rating
Comfort

Durability

Inflation and Deflation

Packability
Summary
The Therm-a-Rest NeoAir XLite is a sleeping pad that has groupies. A tried and true choice for thru-hikers, the XLite is known for its minimal weight (12 ounces), tiny volume when packed up, and 2.5-inches of horizontal baffled comfort. The pad does crinkle a bit when rolling around, but provides enough warmth (through R Value) to keep you toasty, and well off the ground, all night.
There are a few cheaper options out there that are have "better" specific features, but none match the overall package and reputation of the NeoAir XLite. This air pad performed admirably on several trips, from chilly nights in the foothills of the Sierras, to fast-packing trips along the California coast, and should be considered a staple of any ultralight sleep system.
If you are lost, confused, or curious about sleeping pads, make sure to read our comprehensive Guide. To read the full Therm-a-Rest NeoAir XLite review, just scroll down.
Therm-a-Rest NeoAir XLite Specifications
Feature Type
Feature Specs
What This Means
Weight
12 oz. (340 g)
As light as it gets for a full-sized pad. The XLite literally sets the bar for ultralight sleeping pads.
Type
Air Pad
Only air is used to inflate this pad. That means big lungs and a few minutes of heavy breathing. More on sleeping pad types in our Guide.
R-Value/
Temperature Rating
3.2
Therm-a-Rest doesn't tout this as an insulated pad, but it has a decent R-Value that works to temperatures just above freezing. More on R-Values in our Guide.
Shape
Mummy
A tapered mummy design helps to cut on weight. It's a bit narrow. More on sleeping pad shape in our Guide.
Sizes
Regular, Small, Large, Women's
We tested the Regular size, but it's also offered in other sizes. Get what's appropriate for your height or comfort level. The Large is wider as well.
Thickness
2.5 in. (6.3 cm)
Standard thickness for high end air pads. Enough cushion for hips, not so much that you bounce around.
Length
72 in. (183 cm)
Standard length for Regular-sized sleeping pads. Fits a six-foot tall person.
Width
20 in. (51 cm)
Standard width for Regular-sized sleeping pads. A bit narrow if you are larger or like lots of elbow room. If that's you, opt for the Large version with a 25-inch width.
Packed Size
9 x 4 in. (23 x 10 cm)
The size of a standard 32 ounce Nalgene. Need we say more? Learn about sleeping pad packed size in our Guide.
Baffle Type
Horizontal
Firm horizontal baffles make for a stable sleep surface. More on baffles in our Guide.
Valve Type
Twist and Pull
Old-school twist and pull valve. Not the best, but it's well made and gets the job done. More on valve types in our Guide.
Material Type/Thickness
30D rip HT nylon
Not the thickest fabric, but still quite durable. More on Denier thickness in our Guide.
Breaths to Inflate
15-25
This is pretty standard for air pads with twist and pull valves. You will be a bit winded.
Manufacturer Warranty
Limited Lifetime Warranty
Sleeping pads are tough to warranty. They usually spring a leak through "normal wear and tear", so most companies won't fix them for free, unless the valve fails to work and there's no other damage. Therm-a-Rest has a stellar reputation though, and offers a cheap repair service, or sometimes will simply replace your pad. Definitely get in touch.
Retail Price
$159.95
A high price for a Classic Pick, but this pad is ultralight bliss. Look for it on sale, or save your pennies. Note that prices below for $129.95 are for the Small sized pad. The Regular is $159.95 new.
Gear Review of the Therm-a-Rest NeoAir XLite
Origins: Easing You In
I have a dirty secret to admit: for the first several years that I backpacked, I slept on a cheap, thin foam pad. I know, I'm not proud to admit it, but I believed that sleeping outdoors was always bound to be a chilly and uncomfortable experience, so why bother spending my precious Ramen dollars on a more expensive pad, right? Then I saw the light.
My first inflatable sleeping pad was a revelation of sorts. Sure, it was louder than a pile of fall leaves, and about as warm as a cotton t-shirt, but it was comfortable to lay on and I reveled each morning when I woke up without bruises on my hips from sleeping on the hard ground. Since then I've become a bit of a sleeping pad snob. To the point that I'm just as worried about the R-Value of my pad as the down count in my sleeping bag.
So it was with a little trepidation that I set off into the remote backcountry of the San Rafael Wilderness. I was attempting big milage in an area I'd never been before, but that wasn't what was setting my Spidey Senses tingling. I was carrying a new and untested sleeping pad: the Therm-a-Rest NeoAir XLite. Would this be a night of terrible sleep and bruises?
As I packed the pad into my bag I noticed the main thing it had going for it: the weight. At just 12 ounces for the Regular size, the Therm-a-Rest NeoAir XLite is one of the lightest inflatable pads on the market. For those that don't know, the NeoAir XLite has years of testing and design from Therm-a-Rest. It has been the popular pad in the ultralight backpacking community for many years, often the recommended ultralight model. But, I wanted to know if this pad lived up to these high expectations, and if it would work for me: a sprawling, side-sleeping, midnight rolling, cold-as-ice sleeper.
Revelation: The Moment I Knew
The next thing that sent my heart aflutter was the sturdy feel of the pad in my hands as I started to inflate it. The NeoAir XLite uses 30-Denier rip HT nylon on top and bottom, which is certainly not the most durable fabric out there, but it does feel substantially more sturdy than many of the other inflatable pads that I've tried in my quest for the ultimate sleep system.
Next, and because I was totally exhausted after hiking for 12 hours, I decided to test out the NeoAir XLite with a quick lie-down before dinner. The crinkle that most inflatable pad users have grown accustomed to was certainly there, but not in the sleep-disrupting volume I had expected. It would seem the NeoAir XLite has managed to find the sweet spot between lightness and not sounding like a bag full of leaves.
Dinner was a hurried affair as I couldn't wait to catch my 40 winks on this new pad. The ultimate test of a pad will always be how you feel in the morning, but even after only a few minutes of use, I could see why the Therm-a-Rest NeoAir XLite has become such an iconic choice in the backpacking community.
I awoke the next morning feeling comfortable and well-rested. The pad stayed fully inflated during the night and evenly dispersed my weight, meaning no cold spots or hip bones resting on the ground. And really, what more could I ask for from my sleeping pad?
Digging Deeper
Two weeks later I found myself sitting around a dying campfire as a howling wind blew off the Sierras. My boyfriend and I were eating cold beans from a can. Glamorous, I know. As the temperatures dropped I worried that I'd brought the wrong sleeping pad. I'm a notoriously cold sleeper, and I've spent more nights than I care to count waiting for the sun to come up as I lie on a cold and uncomfortable sleeping pad.
After the beans were finished we both decided that no more cooking would be done tonight, and our best bet was to retire to the tent. I said a silent prayer to the mountain god of good sleep that the pad would be warm enough.
While the Therm-a-Rest NeoAir XLite is technically "uninsulated", it boasts a R-value of 3.5, which was enough to keep me comfortable that night as temperatures dipped into the high 30's. Even better, I had no sore hips upon waking up! The Therm-a-Rest NeoAir XLite had performed again, and in the cold.
Comfort
I slept as well on the Therm-a-Rest NeoAir XLite as I do at home, and I have a pretty nice mattress at home, if I do say so myself.
Many people have complained over the years about the crinkling noise that these style of pads make when you roll around in the night. While there is certainly some of that with the NeoAir XLite, I was genuinely surprised at how quiet it was compared to other models. Furthermore, the 2.5-inch thickness was enough to accommodate my side-sleep habits. As a woman this is really important since nobody likes waking up with sore hips from having them rest on the ground all night.
Warmth
The NeoAir XLite is actually the third or fourth inflatable pad that I've tested from Therm-a-Rest, and it feels much more durable than some of their previous models. The fabric feels sturdy under your hands, and not like you'll to poke a hole by looking at it the wrong way. As with all inflatable pads, take care to always use a ground cloth and avoid sharp objects. Or as I like to call it, employing common sense when using something that's essentially an air bag wrapped in butterfly wings.
Deflation and Inflation
Inflating this pad is a breeze if you're a professional tuba player, but for the rest of us, it's going to take a little while. On average, it takes me 20-plus breaths to get the pad fully inflated. However, it takes my boyfriend 15 breaths or less, but I think he's just showing off. The pad uses a traditional twist and pull valve, which isn't as fast as other valves out there.
Deflating this pad is simple, and makes a lovely hissing noise to alert your tent-mates that it's time to get up and start hiking. I recommend laying on your pad while it's deflating to help get the majority of the air out.
Packability
With the Therm-a-Rest NeoAir XLite you cannot afford to be a sloppy packer. The carrying stuff sack that comes with the pad is only slightly larger than the rolled size of the pad, so you're going to need to learn to follow those crease lines and get out every last breath of air if you want this thing to fit back in it's bag neatly.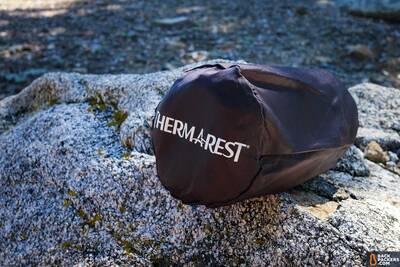 That said, once in its stuff sack, the pad is almost comically small.
Grievances
Literally, the only issue that I can think of with this pad is that it's a little narrow if you like to sleep on your side with your leg pulled up like a flamingo, which is exactly how I sleep. If you sleep like a normal person, then you'll probably be fine. And for all us weird sleepers out there, the Large size of this pad is 25 inches across instead of the standard 20 inches used in the regular and short sizes, so there's hope!
Final Word
The Therm-a-Rest NeoAir XLite delivers the comfort, warmth, and thickness of a much heavier pad, all wrapped in a brilliant yellow bundle that resembles an inflatable surfboard. It's ready to whisk you away on the waves of sleepiness, directly to dream-land.
Where to Buy Therm-a-Rest NeoAir XLite
A Regular-sized Therm-a-Rest NeoAir XLite wast tested for this review. It is what's standard, and what we recommend for most people. The pad is also offered in a Small version, which is a torso-length pad. This does not cover your legs or feet, and is the ultimate ultralight pad. It's also offered in a Large, which has a 25-inch width and fits people up to 6'6″. Finally, Therm-a-Rest sells a Women's specific NeoAir XLite. This is a tiny bit warmer, and has a length of 5'6″. While that specificity is nice, we don't find it to be much better than the Regular size, even for women.
You can find the Therm-a-Rest NeoAir XLite below. Make sure to pick the right size when checking out!
Review Policy: We do not accept payments or gifts from brands and vendors, and strive to provide unbiased, independent advice. Brands typically provide review samples which we return, and in some cases we purchase the item so we can keep using it long after the review. Affiliate Policy: We support the hours that go into our reviews and testing through affiliate commissions on purchases made through links in this article. These don't effect the outcome of our reviews or selection of gear, as per our Review Policy.