Uniqlo Ultra Light Down Parka Overview
Here at Backpackers.com we recognize that not everybody has hundreds of dollars to drop on a piece of clothing, nor does everybody live next to an REI or similar outdoor store. With that in mind, we wanted to test the Uniqlo Ultra Light Down Parka as a budget alternative to many other down jackets, which are often one of the most expensive pieces of kit in a wardrobe.
Uniqlo is a Japanese company that has made big waves in the American market in the last few years, with more and more branded brick and mortar stores popping up in cities around the country. While Uniqlo is not technically branded as an outdoors company — it's centered in urban living — the Uniqlo Ultra Light Down Parka (hooded), and the Ultra Light Down Jacket (same jacket, no hood) has made its way into the closet of many an outdoor enthusiast. This is due to its low price tag, stylish fit, and easy packability.
After testing out the jacket in appropriate environments, specifically with a tester who knows exactly how a premium down jacket should function, we've dubbed the Uniqlo Ultra Light Down Parka our Budget Pick for the Urban Hiker.
Uniqlo Ultra Light Down Parka Star Rating
Comfort

Durability

Warmth

Packability
Summary
The Uniqlo Ultra Light Down Parka is a surprisingly able puffy from a large fashion brand. While it doesn't have as many of the fancy features and materials of higher-end outdoor gear, it does give you solid down (likely in the 600 fill range) and a DWR nylon shell in a lightweight, packable package. It's quite warm, too! If you're looking for a sweet puffy on the cheap, this is where to look.
Note that if you desire detailed specs and the outstanding warranty the outdoor industry is known for, you won't likely find it with Uniqlo. That said, you'll still have hundreds of dollars in your bank account.
Also, there has been some question around how and under what conditions Uniqlo sources its down. We firmly believe that down feathers should not be live plucked from birds, and the fact that we couldn't find this information on Uniqlo's website was a concern. When we contacted them about it, they stated:
"None of the down for our products is plucked from live animals. It is taken from ducks after they are processed for meat for consumption. All our suppliers signed an agreement that requires them not to use live-plucked materials. UNIQLO conducts random site visits to ensure this agreement is properly enforced."
Furthermore, as of 2017, Uniqlo has joined the Textile Exchange, an organization that assures sustainable materials and processes are being used, in addition to the Responsible Down Standard. We have encouraged Uniqlo to publish this information more widely so consumers are aware.
See our incredibly detailed down jacket guide for more on selecting the right jacket for you, and read the full Uniqlo Ultra Light Down Parka review below.
Update: Uniqlo makes frequent updates to its materials, design and fabric. The Ultra Light Down line is a standard of theirs, and they have many styles. The exact model we tested has changed a bit over the years, but in general it remains the same.
Uniqlo Ultra Light Down Parka Specifications
| | | |
| --- | --- | --- |
| Feature Type | Feature Specs | What This Means |
| Weight | 8.3 oz. (235 g) | Fairly light for a down jacket. Compares against higher quality (and more expensive) coats. |
| Down Quality | Not Listed | Uniqlo doesn't list the quality of down it uses. We'd love it if they did! We imagine it's around 600-700-fill down. |
| Down Type | Not Listed | Uniqlo doesn't list the type of down it uses. We'd love it if they did! We imagine it's duck down. |
| Fill Weight | Not Listed | Uniqlo doesn't list the fill weight of down in this jacket. We'd love it if they did! This is much harder to speculate, so we won't. |
| Shell Fabric | 100% Nylon | Uniqlo doesn't list who makes the shell fabric, or anything other than it being Nylon. This is obvious. |
| DWR Treatment | Yes | The shell fabric is treated with DWR, and holds up well in very light rain. |
| Number of Pockets | 2 | Two hand zippered pockets work well. |
| Stuffs Into Itself | Yes, into separate stuff sack | Uniqlo includes a separate stuff sack for packing. It's easy to fit it in the stuff sack. |
| Adjustable Hood | No | The hood is very large and has no adjustments points. |
| Adjustable Waist | No | The waist has a bit of elastic at the bottom, but no adjustable toggle. |
| Hood/Jacket Option | Hooded and Jacket | Uniqlo offers the Ultra Light Down Jacket, which is a jacket, and the Ultra Light Down Parka, which is the hooded version. |
| Gender | Men's, Women's | Uniqlo offers both of the above models for men and women. |
| Sizes Available | Men's XS-3XL, Women's XS-XXL | Uniqlo has many sizes, which is great. They want this jacket to fit everyone. |
| Manufacturer Warranty | 60-day Return Policy | Uniqlo is not an outdoor brand, and, from what we can tell, does not have a warranty policy. You can return the jacket for up to 60 days if there's something wrong with it. This is not great. |
| Retail Cost | $79.90 | Arguably the lowest pricing you will find for a new, decent quality down jacket. |
Gear Review of Uniqlo Ultra Light Down Parka
Origins: Easing You In
I decided to test the Uniqlo Ultra Light Down Parka on a November trip to Ohio, which included a road trip up to Windsor, Ontario, Canada. The weather was looking to be cool and rainy, and I knew I'd appreciate having a warmer layer to throw under my rain jacket in the evenings.
I was also looking for something small since I'm officially part of team Never Check a Bag, and the Uniqlo Ultra Light Down Parka compressed to a pleasingly tiny bundle. I brought the Ultra Light as my only insulating layer because this was not exactly a ride-or-die scenario, but a ride-or-stay-cooped-up-in-a-coffee-shop kinda weekend.
Revelation: The Moment I Knew
As the sun began to set (at like 3 p.m.!) in Sandusky, Ohio, I donned the Ultra Light Down Parka and headed out to wander main street. My plan was to take pictures of this idyllic little town which sits on the shores of lake Erie. A cool wind was whipping off the lake, and I was immediately grateful for the large collar on the Ultra Light Down Parka which I could tuck my cold nose into.
The slim fit tailoring of the jacket was another bonus as it layered easily under my rain jacket, and didn't leave me feeling like the Michelin (Wo)Man. Even as the sun set and the temps plummeted, the Ultra Light Down Parka kept me feeling toasty warm, and transitioned nicely into evening dinner plans at a local restaurant.
Digging Deeper
An unexpected downside of reviewing the Uniqlo Ultra Light Down Parka is that Uniqlo is not specifically an outdoors company. This means their technical specs are non-existent. The Shell and Lining are listed as "100% nylon" and the down is "Minimum 90% Down." This only allows me to shrug, and to confirm that, yes, the shell seems to be nylon, and the jacket does have down feathers inside. More specs would be great, guys.
What I can say is that the jacket has two hand pockets that are big enough to hold your phone and wallet, one big center zipper, and is cut to be slim fitting. Based on my kitchen food scale the Ultra Light Down Parka, in a women's size medium, weighs a little over eight ounces. That's quite light, all things considered.
Neither the hood nor the cuffs are adjustable. However, it does come with a small stuff sack for easy packing and travel, and is DWR coated to keep moisture out. It's important to remember that a down jacket with an $80 price tag is going to sport fewer features than their more expensive counterparts.
Comfort
The nylon of the Ultra Light Down Parka feels nice against the skin, and the soft fabric around the wrists and hood don't poke or irritate. The hood is also roomy enough to accomodate a hat underneath, which is a big must for me.
Durability
It's hard to personally attest to the durability of the Uniqlo Ultra Light Down Parka, as I only wore it for about five days over the course of one trip. However, the boyfriend has been rocking one of these for three years now, it's still a regular part of his wardrobe rotation, and has survived at least a few sketchy chimney rock scrambles in Joshua Tree National Park. After years of moderate use his Uniqlo Ultra Light Down Parka looks good around the seams and has no holes that I could see — though a few feathers come out every now and then.
Warmth
When the weekend arrived we drove north to Windsor, Ontario, Canada, which sits right across the Detroit River from — you guessed it — Detroit! The torrential downpour that had greeted us at the border was a light drizzle by the time we set out to wander the waterfront. At around 45 degrees Fahrenheit I found I was overheating in the Ultra Light Down Parka, and to my delight the jacket handled the moisture really well. Uniqlo treats their down with DWR, which allowed the rain to bead off of the fabric and kept the interior from getting soggy.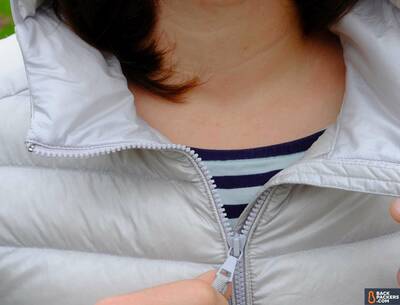 Packability
When you're part of team Never Pack a Bag, you come to really enjoy items that fit in their own stuff sacks easily. The Ultra Light Down Parka packs down to the size of about half a Nalgene water bottle. And, perhaps more endearingly, the stuff sack is big enough to fit the jacket without the user needing a deep understanding of clothing origami.
Fit
If you're a woman buying this jacket, I would strongly encourage you to size up. Conversely, my boyfriend has had one one these jackets for years, and says the men's version runs pretty true to size.
The women's Ultra Light Down Parka is most notably tight around the chest and shoulders, almost frustratingly so, especially if you're a climber. When compared to my medium sized rain jacket — I'm a size medium in almost everything I own — the Ultra Light Down Parka was noticeably smaller. The tailoring is designed for a "slim fit" and while I really enjoyed the slimmer profile, the sizing is off for an American or European wearer.
Grievances
The two issues I had with the Uniqlo Ultra Light Down Parka were in the hood and the torso length. The hood is big enough to accomodate a hat, but not terribly well fitted — which stands in contrast to the slim fit of the rest of the garment. A simple drawstring would have alleviated this issue and allowed any head size to fit easily. I like a big hood in theory, but adjustable and big is much better.
As for the torso, it's about three inches too short, especially if you're going to be using it under a backpack with a hip belt. This is more of a problem for backpackers, and this jacket is really meant for the Urban Hiker, but it's worth noting. Perhaps this would be solved by sizing up, but at 5-feet 4-inches, I was a little surprised when the jacket was too short even for me.
Final Word
The Uniqlo Ultra Light Down Parka is a great budget pick for daily wear around town and weekends in the mountains with a style that transitions as you do.
Where to Buy Uniqlo Ultra Light Down Parka
We tested the Women's Uniqlo Ultra Light Down Parka in a size medium. It's found only at Uniqlo, either in a brick and mortar store or online. It's also offered without a hood, which is called the Uniqlo Ultra Light Down Jacket. There's a men's version for both of these jackets, and everything is the same except for the fit.
Compare Uniqlo Ultra Light Down Parka prices below.
Review Policy: We do not accept payments or gifts from brands and vendors, and strive to provide unbiased, independent advice. Brands typically provide review samples which we return, and in some cases we purchase the item so we can keep using it long after the review. Affiliate Policy: We support the hours that go into our reviews and testing through affiliate commissions on purchases made through links in this article. These don't effect the outcome of our reviews or selection of gear, as per our Review Policy.