Backyard camping is all the rage in the new normal. For us outdoor folk, early May is the time we stretch our hiking legs, lay out the gear, and get camping, backpacking, or climbing trips on the books.
But this May is unlike any other. The National Parks are mostly closed, many local trails are closed, and the general advice is to stay inside. Thus, backyard camping. Those outdoor folk who are lucky enough to have a span of yard to call home are spending gratuitous amounts of time in it — and it's just about time for a camp out.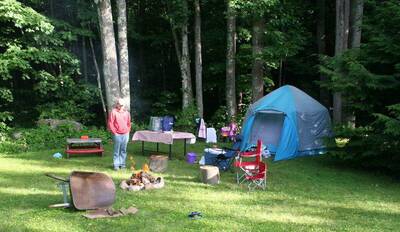 Break out the campfire, grill, and tent. Bring the family, the dog, and some games. Sleep under the stars, because it's about damn time.
The following is a list of products will make that backyard camping "trip" all the more fun, and give you some much-needed relief. Plus, they continue to up your outdate game after the pandemic has faded into history.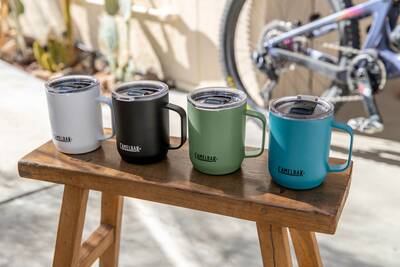 What would camping be without a steaming cup of coffee? Or tea, hot toddy, or whatever you prefer while relaxing around a campfire. It would be less fun, basically.
CamelBak has released a new line of vacuum insulated drinkware and one of our favorites is the Horizon Camp Mug. It holds 12 ounces of steaming beverage, has a simple, ergonomic handle, comes in pleasing colors, and keeps drinks hot for hours, cold for six.
There are three features that make the Horizon Camp Mug particularly perfect for backyard camping. First, its dishwasher safe, unlike most other insulated drinkware. And you probably have a dishwasher right in your house for easy cleaning. Second, there's a non-slip silicon base that will keep it from tipping over. And finally, the all-important Tri-mode lid: it has three levels of drink control (closed, sip, full drink), and the lid fits perfectly in the Camp Mug and most other Horizon drinkware.
Use it in the backyard, then every other day, camping and otherwise.
---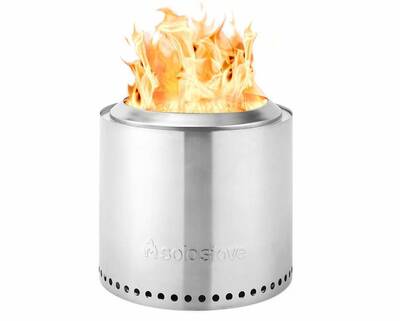 Solo Stove is a brand dedicated to self-combusting wood fires, and they make a whole range of sizes, from tiny backpacking stoves to full-sized fire pits. The Solo Stove Ranger was built for backyard camping. It's a compact fire pit meant for those with relatively small yards, apartment courtyards, or anyone who wants to take the campfire on the road.
The Range is made of durable yet lightweight 304 stainless steel, weighs 15 pounds, and sits 13 inches off the ground. The body of the fire pit is one piece, and it has a small stand with precision-cut holes to raise it off the ground — no scorching the earth — and to suck in a lot of air. The air movement is a design that's patented by Solo Stove, and it creates a surprisingly clean, nearly smokeless fire that takes basically no maintenance. Light the wood, and you're set.
---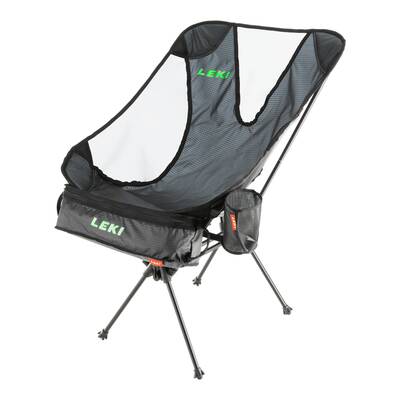 If you're looking for a foldable, sub-three-pound chair for your backyard camping extravaganza, the LEKI Chiller is a good option. It uses the increasingly standard method of foldable hub poles, much like a tent, to setup and collapse.
The LEKI Chiller is unique because it comes with an attachable cup holder, which we feel is lacking from most lightweight chairs. It also uses the storage case, which most chairs don't. You can attach the same case that you pack the chair into by attaching it to the bottom of the chair, and now you've got simple zippered storage right under your seat around the campfire.
Once you can venture into the world again, the Chiller will work just about anywhere — from festivals to soccer practice to the campsite.
---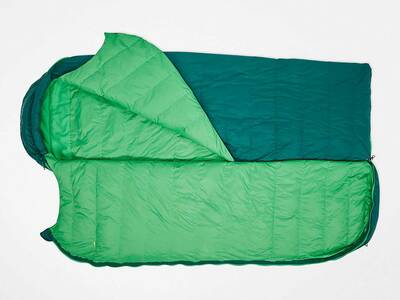 Snuggling up in a sleeping bag under the stars in the backyard is perhaps the pinnacle moment of this experience. The Marmot Yolla Bolly 30 bag is the ideal choice for that experience, as it's plenty warm as a single sleeping bag, but also opens into a full quilt if the evening calls for it. It becomes a quilt with two separate layers which unzip (and unzip again) to fully open to a blanket-sized, down-filled quilt.
Once you can hit the trails again, the Yolla Bolly 30 does double-duty as a lightweight and comfortable-without-compromise backpacking bag. At just two pounds, five ounces it's very light, and the 650-fill hydrophobic down compresses to fit easily inside a pack.
---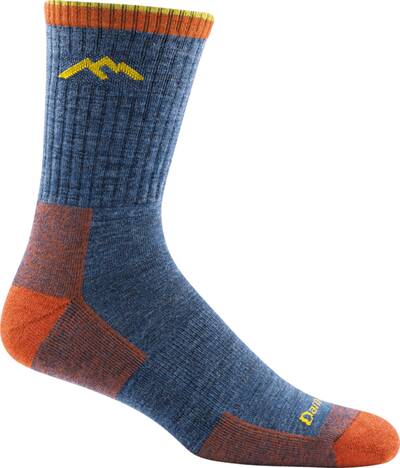 Whether or not May is a warm month, socks will be critical for your backyard camping experience. The Darn Tough Micro Crew cushion are a mix of wool and synthetic and extra cushion in the heel and forefoot to make sure you are toasty during your campout. Wear them with a pair of boots or hiking shoes to really simulate the trail experience, or pair with slip-on sandals for the suave, extremely comfortable look.
The Hiker Micro Crew Cushion is a famous sock, in that it's crazy popular, especially for thru-hikers, and comes with a lifetime warranty. Yes, one pair of socks is a forever pair of socks with Darn Tough. They are trail-tested, and will work for years (and years) after your backyard campout is over.
See Darn Tough Hiker Micro Crew Cushion
---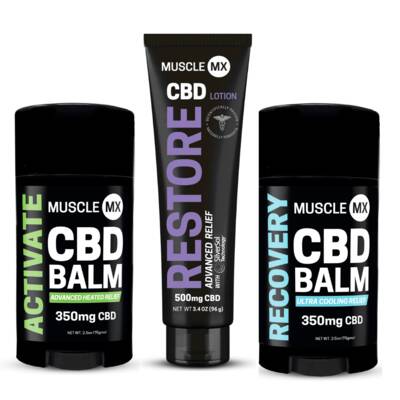 Backyard camping is all about connecting with nature and de-stressing from this unprecedented time. There's nothing quite like CBD product to help with that stress, and the MuscleMX Defense Bundle, which includes topical and roll-on CBD, has three clear methods of relief.
The Defense Bundle includes Activate, Recovery, and Restore balms and lotion, which help sore muscles recover and activate. We're thinking shoulders and lower backs, from all that working at home.
If you need a topical approach to stress relief, the MuscleMX CBD relief bundle will ease your backyard hang.
See MuscleMX CBD Defense Bundle
---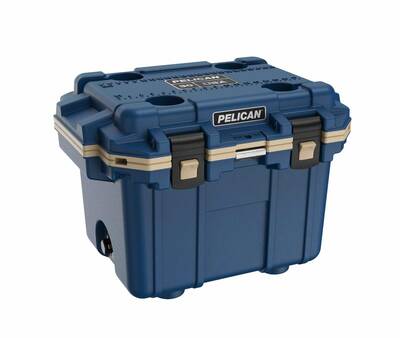 It's not really a true camping experience without a cooler. You could keep the steaks in the fridge, but you'll want a few ice-cold beers and sparkling water, and you'll want them without walking inside.
For this, the Pelican™ 30QT Elite Cooler is ideal. It's a cooler that has been engineered to rugged perfection. The seal is freezer-grade, it has extremely tough handles, stainless steel hardware, and a lifetime warranty. The cooler fits just shy of two 12 packs (that's 24 cans), and up to 28 pounds of ice. It has four cup holders built into the top of the cooler, and a relatively small footprint for how much it can hold.
This will keep your goods cold, and thensome. Plus, once you can go outside again, this cooler will accompany you anywhere. From the early-morning fishing trip to the cross-country road trip.
See Pelican™ 30QT Elite Cooler
---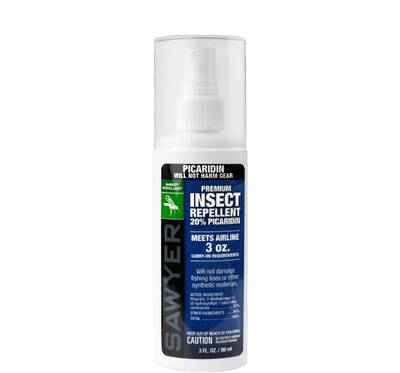 While we may be more inclined to get familiar with our backyard, the bugs that live there are not going to vacate cause you've decided to spend the night. Specifically the mosquitos, ticks, black flies, chiggers, gnats, and any winged, crawling thing. Spring is a notorious time of year for bugs, and even if your backyard is well kept, it'll be hard to do without them around dusk.
Sawyer's Picaridin repellent is the ideal solution for those overly friendly insects. It comes in a spray-on (pictured here) or lotion, works for 8 hours, is child friendly, pregnant-woman friendly, and free of DEET. In short: if bugs are bothering you during your backyard campout, spray on some Picaridin.
You'll be free of bites, your gear won't be damaged in the slightest (including clothing), and when all this is over you'll have some to spare for the trail.
---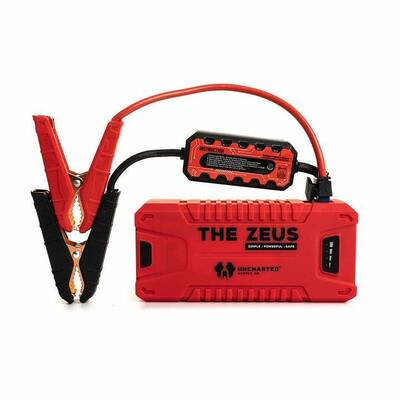 Uncharted Supply Co. is all about survivability, but they have an excellent crossover product that will serve your tail-gate inspired backyard camping. The Zeus is a portable jump starter that also just happens to be a USB charger and flashlight.
If you have the inclination to take your vehicle into your backyard camping session — for music, a roof-top tent, or just cause you're bored — the Zeus is ideal. It's a portable 20,000 mAh portable battery that can jump large trucks, letting you kill the battery time and again in the yard.
In the meantime, recharge your smartphone with the USB attachment, and use the Zeus as a flashlight once the stars come out.
It's expensive, so the real kicker comes when you're not in quarantine anymore. The Zeus will travel as an always-ready car jumper kit, which does wonders if your vehicle won't start when you're driving down service-less roads.
See Uncharted Supply Co. The Zeus
---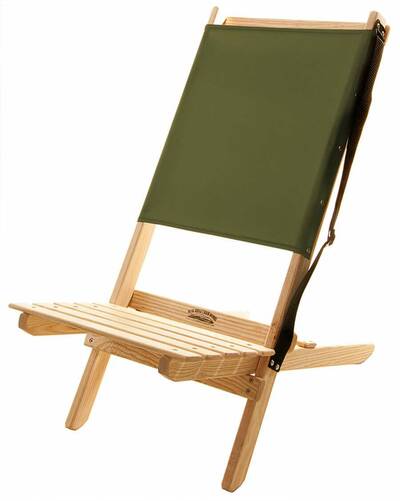 When you're camping in the backyard, you need a place to sit. Unlike your backpacking trip, your yard probably doesn't have a 20-year-old log that's been moved into the perfect place over time. The Blue Ridge Chair is a seat that combines impressive workmanship, simple design, and laid-back comfort.
Made of two simple pieces, the Blue Ridge Chair has full-length support for your back, a weight capacity of 300 pounds, and a style that's in between lounger, Adirondock, and portable camp chair. It has a built-in bottle opener, and it comes with an adjustable shoulder strap for easy carrying, which means you'll be able to take it out of the house…once we're all allowed outside again.
The Blue Ridge Chair is made entirely in the USA, specifically in Western North Carolina.
---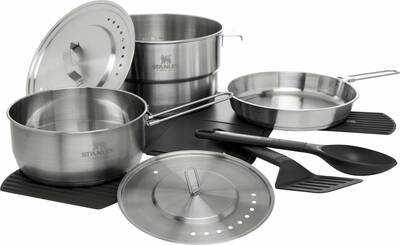 When setting up for your backyard campout you will inevitably need to make dinner. Yes, you could pull out your cookware from the house, but depending on your campfire and stove setup, you may not want to subject your normal pots and pans to that kind of char.
The Stanley Adventure Camp Pro Cook Set is an ideal choice to make your whole family dinner. It comes with a 4.5-liter stainless steel stock pot and a 1.8-liter stainless steel sauce pan (that has a vented lid), which are big enough to cook chili, pasta, or risotto. Then there's a frying pan, collapsible cutting board, spatula, spoon, trivets, and the whole thing nests into the largest pot.
Cook dinner for everyone with the durable 18/8 grade stainless steel, then throw it in the camp box for your next trip.
See Stanley Adventure Even Heat Camp Pro Cook Set
---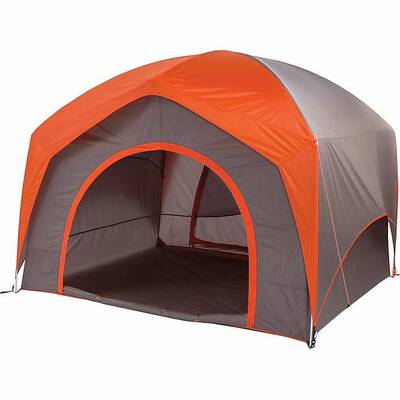 When backyard camping it's best to have a giant tent that the whole family (dogs included) can fit inside. It's the perfect environment to play late-night games and simulates that close feeling we all love when camping in a National Park.
The House 6 is the new (and improved) giant tent from Big Agnes. It's a whopping 83-square foot tent that stands just shy of 7 feet, allowing everyone to stand, move around, lay out a bag, pad, and set up a game. The Big House has two monumental doors that roll back, an included rain fly if you've got a misty night on your hands, and a giant welcome mat for everyone's shoes.
The best part is that Big Agnes created this tent to set up as a tent-less shelter, too — so you can use it as a large sun-shade during the day, then convert it to the family tent at night. There are mesh panels for stargazing, and eight pockets for everyone to keep their stuff in.
See Big Agnes Big House 6 Person Tent
---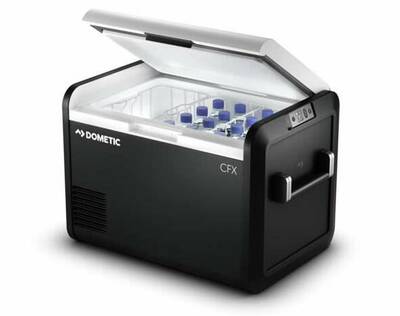 Sometimes a backyard campout demands a powerful cooler. The Dometic CFX3 series of coolers is literally powered, and has a host of features you might not have known were possible in a compact cooling unit.
The CFX3 55IM is a 53-liter cooler that can hold 83 cans of beer or seltzer water, and doesn't require ice — it makes ice. You'll need to plug it in (or use Dometic's battery), but that shouldn't be an issue in the backyard. The independently controlled Rapid Freeze Plate has two silicone ice trays for spitting out perfect cubes during the backyard hang.
It's built with a ridiculously rugged ExoFrame, including aluminum alloy handles and protected edges, and has a digital display to easily see mode, temperature, and battery life. There's an app that allows you to control the freezer via WiFi or Bluetooth, and it runs on DC or AC power.
The CFX will make sure your drinks are cold, you have ice on-hand, and the steaks you've been waiting to grill are ready, any time during your backyard campout.
The best part? Once you can hit the road again, this cooler will literally keep your food cold as long as you need it.
---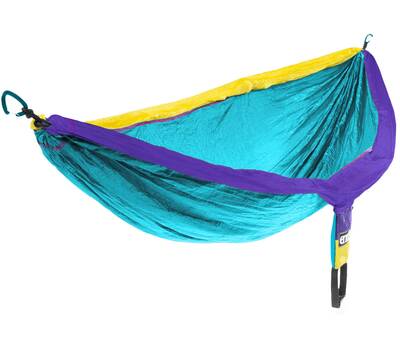 Backyard camping is all about chilling, and there is nothing more chill than a hammock to hang in. Read a book, take a nap, stare at the sky — just about anything will do, cause you're stuck in your backyard with time to kill. Easily string the ENO DoubleNest hammock between two trees, a fence if you're treeless, or even inside your apartment if you have no yard.
This is the ultimate double hammock that has room for two to cuddle, uses impressive 70D nylon taffeta, and has a capacity limit of 400 pounds. You'll need the separately sold suspension system to set it up, but it comes with lightweight aluminum carabiners and packs down to the size of a grapefruit. It's a backpacking hammock, too, so once you get on the trail you'll have another shelter on hand.
---

If you're going to sleep in the backyard, you'll want probably want a camping mattresses that is comfortable enough to keep you from heading back to your real bed. The Exped MegaMat 10 is the pad you'll want. Its comfort is often compared to high-end, real mattresses — by our staff and plenty of other gear testers.
The Exped MegaMat 10 series comes in many sizes, but the Duo is the size of a queen bed, will fit in the tent on this list, and is durable enough to sleep right on the ground in the backyard if you want to stargaze all night. It's incredible comfortable is due to thick foam and three full inches of support. And if it's still icy cold where you are, it has excellent insulation, which will make the backyard camp that much more pleasant.
Then, when it's time to camp again, you'll have a mattress that's as comfortable as the one you left at home.
---
This article contains sponsored content from multiple brands.
Backpackers.com Affiliate Policy: This guide contains affiliate links, which help fund our website. When you click on the links to purchase the gear we get a commission, and this goes a long way to creating guides, gear reviews, and other excellent content.
Featured image courtesy Abigail Batchelder via Flickr, Cropped Close