In a few short months, the novel coronavirus has escalated to a worldwide pandemic. As entire countries urge their populations to stay inside unless absolutely necessary, thousands of healthcare professionals and emergency response teams are fighting COVID-19 on the front lines.
The outdoor industry, which houses thousands of brands, factories across the planet, and the means to help contribute to this fight, has seen large shifts in these months.
This is a growing list of outdoor brands that are doing something to help medical professionals, citizens, and other companies fight and thrive during this unprecedented time.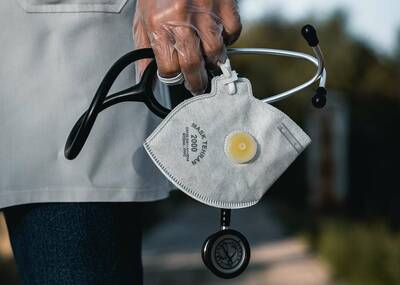 The Outdoor Brands Retrofitting Factories
Airstream: Airstream's sewing team, which normally makes draperies and cushions, is working from home to create PPE, like masks, for medical and professionals and first responders. Airstream has also loaned Nest trailers to support drive-through testing sites in the Ohio-based Wilson Health group.
Arc'teryx: Arc'teryx, along with other Canadian-based brands, has shifted parts of its production in its New Westminster facility to manufacture level 3 hospital gowns for Vancouver Coastal Health. They hope to produce 5,000 gowns a week for the next two months.
Cascade Designs: The parent company of MSR, Therm-a-Rest, PackTowl, SealLine, and Platypus, has retrofitted its factories to create ASTM level masks for 51 hospitals in the Providence Network. See the full update by clicking the top bar on the Cascade Designs site or any of their brand sites.
Chaco: Chaco has retrofitted its Michigan-based ReChaco Factory and Mobile Repair bus to create face masks, aprons, and other PPE, and is working with its parent company Wolverine Worldwide to source materials. Read our full Brand Highlight.
Dickies: Dickies, in partnership with its parent company VF Corporation, has shifted its Mexico and Honduras factories to produce FDA-compliant isolation gowns for hospitals and healthcare workers. They are expected to deliver 50,000 gowns in May, and intend to create product capacity to make up to 675,000 gowns by June, and 3.4 million by September.
Eddie Bauer: Eddie Bauer has shifted some of its production capacity to make N95 and surgical masks and will donate 20,000 masks directly to the State of Washington.
Industry Nine: Industry Nine, a cycling manufacturer, has teamed up with Kitsbow and other Outdoor Gear Builder brands of Western North Carolina to produce Face Shields for its local community. Industry Nine also has access to CNC machines and is ready to assist in machining components for ventilators. Read our full Brand Highlight.
Kitsbow: Kitsbow, a premium cycling clothing manufacturer, spearheaded the effort of the Outdoor Gear Builder brands of Western North Carolina (along with Industry Nine) to create Face Shields and Face Masks for its local community. They are selling the PPEs. Read our full Brand Highlight. 
Lightning Kayaks: Lightning Kayaks has shifted all of its production to the creation of Face Shields for the medical community. They hope to send the Face Shields to healthcare workers in need for free through donations from supporters. You can also buy Face Shields from them if you're a medical practitioner.
Melanzana: Melanzana, the brand best known for micro-fleece hoodies, has shifted its factory to make masks for Lake County (Colorado) healthcare workers, EMTs, firefighters and law enforcement officers.
Mustang Survival: Mustang Survival, a Canadian gear company that produces extreme outwear, has partnered with other local companies and shifted its production to make and deliver over 90,000 level 3 isolation hospital gowns to Vancouver Coastal Health.
MYSTERY RANCH: MYSTERY RANCH has shifted its production floor to create protective face masks for the Bozeman Health Deaconess Hospital in Montana, its home state. They have donated over 250 units to the hospital, and plan for daily deliveries as long as the demand continues.
Nike: Nike has worked closely with the Oregon Health & Science University (OHSU) to manufacture PPE in the form of Face Shields and powered, air purifying respirator lenses. It has updated the design for more streamlined creation of the PPEs, and donated its first shipment to OHSU on April 3, 2020.
NOMAD: NOMAD has updated its Hong Kong factory to produce 3-layer facemasks (isolation masks) for healthcare professionals around the world. It is taking orders on its website, and is donating any profit that's made to COVID-19 relief funds. Read our full Brand Highlight here.
Oowee: Oowee, along with other Outdoor Gear Builder brands in Western North Carolina, are helping to create Face Shields and Face Masks for their local community. Read our full Brand Highlight here.
Orvis: Orvis, the active lifestyle and fishing brand, has shifted its factory to create face masks for the local homeless population in Roanoke, Virginia. It has collaborated with local furniture manufacturer Chervan to cut patterns, which Orvis will use to stitch the masks. They're making 2,000 masks a week, and donating the majority to Rescue Mission.
Osprey: Osprey has shifted its warranty and repair factory from conducting product repairs to creating fabric masks for the healthcare workers and front-line responders around their hometown of Cortez, CO. They plan to sew 100 masks per day, and will send them to Southwest Memorial Hospital and the local health department.
Outdoor Research: Outdoor Research (OR) is working to convert its manufacturing factory in Seattle, Washington to produce PPEs for the medical community. The goal is to produce about 200,000 masks per day when fully operational. OR is working to become an FDA-approved Class II medical mask maker, and will ramp up to produce 140,000 Surgical Masks per day by April/May, and 50,000 N95 Respirator Masks per day by May/June. It is also producing ASTM Level 1 Face Fabric Masks. Employment may be available for Mask Manufacturing in their Seattle factory.
Superfeet: Superfeet, the shoe insert company, has converted its insert production lines, which primarily use 3D-printing, to create PPE in the form of PAPR hoods. Approximately 30,000 units will be created and distributed to hospitals in the Pacific Northwest.
SylvanSport: SylvanSport, the RV and camping gear manufacturer, has converted its production line to create a range of PPE, including Counter Guards, Disposable Face Shields, Coated Tyvek Suits, and Non-coated Tyvek Suits. They even have a Medical Tent in production. This gear is for sale for businesses and healthcare professionals.
Watershed Drybags: Watershed Drybags, along with other Outdoor Gear Builder brands in Western North Carolina, are helping to create Face Shields and Face Masks for their local community. Read our full Brand Highlight here.
Western Mountaineering: Western Mountaineering has shut down normal factory operations, but is keeping its seamstresses paid, and setting a number of them up with sewing machines at home so they can make masks. They are donating the masks to local hospitals in the San Jose, California area.
Woodchuck: Woodchuck, the custom wood engraving company, has shifted 50% of its of its production to medical and PPE demand. They are currently taking orders for Face Shields in two different models, and they are being built in accordance with the Johns Hopkins Medicine medical standards. Other, laser-engraved products are in the works.
The Outdoor Brands that are Donating
Backcountry: Backcountry, the outdoor retailer, has already provided 9,000 non-medical grade face masks to the New York Department of Homeless Services, in addition to 1,000 face masks to its own team members who are still fulfilling orders. Backcountry also created a Mask Donation page, in which it has already raised $44,000 in donations, which will help pay for an additional 20,000 face masks to be given to Utah Charities and Clinics.
Brooks Running: Brooks is giving away 10,000 pairs of shoes to healthcare workers.
Chrome Industries: Chrome Industries has created a program where everything on its site is 20% off, and it will then donate 20% of your purchase to the One Fair Wage Emergency Fund, who is responsible for distributing the donations to people in food service and hospitality trades. The goal is to help the folks who can't "phone it in and are the first to get laid off."
Clif Bar: Clif Bar is donating 3 million bars to help sustain health-care workers all around the world.
Corkcicle: Corkcicle is dedicated to the #SupportLocal Initiative, which aims to help US-based local retailers (that sell Corkcicle) receive revenue from purchases. When you buy a Corkcicle product on the brand's website, you can select "Support My Local Store" in the checkout cart, and select the retailer local to you. Retailers will receive a check with their total profits at the end of April, and the amount will reflect what they would have made if individuals had bought in their store.
Cotopaxi: Cotopaxi has two separate donation efforts. One is #OneUtah, a collaboration with Utah businesses to help raise $5 million through the sale of a special t-shirt. The second is a specific Foundation Donation page, in which Cotopaxi will match the first 1,000 donations.
Dometic: Two Dometic engineers have started to 3D print mask straps, and Dometic is donating them to local hospitals, nursing homes, and schools. So far 300 masks have been donated, and Dometic plans to continue producing the straps.
ExOfficio: ExOfficio, supplier of crazy comfortable adventure underwear and other clothing, plans to donate 10,000 pairs of its underwear to healthcare professionals across the U.S. At the time of writing, 1,200 pairs have been shipped to Kaiser Permanent in San Francisco, CA.
Good To-Go: Good To-Go, the brand best known for delicious dehydrated backpacking meals, has donated 900 meals to Food Banks in April. The food went to Feeding America food banks in Maine, Chicago, and Los Angeles.
HEROCLIP – HEROCLIP is donating its clips to first responders and medical professionals. The clips will help hold up IV bags and medical tools in unorthodox locations, like drive-through testing centers.
Kahtoola: Kahtoola, the brand behind MICROspikes and NANOspikes cold-weather footwear traction, is donating funds to both the Grand Canyon's Havasupai Tribe and the Flagstaff Family Food Center, two communities in need that are local to the brand.
KEEN Footwear: KEEN already donated 100,000 pairs of shoes, equaling about $10 million, to people in need, whether on the front lines of the crisis or for families at home. Their program allowed you to simply nominate someone for free shoes, and they shipped them.
Luminox: Luminox, the outdoor watch company, will donate 10% of all proceeds of every watch purchase to the Direct Relief Organization, which is distributing aid across the world in the pandemic.
Merrell: In late March, Merrell donated 1,200 pairs of shoes and boots to local hospitals and to the Grand Rapids Fire Department and Police Department in West Michigan.
MiiR: MiiR has partnered with Seattle-based artist Kyler Martz create custom Camp Cups, and for each cup sold MiiR will donate $5 to Feeding America's COVID-19 Response Fund to help food banks across the country as they support communities impacted by the pandemic.
Mountain Khakis: Mountain Khakis has offered 40% off all purchases for Military, Police, Firefighters, EMTs, Nurses, Medical and Emergency Responders/Staff, and Teachers through their Discount program. You have to register for the program.
OOFOS Footwear: OOFOS, pioneers of recovery footwear, has donated over 1,200 pairs of shoes to hospitals across the country. They have also partnered with ID.Me to provide assistance and discounts to medical staff on the front lines.
Peak Design: Peak Design has recently launched its Travel Tripod, and until April 10 will donate 100% of Tripod profits to the CDC Foundation for coronavirus relief and to fighting climate change through Climate Neutral.
Phoozy: Phoozy, the insulating and protective smartphone pouch, has a donation program where if you buy a Phoozy, the company will donate a Phoozy to healthcare workers and first responders. You can select where you want your donation to go, and the company distributes them every week. These help to keep medical professionals devices clean and free of the virus.
REI Co-Op: REI is contributing $100,000 to the 100 Million Mask Challenge, which is a program that matches organizations that can donate PPE with local hospitals based on need. The company has also created an Outdoor Emergency Fund at Network for Good, as part of the REI Foundation, to help local outdoor non profit organizations.
Rhone: Rhone will donate 10% all of its proceeds in April 2020 to the Direct Relief Fund, and is part of the Brands X Better initiative, which consists of many brands doing something similar
RMU Outdoors: RMU Outdoors has created custom "stand apart not alone" shirts, mugs, bandanas, and hats, and the proceeds from these purchases will be donated to those to local mountain towns in need.
Toad&Co: Toad&Co is giving back to its speciality brick and mortar retail partners by encouraging customers to use retailer-specific codes during checkout. Toad&Co will share 30 percent of the net revenue on full-price Spring '20 products with the selected retailer. As a customer, you can also refer a friend to do this, and get $20 off your first order of $100+. 
The North Face: The North Face has committed to give $1 million through its Explore Fund to help outdoor communities all over the world during this crisis, and has also donated 60,000 gloves to healthcare professionals and first responders in Colorado.
Topo Athletic: Topo Athletic will be donating 50% of its sales on Earth Day to The Conservation Alliance, along with many other brands.
Vapur: Vapur has donated its Anti-Bottles to hospitals through Operation USA.
How you can help
We assembled this detailed list to show how many outdoor companies are committed to helping healthcare professionals and other businesses during this unprecedented time.
If you have the means, you can support the above brands by shopping their products.
If you want to help the global fight in another way, please donate to the World Health Organization's COVID-19 Solidarity Response Fund. If you want to help your local community, we suggest getting involved in community fundraisers.
If you represent a brand and want to be included in the above list, please send an email to [email protected].
---
Photo by Ashkan Forouzani on Unsplash
Backpackers.com Affiliate Policy: This guide contains affiliate links, which help fund our website. When you click on the links to purchase the gear we get a commission, and this goes a long way to creating guides, gear reviews, and other excellent content.