The worldwide COVID-19 pandemic has ground what we all considered "normal" to a full stop. We've almost lost count of the weeks here at Backpackers.com. But two things have become clear as we wake up each day: we've got to stay sane, and we've got to be prepared.
This guide is an in-depth look at the outdoor products that will keep you sane and safe during this pandemic. Stay for games, food, creative ways to work those finger holds, and the gnarliest prepper pack you've ever seen.
If you want to see how Outdoor Brands are contributing to the fight against the pandemic, see our full guide!
Staying Sane During COVID-19
We start with sanity because, let's face it: we're all going a little crazy. An outdoor-person's main joy is getting outside. This is possible in small doses, but for many the outdoors — National Parks, State Parks, state trails, even beaches — have been closed.
The following will help bring you the spirit of the outdoors to your living room or back yard.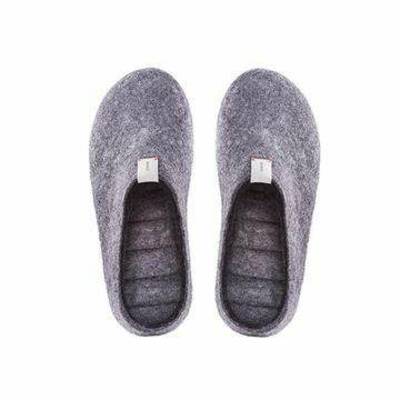 Baabuk is a B-Corp certified Swiss footbear brand that's all about wool. Given that we're all spending a significant amount of time inside, a fresh pair of eco-slippers will make all that pacing around the house looking for things to do around a lot more comfortable.
The Mel Slippers are made of wool felting by skilled artisans. They're finished with natural latex soles and glue that comes from sustainably harvested rubber trees.
---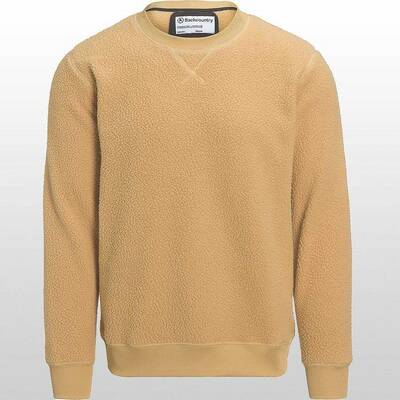 The Backcountry Alder crew is a casual, cozy sweater that's perfect for your in-home work. It looks good on Zoom, and will keep you toasty during those endless rounds of board games. The Alder Crew is made of Sherpa fleece — the coziest kind of fleece — and comes with a lifetime warranty.
---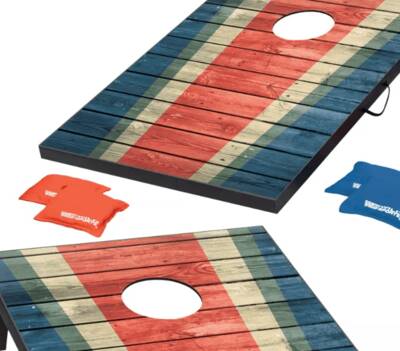 Bean bag toss — better known as cornhole — is a new American tradition. You'll find the sack-throwing game at weddings, BBQs, beach parties, and even cemeted into new parks. It's an easy game that anyone can play, and there's something satisfying about sinking the bean bag.
Bass Pro sells the entire setup — two laminated boards with easy-fold legs, and 8 cloth bean bags — for you to party in the backyard. No, you can't have people over yet, but you can play with your family (or alone) and get really, really good.
---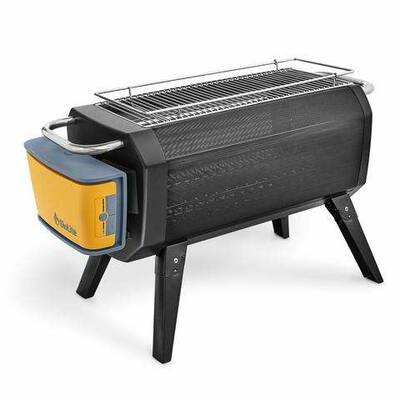 The BioLite FirePit is the tech-approach to a portable backyard campfire, and it lives up to the hype. It's an enclosed fire pit made of see-through metallic mesh, which lets you watch the flames of your fire. It comes with a slide-in grill along the top and collapsible legs to keep it from scorching the ground, and for easy transport and storage. But the real tech feature is the battery-powered fan, which blows air in a perfectly engineered fashion to make your campfire burn hot and burn without smoke.
BioLite has seen a huge uptick in videos and photos with the FirePit in backyards of their customers during the pandemic. You can still have that campfire feeling, right at home, and the FirePit makes it easy..
BioLite also has a 25+ minute video of the FirePit burning in a beautiful nature setting, which you can throw on any screen if you're feeling nostalgic.
---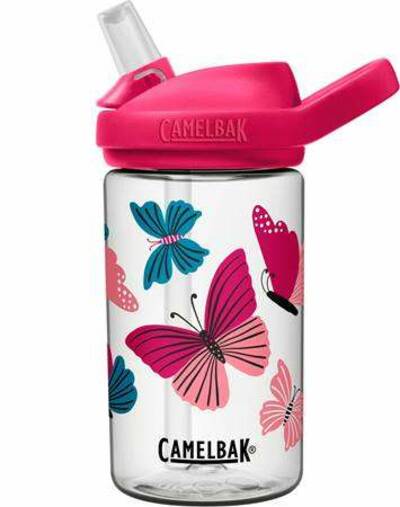 If you've got kids, you're seeing a lot more of them these days. There are many strategies for dealing with kids at home, and most of them don't have to do with products, let alone water bottles. But we're pretty sure your child will need to stay hydrated, still likes shiny things, and may be feeling the need for some ownership over their surroundings (just like you).
The CamelBak Eddy+ Kids is a simple, colorful water bottle that is fun to drink out of. It comes in many sizes and colors, is made with 10% renewable plant-based material, and is spill-proof. Consider one as a growing arsenal of tools to keep you and your kids sane.
---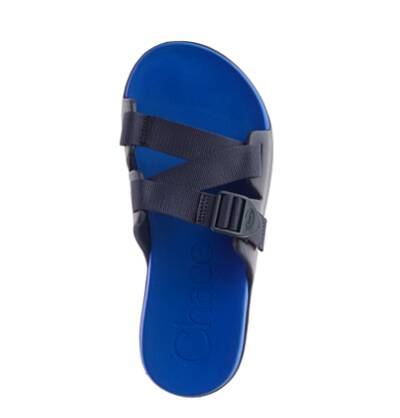 Chaco has two pieces of sanity to bring to your life. One is a comfortable sandal, called the Chillos, which slips on and off without a second thought and uses the company's legendary LUVSEAT footbed. The comfort is superb, and if you're in warmer weather, wearing the Chillos around the house and in your yard is ideal.
The second piece is the aptly-named CHILLOut campaign — an Instagram-based series that promotes wellness to reduce stress and anxiety. Every Monday, Thursday, and Sunday Chaco is hosting guided meditation sessions, yoga, stretches, and virtual concerts in this series to help us all relax.
We also featured the company in our COVID Relief Alliance spotlight for the work they are doing to support healthcare workers across the country.
---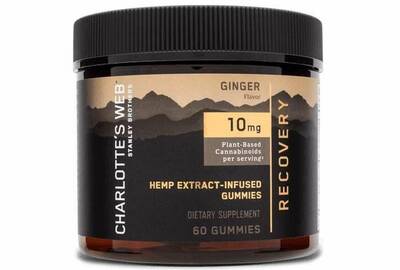 The introduction of CBD to the U.S. market has been pretty crazy, and in the outdoor industry the response has been extremely positive. As more brands come out with products, and CBD becomes normalized as a method to support your management of everyday stress and exercise-induced inflammation*, it's important to trust the brand you buy from.
Charlotte's Web is one of the "older" brands in the industry, and one of the most recognized and respected. CBD has a number of effects, but the noticeable support for the relief of stress is a big one. Stress is probably the biggest issue we're all facing on a daily basis right now, and Charlotte's Web has a great way to help combat that through its CBD products.
We're fond of the gummies, but the brand has a number of options if you prefer other methods of consumption.
---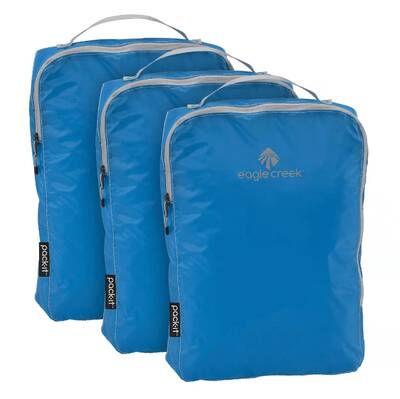 Eagle Creek has a reputation for being the adventure travel organization brand, whether it's organizing clothes in their duffels and rolling suitcases, or with their in-bag organizers. We're particularly fond of the Pack-It system, which has a range of organizers and compression bags to keep your stuff where it should be.
We know you're not hopping on a plane right now, and probably not trekking deep into the backcountry, but that doesn't mean you can't organize your gear. In fact, getting things organized is precisely the ting to do while you're at home.
We like the Pack-It Specter Cube Set for backpacking (both wilderness and international travel), and think you will too.
---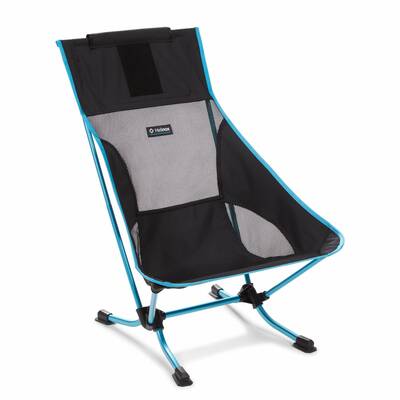 The backyard camping movement is probably the most popular during this pandemic, and for good reason. If you have a backyard, it's the easiest and closest connection we have to nature. This was always true, but we can appreciate it more now.
Helinox is all about camp comfort, with chairs and tables, and we think the chairs in particular are great. For your backyard hang, and for future camp and beach gatherings, the Helinox Beach Chair is ideal. A high back, low sit, and special legs to reduce sinking, this chair screams comfort. Time to get some sun in the yard.
---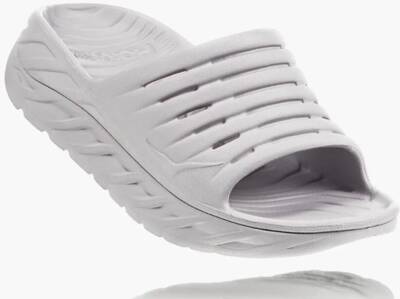 HOKA ONE ONE is best known for super-cushy running shoes, but they also make a supportive recovery shoe for all your post-run activities: the Recovery Slides. Now that we're essentially housebound, we can't think of a better way to recover from the runs you can go on, or to simply walk around in all day.
The Recovery Slides use the oversized midsole and Meta-Rocker on a basic slide sandal, and suddenly you've got HOKA comfort in the house. They do look like futuristic footwear, but we've found that what you wear these days doesn't matter quite as much. They also in a version with a toe-post, if that's your preference.
---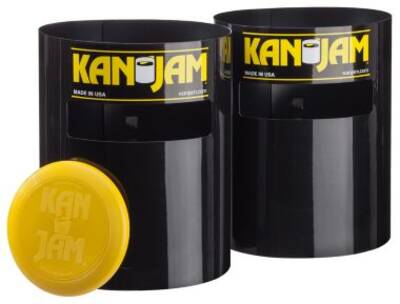 Another game for all those backyard nature sessions. KanJam is a basic, portable version of Disc Golf, which encourages you to throw a frisbee in a small slot. Get it in the slot, and you get points. Play against your partner, your parents, your kids, or whoever else you happen to be quarantined with.
This is another game that goes great once you're free to roam again, and you'll get some excellent accuracy skill in the meantime.
---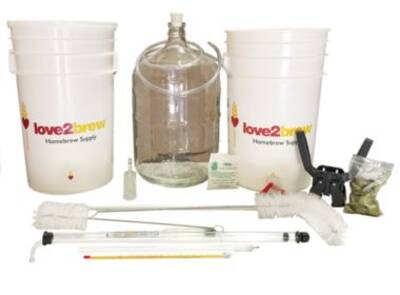 The name says it all, right? If you're stuck inside for weeks (or months) on end, there may not actually be a better time to start brewing your own beer. It's a combination of self reliance, budgeting, and chemistry that will do wonders for your mood.
The Love2Brew Complete Beer making kit comes with all the accoutrements you need to start, including a 6.5 gallon fermenting bucket with airlock, a hydrometer, and a 6.5 bottling bucket with a spigot, and tons of cleaning brushes. It has some fairly advanced tools as well, which allow you to brew more complex beer, and comes with a guide to get you started.
All you need to buy are the malt, hops, and yeast.
---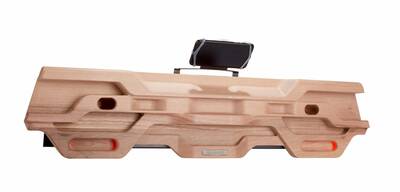 This one's for the climbers. Not having access to a climbing gym, or your favorite outdoor route, is tough on more than your mind — it's tough on your fingers. The sport demands constant upkeep, and this shelter in place business, while necessary, will reduce your hard-earned callouses and grip strength.
Mammut's Diamond Finger Hangboard seriously helps to alleviate this. It's an at-home hangboard that has gone digital, in that it includes the training plans of professional climbers, which are accessed via an app. There are many training plans available, and the mount at the top allows you to follow the plan as you hang. It's a decent-sized board, and doesn't come cheap. But if you equate the cost of a climbing gym membership, it's just a few months, which is about how long this whole thing will (hopefully) last.
---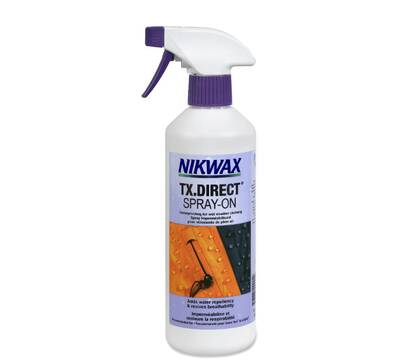 This is perhaps the perfect time to clean and re-waterproof your outdoor gear. Think about it — it's the chore you have probably put off for years. You have tents, rain jackets, and shoes with seasons of use on them and the waterproofing has likely started to fade.
NikWax TX.Direct spray on is the most popular re-waterproofing product around, and it's not hard to use. We have an entire guide to the waterproofing process, and it's a fantastic way to spend time with your outdoor gear (and the memories you created on those trips) if you have to stay home.
---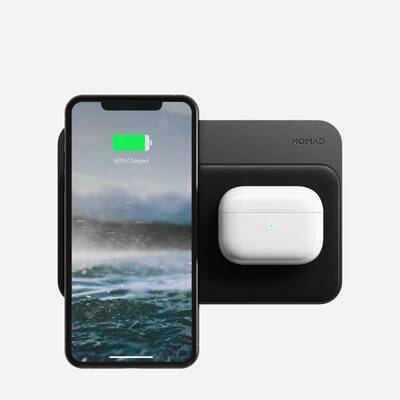 NOMAD is all about clean, aesthetically pleasing gear of the adventure travel variety. The company focuses on wireless and device accessories, and it has a line that's geared toward the work from home life.
If you've suddenly found yourself at the kitchen table or slightly-off-height dresser, The Modern Desk series from NOMAD will give you some peace of mind. We're particularly fond of the Base Station hub charger, which allows you to wirelessly charge two smartphones at once, and two devices via USB-A and USB-C ports (that's four devices at the same time). You can also wireless charge your Apple AirPods. Couple this with the brand's Kevlar charging cables, which have pretty much any connection you can imagine, and you're all set for those smartphone Zoom calls.
We also highlighted NOMAD for the work they are doing to support healthcare workers.
---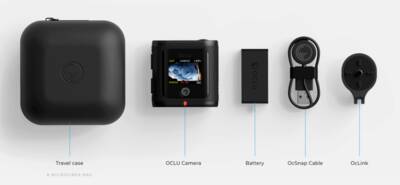 OCLU is a 4K action camera made for athletes and families, and might just help you get through this quarantine. There's no better time to take weird, funny, or family-oriented videos in your house and backyard, spend hours editing them, and release on any number of social media outlets.
The OCLU camera allows you to customize your shooting modes, film with GPS data, and share the files easily. It's also crazy high definition, and works in water. Hone your skills now, and get ready for hitting the trails and beaches again soon.
---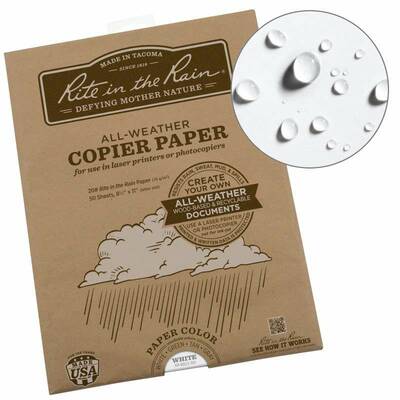 Rite in the Rain is a waterproof paper company that has found a home in many backpackers' packs. We have a few journals on our team, as it's a great way to assure you'll be able to write no matter the weather.
They have an interesting offer on tap for these unprecedented time: all-weather printer paper.
So many businesses these days are having to put out instructional signage — whether it's "take out orders only" for restaurants or "we'll be back soon" signs for retailers. Most of these signs will fall away in the rain. If that's you, grab the All-Weather Printer Paper and rest easy.
---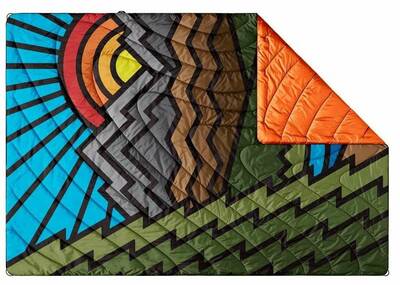 A blanket is a surprisingly versatile thing, and a blanket from Rumpl is sure to be warm, durable, well-designed, and cozy. For backyard campfires, cuddling up on the couch, or even in your emergency kit, the Rumpl Original Puffy Blanket is ideal.
Then, when you can go outside again, it's the perfect companion for camping and backpacking.
The company offers many versions, but we like the Original Puffy Blanket, which is synthetic, comes in many different cool designs, and won't break the bank.
---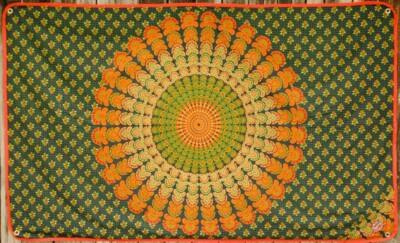 Unlike the above Rumpl Blanket, the Tarpestry is a mix between a tarp and a rugged ground blanket. It's not designed for warmth, but ground, wind, and weather protection. Think a festival tarp plus a college tapestry, and you've got a functional go-anywhere ground mat.
Tarpestry puts a grommet hole in each corner (you can request more), which makes it great for staking out on the ground, or setting up a shade and wind block. The artsy uppers are made of pre-shrunk cotton and the fabric is silk-screen printed by hand, while the base is a water repellent and UV resistant polyester, which is highly durable and made to get dirty.
Use this in the backyard for fun and games now, and bring it just about anywhere you go later on.
---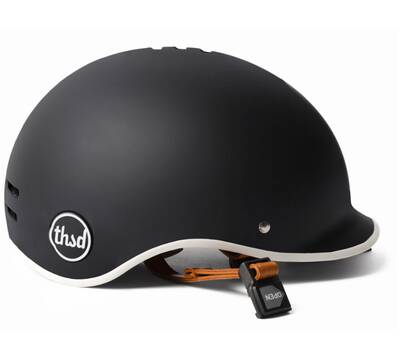 Biking is one of the few things that people can still do during this pandemic (as long as proper distancing precautions are taken), and it has resulted in a huge spike in new bikers hitting the streets. This is a good thing overall, as it promotes exercise, but we need to be safe.
Thousand Heritage is a helmet company that makes stylish, urban helmets. They have a noticeably minimal and retro design, have a Secret PopLock feature that allows you to secure it with your bike lock, precise adjustments, and a one-handed magnetic fastener. The brand is also went Climate Positive on April 1, and partners with People for Bikes and 1% for the Planet.
If biking is your new thing, get a helmet.
---
This last one is pretty unique. WhereNext, a production company that works on creative campaigns for global brands, has brought birding to your quarantine.
The company helped produce a documentary called The Birders, which tells the story of a birdwatching trip on the Northern Colombia Birding Trail. They have released the film and included a checklist of birds to "watch" as you watch the film, making it interactive.
Great for kids, or aspiring birders, this is sure to eat up some of your quarantine, and will probably be a lot more educational than Tiger King.
---
Staying Safe During COVID-19
Staying safe during the pandemic is no joke. Beyond keeping your six feet of distance, washing hands, wearing a facemask, and generally staying home, there's the "what if" safety.
The outdoor community has a particular niche that embodies this: the preppers. These are the sorts who have bunkers of gear in case of an emergency, with meals, extra batteries, and communication devices at-the-ready.
While we don't think everyone needs to go as far as most preppers have gone, it's a good idea to have a go-bag in case something does happen.
Here are the items we think should be considered your "stay safe" list.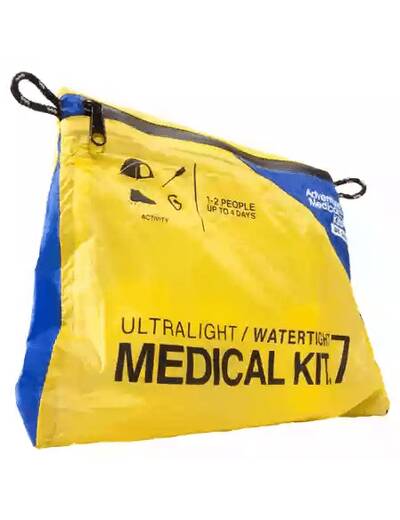 A first aid kit is arguably the most essential thing to have in a go-bag. Typically pre-packaged kits, like those offered by Adventure Medical Kits, come with band aids, basic painkillers, bandages, emergency heat blankets, and more. They are used to set sprains, fractures or dislocations, and often have pocket-sized guides to treat all kinds of illnesses.
A first aid kit is a necessity for any outdoor adventure, and is essential for any go-bag or safety kit. The size depends on your group size, but we're fond of the Ultralight Watertight version that works for 1-2 people for up to 4 days.
---

You need a headlamp in your emergency arsenal, and the Black Diamond ReVolt is an excellent choice. It's bright, relatively light, works with regular AAA batteries or ones that recharge with a battery bank, and it's comfy. This dual battery ability (chargeable and regular) makes it ideal for any survival scenario.
We awarded this headlamp, and think it will fit nicely into any emergency kit.
---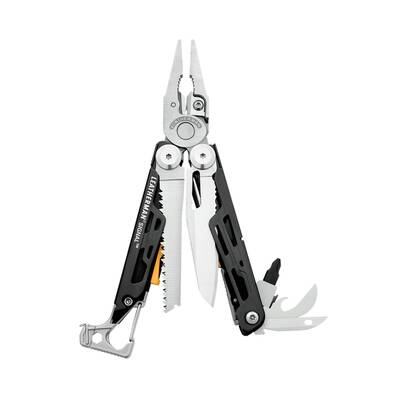 Another go-bag essential: the multipurpose tool. Leatherman is the leader in this space for a reason: their products contain many tools that will get you out of a sticky situation, they are relatively affordable, and they are compact.
The Leatherman Signal is the best-selling model, as it has 19 tools on tap, including a full knife, saw, pliers, and a belt clip for quick access. One of these is necessary in any go-bag, and getting the industry standard is smart. The whole thing weighs about eight ounces, and is made of mostly stainless steel.
---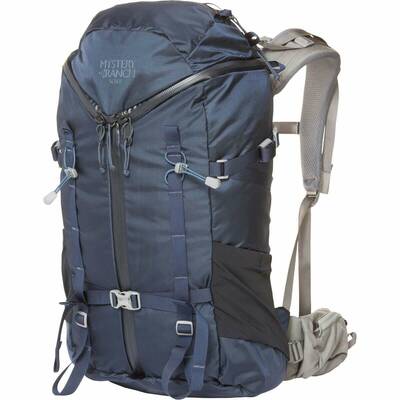 MYSTERY RANCH is known for extremely durable, comfortable backpacking packs. While we don't think a full-on backpacking pack is necessary for a go-bag (though if things really go south in the world it would be essential), the company makes smaller, highly capable backpacks.
The SCREE Pack is just that — a 32-liter day pack that has hip belts, decent load carrying, plenty of accessibility, and the ability to carry what you might need in a true emergency. Obviously you'd also use this for solo day hikes, and for group hikes when that's a possibility, but it's a great pack to store in the car as a portable go-bag.
You could even store the items on this list in the SCREE, and be ready to go at a moment's notice.
---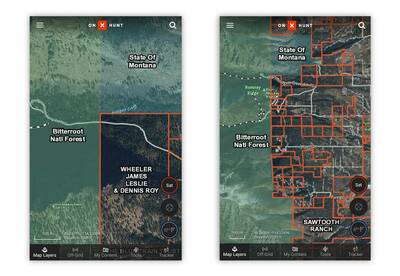 If you haven't heard of onX, you're missing out. The company has some of the largest maps for hunting and offroad adventures available, and you can access them with an incredibly easy-to-use app.
This is a handy "safety" item in that if you need to navigate open land, you can do it easily. onX has clear definitions of public and private land, where BLM land is that you can camp on, and lots of other trails uploaded and verified by the community. They have two different apps — Hunt and Offroad.
You can also log in from a computer and do serious adventure planning for when the world opens back up again. There are different pricing options for the service, but if you're the dedicated trip planner, it's worth it.
---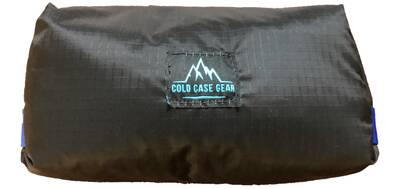 Cold Case Gear is a relatively new company with one key product: the Pouch. It's a zippered container that's sized to fit a few smartphones, a headlamp, an action camera, and any other small charging devices and batteries you have.
The beauty of Cold Case Gear is that they have insulated the Pouch to keep all of these electronics at their normal charge no matter the temperature. In terms of a go-bag, you will undoubtedly need access to your electronics, and this extends the life of their batteries significantly.
---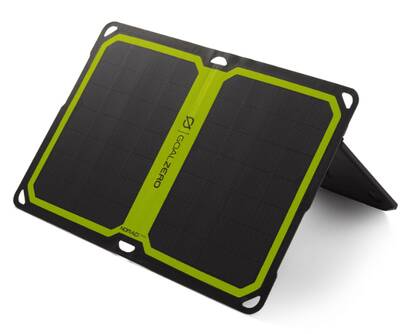 Every emergency kit these days should have a solar panel. Turning the sun into energy for your electronics is a no-brainer, and the Goal Zero Nomad 7 Plus is a simple, relatively affordable option that will give you just enough power to get through the days.
You can charge USB devices with the Nomad 7 Plus, which has a power-flow indicator and kickstand to get the best angle on light. It has smart charging features and will charge most 12V devices. This is not super powerful, but will work with essentials. It's also designed to withstand the environments.
---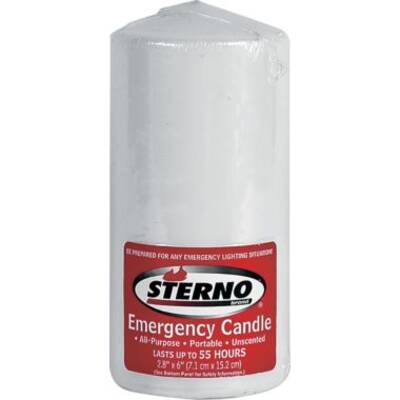 Light is rather important in an emergency, so it makes sense to have a few methods of creating light in your go-bag. The Sterno Emergency Candle is a classic, unscented wax candle that burns for 55 hours. This creates real flame, and does run out (as opposed to a headlamp), so keep that in mind.
They are cheap, easy to store, and great to have on hand in an emergency.
---
SPOT X with Bluetooth – $249.95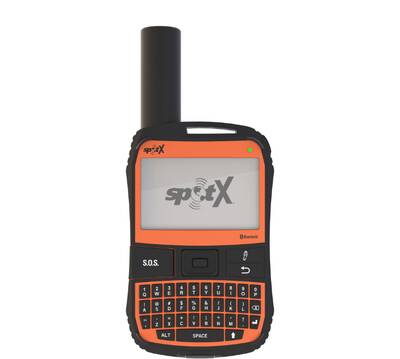 SPOT makes satellite communication devices — you know, those things that are always recommended on long backcountry excursions. These devices are a failsafe against the "what ifs" of a precarious hike, and make a ton of sense in a go-bag.
The Spot X with Bluetooth is particularly good because it's reliable, uses a rechargeable battery, weighs only 7 ounces, and has a full keypad that allows you type out messages to your friends and family. The S.O.S button is a single click away, and there are tons of handy tracking features to let friends and family know where you are. The Bluetooth version allows you access your smartphone's contacts and communicate with them, which is handy.
It's expensive, but will always be useful. To use the satellite features you'll need a membership, but you can turn that on and off when necessary.
---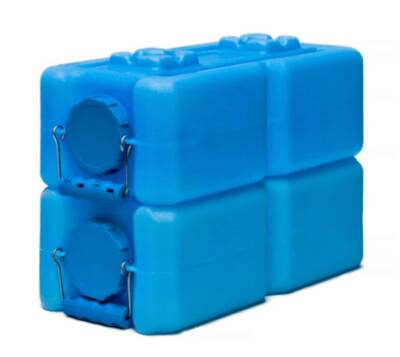 Survival Frog is a retailer that specifically caters to the prepper, and therefore has a ton of products that work well for this guide. One of our favorites is the Stackable Waterbrick Container, which is a basic HDPE container to store water.
You can buy them in bulk, and store them in your garage, your car, or pretty much anywhere. Having safe, reliable water stored on-hand is smart, and this make it easy.
---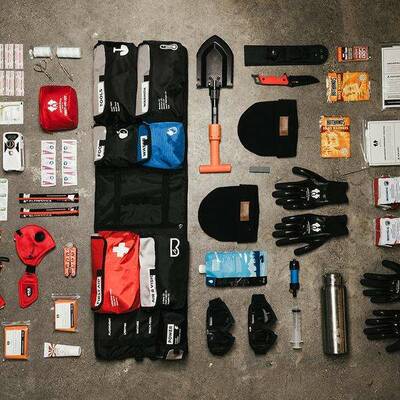 If you're the type of person that doesn't want to buy things piecemeal and assemble them yourself, the SEVENTY2 Pro Survival System by Uncharted Supply Co. is what you're looking for. This is a professional-grade preparedness bundle for 2+ people.
The Seventy2 Pro has 35 tools, including first aid kits, warming devices, a shovel, knives, water filters, water bottles, and a backpack that carries everything perfectly. It also has instructions for what to do in the first 72 hours after an emergency. The whole thing is 100% waterproof, and will make sure you survive.
---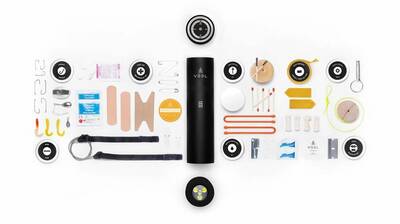 VSSL is a combination of bespoke product and serious survival gear. The company is founded on the idea that you should be able to fit most outdoor supplies — survival, mostly — in a small, lightweight tube that's waterproof.
The VSSL Camp comes with 70 individual items, all of which pack into a flashlight tube that weighs 15.6 ounces. Some of tools include an oil-filled precision compass, mini first aid kit, firestarter kit, wire saw, water purification kit, and tape measure. All the items fit in small circular discs that can be swapped in and out when needed.
---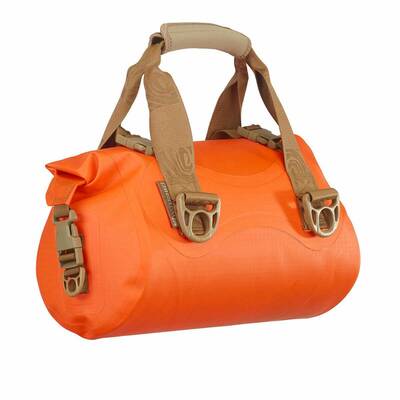 Watershed Drybags are duffel bags that can go underwater. If you are still looking for the perfect storage device for your go-bag this may be the option for you.
These Drybags have rugged carrying handles, hard lash points, multiple compression straps, and a roll-top plus zipper closure that's unique for duffel design.
Stock Up on Preparedness Food During COVID-19
While everyone is relegated to making more home-cooked meals than they ever have, there has been a very large uptick in dehydated, freeze-dried, and generally long-lasting food. Consumers want stuff that's easy to make and can sit on their shelf essentially forever, in case they can't go to the grocery store or run out of key ingredients.
While we recommend stocking up on nuts like pistachios for long-lasting, highly nutritional food, we also think these preparedness foods are a fantastic idea.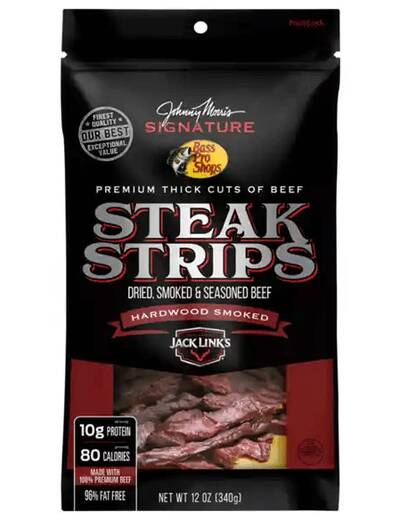 No preparedness food guide would be complete without jerky. A backpacking staple, jerky is one of those things everyone seems to have on the trail, and only occasionally in real life. It's an excellent snack in the house, and for any emergency go-bag it's great for storing. The shelf life is quite long, and you can get all kinds of jerky from all kinds of places.
These Bass Pro Johnny Morris Signature steak strips are made premium thick cut beef. They have 10 grams of protein per serving, and have a FreshLock zipper for when you do finally crack open the bag.
---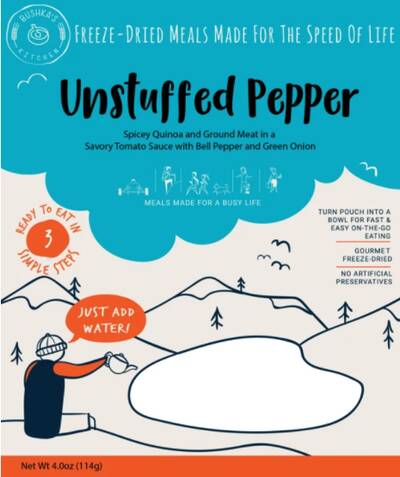 Bushka's Kitchen is relatively new to the freeze dried food scene, but packs a punch with tasty meals and unique ingredients. They have a decent range of meals, from Unstuffed Pepper with Ground Bison to Zesty Zoodles in Avocado Sauce, all of which are tasty and nutritious.
Part of Bushka's Kitchen's mission is to take the "outdoor' requirement away from freeze-dried food — the company feels it is relevant for nearly every aspect of life. This works for social distancing, emergency preparedness, and even the commute life.
---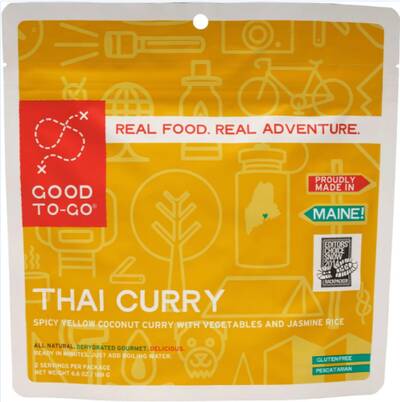 Good To-Go creates dehydrated meals (not freeze dried), which generally means the water has been sucked out of them. You simply add water back and let them soak, and you have a delicious meal.
They were built for backpacking trips, but have seen a huge surge in orders during this pandemic. It's an excellent choice for storing tasty meals in both go-bags and in your pantry, and the shelf life is about four years.
The dehydration technique is coupled with the brand's wide range of excellent meal options, like Thai Curry and Chicken Gumbo, which were created by a professional chef. If you need to stock up on dehydrated meals, we recommend going with Good To-Go.
---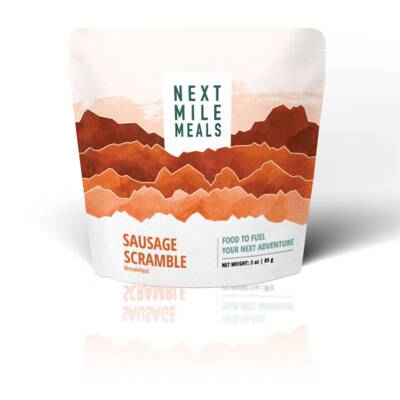 Another relative newcomer to the freeze-dried food game, Next Mile Meals have been a hit with hikers who want ketogenic backpacking meals with low carbs.
Most freeze dried meals of yore have tons of rice and noodles — but many backpackers have gotten more savvy with their carb intake. Remember that staying in a state of ketosis is something you have to figure out, and regulate, on your own.
But if you're looking for pre-packaged, freeze-dried meals that will help you do this on the trail, in your home, or in an emergency situation, Next Mile Meals has plenty of tasty options.
---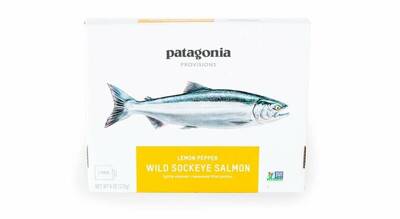 Patagonia Provisions, an arm of the iconic clothing brand, is all about sustainably sourced food. The company has grown from delicious Alaskan Salmon packs to soups, jerky, and beer over the years, and it remains an excellent choice for backpackers, hikers, campers, and preppers.
Most of the food Patagonia Provisions makes has a long shelf life (about five years), is tasty, can be prepped easily with other ingredients, and doesn't take up too much space.
The company has seen a massive surge of purchases during this pandemic, just like the other long-shelf-life brands on this list.
What's more, Patagonia Provisions recently added many new brands to its store, opening a purchase point for other providers who have been hit hard by the pandemic. From ancient grain pasta to baby food, these brands live up to Patagonia Provisions' high standards of food production, and come from like-minded farmers, ranchers, fishermen, and artisans.
---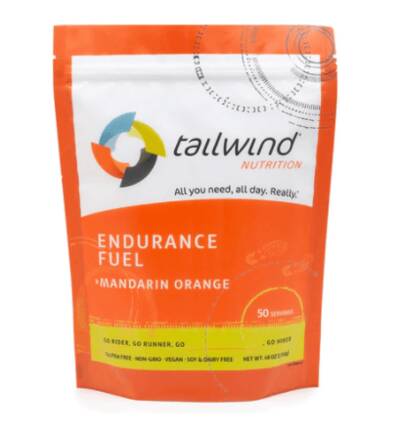 Tailwind Nutrition offers endurance and recovery products to athletes, with the aim of helping them stay hydrated and energized during and after workouts. The fuel was created to race Leadville 100, and is a powder that's mixed with water to give you fuel, hydration and electrolytes in one easy gulp, all while keeping your gut happy.
For those of us embarking on new, strange in-house exercising, the Tailwind Nutrition packets may help with recovery. But in our mind, it's really an excellent product to have in your go-bag. You can get 2500 calories easily, and this level of nutrients will keep you going in most scenarios.
That said, it doesn't have protein, so you'll still need to stock up on that somehow — the jerky and salmon packs above are a good start.
Tailwind Nutrition has lowered its prices during the pandemic, so now's the time to get it in bulk, or try it.
---
Covid Illustration courtesy CDC/ Alissa Eckert, MS; Dan Higgins, MAMS
*Charlotte's Web: These statements have not been evaluated by the Food and Drug Administration. This product is not intended to diagnose, treat, cure or prevent any disease.
Backpackers.com Affiliate Policy: This guide contains affiliate links, which help fund our website. When you click on the links to purchase the gear we get a commission, and this goes a long way to creating guides, gear reviews, and other excellent content.