How to Make Twinkie Strawberry Shortcake
Dessert on the trail is often a couple of cookies or nuggets of chocolate.  But sometimes, you need to treat yourself!  Prior to testing this recipe, I hadn't eaten a Twinkie in probably 5 years, and let me tell ya…they are still a classic.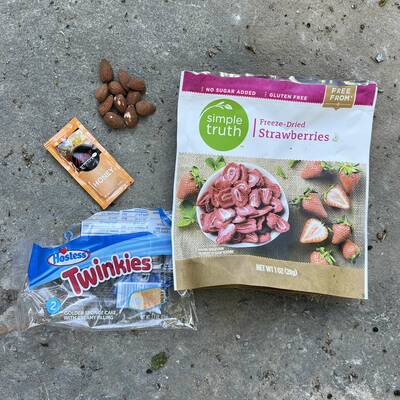 Whip this up for you and your trail buddy, and you'll have a happy belly as you tuck on into your tent.  It also clocks in at a low 2.5 oz per serving, meaning it can go along on any trip.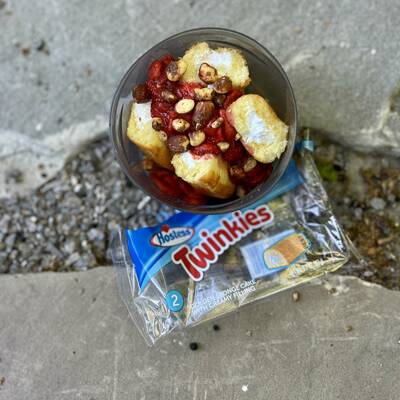 Watch Chef Corso Cook Twinkie Strawberry Shortcake
4 oz per serving – this elevated, light-weight dessert is perfect for any trek.
Backpacking Food Full Ingredient List
If you love shortcakes and strawberries, then you will love this recipe.

Where to Get Hiking Food and Backpacking Food
Get your groceries from Amazon.
Learn more about Chef Corso, and see all our Backpacking Food and Trail Recipes!
Outdoor Eats and Chef Corso serve the camping, backpacking, hiking, and outdoor communities looking to elevate their meals. The company is headquartered in Seattle, Washington, and recipes are trail-tested by the Outdoor Eats community all over the world. All recipes are fast, easy, mindful of pack weight and volume, require no pre-prep or dehydrating, and focus on real fresh ingredients rather than dry, salty, and expensive packaged options. Follow along on Instagram and on YouTube.
---
This article is part of our Trailblazer program.
Backpackers.com Affiliate Policy: This article may contain affiliate links, which help fund our website. When you click on the links to purchase the gear we get a commission, and this goes a long way to creating guides, gear reviews, and other excellent content.