How to Make Ultimate Trail Taco
What's with all of these people enjoying street tacos… We should be enjoying trail tacos! I love tacos, and they are a great recipe to pack along.  Your favorite tortillas slide right in next to your water bladder; dehydrated beans and eggs are lightweight and filling.  There might even be room on top of your pack next to your headlamp for an avocado!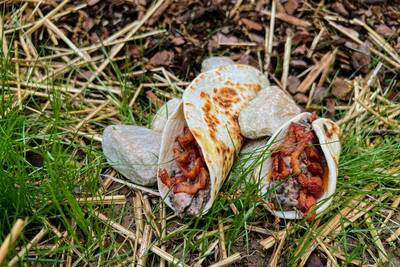 Add cheese, pre-cooked bacon, some fajita veggies, hot sauce, avocado, and lime to make them your own.  However you want to fill'em, these breakfast tacos are sure to put you on the path to a great day on the trail.  Check out the video below as I roll out of bed and cook up my ultimate trail taco. 
Watch Chef Corso Cook the Ultimate Trail Taco
This is one of my favorite trail breakfasts: Breakfast Trail Tacos. Everything you want in a recipe. Fast, easy, light-weight, cheap, filling, packable for many days, and really tasty.
Backpacking Food Full Ingredient List
The Ultimate Trail Taco is an amazing, fast, and easy recipe for any outdoor activity.

Where to Get Hiking Food and Backpacking Food
Get your groceries from Amazon.
Learn more about Chef Corso, and see all our Backpacking Food and Trail Recipes!
MONTyBOCA and Chef Corso serve the camping, backpacking, hiking, and outdoor communities looking to elevate their meals. The company is headquartered in Seattle, Washington, and recipes are trail-tested by the MONTyBOCA community all over the world. All recipes are fast, easy, mindful of pack weight and volume, require no pre-prep or dehydrating, and focus on real fresh ingredients rather than dry, salty, and expensive packaged options. Follow along on Instagram and on YouTube.
---
This article is part of our Trailblazer program.
Backpackers.com Affiliate Policy: This article may contain affiliate links, which help fund our website. When you click on the links to purchase the gear we get a commission, and this goes a long way to creating guides, gear reviews, and other excellent content.