The Best Spices to Pack for Hiking
I get a lot of questions about the best lightweight, flavorful ingredients to pack and, ultimately, what makes it into my backpack for elevated meals on the trail.  I put together this video to help showcase the pantry of items that are available as well as easy ways to pack them up.  For me, I always pack the staples; oil, salt, vinegar/citrus, and something spicy.  Then I add on a few different single spices like garlic powder or ginger powder or spice mixes like Italian seasoning or chili powder.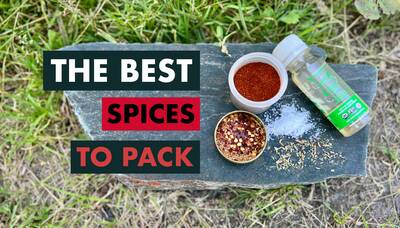 Your specific meal plan will dictate what you pack.  But by adding just a few spices or sauces, you can really jazz up your bowls with minimal weight and volume.  I suggest finding your spices/mixes at a local/online spice shop as they will be the freshest and more flavorful than the grocery store-bought options.
Watch Chef Corso Showcase The Best Spices To Pack
Come along as we did into the pantry to find the best spices to pack along for many styles of trips.
Where to Get Hiking Food and Backpacking Food
Get your groceries from Amazon.
Learn more about Chef Corso, and see all our Backpacking Food and Trail Recipes!
Outdoor Eats and Chef Corso serve the camping, backpacking, hiking, and outdoor communities looking to elevate their meals. The company is headquartered in Seattle, Washington, and recipes are trail-tested by the Outdoor Eats community all over the world. All recipes are fast, easy, mindful of pack weight and volume, require no pre-prep or dehydrating, and focus on real fresh ingredients rather than dry, salty, and expensive packaged options. Follow along on Instagram and on YouTube.
---
This article is part of our Trailblazer program.
Backpackers.com Affiliate Policy: This article may contain affiliate links, which help fund our website. When you click on the links to purchase the gear we get a commission, and this goes a long way to creating guides, gear reviews, and other excellent content.