The Solo Stove Titan is a portable wood burning camp stove that'll take any biomass (wood, mostly) and ignite it in record time. It's a simple design that consists of two pieces: the main, outer stainless steel stove and the pot stand. The pot stand nestles nicely into the stove when not in use, stands stable and tall when boiling or cooking, and the whole thing comes with a handy nylon carrying sack, making it a very portable camp stove for backpacking or camping.
When it comes time to cook, boil, or just have a small self-contained fire, take the pot stand out, put the biomass in, light it, and wait for your larger sticks to ignite. Then place the pot stand on top, and you're all set. It's surprisingly simple, and works without issue, as long as you have sticks that fit inside!
The Titan model is meant for groups of 2-4, weighs just over a pound, and is built in such a way that it ignites incredibly quickly. It also keeps your flame hot, focused, and it's easy to add more fuel.
Unique Features of the Solo Stove Titan
Let's get to the elephant in the room: You're probably more familiar with compact canister stoves, the kind that require store-bought fuel, have adjustment knobs, and pack up in origami-like shapes.
Solo Stove as a company doesn't subscribe to that model, and the Titan has precisely zero knobs and folding parts. It also doesn't require you to buy pressurized fuel, and works using found biomass around your campsite. It's a wood burning camp stove through and through. In California, we're fond of dry pine needles and fallen oak branches, but almost anything will do.
If the uniqueness of a portable, wood burning camp stove (that also works for backpacking) gives you pause for thought, you're not alone. We were too. Then we took the Titan on a trip, set it up next to our propane-powered stove, and started a fire.
Collecting the fuel was easy. Dumping it in the large-mouthed opening of the Titan was even easier. Lighting two corners of that fuel took about five seconds, and then it was off to the races.
The beauty of this method is that it gives you actual fire — not just a butane-esque burner. The feel of flames around the campsite, the crack and swirl of them while you wait for boiling water, and the heat, were all extremely welcome. Wood burning camp stoves are impressive when you've got a blaze going.
A Portable Wood Stove that's Built to Burn
The real claim to fame of Solo Stove Titan is a four-parter:
The 304 stainless steel doesn't have a place to break, anywhere.
It is double walled for easy handling and burn efficiency.
It burns so well that you hardly get any smoke.
You don't have to "stoke" the fire, ever.
The Titan has a nichrome wire gate at the bottom, which lifts the pile of wood off the ground, and cleanly cut holes around the exterior wall of the entire base, which draws the air up through the chamber.
We did not have to blow to get this fire roaring. The interior wall has similar holes at the top, which pulls the heat to the top and helps keep the wood lit from above and below.
This is all the main stove. The included cook ring sits on top and focuses the rather wide flame into a solid cone of heat for your boiling or grilling.
Solo Stove claims that their system, including the Titan, "cooks the smoke out of the wood and then burns the smoke not once, but twice!" We can confirm. Once it got going, we saw no smoke during the entire main burn. Impressive.
Who is Solo Stove?
Solo Stove started in 2010 with one product: a wood burning camp stove. It uses a convection inverted downgas gasifier method to cook — a fancy term for well-orchestrated airflow to retain maximum burn temperature — and has built a line of stoves and campfires. Many of them are portable wood stoves, but some are full fire pits.
Beyond the simplicity and efficiency of the product, Solo Stove is known for outstanding customer service (we rarely see a company with so many 5-star reviews), and a line of nesting pots that work with their stoves.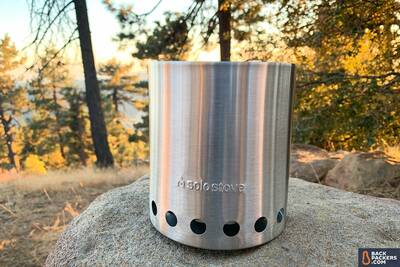 If you have always wanted to boil water in the wilderness safely with biomass (wood, lichen, pine needles, you name it!), Solo Stove is the brand to check out. Their products range from smaller, ultralight portable wood stoves to extra large backyard campfires.
See the Solo Stove Titan, and learn more about Solo Stove.
---
This article is sponsored by Solo Stove.
Backpackers.com Affiliate Policy: This guide contains affiliate links, which help fund our website. When you click on the links to purchase the gear we get a commission, and this goes a long way to creating guides, gear reviews, and other excellent content.