Got big plans to hit up your favorite campground with the family this summer? Don't miss out on Amazon Prime Day deals. Make sure you've got your essentials covered—you don't want to show up at camp missing any of these essential pieces of kit.
It's important to go through your gear closet at least once a year to make sure your collection of tents, camp chairs, and lanterns are still intact and in working order. Some of you may have learned in Scouts that you should always be prepared, and some may have learned that lesson the hard way (haven't we all at some point).
Either way, it's time for a camping gear shakedown. Pull out your tubs of aging gear and inspect it all to see what's still in working order. It's best to learn now what needs to be replaced before your summer camping adventures begin. Once you know what you need, check this list of camping gear fundamental items below for a tried-and-true replacement. Start your free trial of Amazon Prime to get the best prices and fastest delivery.
---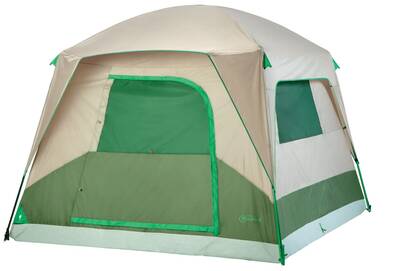 You need a camping tent that can fit the entire family, handle a bit of rough weather, and is both quick and easy to assemble and disassemble. The Coleman Cabin checks every one of those boxes. We're highlighting the 6-person version, but there are 4 and 10-person sizes available as well—just follow the link below to see them.
The Coleman Cabin is a large car camping tent with a single large door, an integrated rainfly, and double-thick rainproof Polyguard walls. There's enough room in this tent for two queen-sized mattresses and there are a number of internal storage pockets so that every camper can keep their personal belongings organized. Additionally, this tent features an "Instant Steup" system that Coleman says you can fully erect in under a minute.
See the Coleman 6-Person Cabin Tent
---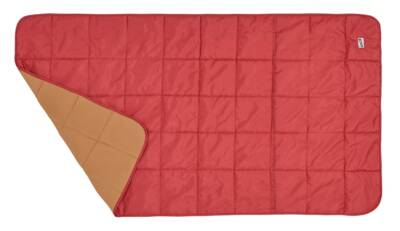 Aptly named, Kelty's Bestie Blanket was built to huddle in warmth under a sky of stars. Insulated blankets have become campsite staples in recent years, and the Bestie Blanket combines an affordable price tag with solid materials to keep you warm and snuggly.
The blanket uses Cloudloft insulation for warmth, a mix of durable polyester fabrics for sleeping-bag style coziness, and is the right size for two people to get cozy and warm each other up. Great for kids, you can set the blanket on the ground to keep them from getting dirty and provide a bit of star-gazing warmth, or you can wrap yourself up for the night.
---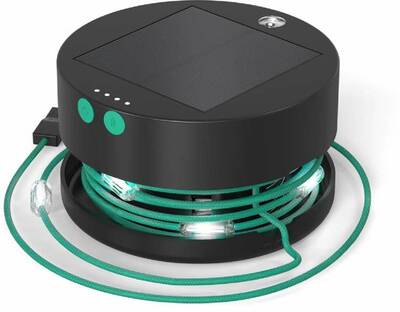 The MPOWERD String Lights were built to up the vibes of your campsite. Whether that's in a national park or right in your backyard, the String Lights do an admirable job. The lights wind up into a base, which has a built-in solar panel on top, and the whole thing can charge fully in 14 hours of direct sunlight. You can also charge in 2-3 hours via USB.
The lights have 10 LED nodes and there are three brightness settings. It comes with clips for easy hanging and a battery indicator. The String Lights are a great set and forget in any environment, and provide quality light and high-end ambiance.
---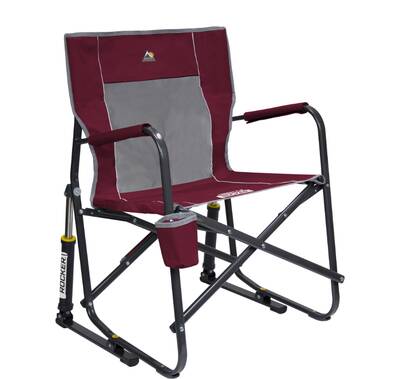 If you have never had the luxury of leaning back in a rocking chair at your campsite — steaming cup of coffee in one hand, a book in the other — you have not really relaxed. GCI Outdoor has done the seemingly impossible and created a legitimate rocking chair that collapses fairly flat and small, provides plenty of front-to-back comfort, and won't break the bank.
If you want to sit for hours around a campfire, the GCI Outdoor Freestyle Rocker chair is where you should look. It has shocks in the back for a smooth rock, can hold up to 25 pounds, has padded armrests, an attached cup holder, and weighs just under 12 pounds for relatively easy transport.
See the GCI Outdoor Freestyle Rocker Chair
---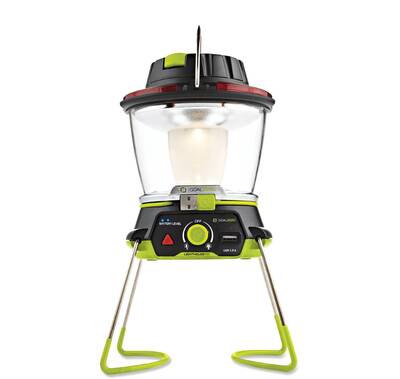 Every campsite needs light. Whether you get in late and have to cook in the dark, decide to play a round of cards, or need a s'more prepping station, a bright lantern is best. The Goal Zero Lighthouse 400 is like the tall, beaming lantern you grew up with, but it's more portable, has more functionality, and will last longer than you might expect.
This is a 400-lumen lantern that can be dimmed, use only one side for light, has pop-up legs, a USB-charging port for your phone, and a hook for hanging. Heck, you can even hand it to the kids to recharge the battery via a built-in hand crank (it builds character). It pumps out more than enough light to see, eat, and play by.
See the Goal Zero Lighthouse 400
---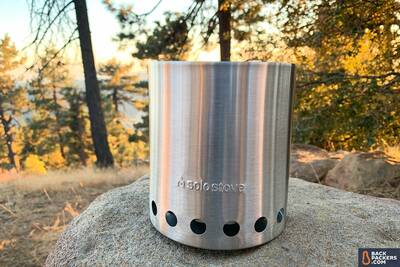 The Solo Stove Titan is a portable wood-burning camp stove that'll take any biomass (wood, mostly) and ignite it in record time. It's a simple design that consists of two pieces: the main, outer stainless steel stove and the pot stand. The pot stand nestles nicely into the stove when not in use, stands stable and tall when boiling or cooking, and the whole thing comes with a handy nylon carrying sack, making it a very portable camp stove for backpacking or camping.
When it comes time to cook, boil, or just have a small self-contained fire, take the pot stand out, put the biomass in, light it, and wait for your larger sticks to ignite. Then place the pot stand on top, and you're all set. It's surprisingly simple, and works without issue, as long as you have sticks that fit inside! Read our full highlight of the Solo Stove Titan for more information.
---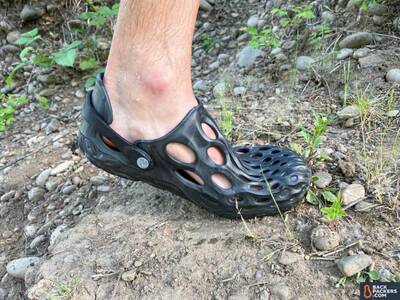 Camp shoes are quality-of-life camping items that most people tend to forget. Sure, hiking boots and trail runners are great when you're hiking and exploring, but a comfy camp shoe is great to slip into when you're relaxing around your campsite.
The Merrell Hydro Moc is a versatile aftersport shoe designed for use around a campsite, at the beach, or at home. You can call it a camp shoe. You can call it a water shoe. But the reality is that the Hydro Moc works well in nearly any scenario or setting where a slip-on shoe fits the bill. See our full highlight of the Merrell Hydro Mocs for more information.
See the Men's Merrell Hydro Mox Camp/Water Shoes
See the Women's Merrell Hydro Mox Camp/Water Shoes
---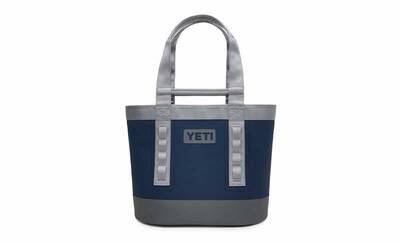 More than a simple grocery-getter, the YETI Camino Carryall is a durable and waterproof tote bag designed for hauling gear through the rugged backcountry. It's an ideal catch-all for campsites. With its wide top opening and easy carry handles, you can throw in anything you may need to grab at a moment's notice from hamburger buns to firewood.
Likewise, this tote can be used to keep wet and muddy boots, waders, and fishing gear separate from the rest of your other belongings. The Camino Carryall is easy to clean, too, because it's comprised of the same material as the Panga duffel bags. An EVA molded bottom makes sure that the bag always stands upright and the Hitchpoint Grid system enables you to attach it to essentially anything.
See the YETI Camino Carryall Tote
---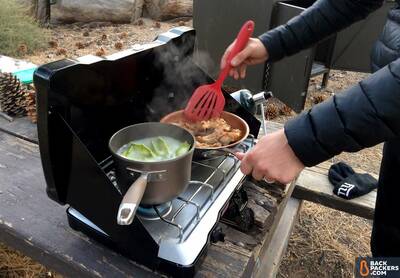 Coleman is one of those brands that everyone is familiar with. They do tents, coolers, stoves — you name it, Coleman has probably done it, and done it in a simple and rugged way. The Coleman Triton 2-Burner Stove is, in our opinion, the ideal camping stove for those concerned with space, cost, and simple functionality.
The Triton has two large burners, a lid that locks when not in use, and built-in windscreens that hook into the lid. The Triton's flame knobs allow a decent range and put out plenty of power. We love the Triton because it is simple, durable, and affordable. We prefer this version over the Instastart version because there's one less thing that can break, and when camping you probably have a lighter in your pocket anyway. Check out our full review of the Coleman Triton Stove for more information.
See the Coleman Triton Propane Stove
---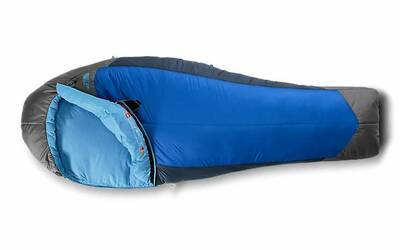 The North Face Cat's Meow is a deluxe mummy bag — it has a bit more room in the shoulders, torso, and feet than your typical mummy bag, a large hood, and fancy features like a pocket to store your phone or headlamp.
It is an ideal sleeping bag for your three-season camping adventures. It has synthetic insulation to combat condensation, dew, and rogue storms, and is a roomy mummy shape to make sure you stay toasty warm on those crisp spring nights. An age-old classic in The North Face line, the current Cat's Meow is the Jack of all trades when it comes to sleeping bags. Read our full review of The North Face Cat's Meow Sleeping Bag for more information.
See The North Face Cat's Meow Sleeping Bag
---
Backpackers.com Affiliate Policy: This guide contains affiliate links, which help fund our website. When you click on the links to purchase the gear we get a commission, and this goes a long way to creating guides, gear reviews, and other excellent content.