VSSL Gear's goal is to simplify your backpacking experience. On any given trip — an overnight or a 10-day trek — there are long checklists that must have every item crossed before you hit the trail. First aid supplies, a light, a compass, fire starters, water purification, whistles — these are the odds and ends that can make the difference between fun and survival .
Typically all of that gear is small, spread out over a few different bags (or loosely shoved into pockets), and is especially hard to locate when you need it.
VSSL solved this problem by putting everything in one place. The "vessel" is a military-grade aluminum tube that holds small circular tins. Each tin has essential items, is labeled as such, and fits inside the tube. The tube is waterproof, has a lifetime warranty, and has a uniform size with all of VSSL's tins, so you can swap any items you need (or don't) for a given trip.
VSSL has a number of different models and two distinct sizes (regular and mini). If you're looking for the one-and-done way to store and access a plethora of camp supplies, get a VSSL.
VSSL Camp Supplies
For a brand that's redefining camp essentials, VSSL's Camp Supplies remains the proof of concept. It's the original tube, has the most pieces of kit included in a single product, and is both impressive in scope yet minimal in the pack.
The Camp Supplies has 72 camp essentials packed into a single tube that weighs just over a pound, and looks like a relatively small old-school flashlight.
The two key components that make up the bottom of top of the VSSL Camp Supplies are the 200-lumen flashlight (with four light modes) and a precision compass. These will keep you on the trail, in the right direction, any time of day or night, and the flashlight turns on at the press of a button.
Inside the Camp Supplies tube are the other 70 camp essentials, which are held in 10 tins: a mini First aid kit, a firestarter kit (including a striker), 25 feet of rope and a small razor, a full fishing kit including line, a beeswax candle, a wire saw, a tablet water purification kit, a whistle, gear ties, small sewing supplies, a can opener, adventure tape, and bamboo cloth. Yes, that's a lot of gear.
These fit in their own well-labeled tins, which can be slid out of the tube in a matter of seconds, sorted through, and popped open when they need to be used. Plus, these materials can sit for years without use and be ready to go at a moment's notice.
VSSL offers the original Camp Supplies (described above), a SUUNTO version with a specialized compass, and the Mini, which weighs less than a pound, holds only three gear tins at a time, and includes a sturdy clip for external storage.
VSSL Flask, First Aid & More
While the Camp Supplies vessel was VSSL's debut and standout product, the company has iterated in powerful ways.
The VSSL Flask is the same general idea applied directly to whiskey — or the drink of your choice. Using the same military-grade aluminum tube, the VSSL Flask includes two collapsible shot glasses in the same shape as the Camp Supply tins, a circular bottle opener, the same flashlight and compass bookends, and room for nine ounces of liquid gold. The VSSL was already leak-proof, and now removes glass from the equation of hauling spirits into the wild — a no-brainer in many ways.
The VSSL First Aid is the same design, yet in bold red and white, and created to be a fully functional First Aid Kit (FAK). The items in the Camp Supplies will do for basic scrapes, but if you want to fully replace your wilderness FAK the larger VSSL First Aid is ideal. It includes a few tins, but has a more traditional-looking pouch that rolls up and fits inside the tube. Flashlight and compass included, of course.
Once you own a VSSL tube, you can buy different starter pack supplies from the company, which include tins designed for activities like day hiking, fire starting, happy hour, quick fixes, and more.
Finally, VSSL launched a wildly popular JAVA coffee grinder in 2020, which has little to do with its tube-shaped design, and everything to do with the freshest coffee you'll ever experience in the wild.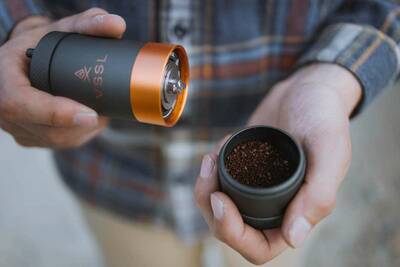 Who is VSSL?
VSSL is the brand that builds durable tube-shaped vessels to hold essential outdoor products, like compasses, first aid kits, flasks, and more. Each VSSL is a literal vessel, and provides a quick-access, waterproof, protective sleeve for your most important gear.
The brand is known for its ingenious design, high quality manufacturing, and crowdfunding campaigns.
---
This article is sponsored by VSSL.
Backpackers.com Affiliate Policy: This guide contains affiliate links, which help fund our website. When you click on the links to purchase the gear we get a commission, and this goes a long way to creating guides, gear reviews, and other excellent content.