The fun never ends, even on the mountains or at camp, with the VSSL Insulated Flask with Bluetooth Speaker! VSSL is known for creating compact carriers for your essentials, and this flask is the next star on their list. The VSSL Flask is a small, compact drink carrier. It also happens to have a speaker attached to it, so you're always ready for the next adventure.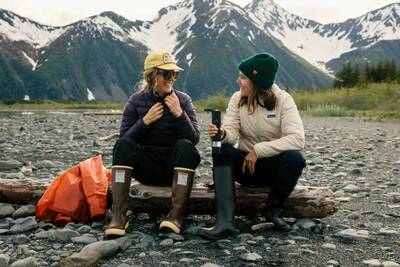 Perfect for those fall hiking days, moody fishing trips, urban picnics, or as a little pick-me-up on the ski slopes, the VSSL Insulated Flask with Bluetooth Speaker is the flask you didn't know you needed, until now.
Kickstart the VSSL Insulated Flask with Bluetooth Speaker
Unique Features of VSSL Insulated Flask with Bluetooth Speaker
The VSSL Insulated Flask with Bluetooth Speaker comes with a few different features that really sets it apart from others flasks, and speakers, that are on the market.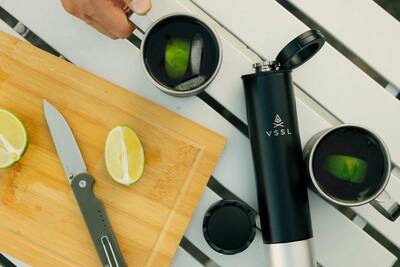 Insulated Flask and Tumbler
The stainless-steel Flask itself comes packed with a bunch of features. This 8-ounce, vacuum chamber is double-walled — designed to keep hot drinks hot and cold drinks cold for longer periods of time. The plated endcap integrates with a flip carabiner to allow for multiple methods of carrying and securing in transit — this keeps it from falling out of your pocket or pack, no matter your activity!  It also comes with two methods for drinking: one via flask spout to pass around or a fully opened lid to pour out.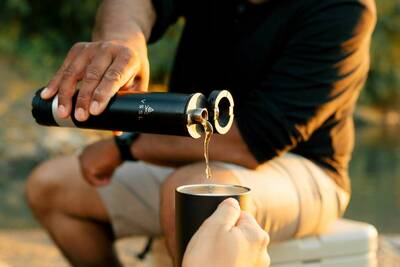 Bluetooth Speaker and Endcap Compatibility
VSSL has partnered with other brands in the past, like SUUNTO, for their compass. This time around, they've partnered with Speaqua to create an ultra-durable speaker endcap that threads to the base of their flask and their other VSSL products. This weatherproof bluetooth speaker offers a five-hour battery life. The best part? It also allows for the ability to pair with multiple units to one device for a full, surround sound experience.
Even more, VSSL knows that a speaker may not always be needed on your adventures. So you can swap out the speaker endcap for another.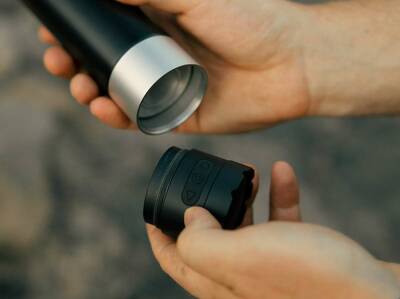 Why Kickstart the VSSL Insulated Flask with Bluetooth Speaker?
This flask is created to integrate with other VSSL products. You are the designer for your outdoor needs with VSSL, and this product is no exception. The endcap removes easily. The end of the flask offers modular compatibility with other endcaps. So whether you need a compass, another carabiner, or a flashlight, the flask can be personally adjusted to your specifications.
Kickstart the VSSL Insulated Flask with Bluetooth Speaker

Who is VSSL?
VSSL is a 4-year-old, Canada-based brand. They started with the idea of using the old flashlights as a 'vessel' for carrying outdoor gear. Their kits are built with the idea of creating the smallest, most practical kits to carry essential gear. VSSL knows that not every adventure may look the same too. You can custom-make your VSSL, which allows you to pick and choose the right tools for your journey.
Kickstart the VSSL Insulated Flask with Bluetooth Speaker today!
---
This article is sponsored by VSSL.
Backpackers.com Affiliate Policy: This article may contain affiliate links, which help fund our website. When you click on the links to purchase the gear we get a commission, and this goes a long way to creating guides, gear reviews, and other excellent content.