Never feel the need to leave Fido at home again while you're out adventuring! In our Tails on Trails: Adventurous Dog Gift Guide, we're featuring some of our favorite products to get you and your pup out on the trails and in the backcountry.
We know how important it is to have your furry best friend with you on adventures, and these products will help your dog be able to join you wherever you go, whether you're camping, backpacking, hiking, or going for a stroll around town.
---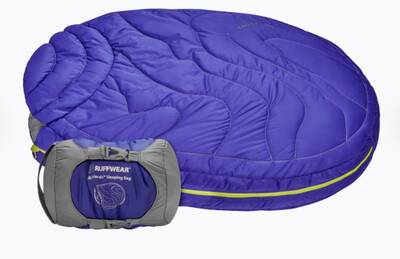 Backpackers and campers alike will love the Highlands Dog Sleeping Bag. Keep your furry friend warm and comfortable at night when you're tent camping. This sleeping bag is lightweight and a compressible synthetic bag that features a half length zipper. And what sleeping bag system is complete without a pad?
This dog sleeping bag takes colder nights into account with the integrated pad sleeve for their Highlands pad. Like humans and their sleeping bags, not all dogs are the same size, so why should their bags be? The highlands bag comes in two sizes, medium and large, to keep your pup warm. 
See the RuffWear Highlands Dog Sleeping Bag
---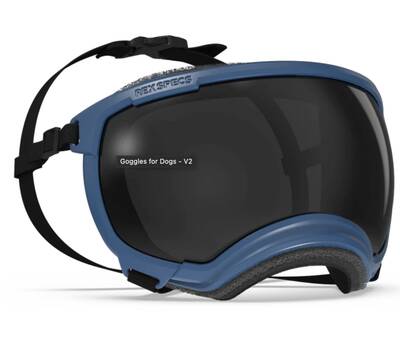 Just when you thought your pup couldn't get any cuter, there are now doggles (goggles for dogs!). And wait until you see just how cute your dog is in them. The Rex Specs Doggles have more function than just turning your adventurous dog into a fashion icon, though.
These doggles are great for dogs whose eyes are sensitive to the sun, especially for lighter eye color dogs or dogs with eye conditions. They also work great for dogs who might get a lot of wind in their eyes while hiking, riding in the car, or cruising around on the atv. 
---
When it comes to carrying your pup will out on the trail, we like the K9 Knavigate backpack. This pack is great as a hiking bag to carry your pup out in case of emergency and to take your dog, whose absolute favorite activity is hiking, but may not be able to go as far as you can.
This pack comes in sizes that fits dogs from 4 pounds to 50 pounds. It comes with an internal frame and padded hipbelt to let you carry your furry best friend comfortably for a long period of time. It comes with side pockets for water bottles and a storage pocket underneath the pet base so you can carry supplies for both of you.
---
The Roamer Bungee Dog Leash is the perfect gift for the adventurous dog and owner in your life. This leash was created with hikers, campers, and runners in mind. It is an adjustable running and hiking dog leash that can be hand-held, worn around the waist, or secured to a tree, post, or picnic bench.
Made with the stretch and shock absorbent webbing, the leash keeps your furry companion connected to you while still allowing them extra length to roam and explore. The Roamer Bungee Leash also has an accessory loop for your doggy bags or smaller, clip-on items.
See the Ruffwear Roamer Bungee Leash
---
If you're looking for a great owner and adventurous dog gift, the MuttRuk's Hit the Trail Bundle combines a couple of our favorite items so you can save some money for more cure dog accessories. It comes with their Phoenix 14L backpack, specifically designed for adventurous dog owners in mind.
The waist pockets keep treats and waste bags in easy reach. A favorite feature, the waist pockets include zip-out washable liners for used waste bags. This pack has two large pockets to allow easy access for sunglasses, a phone, and other items, while two additional shoulder pockets have storage for small items like keys or cards. This bundle also comes with the packable RollOut Travel Bowl, holding up to five cups of water or food. 
See the MuttRuk Hit the Trail Bundle
---
Keep your pup's paws protected with the Ruffwear Dog Trex Booties. We love these booties both for hot summer walks on cement and while out on rugged trails. These dog booties have a vibram outsole grip and cinch closures to hold them in place on your adventurous dog's feet even when wet.
The upper of the booties features air mesh to keep air circulation while keeping dirt and debris out. They cinch down to stay on your dogs feet, even when scrambling through sharp rocks.
See the Ruffwear Dog Trex Booties
---
The K9 Kennel Pop-Up Dog Tent is for the traveling and camping dogs and owners in your life. This kennel comes in multiple sizes so you can get the right one for your dog. It's incredibly easy to set up and take down; it just pops up. It also comes with stakes to secure it to the ground when outside.
K9 Sport Sacks also makes a sleeper pad that integrates with the kennel, providing a comfortable place for your dog to rest. The K9 Kennel is made with thick rip-stop nylon, claw-proof mesh, and reinforced stitching for strength to help keep your escape artist pup inside.
---
Another of Ruffwear's products, this time, this pack is for your hiking dog to wear. Now they can start carrying their own weight on the trail! It comes in different sizes, so your dog can get the perfect fit. It comes with three leash attachment options, a v ring and a tow loop on the back, and a loop on the chest for leash pullers.
The Front Range Day Pack features an integrated padded harness to keep them comfortable and the saddlebags in place.  Both pockets have internal stretch mesh for organization, and the pack comes with reflective accents for visibility in low light. Ruffwear also makes a light that can attach to your pup's pack, so you can see them at night.
See the Ruffwear Front Range Day Pack
---
Another MuttRuk Bundle for the adventurous dog, this one is great for owners who want to keep their dog's stuff easily accessible while out. This bundle comes with the Sidekick Hip Pack, the RollOut Travel Bowl, and the RollTop Duty Bag. The hip pack features a small pocket to keep waste bags at the ready, and a zip-out washable liner for treats or filled waste bag storage. The travel bowl and a toy can also fit in the pack.
For humans, it fits a cell phone and has sleeves for your cars and cash. For longer walks and hikes, there is a hidden mesh pocket to store a water bottle. If your pup is a loose leash walker, the hip pack also features a quick connect leash loop with a carabiner. The travel bowl included packs easily into the hip pack and fits 5 cups of water, while the duty bag gives extra peace of mind when carrying out your pup's waste.
---
With cooler weather coming up, the Ruffwear Overcoat Fuse Jacket is perfect for the adventure dog (and owner) who doesn't let cold weather stop them. This jacket is a jacket/harness combo and comes in sizes ranging from xxsmall to xlarge, so you'll get the perfect fit for your furry friend. Like a traditional harness, the Overcoat comes with two leash attachment points, one on the chest and one on the back. It also comes with two low-profile zippered pockets for waste bags and small essential items.
The jacket itself is weather and abrasion resistant. It features warm and comfortable fleece lining for cooler days and reflective trim for visibility in low light. If your pup gets it dirty, no worries. This jacket is washable so it's ready for the next adventure.
See the Ruffwear Overcoat Fuse Jacket
---
Interested in discovering more great dog hiking gear, as well as learning tips on hiking, backpacking, and camping with your pooch? Take a gander at our guide to adventuring with your dogs!
---
Backpackers.com Affiliate Policy: This guide contains affiliate links, which help fund our website. When you click on the links to purchase the gear, we get a commission, and this goes a long way to creating guides, gear reviews, and other excellent content.