Your dog is your adventure buddy, and you want to make sure they're enjoying every moment of the journey. When hiking, camping, and backpacking with your pup, you need to have the right gear for dogs and the necessary knowledge to ensure their comfort and wellbeing.
To some, a camping adventure may be little more than a walk in the park. Others will want to take their pet on all of their outdoor expeditions, no matter how far-fetched they may be.
The Best Outdoor Gear for Dogs
Below, you'll find a list of gear recommendations to cover the fundamentals. These are items that every adventurous dog lover should have.
Dog Gear Quick Reference Guide:
Here are the items you'll want to pamper your pooch with, no matter your style of exploration. Read on even further down for tips on outdoor doggie basics for those of you who are new to doggie day hikes and camping.
---
The Best Carrier Backpack for Small to Medium Dogs
Sometimes our pups need a helping hand or a piggyback ride. Carrying your pooch is so much easier when you've got the proper gear, and this K9 Sport Sack Plus 2 is the pack you want to get for small-to-medium-sized dogs that weigh under 30 pounds.
It's important to know when your pup can't make the miles. This pack features an adjustable collar enclosure to keep your pet secure, adjustable lumbar support straps to make sure they're comfortable, safe, and have plenty of back support, and a fur flap under the zipper to keep your pet's fur from getting caught in the zipper's teeth. Oh, and it's got all the features you want in a typical daypack to boot!
---
The Best Carrier Backpack for Large Dogs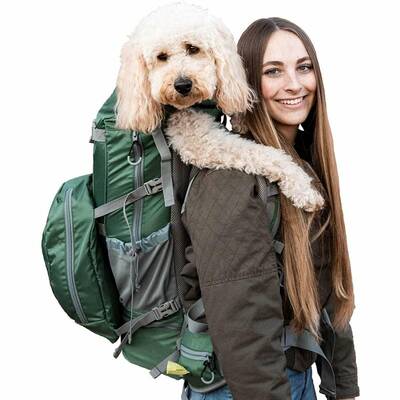 Those with larger dogs that weigh up to 80 pounds will want to grab this K9 Sport Sack Rover 2. The Rover 2 combines the comfort and utility of a dog backpack with the functionality of a technical backpacking backpack. With this pack, you can either carry your dog around or a week's worth of backpacking supplies for yourself.
For a dog-carrying backpack, this is as good as it gets. The dual-lumbar straps keep your pet secure and supported, and the neoprene-lined leg holes give them room to stretch out. The side panels are made of mesh to provide ventilation for your pet, and those panels can be zipped shut for extra insulation on particularly cold days. Plus, for you, there is extra padding at the shoulders and hips to help you carry your furry friend for longer and in more comfort.
---
The Best Dog Pack
On the flip side of the coin, if you've got an active pooch that's always up for a trek, why not get them to carry some of the load? The Ruffwear Approach Dog Pack is a perfectly balanced saddle bag for day hikes and overnight backpacking trips. There are multiple sizes to choose from so that you can get one that fits your dog just right.
The harness suspension system and five points of adjustability ensure a secure fit that won't rub your dog the wrong way. The reflective trim will make sure your pet remains visible even at night, and the dual-leash connections provide options for multiple leashing systems.
See the Ruffwear Approach Dog Pack
---
The Best Outdoor Dog Harness

If you need a durable outdoor harness for day hikes and trail runs, look no further than the Ruffwear Front Range Dog Harness. The comfortable foam-padded construction will keep your pup feeling good, and the wide straps have been purposefully designed to prevent chafe.
There are two ways to leash up your dog with this harness: the aluminum V-ring on the back or the reinforced webbing strap on the chest. The 300-denier ripstop fabric will hold up well against all of the trees, shrubs, and rocks your dog will rub up against.
See the Ruffwear Front Range Dog Harness
---
The Best Dog Leash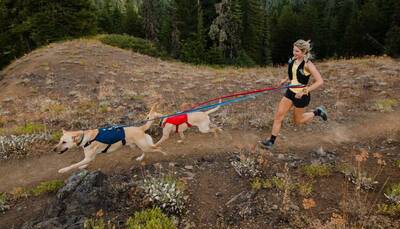 If you haven't used a stretchy leash on the trail yet, you're in for a big surprise—they're awesome, and the Ruffwear Roamer Dog Leash is the best among them. The Wavelength stretch webbing absorbs the shock of sudden starts and stops, meaning you won't be pulled over when Fido chases a squirrel, and Fido won't be yanked backward when you put on the brakes.
What's more, the Roamer Dog Leash can either be handheld like a typical leash or wrapped around your waist thanks to its adjustable handle design. It can also be wrapped around a tree when you need to keep your dog tied up on a break or at camp.
See the Ruffwear Roamer Dog Leash
---
The Best Dog Bed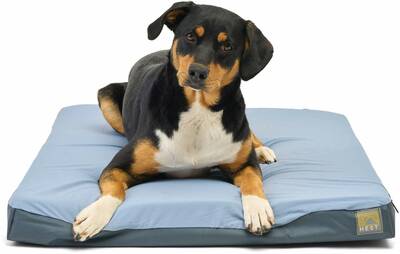 Exceptionally packable and easy to clean, the HEST Dog Bed is what you want for camping with your dog. It's filled with the same premium memory foam HEST uses in their human mattress pads, so you know your pooch will be comfy.
The outer material is waterproof, dirt-resistant, and tear-resistant. And when a deeper clean is needed, the cover can be removed and machine washed.
---
The Best Dog Jacket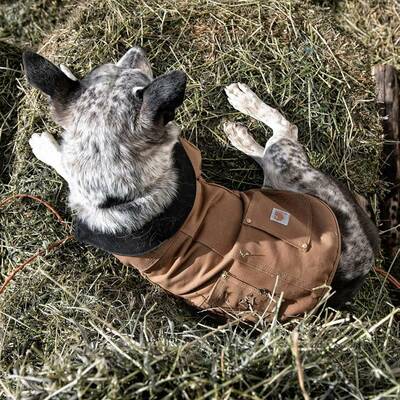 While there are plenty of ultralight, puffy pet jackets out there, we prefer a coat with a bit more durability, utility, and style. As such, we like the Carhartt Pet Firm Duck Insulated Dog Coat. Your pup won't notice a few more ounces, and the hardy ring-spun cotton exterior will hold up well against abrasions. It also has a water-repellant coating ideal for snow and light rain.
A quilted nylon interior liner adds extra insulation for warmth and makes it so that the jacket slides on and off easily. The seams have been triple-stiched for long-lasting reliability, and the exterior pockets feature dual rivets for that same purpose. This may be the only coat your dog will ever need.
See the Carhartt Pet Firm Duck Insulated Dog Coat
---
The Best Dog Bowl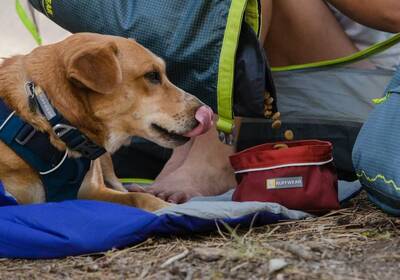 The best dog bowl? Really? Well, yeah. A dog bowl is just a bowl for dogs to eat and drink out of. Still, when it comes to road-tripping, backpacking, and other outdoor activities where space and weight are important considerations, you'll want a collapsible dog bowl like the Ruffwear Quencher Dog Bowl to throw in your pack.
This dog bowl is lightweight, packs as flat as a pair of socks, and is virtually spillproof thanks to its wide-bottom design. It'll hold one liter of water, and the waterproof lining ensures that it won't soak through.
See the Ruffwear Quencher Dog Bowl
---
The Best Dog Eye Protection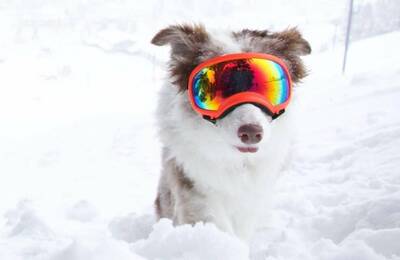 Besides looking downright cool, the Rex Specs Dog Goggles are also an important piece of kit for dog owners. They're vital as sun protection, especially when on snowy slopes (sun blindness is an often-overlooked hazard, and it can be damaging to your pet). Also, they're good for keeping debris out of your dog's eyes when riding in a fast-moving boat, a motorcycle sidecar, or while strapped in a backpack during one of your mountain biking excursions.
Protect your pooch from the sun, debris, and other environmental hazards. These Rex Specs have interchangeable lenses, both clear and smokey. They're impact-resistant, block out harmful UV rays, and are fully vented for maximum airflow. Various sizes are available, so make sure to measure your dog's muzzle circumference to get the right fit.
---
The Best Dog Hiking Booties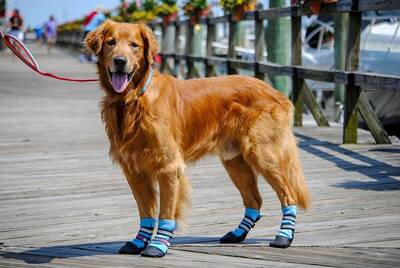 Most dog booties you come across will likely be of the hard, rubberized variety. The thing is, most dogs don't need that much paw protection—they already have durable pads and claws that do well in the outdoors. The Bark Brite Neoprene Booties are different. They're all-weather, ultralight paw protection that'll keep your pet's pads safe from hot surfaces, ice, sharp rocks, and plant burrs.
Their lightweight design protects your dog's feet while providing excellent ventilation, a comfortable and secure fit, and enhanced traction. These booties are a cinch to put on and take off, and unlike many of those hard rubber booties, they stay on—and that's reason enough to give them a try.
See the Bark Brite Neoprene Booties
---
Tips for Camping with Dogs
Whether at an accessible roadside campground or boondocking on remote public land, there are a number of important things you should know about camping with a dog. While this list isn't exhaustive, it covers many of the basics that'll keep your pet safe and comfortable, and following these tips will ensure that you and your pooch have a good time on your next adventure.
Keep your dog with you at all times
Your pet should be with you, or another person, at all times during your camping trip. It's not safe for your dog, nor considerate of fellow campers, to leave your pet unattended while you hike, tour a visitors center, or even use a restroom.
Do not leave your dog tied up at camp or alone in a vehicle while you go about your day. Wild animals may roam in and out of camp throughout the day or night, which can spell disaster for your dog. They could be scarred, infected, poisoned, or killed by wildlife.
Pack enough food and water for your trip
Make sure to have a bowl for your pet and enough water and food for the duration of your trip. Potable water may not be available at your campsite, and the nearest bag of dog food may be miles away. Be aware, too, that if you plan to hike with your pet that it will require extra food and water than it normally consumes, just like you will!
Only bring out food during meal times
Wildlife can smell your dog's food, and sneaky critters will find it fast. This is not only bad for the wildlife, but it may cause a dangerous interaction between your pet and the local wildlife that wouldn't have otherwise happened. Additionally, leaving food out may draw in larger creatures such as bears that can wreak havoc upon your campsite.
Keep your dog on a leash at camp
You don't know how your dog will respond the first time it sees a bear or a bobcat, so it's best to keep it on a leash to prevent it from getting into trouble. Also, this is especially considerate when you're near other campers in a popular campground. No one wants a dog sniffing through their belongings or stirring up the wildlife.
Check the dog guidelines for your destination
Many national parks allow dogs at campgrounds and on roadways, but not on trails. National forest land typically allows for dogs on trails so long as they remain on leash, and state and local parks all have their own unique guidelines to follow. Just be sure to know and follow the rules for your camping destination.
Bring poop bags
It shouldn't have to be said, but unfortunately, it does. Leave no trace is the golden outdoor mantra, and it applies to your pup as well. Pick up after your dog. It's a nice thing to do for your neighboring campers, and it helps protect the wildlife, too.
Sleep with your dog
In most places, it tends to get cold at night at camp. As such, it's important to make sure that your pet stays warm throughout the night, and cuddling with them in a tent is one of the best ways to do so. However, it's also good to keep your dog enclosed in a tent with you, especially during your pet's first few nights of camping. This is because wildlife is most active at night, and your pup will be easily startled.
Keep them close at hand and in a warm, safe space where they don't have to be on edge like they have to 'protect' the camp all night long.
Tips for Hiking and Backpacking with Dogs
All of the above dog camping tips also apply here. In addition, though, there are many tips and tricks you should know about hiking and backing with your dog, too. Your furry hiking companion can't always outwardly express their needs and pains, and so it is up to you to prepare properly for any given scenario. Don't assume your pet can hike further than you because, more often than not, your endurance will outlast theirs.
Go at your dog's pace
Almost any dog will be excited to get out of the car and take its first steps out on the trail. That initial excitement and energy may lead you to believe that your dog will have the endurance to last for many miles, but that's not necessarily true. If a physically fit hiker were paired with a physically fit dog, the hiker would be able to hike for longer than the dog 10 times out of 10.
If your dog slows down, or even stops, do not assume that they are being lazy. That dog needs a break. They may be physically tired, overheated, dehydrated, or in pain. Find a shaded spot to relax in and make sure your dog has access to plenty of cool, clean water. If you haven't turned around or stopped for the night by now, this may be the sign that it's time.
Beware of trail hazards
The list of possible trail hazards for a dog is endless, but you should be aware of the most common dangers. Here's a list of what you should be on the lookout for:
Poisonous plants and fungi
Stinging or biting bugs
Predators
Contaminated water sources
Sheer cliffs
Scorching sand
Long stretches of wet snow or ice
Fast-moving creeks and rivers
Bring all essential gear for dogs
What is "essential" may be a bit of a subjective term, but there are definitely some items you should not do without. It's worthwhile to reiterate the importance of having adequate food and water for your pet, and as such, at least one bowl is necessary to properly nourish your pet.
Similarly, chances of running into a veterinarian on the trail are slim, and so you should always carry an emergency medical kit. Many of the items in your own first aid kit can be used on your pet, such as bandages and alcohol wipes, but you'll also want pet-specific medicines provided by your vet.
Also, bring items that can help warm-up or cool down your pooch. A dog coat, blanket, and cooling collar are all great items to have for any trip. Make a checklist of your own dog essentials and go through it before every expedition.
Prepare for the weather and temperatures
This falls in line with the themes of the last two tips—but it is equally important to point out. Day temperatures can get extremely hot, and so to can the ground that your dog walks on. Be sure to take breaks during midday hiking when necessary.
Likewise, temperatures can drop drastically in the middle of the night. Keep your pet warm by providing puffy blankets and bedding for them, and if you're hiking in long stretches of wet snow, make sure their feet are protected with booties.
Know dog first aid
Bringing along a first aid kit won't mean a thing if you don't know how to use it. Do some reading or watch animal first aid videos before trekking out into the wilderness with your dog. Knowing how to properly treat a wound and perform dog CPR could save your pet's life.
Have a plan for if your dog can't walk
Your dog may be unable to walk for any number of reasons. The worst-case scenario is that your dog loses their ability to walk many miles out on the trail up a mountain and far away from any help. You need to be prepared to carry your dog in some way should they break a bone, become exhausted, or suffer heatstroke.
The dog carrier backpacks we listed above are fantastic options for carrying your dog. If you have a small dog, you may be able to carry them in your arms, but a heavy dog will feel even heavier with each and every step you have to take.
Dog strollers are another option to consider for day hikes, though they won't be useful for backpacking or on rugged trails.
How to Buy Outdoor Gear for Dogs
There are a few critical considerations you must think about when purchasing gear for your dog. When buying gear for your dog, you should ask yourself:
How will this gear benefit my dog?
Will this gear make the outdoors more comfortable for my dog?
Am I willing to store and carry this item on our trips?
Of course, there are other considerations to be made, such as price and durability, but above all else are the utility and provided comfort of the gear in question.
Tailor your purchases to your specific dog
Dogs come in all sorts of shapes and sizes, and each one is an individual with its own needs. We've recommended several great dog gear products above, and most of those are available in an assortment of sizes so that you can find the right size for your pup.
That said, what's best for one dog may not be best for another. Certain dogs will need additional cold-weather protection, others may need hardier booties, and some may simply not enjoy being in the great outdoors at all.
The bottom line is this—find the right gear for your dog, regardless of what anyone else says is the "best" or a "must-have" product.
Sometimes it takes trial and error to find the best gear for dogs. Learn more about gear for dogs by browsing this gifting guide for dog owners.
---
Backpackers.com Affiliate Policy: This guide contains affiliate links, which help fund our website. When you click on the links to purchase the gear, we get a commission, and this goes a long way to creating guides, gear reviews, and other excellent content.