Spring is here, and that means it's desert season in the west. Folks from all over venture out to enjoy the desert before it turns scorching hot during the summer. However, the desert can be a daunting and dangerous landscape at any time of year.
Yet there are reasons why so many desire to explore these arid expanses of sand and succulents. The desert may be a harsh, and at times, an almost inhospitable place to be, but it has a certain magic that will keep you returning year after year.
With that though, traveling in the desert can be a bit different than adventures in the forests or mountains. Water is harder to find, navigation can be a bit difficult, and many times, you may be further from civilization than you're used to. That's why we put together a list of essential gear to help make your desert adventure a more enjoyable and safer experience.
---
Essential Desert Gear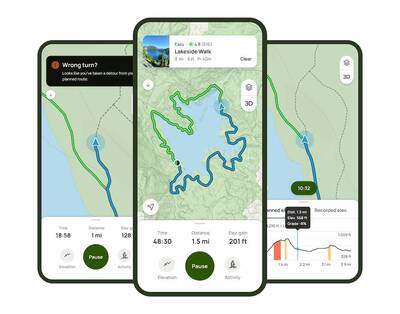 Propper trip planning and navigation are crucial, and there's no better way to do it than with AllTrails. With the AllTrails app, you can research your desert routes ahead of time and navigate with precision while you're out there.
Plus with AllTrails+, you get enhanced features like Trail Previews, which make planning even easier by getting a feel for the trail before leaving home. Check out the terrain, see the elevation at specific points, and get an immersive preview of any trail. You can also download maps for offline use. Make sure you never get lost in the desert.
---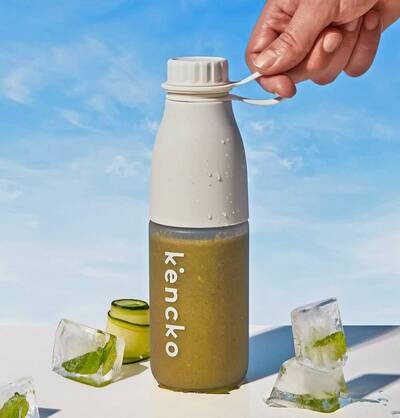 Hydration and nutrition. Essential. Smoothies are a great way to get both. These kencko Smoothies are a lightweight, smash-resistant way to bring fruit and veggies with you out on the trail.
There are 2.5 servings per smoothie to supplement that handful of trail mix in your pocket. It's a tasty, nutritious, and satisfying easy-to-prepare snack on the go so you can leave more room in your pack for the gear you'll need – or just bring a lighter bag to begin with!
Use promo code kencko10 to get 10% OFF!
---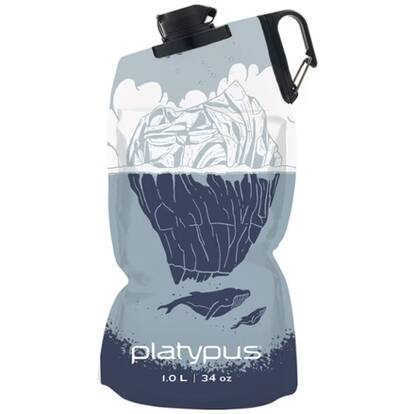 Water can be hard to find in the desert, so carrying extra while out exploring is a must. For those looking for an extra bottle to carry that is lightweight and can be stuffed into a full pack, a water container like the Platypus SoftBottle is the way to go.
Soft bottles like these are leakproof, so you can shove them in your pack and not worry about them when full. They also collapse small when empty. All in all, they're easy to carry, easy to pack, and easy to drink from.
See our full review of the Platypus SoftBottle, which we tested in Death Valley National Park.
Platypus SoftBottle Water Bottle
---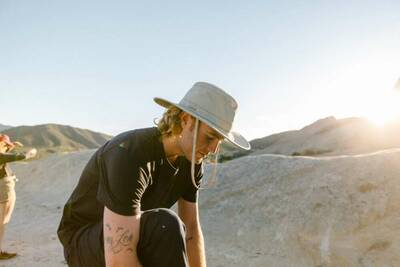 Embrace your inner movie adventurer while protecting yourself from the harsh desert sun. A wide-brim hat is a must for any desert dweller, full or part-time.
Hats that wrap around fully like the Tilley Airflo Broad Brim hat help protect both your neck and your face when outside, especially in places like the desert where there's not a lot of shade. We like this one as it adds airflow as well, which helps to keep your head from overheating.
See the Tilley Airflo Broad Brim Hat
---
If it hasn't become obvious already, staying hydrated is your most important concern when out in the desert. Whether camping in the desert for an extended period of time or just passing through, carrying extra water is never a bad idea.
A large 5-gallon jug like this one from GSI is good for storing extra water in case you decide to stay an extra day or two. And we know space is limited when car camping, so with a jug like this one, it's nice to be able to break it down and easily store it away once the water is gone.
See the GSI Outdoors Folding Water Cube
---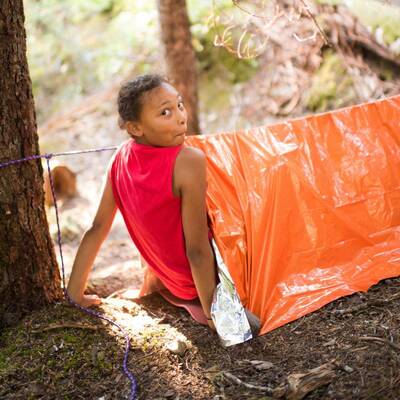 As part of your emergency kit (for hiking in the desert and for any outdoor adventure) we recommend an emergency blanket or bivy sack like the ones from Sol.
These blankets help keep you warm in case of an emergency at night, and they also can reflect sunlight during the day. They come folded up in a small square that fits easily into your med kit, and they're so light you won't notice any extra weight.
---
It's always a rough day when you have to put your backpacking pack over a fresh sunburn from the previous day. Applying sunscreen every hour can really take up precious hours on the trail, but sun protection in the desert is something that's necessary.
A sun shirt like this one from REI helps protect you from harmful rays and keeps you from getting sunburnt on those long days in the sun, without having to apply sunscreen.
See the REI Co-op Sahara Long-Sleeve Shirt
---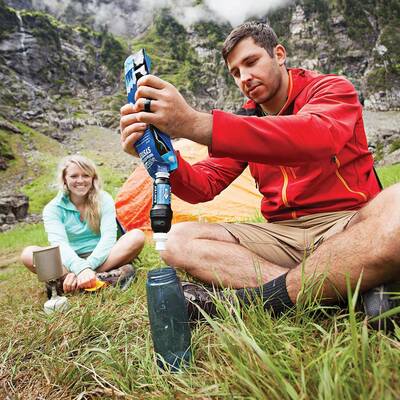 Yes…WATER! Water can be hard to find in desert environments, and when you find it in the desert, it's not always fresh flowing. Filtering becomes tricky, so we recommend getting a water filter like the Sawyer Squeeze to filter it when you're trying to save on weight on fast and light overnights or as a backup source for day hikes.
On longer overnight trips or trips with a lot of people relying on the filter, know that a lot of desert water can be filled with silt, causing your filter to clog up quickly. To avoid this, filter water through something like a bandana or coffee filter before using your water filter. You can also let the water rest for a while after collecting it to allow the sediment to settle at the bottom before filtering it.
See the Sawyer Squeeze Water Filter System
---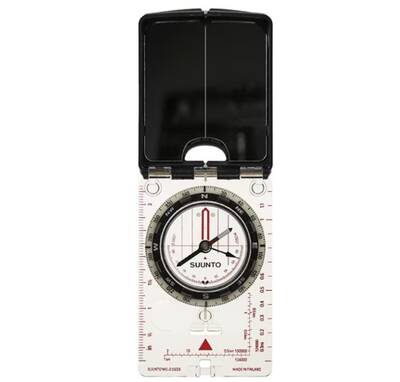 We love hiking in the desert, but in places without a lot of natural landmarks, it can be hard to navigate through it. A compass like the Suunto MC-2 Pro is a reliable navigation tool alone and better when paired with a topographic map. It's a vital backup for when you're without a working smartphone.
Reading a compass and map can be tricky at first though, so consider taking one of REI's courses on navigation before setting out on an off-trail journey.
See the Suunto MC-2 Pro Compass
---
CleanWaste Bags may not be the most exciting gear on this list, but they're among the important items for following leave-no-trace guidelines.
While the desert environment may seem to be a harsh and lifeless one, it's actually a very delicate ecosystem. That means doing your business is a little different in the desert. Bags like these, also known as Wag Bags, are a useful way of protecting the environment while out adventuring.
Stay safe and clean out there!
See the CleanWaste Go Anywhere Bag
---
Backpackers.com Affiliate Policy: This guide contains affiliate links, which help fund our website. When you click on the links to purchase the gear, we get a commission, and this goes a long way to creating guides, gear reviews, and other excellent content.