Spanning 1,200 square miles across California's Sierra Nevada Mountains, Yosemite National Park is jam-packed with famous landmarks and breathtaking views. From towering granite cliffs and giant sequoia groves to glistening lakes and plunging waterfalls, the diverse landscapes throughout the park are nothing less than spectacular. It truly is an outdoors lover's paradise!
Any keen hiker will likely have Yosemite National Park in their sights already. After all, it boasts some of the best, most visually enticing hiking trails in the whole of the U.S. (if not the world) – 800 miles worth of them, in fact. Plus, with the park attracting an average of four million visitors a year, the trails are the best way to avoid the crowds (especially the harder ones)!
If you're yet to discover the magical offerings of Yosemite, we've outlined eight of the best day hikes on offer at the park. This includes medium-difficulty routes suited to those who want to explore the park more deeply, and more challenging trails fit for the seasoned explorer.
If you want more beginner hikes, consider those that start right in the main Valley and only go for a few miles. You also don't have to complete a full hike, as many of the views anywhere on a trail are outstanding.
Here's our rundown of day hikes in Yosemite National Park.
Half Dome
Distance: 14.2 miles via the Mist Trail / 16.5 miles via the John Muir Trail (round trips)
Elevation Gain: 4,800 ft
Difficulty: Strenuous
Half Dome is one of Yosemite's most iconic rock faces, making the hike to the top of it absolutely one for the bucket list. There are two different trails to choose from – the 14.5-mile Mist Trail or 16.5-mile John Muir Trail. Though longer, the John Muir Trail is easier on your knees, as the Mist Trail is made up of steps almost the whole way.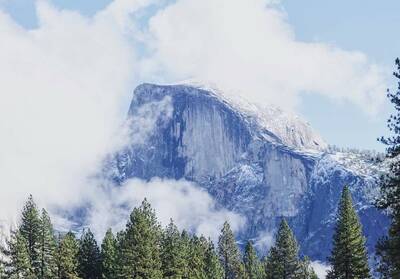 Both routes can be completed within a day but prepare for a challenge! You'll need to come armed with plenty of water as you navigate the route that reaches 5,000 feet elevation. As you climb from the Sub Dome to the Half Dome, you'll have to brave the steep cable steps that lead up an almost vertical rock face – not for the faint hearted or anyone who suffers from vertigo! The stunning views from the top are well worth mustering up the courage for, though.
Please note that you need a permit to hike to the top of Half Dome, and that it's quite difficult to get due to the popularity of the rock-face.
Mist Trail
Distance: 6.6 miles (round trip)
Elevation Gain: 1,000 ft
Difficulty: Moderate
As mentioned above, the Mist Trail is the first section of the hike on the way to the Half Dome. At only 6.6 miles for the round trip, it's ideal if you're after a shorter hike, though it does take you up some long stone staircases.
The trail gets its name from the mist you navigate your way through as it takes you in close proximity to two major waterfalls: Vernal Falls and Nevada Falls. If the flow rate for Vernal Falls is high there's a good chance you'll get a little wet! You may even spot a rainbow in the mist if the sun is just right.
Cloud's Rest
Distance: 14.5 miles (round trip)
Elevation Gain: 3,100 ft
Difficulty: Strenuous
If the terrifying vertical rock-face cable climb of the Half Dome trail isn't for you, or you failed to secure a permit, the Cloud's Rest hike is a very worthy option. This trail is less crowded than the more popular Half Dome trail and rewards you with equally as magnificent views of the valley and its peaks, including Half Dome (which is arguably a better deal than actually standing upon it), North Dome, and El Capitan.
The hike is 14.5-miles for the round-trip, setting off from the picturesque Tenaya Lake and ending with some easy rock climbing to reach Cloud's Rest.
Yosemite Falls Trail
Distance: 7.2 miles (round trip)
Elevation Gain: 2,600 ft
Difficulty: Moderate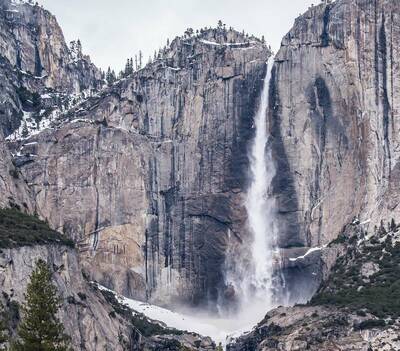 Yosemite Falls is one of America's tallest waterfalls, making it the real showpiece of Yosemite National Park. This trail takes hikers on a 7.2-mile round trip to the top of Yosemite Falls, where they can get a close-up of the waterfall plummeting down into the river below and feast their eyes on Yosemite Valley. After the first mile of the trail you reach Columbia Rock, which is a magnificent viewpoint boasting spectacular views of Yosemite Valley, Half Dome, and Sentinel Rock.
Four Mile Trail
Distance: 9.6 miles (round trip)
Elevation Gain: 3,200 ft
Difficulty: Strenuous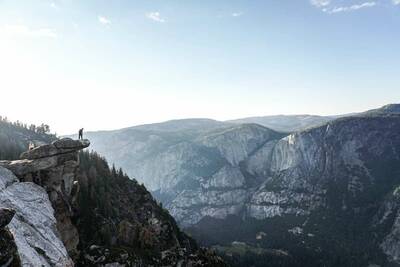 The Four Mile Trail is best enjoyed in the spring and early summer months when Yosemite Falls is at its best, as it provides you with undisrupted views of the iconic waterfall, as well as Sentinel Dome, Half Dome, and El Capitan. Start amongst the trees on the valley floor before emerging and taking on the uphill climb to Glacier Point, gaining 3,200 feet of elevation gain.
If you don't fancy tracing your steps back to the beginning of the trial, you can hop on the shuttle bus back to the valley from Glacier Point, making it a much less strenuous (and time consuming) hike!
Cathedral Lakes
Distance: 8 miles (round trip)
Elevation Gain: 1,300 ft
Difficulty: Moderate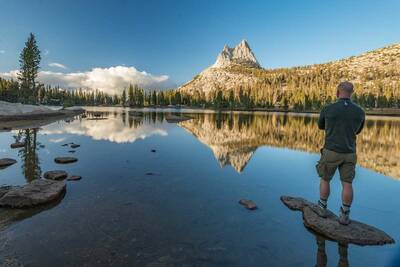 Less strenuous than some of the other hikes, yet just as visually arresting, the Cathedral Lakes trail takes you to two sparkling alpine lakes – Upper and Lower Cathedral Lakes – that are both set above 9,000 feet (so be prepared for the altitude). They are towered by the iconic Cathedral Peak. Beginning from Tuolumne Meadows, hikers can choose to visit both lakes (8-mile return) or just the Lower Cathedral Lake (7-mile return), which is considered by many as the more scenic of the two. Pack a picnic and settle in a peaceful spot by one of the lakes to enjoy the serenity of the naturally beautiful national park.
Mono Pass
Distance: 8 miles (round trip)
Elevation Gain: 1,000 ft
Difficulty: Moderate
Sitting at the edge of the national park, between Mount Gibbs and Mount Lewis, this 8-mile trail starts at 9,700 feet and climbs even higher to 10,599 feet. You can spot dilapidated log cabins en-route that remain from Tioga Pass's 1879 gold and silver boom before reaching Summit Lake and Sardine Lake, where you can savour views of the massive Mono Lake sitting 4,000 feet below.
Pohono Trail
Distance: 13 miles (one way)
Elevation Gain: 3,700 ft
Difficulty: Very challenging
As one of the most challenging hiking trails in Yosemite National Park, this is one is reserved for seasoned hikers with good uphill cardio fitness, or those who want to spend a night under the stars. It takes you on a scenic route from Glacier Point to Tunnel View (or vice versa), providing you with a birds-eye view of all of Yosemite Valley's famous landmarks along the way. Expect a strenuous climb for at least the first mile of the hike, before it eases off slightly – and we mean slightly; it still remains a tougher option for hikers in the park.
Most people don't attempt the hike as a round-trip and opt for a bus to or from Glacier Point, but if you're up for the challenge, it totals 26 miles.
The trail is only accessible when the Glacier Point Road is open, typically from mid-May until early November.
Hiking tips
Hiking is a great low-impact workout and spending time in nature can be incredibly therapeutic. Before setting out on your adventure, however, it's important to be prepared for the terrain, conditions, distance and weather. If you're new to hiking, here are a few tips to follow:
Do your research and choose a trail suitable to your fitness level and experience. Follow our indicators above for these hikes in Yosemite.
Plan your trip properly. Familiarize yourself with the trail and inform others where you are planning on going.
Check the weather and dress/pack accordingly. Don't proceed if bad, potentially dangerous weather is forecast, especially if you haven't gone hiking before.
It's smart to have at least one other person with you. If you're a beginner, you can learn from more advanced hikers. If you want to go solo, start with well-trafficked trails and consider taking a GPS device.
Stay hydrated and energized. Make sure you pack enough water and snacks to last the duration of your hike, especially in warm conditions.
Give uphill hikers the right of way and respect others.
Be sure not to harm any nature or wildlife by staying on trail.
Leave No Trace! This means leave the wilderness better than you found it, don't litter (at all), and pick up trash if you see it.
Seek shelter if necessary. Also, don't be ashamed to turn back. And if you're unsure, ask someone around you! Hikers are friendly.
What you'll need:
Proper hiking boots, shoes, or sandals.
A 16-30 liter day pack for hiking, preferably with a raincover or the waterfall hikes.
Layered clothing, including a wind and waterproof outer layer.
A first aid kit, equipped with antiseptic, band aids, and dressings, as well as any necessary medications you need.
Water and food ample enough for your planned hike. The last thing you want is to get stranded without food or water.
A small, portable water filter in case you do get stranded.
Sunscreen, sunglasses, and a hat. The sun is bright at elevation!
A map and compass, even small ones! A GPS is great (and take one to be safe), but don't always rely on your phone's GPS when you're hiking off the beaten track.
Insect repellent if you're there in buggy months. This isn't required, but suggested.
A headlamp with batteries.
Toilet paper. Part of Leave No Trace means also not leaving your TP behind.
Matches/fire starters. An emergency ration, but it's always smart to carry fire-starters in the wilderness.
Camera! Phones work, but you'll want to take pictures.
Something that tracks your workout, if you're into that. It's nice to see how long and hard you hiked!
---
Images courtesy Unsplash
This article is sponsored in part by Instash