If humans need one thing to walk in the woods, it's foot protection. Hiking boots have been the best way to do that since any of us can remember, and today there are more options than you can fathom.
Below is a comprehensive list of the best boots for backpacking and hiking. These cover lightweight hiking boots that excel on easy trails and around town, midweight hiking boots that can do just about anything, and heavyweight hiking boots that are built to trudge through the gnarliest terrain on this planet.
Comparison Table of Hiking Boots
| Best Lightweight Hiking Boots | MSRP | Weight | Warranty | See Boots |
| --- | --- | --- | --- | --- |
| La Sportiva Nucleo High GTX | $199 | 16.8 oz | Limited Lifetime | Men's, Women's |
| Salomon X Ultra 3 Mid GTX | $165 | 15.8 oz | 2 Years | Men's, Women's |
| HOKA ONE ONE Tor Ultra Hi WP | $230 | 17 oz | 1 Year | Men's, Women's |
| Keen Targhee II Mid | $135 | 17.4 oz | 1 Year | Men's, Women's |
| Ahnu Sugarpine II | $145 | 11.7 oz | 1 Year | Women's |
| Adidas Terrex Swift R2 Mid GTX | $170 | 14.6 oz | Limited Lifetime | Men's, Women's |
| Altra Lone Peak Mid | $160 | 13.3 oz | 30 Days | Men's, Women's |
| Columbia Newton Ridge Plus II | $80 | 16 oz | 1 Year | Men's, Women's |
| Best Midweight Hiking Boots | MSRP | Weight | Warranty | See Boots |
| Salomon Quest 4D 3 GTX | $230 | 22.5 oz | 2 Year | Men's, Women's |
| Oboz Sawtooth Mid Waterproof | $150 | 20.3 oz | 1 Year | Men's, Women's |
| Lowa Renegade GTX Mid | $230 | 19.5 oz | 1 Year | Men's, Women's |
| Merrell Moab 2 Mid Waterproof | $130 | 18 oz | 60 Days | Men's, Women's |
| Scarpa Zodiac Plus GTX | $250 | 19 oz | 1 Year | Men's, Women's |
| Danner Mountain 600 | $180 | 18.5 oz | 1 Year | Men's, Women's |
| Timberland White Ledge Boot | $150 | 18 oz | 1 Year | Men's, Women's |
| Best Heavyweight Hiking Boots | MSRP | Weight | Warranty | See Boots |
| Vasque St. Elias GTX | $230 | 23.5 oz | 1 Year | Men's, Women's |
| Asolo Fugitive GTX | $255 | 24 oz | 2 Years | Men's |
| Zamberlan Vioz GTX | $295 | 25 oz | 1 Year | Men's, Women's |
The Best Lightweight Hiking Boots
La Sportiva Nucleo High GTX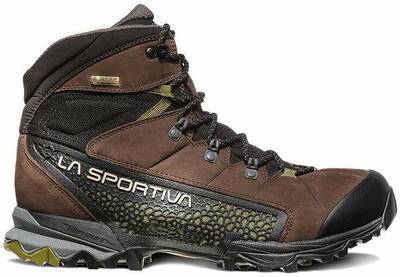 The La Sportiva Nucleo High GTX hiking boot is a bit of a rock star. The Nubuck leather upper is durable yet flexible and the Gore-Tex Surround waterproof membrane works extremely well. Your feet will not get wet. The soles are Vibram Nano rubber, which provides good traction, and La Sportiva added its Impact Brake System, a piece of hard rubber, to the heel, which helps to go down steep hills. The durability is decent for a fairly lightweight boot, and the protection is superb. The waterproofing and leather make it quite warm, though, so not recommended in summer and humid climates.
See the Men's La Sportiva Nucleo High GTX
See the Women's La Sportiva Nucleo High GTX
Salomon X Ultra 3 Mid GTX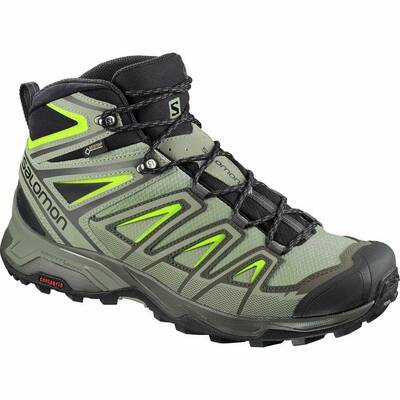 The Salomon X Ultra 3 Mid GTX is a hybrid shoe that perfectly balances the weight and agility of a trail runner with the comfort and ruggedness of a hiking boot. Weighing about a pound per boot, the X Ultra 3 Mid GTX is lightweight for a boot with ankle support, has Gore-Tex waterproofing, and a burly outsole with Salomon's classic Contragrip technology. The X Ultra 3 Mid GTX was recently updated with Descent Control technology for more technical hikes. Great for hiking or backpacking if you have a light load or want to be nimble on your feet. These shoes are great, but not nearly as burly or durable as heavier hiking boots.
See the Men's Salomon X Ultra 3 Mid GTX
See the Women's Salomon X Ultra 3 Mid GTX
HOKA ONE ONE Tor Ultra Hi WP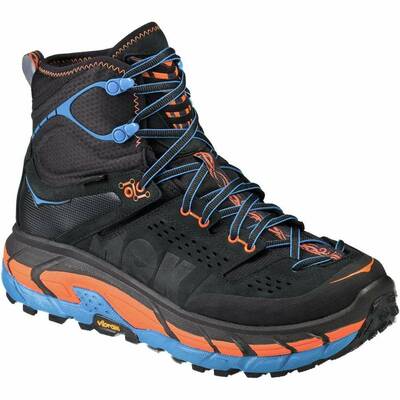 The HOKA ONE ONE Tor Ultra Hi WP hiking boot is a unique, lightweight hiker from a traditional running company. This boot is as light as other "lightweight" hiking boots (17 oz per shoe), and uses leather, nylon and mesh in the upper. It's known for incredible stability in the ankle, and HOKA's legendary cushion on the midsole, including the Meta Rocker which allows for an easy walking motion. The overall support and feel of these is unique, and they work well for day hikes or backpacking treks, though on super rough terrain the outsole durability is questionable. Read the full review HOKA ONE ONE Tor Ultra Hi WP review.
See the Men's HOKA ONE ONE Tor Ultra Hi WP
See the Women's HOKA ONE ONE Tor Ultra Hi WP
Keen Targhee II Mid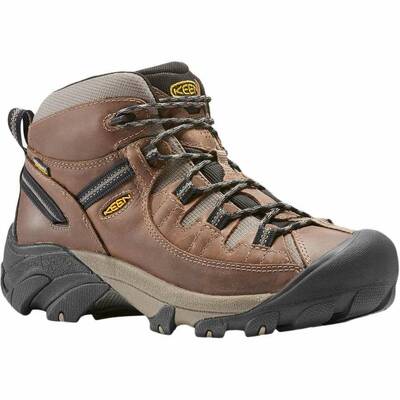 The Keen Targhee II Mid is a classic waterproof boot that has been around for years. It features Nubuck leather uppers with a bit of nylon mesh for breathability and has a rugged shape and build. The ankle protection is serious despite its lightweight package. Keen has its own waterproofing and sole on this shoe, and both hold up well. Keen also recently introduce the Targhee III, a slightly lighter, slimmer version of this shoe. While we recommend the classic, those who want something similar but slightly different may look here. The Targhee III Mid is available for men and women.
See the Men's Keen Targhee II Mid
See the Women's Keen Targhee II Mid
Ahnu (Teva) Sugarpine II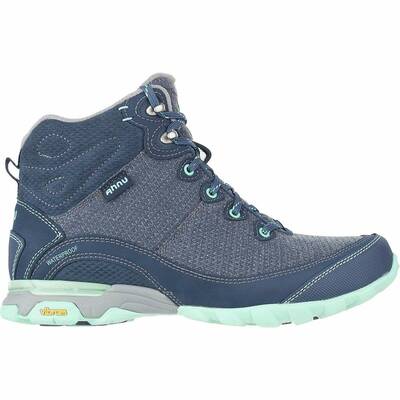 The Ahnu Sugarpine II is a classic hiking boot for women, with a fit that really works for foot shapes that are wide in the forefoot and narrow in the heel. The brand has recently been purchased by Teva, but they haven't changed the design. The Sugarpine II is much lighter than most hiking boots, has great waterproofing, and won't break the bank. The traction is decent and it works pretty much out of the box. They are women-specific.
See the Women's Ahnu Sugarpine II
Adidas Terrex Swift R2 Mid GTX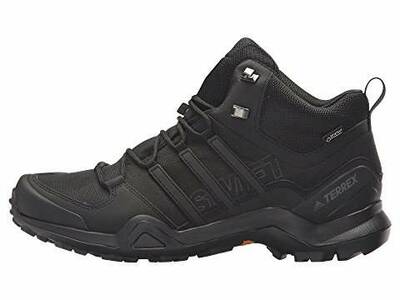 The Adidas Terrex Swift R2 Mid GTX is a very light, synthetic boot that's great as a crossover for urban hiking and day hiking. It has a Gore-Tex waterproof membrane which keeps water out for the most part and a very comfy fit that feels good out of the box. The sole has great traction, and the laces stow away with the Lace Bungee system. Not as durable as other, sturdier hiking boots, but a good in-between for more casual use and some gnarly hikes.
See the Men's Adidas Terrex Swift R2 Mid GTX
See the Women's Adidas Terrex Swift R2 Mid GTX
Altra Lone Peak Mid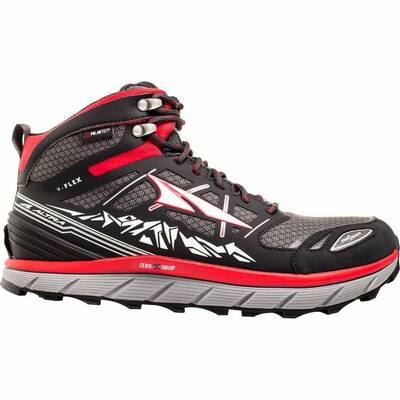 The Altra Lone Peak Mid hiking boot takes the minimal approach Altra is known for and puts it in a hiking boot. The shoe has the classic Zero Drop stack height, which is great for hikers that want completely neutral shoes. The regular Lone Peak trail runners are very popular, so much so that Altra turned them into hiking boots. These also have NeoShell, a waterproof membrane that stops water from seeping in. Be warned, though, this makes the shoes quite warm. Perfect for backpackers used to trail runners and the Altra profile. If you don't want the NeoShell waterproof version, Altra also makes a Mesh version called the Lone Peak 3.5 Mid Mesh for Men and Women.
See the Men's Altra Lone Peak Mid
See the Women's Altra Lone Peak Mid
Columbia Newton Ridge Plus II
The Columbia Newton Ridge Plus II hiking boot (and the regular Plus for women) is a standout budget boot for hikers. It's a leather boot with ankle support and decent build quality and requires little break-in time. However, the boot isn't durable or comfy enough for 10+ miles of hiking, so those wanting a serious trekking boot should look elsewhere. There are some durability issues as well for heavier use, so best used around town and on local trails. The design and look is solid, and they are great for casual and work use as well.
See the Men's Columbia Newton Ridge Plus II Waterproof
See the Women's Columbia Newton Ridge Plus Waterproof
The Best Midweight Hiking Boots
Salomon Quest 4D 3 GTX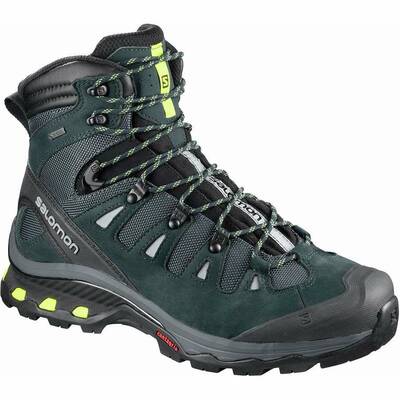 The Salomon Quest 4D 3 GTX is a redesign of the classic (and best selling) 4D 2 GTX and is the premier backpacking boot in Salomon's line. The Quest 4D is known for extreme comfort, durability, waterproofing, and stability, most of all. It's a heavy boot made with premium Nubuck leather and a thick cushion, so is typically overkill for light trails or ultralight backpackers. But if you're heading to wet, rugged terrain and have a narrow foot, you simply can't do better than the Quest 4D. Salomon updated the outsole, and it now uses the classic Contragrip technology for incredible traction and toughness. The 4D Advanced Chassis allows a smooth ride and foot flexion, and the boot is known for all-day comfort. Read the full Salomon Quest 4D 3 GTX review.
See the Men's Salomon Quest 4D 3 GTX
See the Women's Salomon Quest 4D 3 GTX
Oboz Sawtooth Mid Waterproof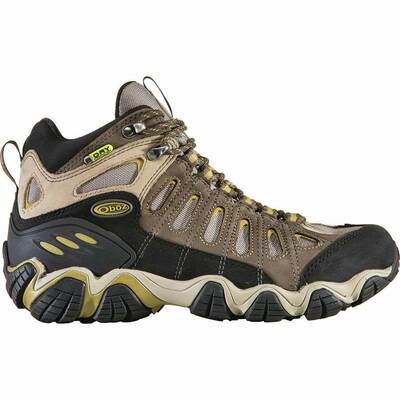 Oboz is on the rise in rugged footwear, and the Sawtooth Mid Waterproof boot is one of their most popular models. The Sawtooth has a leather upper that is durable and covered in Oboz's BDry waterproof technology, which works well. The boot uses Oboz's Sawtooth pattern for the outsole, which has great tread, is self-cleaning, and extends up the sides of the boot for maximum durability and grippage while scrambling. Oboz includes a custom, high-quality insert in all shoes to increase comfort, which allows you to wear them out of the box. In short, they don't skimp on anything. They are a little on the heavy side for a lower-profile boot (the ankle coverage is not huge), and can be too warm in hot climates due to mediocre breathability. On the plus side, Oboz also plants a tree for every purchase! Read the full Oboz Sawtooth Mid Waterproof review.
See the Men's Oboz Sawtooth Mid Waterproof
See the Women's Oboz Sawtooth Mid Waterproof
Lowa Renegade GTX Mid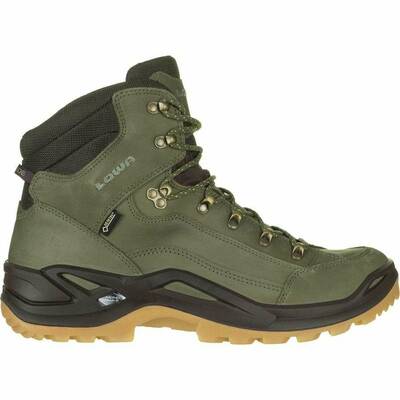 The Lowa Renegade GTX Mid hiking boot is a classic from a major brand and a boot that has been popular for years. It has a Nubuck leather upper and solid waterproofing with a Gore-Tex liner that covers the ankle. There are plenty of sizing and color options, so you can probably find the right shoe to fit you. The boot is on the light end for midweight boots but is not exactly "light" when it comes to footwear. It wears pretty well out of the box and is quite comfortable, but despite this, durability can be an issue. The shoe has many seams, which start to split after extended use. Be sure to test them initially to see if they need warranty repair.
See the Men's Lowa Renegade GTX Mid
See the Women's Lowa Renegade GTX Mid
Merrell Moab 2 Mid Waterproof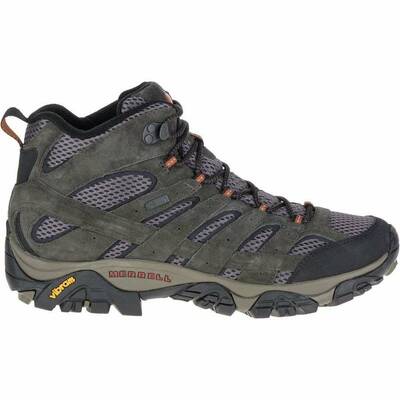 The Merrell Moab 2 Mid Waterproof boots are a new version of the classic Moab, a shoe that was a huge hit in boot and hiking shoe form. The Moab 2 has updated suede, slightly different lace hooks, and a different look. It's known for a wide and comfy fit, and works out of the box for most people. The Merrell in-house waterproofing works, but not as well as other hiking boots on this list. Overall you get traction, decent comfort, and reasonable durability for the price. Don't expect hundreds of miles on tough terrain, though.
See the Men's Merrell Moab 2 Mid Waterproof
See the Women's Merrell Moab 2 Mid Waterproof
Scarpa Zodiac Plus GTX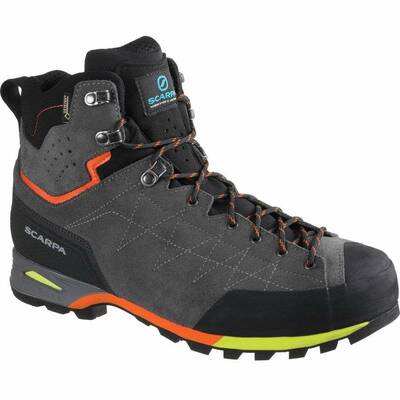 The Scarpa Zodiac Plus GTX hiking boot is a rugged midweight boot from a company known for climbing and mountaineering. The Zodiac Plus uses a full leather upper that, once broken in, conforms to the foot nicely. The Sock-Fit technology makes up the tongue of the boot, conforms to the foot, and keeps out all debris easily. The boot is fully waterproof and highly durable, yet not terribly heavy. Excellent for those who want to trek off-trail with a heavy load.
See the Men's Scarpa Zodiac Plus GTX
See the Women's Scarpa Zodiac Plus GTX
Danner Mountain 600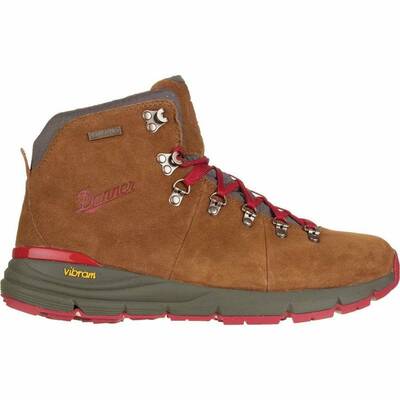 The Danner Mountain 600 is a hiking boot that falls between casual, workwear, and a trail shoe. Danner is known for work boots, and with the release of the Mountain 600, the company has created a lightweight waterproof hiker with a classic look. The shoe uses Danner's Danner Dry waterproof protection, has a suede leather upper (full grain for $20 more), a new Vibram SPE midsole, and a Vibram Fuga outsole. They are light, feel-good out of the box, and work well for trails or around town. You can take them on longer backpacking trips, but seam durability is an issue on gnarly trails.
See the Men's Danner Mountain 600
See the Women's Danner Mountain 600
Timberland White Ledge Boot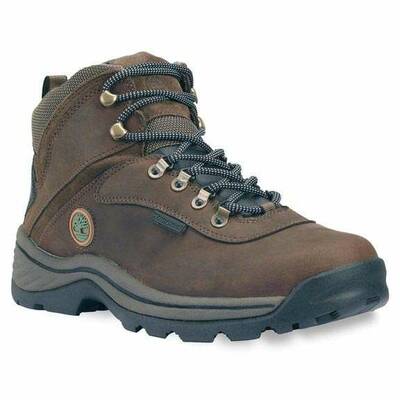 The Timberland White Ledge Mid waterproof hiking boots are a classic, best-selling boot that walks the line between a trail boot and an urban boot. Made of full-grain leather with a waterproof treatment, the White Ledge will withstand most water and conform nicely to the foot. While the materials are solid, we don't recommend this for backpacking or long, difficult treks. This is much more of a nice boot for around town and local trails.
See the Men's Timberland White Ledge Boot
See the Women's Timberland White Ledge Boot
The Best Heavyweight Hiking Boots
Vasque St. Elias GTX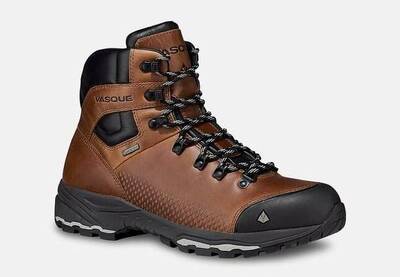 The Vasque St. Elias GTX hiking boot is a bit of a legend: rugged, stout, lots of leather, and a stiff shank to keep your feet happy after long days on the trail. This boot is about as heavy as they come, and built for serious wear and tear on rough trails and full backpacks. It has decent breathability for a full-grain leather upper, and the traction is excellent. The laces work well until they get frayed, but you can always replace those easily. If the boot fits and you need something burly, look no further.
See the Men's Vasque St. Elias GTX
See the Women's Vasque St. Elias GTX
Asolo Fugitive GTX
The Asolo Fugitive GTX hiking boot is a popular option for hikers and backpackers due to its quality fit and comfort. Reports of durability are a question, with the sole likely needing to be re-soled within five years. Overall it's an excellent boot but for the price it should last longer. There's also no direct women's shoe from Asolo.
See the Men's Asolo Fugitive GTX
Zamberlan Vioz GTX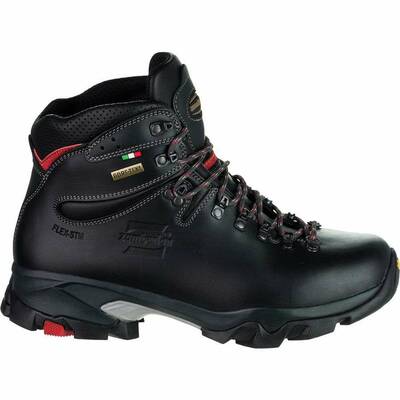 The Zamberlan Vioz GT hiking boot is burly and heavy. Made of high-quality waxed leather, the Vioz GT has Gore-Tex waterproof membrane and that old, classic hiking boot look. The boot uses custom Vibram outsoles, which grip great, but have reports of wearing down within a year if used on concrete or very tough materials. The boot itself is extremely comfortable, and the materials used in the upper and midsole are excellent.
See the Men's Zamberlan Vioz GTX
See the Women's Zamberlan Vioz GTX
Hiking Boot Features
Understanding Lightweight, Midweight, Heavyweight Hiking Boots
We've broken our shoes down into these three categories, which are fairly standard for hiking boots. The category corresponds specifically to the weight of the boot, but also the type of hiking it was built for.
Lightweight hiking boots are under 18 ounces (per boot), are built with less dense materials, and best for those who want a more nimble hiking experience but still want ankle support.
Midweight hiking boots are between 18-22 ounces (per boot), and are probably the boot you imagine when fantasizing about hitting the trail. They usually have Nubuck leather uppers mixed with nylon, solid rubber soles, and take a hike or two to break in. They are durable, long-lasting, and best for anyone who wants that classic support when backpacking or camping.
Heavyweight hiking boots are above 22 ounces (per boot), and quite rugged. These boots use thick leather, heavy rubber, and have a beefy outline to fend off all manner of rock and snow. Typically meant for intense environments, and bordering on mountaineering boots, heavyweight hiking boots take a while to break in and can last 20+ years if treated well. Best for those who will put them through the wringer, or only want to buy one solid pair of hiking boots for many years to come.
Waterproofing
Most hiking boots are built to keep things out — dirt, rocks, grass, dust, sand, snow — but most importantly, water. While most of these are annoying if they get in your boot, water can get trapped, soak your socks, and make for an extremely unsavory hike. Because of this most hiking boots have a waterproof membrane. This is a layer sandwiched between the rugged outer and interior lining of the boot that keeps water from entering.
You'll see this expressed in the product name, like GTX, Waterproof, and WP. This refers to the capability, but not the type of membrane. When you look at boot specs, you'll see the actual membranes — Gore-Tex Performance Comfort, Keen.dry, BDry, Danner Dry, eVent, NeoShell are a few that are common. In general, these membranes all perform similarly in terms of keeping water out but differ in their breathability.
Also, hiking boot uppers are coated with Durable Water Repellent, which adds one final layer of water-beading property. This will wear out over time, and you can reapply.
Do You Need a Waterproof Boot?
Not necessarily. The general mentality for those who want a hiking boot is to be prepared for whatever the trail throws at them, which includes water. But if you know you like to hike in summer, or in always-dry climates like deserts, a hiking boot without waterproofing may be the best option. Manufacturers usually make a "mesh" version of a waterproof boot (like the Lone Peak 3.5 Mid Mesh boot) so look for those. They will be much better for breathability.
Tip: The only way water can get in a waterproof boot is through the top of the ankle, so be careful not to submerge your whole calf when fording a river.
Breathability
The issue with hiking boots, and the main reason folks have started to use trail runners instead, is breathability. Heavy fabrics and waterproof membranes typically suck when it comes to letting your feet breathe. This means if your feet sweat (and they will), it's hard for that sweat to escape, thereby soaking your socks from the inside.
This is very dependent on the person, the climate they hike in, and what kind of footwear they enjoy. As a good rule of thumb you can expect lightweight hiking boots to be the most breathable, then midweight, then heavyweight, with heavyweight hiking boots typically being pretty poor breathers (but excellent protectors).
If you want the support of a hiking boot but near the breathability of a trail runner, look for lightweight hiking boots without a waterproof coating.
Uppers
Hiking boot uppers are made either with leather, synthetic nylon, and/or some form of mesh. Most of the hiking boots in this list use a combination of the three to provide durability, flex, comfort, and breathability. A shoe with more mesh will be more breathable but less durable, while a full leather shoe will be very durable but not very breathable. It's always a trade-off.
There are a few hiking boots in this list that don't use any leather (vegan boots!), and those companies have done their best to match the durability of leather with synthetic materials. However, most boots still use leather, and usually Nubuck leather, which is brushed and nice to the touch.
A couple of the heaviest boots on this list use full-grain leather, which is shiny, incredibly durable and weather resistant, and made from one single piece of leather.
Outsoles and Traction
Beyond protection, the biggest reason to get hiking boots instead of hiking shoes or trail runners is traction. Outsoles on hiking boots are the most durable, rugged, and grippy of all shoes on the market (discounting climbing or approach shoes). This varies by brand and individual shoe, but if you're hiking in tough environments with a fair amount of scrambling and rocky surfaces you'll want sure footing.
Vibram is the most common outsole on hiking boots. Each brand has a different model of Vibram though, and even specific boots within a brand can have different lug patterns and thicknesses. Generally thicker lugs will do better in tougher environments. As you look at boot prices, you'll notice more expensive boots have burlier outsoles with fancier rubber.
Some brands, like Oboz and Salomon, create their own outsole in addition to the rest of the shoe. This creates a bit more unity between shoe and sole, but for the most part, Vibram and brand-specific patterns are equal, depending on the actual model. You'll want to look for outsoles that have a record of excellence, like Salomon's Contragrip, La Sportiva's Vibram soles plus its Impact Brake System for steep hills, or Lowa's Vibram EVO used on the Renegade series.
Ankle Support
Another main feature of hiking boots is ankle support. This is the main difference between hiking boots and hiking shoes — boots have ankle support, hiking shoes don't. Despite all the hiking boots on this list having ankle support, some reach higher up the leg than others, and some are simply more comfortable and secure than others.
Remember that hiking boots take some time to break-in, and you'll feel this most noticeably in the ankle. This part of the boot will be stiff and rub against your leg until it learns your movements.
Toe Protection
The final element of hiking boots that stand out is toe protection. Almost all hiking boots (and all in this list) have some form of rubber toe bumper. This ensures you won't rip open your shoe on some rocks, and helps keep water out when walking across small puddles.
Many lightweight hiking boots have less serious toe protection, whereas heavyweight boots have huge toe bumpers that basically cannot be penetrated.
How to Buy Hiking Boots
Knowing all the details of a hiking boot is important when considering what you actually want to buy. The best piece of advice we can give: try them on. Hiking boots (and all shoes) are incredibly subjective to the user. Our list of the best hiking boots is a great starting point, but we do recommend trying on individual models and brands in store.
Comfort and Fit
The comfort and fit of a hiking boot depend entirely on the person wearing it. If you have narrow feet, look for a narrow-foot brand, like Salomon; wide-footed folks should look at Keen as a starting point. Typically once you find a brand that fits your foot, you can hone in on a model that has the exact features you want.
Doing this fitting in a store is best. Ask the shoe rep to measure you with a Brannock device, which has standard width and length measurements, and will give you a fairly universal idea of what types of brands will work.
There are a few things to note once you find a shoe that's feeling comfortable:
Your toes should not touch the front of the boot, and if you slide your feet forward, you should be able to put a finger (index, unless you have sausage fingers!) into the space by the heel.
Try on the boots with the actual socks you plan to wear. Sock thickness makes a large difference in fit.
Likewise, if you plan to wear insoles do it when trying on the boot.
If you're in the middle of two sizes, go with the bigger size. Feet swell after long days on the trail and you'll be better off in a slightly bigger boot because you can always wear more socks or tie them tighter.
Insoles
A specific note on insoles: they may be right for you. It used to be that hiking boots came with premium insoles and didn't need specialty ones — these days the insoles of most hiking footwear is just alright. (Except for Oboz, they include excellent insoles with every shoe!)
This, and the fact that certain people need certain types of support, has led to the insole industry. In the outdoor market Superfeet and SOLES are two of the most popular. Try these on if you've always had discomfort with footwear — they can do wonders.
Online Retailers vs Real Stores
While we love online retailers for convenience and gear deals, footwear is one of those things you should probably try in person. You might be comfortable buying and returning multiple pairs of shoes or sizes online (let's not kid ourselves, everyone does this), and that could also work for hiking boots.
That said, there's nothing like going into a store and trying on multiple brands in multiple sizes on the spot to see if you get the right fit.
If you know your brand, last, and size, by all means, order online.
Used Hiking Boots vs New Hiking Boots
A lot of outdoor gear can be bought used. While that's technically true for hiking boots, we recommend assuring the level of "used" before purchasing. Part of what makes all that leather in hiking boots so excellent is that after many uses it becomes custom-fitted to your foot.
If you buy a heavily used boot, it will be custom-fitted to someone else's foot.
That said, if you happen upon a very lightly used pair of hiking boots in your size and brand, go for it. Boots are expensive, and this can cut down on cost quite a bit!
Hiking Boots vs Hiking Shoes vs Trail Running Shoes
We've mentioned a few differences between hiking boots and these other categories of footwear throughout this article. Hiking boots were once the only option for wild-hungry backpackers, but we're in a new age. While hiking boots are heavy, durable, have full ankle support, excellent traction, tons of protection and waterproofing, they may not be the best option for you.
Hiking shoes are hugely popular today because they are lighter, cheaper, and less cumbersome than boots but still offer much of the protection and waterproofing. You'll often see hiking shoes and boots with the same model name, and the only difference is the height of the ankle. Many of the boots in this list are sold as hiking shoes as well. You can also get hiking shoes that have more mesh, are lighter weight, and there are many more non-waterproof options.
Trail running shoes were designed for marathon runners, but have made their way into the backpacking and hiking world. These shoes are very popular right now, especially among those who want a super lightweight, relatively cheap option. They only last 400-800 miles though, so expect to buy multiple pairs over the years. We recommend lots of trail running shoes.
---
Backpackers.com Affiliate Policy: This guide contains affiliate links, which help fund our website. When you click on the links to purchase the gear we get a commission, and this goes a long way to creating guides, gear reviews, and other excellent content.