MONTyBOCA and Chef Corso serve the camping, backpacking, hiking and outdoor communities looking to elevate their meals. The company is headquartered in Seattle, Washington, and recipes are trial-tested by the MONTyBOCA community all over the world. All recipes are fast, easy, mindful of pack weight and volume, require no pre-prep or dehydrating, and focus on real fresh ingredients rather than dry, salty, and expensive packaged options. Follow along on Instagram and on YouTube.
BLTA Grain Bowl by MONTyBOCA
Yes! It's May which means Spring is poppin around the country, the trails are starting to dry out a little bit and we can get back outside.
Spring is a great time for day-hikes. Find those boots in the closet, stretch out those legs for the upcoming season and get some needed fresh air. But you've got to eat something. And if you've been following along over the last two months, you know I'm a fan of changing it up from the norm and adding some variety.
Day-hikes usually mean a deli sandwich, some bars or trail mix. But a grain bowl is a great, fresh, filling meal option that you can whip up without a stove, at the summit or at your rig before you head out. You can change up the flavor of this grain bowl to pizza, green goddess, tuscan, greek or asian with just a few ingredient switch-outs.
Mix it up, bowl it up and enjoy!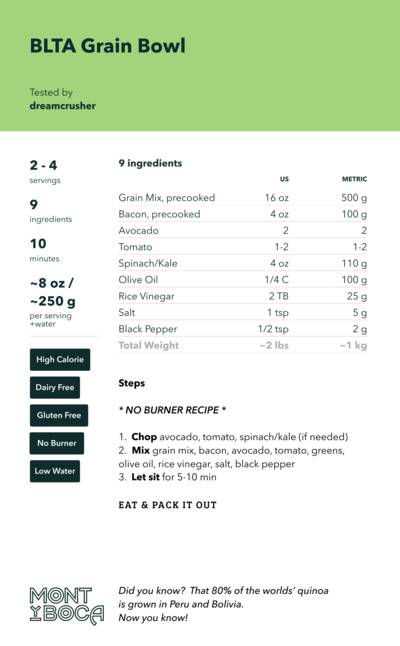 Watch Chef Corso Cook the BLTA Grain Bowl
Full Ingredient List
Build your own BLTA Grain Bowl with the ingredients below.
Learn more about Chef Corso, and see all our Trail Recipes!
---
This article is part of our Trailblazer program.
Backpackers.com Affiliate Policy: This guide contains affiliate links, which help fund our website. When you click on the links to purchase the gear we get a commission, and this goes a long way to creating guides, gear reviews, and other excellent content.