Caramelized Banana Nilla Wafer Bowl by MONTyBOCA
Don't forget about dessert! For me on most nights, a nugget of chocolate or a piece of a candy bar will do to get me ready to burrow in my tent for a nice rest before the next day.
But sometimes, something a little different is the ticket. This fast dessert recipe really hits the spot and only packs in at a few ounces. The other great thing is it uses ingredients you're most likely already bringing (bananas and mixed nuts).
Elevate your evening on your next trip!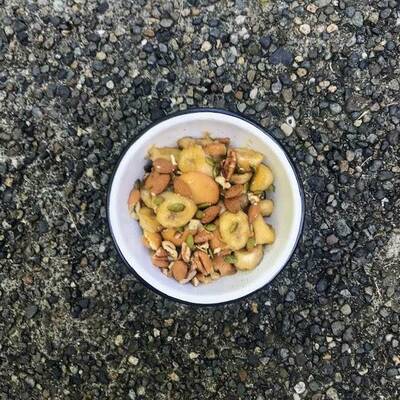 Watch Chef Corso Cook the Caramelized Banana Nilla Wafer Bowl
Chef Corso stops off at 7 magic mountains in Las Vegas, NV to whip up a tasty dessert in the desert.
Full Ingredient List
A sweet after-dinner treat or a treat-yourself breakfast? It's up to you!

Learn more about Chef Corso, and see all our Trail Recipes!
MONTyBOCA and Chef Corso serve the camping, backpacking, hiking, and outdoor communities looking to elevate their meals. The company is headquartered in Seattle, Washington, and recipes are trail-tested by the MONTyBOCA community all over the world. All recipes are fast, easy, mindful of pack weight and volume, require no pre-prep or dehydrating, and focus on real fresh ingredients rather than dry, salty, and expensive packaged options. Follow along on Instagram and on YouTube.
---
This article is part of our Trailblazer program.
Backpackers.com Affiliate Policy: This article may contain affiliate links, which help fund our website. When you click on the links to purchase the gear we get a commission, and this goes a long way to creating guides, gear reviews, and other excellent content.