MONTyBOCA and Chef Corso serve the camping, backpacking, hiking and outdoor communities looking to elevate their meals. The company is headquartered in Seattle, Washington, and recipes are trial-tested by the MONTyBOCA community all over the world. All recipes are fast, easy, mindful of pack weight and volume, require no pre-prep or dehydrating, and focus on real fresh ingredients rather than dry, salty, and expensive packaged options. Follow along on Instagram and on YouTube.
Cheez-It Cheesy Cheddar Grits by MONTyBOCA
Let's be real: You're already packing Cheez-Its, or some kind of salty chip. Why not cook up an amazing meal with them?
This recipe is part of MONTyBOCA's Truckstop recipe series, where I create a fast and tasty meal with a bag of chips or crackers. You can pick up the key ingredient just about anywhere (small-town gas stations included), and it'll satisfy your trail cravings.
The Cheesy Cheddar Grits (and the Truckstop recipes) also includes one of my favorite backcountry pantry ingredients: polenta/grits/cornmeal/masa/cornbread mix. All of these may seem different for anyone who doesn't cook a lot, but they're pretty much the same thing and, most importantly, they cook up in only a few minutes. Just make sure to get the quick cooking kind.
Enjoy.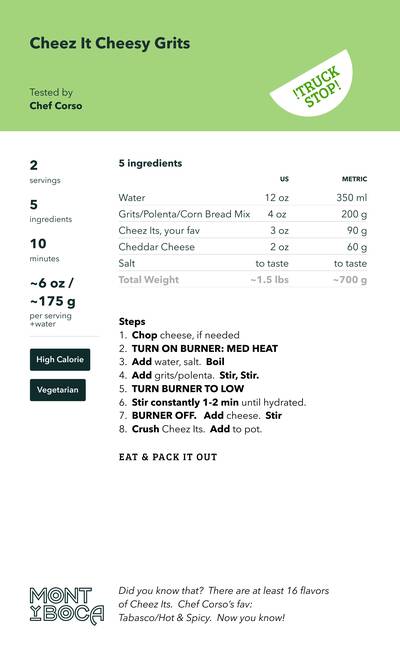 Watch Chef Corso Cook the Cheez-It Cheesy Cheddar Grits
Full Ingredient List
Here are the full ingredients for the Cheez-It Cheesy Cheddar Grits. Substitute the chips or crackers of your choice, and add hot sauce if you like some kick.
Learn more about Chef Corso, and see all our Trail Recipes!
---
This article is part of our Trailblazer program.
Backpackers.com Affiliate Policy: This guide contains affiliate links, which help fund our website. When you click on the links to purchase the gear we get a commission, and this goes a long way to creating guides, gear reviews, and other excellent content.