MONTyBOCA and Chef Corso serve the camping, backpacking, hiking and outdoor communities looking to elevate their meals. The company is headquartered in Seattle, Washington, and recipes are trial-tested by the MONTyBOCA community all over the world. All recipes are fast, easy, mindful of pack weight and volume, require no pre-prep or dehydrating, and focus on real fresh ingredients rather than dry, salty, and expensive packaged options. Follow along on Instagram and on YouTube.
Dirtbag Eggs Benedict by MONTyBOCA
Yes, you can have brunch on the trail. This recipe is an absolute knock out for any camper or backpacker rolling out of their tent in the morning. The secret ingredient here is a packet of hollandaise mix that's available in the soup/gravy aisle of pretty much any grocery store (or online).  Otherwise you're using english muffins, powdered eggs, and some other basics to slap together a delicious meal.
If you're a meat eater I suggested using pre-cooked, sealed ham, which can last for a few days in a backpack. And don't forget a Dirtbag Mimosa or Bloody Mary, because then you've got a brunch-y camp party!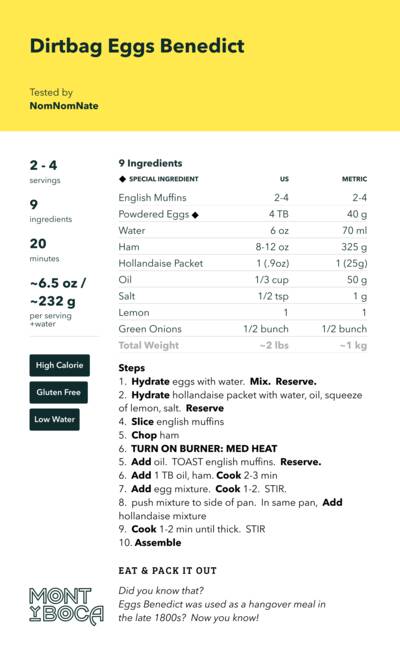 Watch Chef Corso Cook the Dirtbag Eggs Benedict
Full Ingredient List
Check out the full ingredients for the Dirtbag Eggs Benedict, and stock up extras with our links below.
Green Onions (fresh)
Oil
Salt
Learn more about Chef Corso, and see all our Trail Recipes!
---
This article is part of our Trailblazer program.
Backpackers.com Affiliate Policy: This guide contains affiliate links, which help fund our website. When you click on the links to purchase the gear we get a commission, and this goes a long way to creating guides, gear reviews, and other excellent content.