Mandarin Meat Salad and Other Keto and Low Carb Meals by MONTyBOCA
Looking to stay on Keto during your hike? Carbs are an important source of fuel for most hikes, so be mindful of your miles, stress and your diet but we have some great options for you to consider from Keto trail mix, jerky chili and meat salads. So meaty!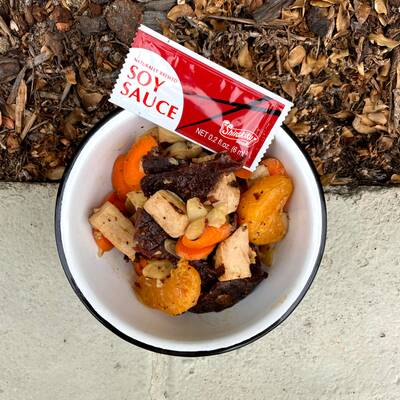 Watch Chef Corso Make the Mandarin Meat Salad and Other Keto and Low Carb Meals
Eating low carb or Keto these days? Looking for some options to stay fueled on the trail?
Check out these few options. Everyone's diet is so different with their grain, carb, or sugar targets. You know your belly the best, so tweak these as needed to fit your dietary goals.
Full Ingredient List
A protein-packed meal for you carnivores out there.

Learn more about Chef Corso, and see all our Trail Recipes!
MONTyBOCA and Chef Corso serve the camping, backpacking, hiking, and outdoor communities looking to elevate their meals. The company is headquartered in Seattle, Washington, and recipes are trail-tested by the MONTyBOCA community all over the world. All recipes are fast, easy, mindful of pack weight and volume, require no pre-prep or dehydrating, and focus on real fresh ingredients rather than dry, salty, and expensive packaged options. Follow along on Instagram and on YouTube.
---
This article is part of our Trailblazer program.
Backpackers.com Affiliate Policy: This article may contain affiliate links, which help fund our website. When you click on the links to purchase the gear we get a commission, and this goes a long way to creating guides, gear reviews, and other excellent content.