Instant Rice/Dehydrated Beans by MONTyBOCA
What makes a great ingredient to pack along on a trek?
It needs to be light
It needs to be filling
It needs to as non-perishable as possible
It needs to hopefully be versatile. Able to be made for all times of day and many different flavors
And it needs to taste good
We're back with more pantry basics. Earlier we covered polenta/grits but today we are digging back into the panty for 2 more fantastic ingredients to pack along: Instant Rice & Dehydrated Beans. Both can be used for any time of day, (breakfast rice, breakfast burritos, fried rice, and Cuban black bean soup for starters) and are extremely lightweight and perfect for those long haul treks. Explore more pantry basics with Chef Corso.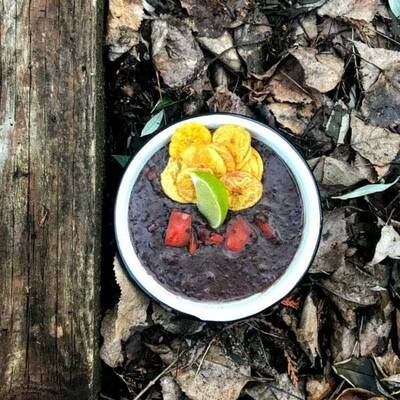 Watch Chef Corso Cook the Instant Rice/Dehydrated Beans
Have some INSTANT RICE in your pantry? Here are a few fast, easy and tasty recipes to pack along on your trek.
Full Ingredient List
A lightweight, high-calorie meal that can be had cold or warm. No stove? You can cold soak this recipe!

Learn more about Chef Corso, and see all our Trail Recipes!
MONTyBOCA and Chef Corso serve the camping, backpacking, hiking, and outdoor communities looking to elevate their meals. The company is headquartered in Seattle, Washington, and recipes are trail-tested by the MONTyBOCA community all over the world. All recipes are fast, easy, mindful of pack weight and volume, require no pre-prep or dehydrating, and focus on real fresh ingredients rather than dry, salty, and expensive packaged options. Follow along on Instagram and on YouTube.
---
This article is part of our Trailblazer program.
Backpackers.com Affiliate Policy: This article may contain affiliate links, which help fund our website. When you click on the links to purchase the gear we get a commission, and this goes a long way to creating guides, gear reviews, and other excellent content.