MONTyBOCA and Chef Corso serve the camping, backpacking, hiking and outdoor communities looking to elevate their meals. The company is headquartered in Seattle, Washington, and recipes are trial-tested by the MONTyBOCA community all over the world. All recipes are fast, easy, mindful of pack weight and volume, require no pre-prep or dehydrating, and focus on real fresh ingredients rather than dry, salty, and expensive packaged options. Follow along on Instagram and on YouTube.
Rice Crispy Treat Bowl by MONTyBOCA
Don't forget about dessert! Cooking outdoors should be fun and tasty so I created a few updated rice crispy treat bowl recipes that bring back that nostalgic feeling. This is a perfect recipe for sharing. Be the hero of the campsite on your next trip.
Hikers note: This can also be made for breakfast for a high-calorie start to your day.
---
Chef Corso's Backcountry Cooking Workshop



Tired of eating dry, salty packaged meals on the trail? Don't want to spend a whole day dehydrating for your backcountry trip? Join Chef Corso from MONTyBOCA for this fun and interactive backcountry cooking workshop.
For this session, we will be cooking up a couple of tasty recipes for your spring treks plus basic camping stove equipment knowledge, packing tips, and other cooking camp hacks.
Reserve your spot in Chef Corso's Backcountry Cooking Workshop!
---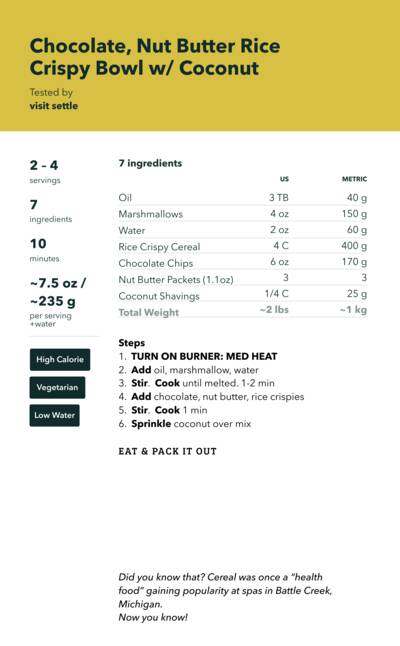 Watch Chef Corso Make the Rice Crispy Treat Bowl
Full Ingredient List
Want to make your own Rice Crispy Treat Bowl for your next backpacking trip? Stock up on the ingredients below.
Learn more about Chef Corso, and see all our Trail Recipes!
---
This article is part of our Trailblazer program.
Backpackers.com Affiliate Policy: This guide contains affiliate links, which help fund our website. When you click on the links to purchase the gear we get a commission, and this goes a long way to creating guides, gear reviews, and other excellent content.