Nature is calling, whether it calls you to camp, hike, or just hang out. We've partnered with eight incredible brands to give you clutch gear for any outdoor activity. With over $450 in prizes, one lucky winner will win eight awesome products.
What Do You Win?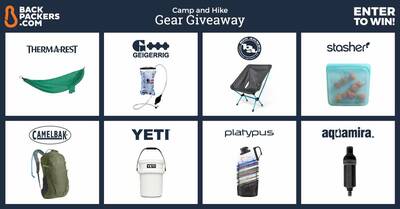 Included items: A CamelBak Cloud Walker 18, a Big Agnes Helinox Chair Zero, a Therm-a-Rest Slacker Single Hammock (and Slacker Suspenders for hanging), an Aquamira Frontier Max Water Filter, a Geigerrig 2L Hydration Engine, a YETI Loadout Bucket, Stasher Sandwich Bags (2), and a Platypus DuoLock SoftBottle1L. Plus your own collection of sweet Backpackers.com stickers!
How Do You Enter?
Enter the Camp and Hike Giveaway with your email address. Earn additional entries by completing the questions and social media engagement below. Earn the most entries by sharing our giveaway with your friends and getting them to sign up.
Good luck, and see you out there.
More Gear Details
Our Gift Guides for the Day Hiker, Car Camper, and Urban Hiker also feature some of the gear in this giveaway — it's good stuff, and we know you'll love it. We highlight the items featured in this giveaway below.
Big Agnes Helinox Chair Zero — $119.95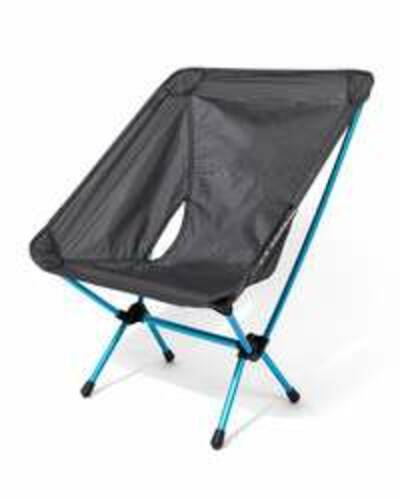 The Helinox Chair Zero is the epitome of Big Agnes' motto — "the mother of comfort" — and its dedication to lightweight, functional gear. The chair has been engineered to be as light as possible, while still having four legs to create a stable sitting experience. The whole thing rolls up into a stuff sack the size of a large water bottle, and it weighs an even pound.
An excellent gift for anyone who wants to trek around and sit at the end of the day. We like it for Urban Hikers who frequently go to concerts in the park and festivals because it packs down easy and keeps you low to the ground, but is very comfortable. Big Agnes and others bill it as a backpacking chair, so it will work for any outdoor activity, but in general we find full-on chairs to be a bit much for the backcountry. Great as a backup camping chair, too.
Enter our giveaway to win a Big Agnes Helinox Chair Zero.
CamelBak Cloud Walker 18 — $85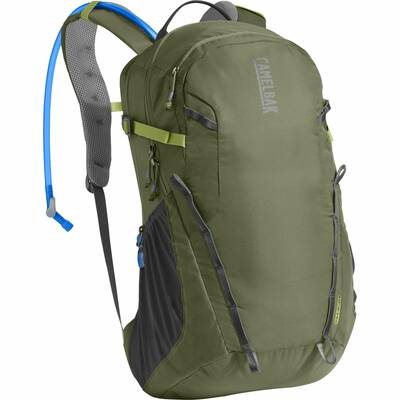 CamelBak is known for hydration and hiking, and the Cloud Walker 18 is built for both. This backpack was built for the more casual day hiker, so don't expect a full hip belt. But it works for just about any activity, from walking the dog to beach trips to getting to class (or work). Easy zippered pockets, water bottle holders, and a separate compartment for the hydration bladder all make this pack super functional. It comes with CamelBak's new Crux reservoir, too, which is one of the best around.
An excellent gift for any Hiker. They will be stoked, and find a use for it no matter what. Also great for anyone that says they want a backpack that works for trail hikes and city commutes.
Enter our giveaway to win a CamelBak Cloud Walker 18.
YETI Loadout Bucket — $39.99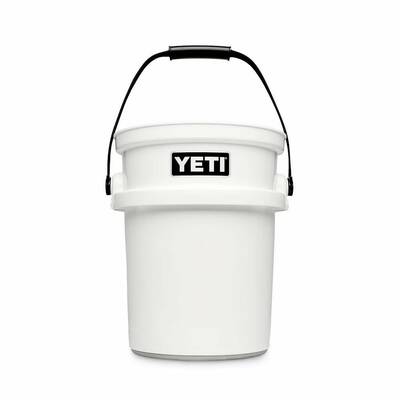 YETI's Loadout Bucket takes a simple product and gives it the YETI makeover. This means an insaley durable, functional, and thoughtfully designed bucket. It's food safe, has easy-carry points, tie-out points, and won't slip around. Loadout fans are obsessed with it's sleek design, calling it the "gretaest bucket of all time."
An excellent gift for the Camper who catches fish, keeps a bucket of water on hand for emergencies, or takes their current house bucket (that $4 one from Home Depot) to the campsite. Upgrade their bucket life.
Enter our giveaway to win a YETI Loadout Bucket.
Therm-a-Rest Slacker Single Hammock — $69.95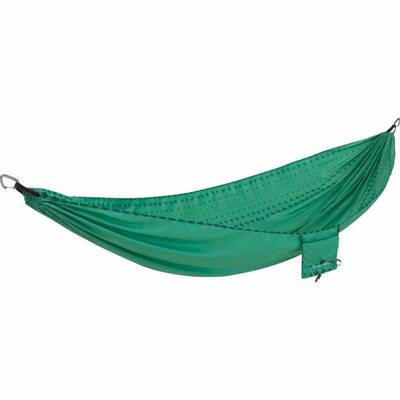 The Therm-a-Rest Slacker Single Hammock is well named, and meant for the Camper that wants to chill. Not meant as an overnight shelter, the Slacker is for reading lazily next to the river or mid-day naps while the kids draw circles in the dirt. It packs down small and is soft to the touch.
An excellent gift for the Camper that wants way more relaxation than a chair. Or for the individual who'll hang a hammock at home, take it into the woods, and generally live out of it whenever they can.
Enter our giveaway to win the Therm-a-Rest Slacker Single Hammock and two straps to hang the hammock.
AquaMira Frontier Max Filtration System — $49.99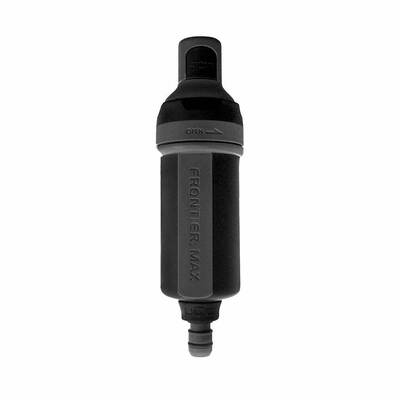 AquaMira is best known for water purification, and they recently released the Frontier Max Filtration System. It's actually a purifier, and gets rid of pathogens and viruses, which is safer than most similarly-priced filters on the market. It's built to be used inline with a hydration bladder, and comes equipped with all the attachments you need to make that happen. The Frontier Max comes with the Series IV RED Line filter inside it, which is good for 120 gallons. You can easily unscrew the housing and put any Aquamira Series IV filter inside. The biggest claim on this product, though, is that it's the only outdoor and tactical filter system that has been certified by the EPA and to NSF/ANSI standards. If you want legit, it doesn't get better.
An excellent gift for hikers that are concerned about clean water. It's small and light enough to always take with you, and will work in international travel as well because it gets rid of viruses.
Enter our giveaway to win an Aquamira Frontier Max Filtration System.
Geigerrig Hydration Engine 3L — $49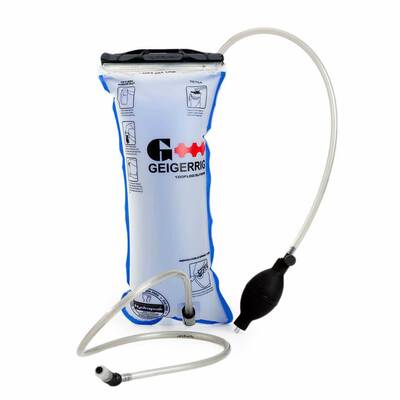 You may not know Geigerrig, but you should, and you should specifically get to know their Hydration Engine bladders. They can be used like a normal hydration bladder to sip water while you hike, but they also come with a pump, which creates pressure in the bag when used. This means water flows out crazy fast — either in your mouth or as a shower. You can use this bladder to rinse off, hose down wet dogs, or just drink extremely fast. The design is easy to clean and fill due to the slide-off top, and is thin enough that it doesn't bulge in your backpack.
An excellent gift for any Hiker that uses a hydration pack. The Hydration Engine is a step up from other bladders due to the pressurized pump, and your Hiker will love it. Also can be used easily with Aquamira's Frontier Max filter, or other inline filters.
Enter our giveaway to win a Geigerrig Hydration Engine.
Stasher Sandwich Bag — $11 each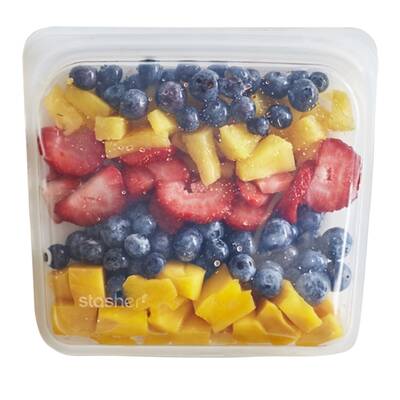 Stasher Bags are an awesome product — they are self-sealing, air-tight, and made of plastic-free silicon. Think of a Ziplock that will last forever, can be boiled, thrown in the dishwasher, or frozen, and is inherently food-safe. The Bags come in three sizes — Half Gallon, Sandwich, and Snack — and can be used to safely store just about anything. They're nice to touch, too.
An excellent gift for any Urban Hiker that wants to take leftovers to work, or keep a fresh snack on hand. They also work to store tubes of liquids on planes or organize your supplements. Since you can boil them, the Half Gallon size is excellent for backpacking trips.
Enter our giveaway to win two Stasher Sandwich Bags.
Platypus DuoLock Softbottle 1L — $13.95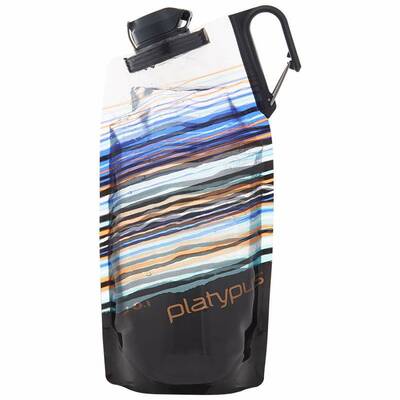 The Platypus DuoLock Softbottle 1L is an easy-to-pack, easy-to-use, super light water bottle. A wide opening means you can fill it up quick, and a new dual-locking cap prevents water from leaking out. The convenient handle gives you a spot to hang onto while filling up the bottle, so you don't fill and squeeze precious water right back out. And the built in clip lets you attach this bottle just about anywhere. Four patterns give you a stylish bottle that stands out.
An excellent gift for a thirsty Backpacker who wants maximum gram-counting in a super packable package. Also great for ultralighters who hate spills. If you want the true ultralight version, get the regular Platypus Softbottle, which can work with a Sawyer MINI or Squeeze.
Enter our giveaway to win a Platypus DuoLock Softbottle 1L.
Backpackers.com Affiliate Policy: This giveaway article contains affiliate links, which help fund our website. When you click on the links to purchase the gear we get a commission, and this goes a long way to creating guides, gear reviews, and other excellent content. This giveaway is made possible by the brands supplying the gear, and includes links (affiliate and regular) to their websites.