Arc'teryx Atom LT Hoody Overview
In 1989, Canadian climbers came together to create outdoor equipment that was innovative, and designed with purpose. They called this fledgling think tank Arc'teryx in honor of Archaeopteryx Lithographica, the first reptile to develop the feather for flight. Since then they have continued to push boundaries and set new standards for excellence in gear, and the Atom LT Hoody is a stalwart piece in a star-studded collection.
Made with Arc'teryx's proprietary Coreloft insulation, this synthetic insulated jacket gets top marks for comfort, warmth, and breathability. It performs in all conditions and, as such, the Atom LT Hoody has been awarded our Premium Pick for the Wilderness Backpacker and Ultralight Backpacker.
There are a plethora of outerwear options of the synthetic variety (never miss an opportunity for a "Three Amigos" reference), and we have done our best to help you make an informed decision in our comprehensive Guide. Below, see why we recommend the Arc'teryx Atom LT Hoody for your backcountry adventures.
Update: The Atom LT Hoody is a core product for Arc'teryx, and does not get major updates often. We reviewed this jacket in 2017, and it has not changed. There are new colors every year though!f
Arc'teryx Atom LT Hoody Star Rating
Comfort

Durability

Warmth

Breathability
Summary
The Arc'teryx Atom LT Hoody is a warm, lightweight, decently breathable synthetic jacket. It has breathable and stretchy side panels for maximum movement while hiking, and Corelift 60 insulation throughout the packet. The Tyono 20D shell feels a bit like a soft sleeping bag, and the jacket is quite cozy. It does well in windy wet weather, and layers well.
Arc'teryx Atom LT Hoody Specifications
Feature Type
Feature Specs
What This Means
Average Weight
11.1 oz (315 g) Men's, 11.6 oz (330 g) Women's
An ounce or two lighter than comparable competitors. A fully featured jacket that's still pretty lightweight.
Insulation
Coreloft 60 g/m2
Coreloft insulation is proprietary to Arc'teryx. It's very warm, lightweight, and comparable to Primaloft Gold. Read up on synthetic insulation in our Guide.
Shell Fabric

Tyono 20-denier

Polartec Power Stretch with Hardface Technology

A 20D Tyono shell is soft, durable, and cozy. This jacket has mesh panels made with Polartec Power Stretch tech. These panels breathe extremely well and allow for a large range of movement. Read more on shell fabric in our Guide.
DWR Treatment
Yes
A thorough DWR shell with quick-drying material makes this jacket shed water well.
Number of Pockets

2 external hand pockets

1 external chest pocket

Easy to access, insulated pockets for your hands to keep them warm. They are a bit smaller than normal pockets. One internal chest pocket for holding items like smartphones, etc.
Stuffs Into Itself
Kind Of
Arc'teryx claims it can be stuffed into its own pocket, but we found this to be way too difficult. It compresses alright, but it's not a standout feature of the Atom LT.
Hood/Jacket Option
Yes
The Atom LT is offered as a Hoody and as a Jacket, which means no hood. The hooded version is very popular, partly because the hood is super cozy.
Adjustable Hood
Yes
The hood has a single adjustment on the back via toggle and hem. It's a Scuba hood that can also fit a helmet underneath, so very versatile.
Adjustable Waist
Yes
A single adjustment on the waist allows you to tighten the jacket against yourself for increased insulation and warmth.
Gender
Men's and Women's
Jackets for both men and women use the same material, have the same pockets, and are basically the same. The color options are different.
Sizes Available
XS-XXL
There should be a size to fit you. Note that it's a fairly slim/athletic fit, so order up a size if you want to layer a lot underneath.
Manufacturer Warranty
Lifetime Manufacturer's Warranty 
Covers the lifetime of the product for manufacturer defects or workmanship issues. Arc'teryx has a very high reputation for customer service and repairs/returns, so if something is breaking, send it in.
Retail Price
$259
A premium price for one of the best synthetic insulated jackets around. Not often found on super sale, so when it is consider grabbing one!
Gear Review of the Arc'teryx Atom LT Hoody
Origins: Easing You In
This was a great winter in California for anyone interested in drinking water and food production. And for gear reviewers who had to test jackets specifically made to excel in cold, wet environments. The Arc'teryx Atom LT became an almost permanent fixture in my go bag, protecting me from the elements on a series of saturated adventures.
My first experience with the Arc'teryx Atom LT was near Squaw Valley in Lake Tahoe during a monumental snow storm that made me question my life choices. Almost nothing has the quiet, humility inducing power of a blizzard. With that said, the Atom LT served me excellently, warming me both literally and figuratively.
I wore it as a middle insulating layer under an alpine shell and was surprisingly comfortable. This combination often leads to overheating, internal sweat, and the overall sense that you've made a terrible mistake by leaving the house. But as I moved around vigorously, shoveling snow and setting up camp, the Arc'teryx Atom LT's side stretch panels kept me from overheating and allowed for natural movement.
I also quickly noticed how light it felt on my body. Some jackets (particularly of the synthetic persuasion) can feel heavy and a bit unwieldy, but the Atom LT was an almost imperceptible middle layer of warmth and cozy goodness.
Revelation: The Moment I Knew
If Tahoe was my first date with the Atom LT, Montaña de Oro State Park was where we fell in love. As is often the case, the California coast was achingly beautiful and predictably capricious. Within the span of five hours we were warmed by mid-morning sunlight, battered by wind that threatened to take us to Oz, and pummeled by a flash rainstorm that was over almost before it started. And boy did I make a good decision when I decided to bring the Atom LT on this quick overnighter.
The Arc'teryx Atom LT was my only outer layer during this excursion, and each time the weather changed it displayed striking versatility. Sunny? No problem. Unzip everything and stay warm, but not hot. Windy? Easy. Zip up the chest, tuck the hands into the fleece-lined hand-warmer pockets, and continue on your way. Raining? Throw on the cinchable hood, tighten the waist, and stay dry.
Yes, "stay dry" even though the Atom LT is not a rain jacket. The water resistance was incredible — you could actually see the beads of water repelling off the jacket after their failed incursion. This level of versatility is really why the synthetic insulated jacket was invented…otherwise you'd go with down every time. The Atom LT not only repelled a fair amount of the water, but dried out quickly when water did manage to break through.
As I said, a permanent fixture in my go bag.
Digging Deeper
It turns out that Arc'teryx kind of knows what they are doing when it comes to gear. Each design feature felt intentional, thoughtful, and, after much use, very helpful.
The Atom LT sports a stretchy 20-denier taffeta shell. This fabric thickness is durable yet thin, and thrives at blocking wind. It's also the same stuff commonly used inside sleeping bags, so it has a certain comfort factor you'll recognize.
Then there's the stretch panels, which cover the sides and go under your arms. These panels are made with Polartec Power Stretch with Hardface Technology, a bunch of strange terms that will only make sense once you're shoveling snow in sub-freezing temperatures. The jacket moves with you, then it breathes with you…kind of like a yoga instructor.
The interior of the jacket has a chest pocket, more cozy material, and fleece side panels that aid in breathability.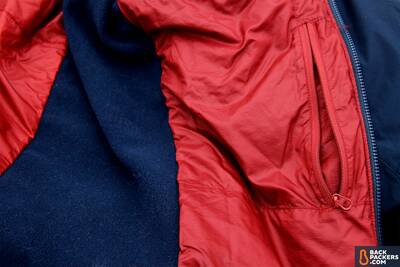 The thorough DWR treatment gives it water resistance. Eventually this will wear off with use, but it can always be reapplied to the jacket with a DWR kit and a wash cycle.
Oh, and the proprietary Arc'teryx Coreloft insulation? I'm thinking about stuffing the walls of my house with it. Definitely patented for a reason. I was noticeably warmer in the Atom LT than other jackets, yet still able to breathe, a feat that's hard to accomplish.
Of course I wasn't thinking about these details while braving the snow and rain, I was just thrilled to have the Atom LT on my team.
Comfort  
5 Stars
Think grilled cheese and tomato soup on a rainy night. Mmmm.
Durability 
5 Stars
Definition of durable: Able to withstand wear, pressure, and pretty much any conditions you can imagine. I've practically lived in the Atom LT since I got it and it's still functional and spotless.
Warmth 
4 Stars
The Coreloft insulation is excellent, and keeps you toasty. But the Atom LT has strips down the side that are thinner and let out more warmth — this is entirely on purpose, but it means this is not the warmest synthetic jacket around.
Breathability 
4 Stars
Those same strips make the Atom LT breathe quite well. When compared to other true active insulation it's not quite as good, but receives high marks for having warmth and breathability.
Fit
I'm 5'9", 155, and built like an Ironman triathlete. I have a Medium Atom LT, and it fits me perfectly with just the right amount of loose snugness. Yes, that's a real thing. You know exactly what it means.
Style
This is a pretty darn good looking jacket. The scuba hood isn't for everyone, but us outdoor gear-nerds know what's up. I may or may not have worn it around town just to look cool.
Grievances
The only issue I had with the Arc'teryx Atom LT was that I didn't find it particularly packable. As a backpacker a little tingle runs up my spine every time I manage to squeeze a piece of gear into an almost imperceptible nook in my pack, and that definitely wasn't the case for this jacket.
I wouldn't call it bulky, but it doesn't disappear the way a down jacket might. Be prepared to have it take up room in your pack, most likely not stuffed in its pocket. Yes, there's an inner pocket that's supposed to double as a way to pack the Arc'teryx Atom LT into itself. Don't use it. I found the pocket too small to effectively fit the jacket inside and zip it closed. This is a bummer, because it's a simple thing to make the pocket just a bit larger. Nobody wants to struggle with their favorite jacket!
Final Word
Arc'teryx is all about creating the best gear possible for people who actually spend large chunks time in the backcountry, and they have done themselves proud with the Atom LT Hoody. Breathable, durable, uber water resistant, and more comfortable than your barcalounger, this is one jacket you don't want to miss.
Where to Buy Arc'teryx Atom LT Hoody
The men's version of the Arc'teryx Atom LT Hoody was used for this review. It's also offered in a women's version, which is the exact same except for fit and color. The Arc'terx Atom LT can also be bought without a hood. If you're looking for a slightly lighter synthetic insulated jacket, or one that doesn't include a hood, this is still an excellent choice.
Most backpackers tend to favor hoods when it comes to synthetic jackets, as they are meant to keep warm in wet and cold environments, which hoods are particularly good at doing. You'll find men's and women's versions of both the Hoody and Jacket variations below.
Review Policy: We do not accept payments or gifts from brands and vendors, and strive to provide unbiased, independent advice. Brands typically provide review samples which we return, and in some cases we purchase the item so we can keep using it long after the review. Affiliate Policy: We support the hours that go into our reviews and testing through affiliate commissions on purchases made through links in this article. These don't effect the outcome of our reviews or selection of gear, as per our Review Policy.