Synthetic insulated jackets are man's chemical attempt to replicate the warmth, weight, and compressibility of down jackets. We didn't do this simply for the fun of it, but to improve on the main flaw of the down jacket — its lack of warmth when exposed to moisture.
I know some of you are looking for a brief, two sentence reason to get a synthetic insulated jacket. It's a complex topic worthy of a very long article (the one you could read below), but if you must:
Synthetic insulated jackets are meant as a mid-layer in cool, wet, and humid conditions where water is a constant factor. They retain more loft when damp and dry much quicker than down jackets.
Of course there are a host of other reasons to look at synthetic insulated jackets, which I'll explore below.
In the tradition of the Backpackers.com Outdoor Guides, get ready for a lengthy read. We cover everything here, and if you read it all, you can print out a certificate that, when brought into REI, will impress the employees standing around all the jackets.
In all seriousness, I've broken down every part of this Guide via the Table of Contents below. Read what you will.
Why Use Synthetic Insulation?
"Why" is the most common question asked of the synthetic insulated jacket gear category. Why choose this when you could have a down jacket, or a fleece, or a combination of these jackets and other layers to keep you warm? What's the point, besides the outdoor industry making another buck off you?
There are many answers.
Synthetic Insulated Jackets Have Better Warmth When Damp
First and foremost: synthetic insulated jackets perform in wet conditions. Down jackets don't. For those in the Pacific Northwest, high-elevation mountain towns, or any near-Arctic area, down jackets take a lot of mussing and fussing to maintain their warmth properties. This can be a hassle to downright dangerous, as many people see down jackets as the ultimate midlayer for warmth. If that layer's warmth becomes useless, you might get too cold, and getting too cold could mean death. (Really, though.) Backpackers are prepared people if anything, and being cold is basically a sin because it means you haven't prepared for your climate.
The structure of down fibers lose a significant amount of loft when wet. Synthetic insulated jackets were specifically engineered to combat this issue and their fibers retain more loft and warmth when wet. (Note that I wrote "more", not "all" or "total" or "stupendous". Nothing is truly warm when soaked.)
Warmth also has to do with how long it takes for your clothes to get dry once wet. Synthetic fibers dry out significantly faster than down, so after a rain storm you'll have your warm layer back rather quickly. Of course, in dry environments down jackets will consistently be warmer than synthetics.
Maintaining a Synthetic Jacket Is Easier Than a Down Jacket
Beyond survivability and warmth, there is the maintenance of a jacket. In general, down products take foresight and attention to detail to maintain. A down jacket has delicate plumes that collect oil, need to be washed at specific intervals in specific ways, and then dried correctly, or they might not work as advertised.
Some gearheads will scoff at this, noting it as a minor inconvenience for a superior product. Down jackets (and sleeping bags) will retain their loft longer than synthetics if cared for properly, so this is really about your effort level.
I'd argue that most casual backpackers want to be able to throw their dirty gear into the washer and dryer when they get home from a trip, rather than begin the many-stage process of cleaning down. Most synthetic insulated jackets can be tossed into the wash/dry cycle alone and come out the other side good as new. (Though, to be fair, wash them on delicate, dry them on low heat, and follow the tag's instructions.)
Are Synthetic Jackets Less Expensive Than Down Jackets?
When synthetic fabrics first came out their price was roughly equal to down jackets, but time and engineering have caught up. In general, you can get a high-end synthetic insulated jacket for less money than a high-end down jacket. The mid-range synthetic insulated jackets are slightly less expensive than their down counterparts.
In an odd twist, there aren't many truly cheap synthetic insulated jackets, at least not from outdoor brands you're familiar with. This is because synthetic insulation is a specific patented substance manufactured by a few companies who control the overall costs. Down, on the other hand, is a byproduct of the meat industry, and can be collected in a number of ways, only some of which are humane. You can pay much less for a cheap down jacket, but the quality of down will not be very high and the methods by which the down was procured might disgust you.
Keep in mind that price is relative, so still expect to shell out $100-$200 on a solid synthetic insulated jacket from a major outdoor brand.
Should I Go Synthetic to Avoid Down Allergies?
Allergies are more and more common these days, with down allergy among them. For those who are sensitive to down (or just worried about it), synthetic insulation offers an allergy-free solution.
That said, most of the research done on down allergies shows that people are actually allergic to the mites that live inside down (a terrible and disgusting topic in its own right!), and not down plumes themselves. If you're not quite sure, consider grabbing a piece of down equipment with a higher fill-power, something above 600, and spend a week or so in it. If you're still allergic, you can return it. If not, you're allergic to the mites.
Synthetic Jackets Don't Harm Animals
Finally, there's the animal rights element of this whole thing. Synthetic insulated jackets do not harm geese or ducks, while down jackets technically do. Keep in mind that all down, even the super high-end down, is a byproduct of the food industry. Many outdoor companies ensure that their down does not come from live animals, nor are they overfed, kept in terrible living conditions, etc. But they do come from animals, so if you have beef with that notion (pun intended), synthetics are an alternative. More on this in our Down Jacket Guide.
Conversely, you might care for the environment. Synthetic fibers do not grow on trees, and are not endlessly sustainable. When you begin to nitpick, you find that mass clothing production on the whole does not have the planet or its inhabitant's interests at heart — unless you're human, of course.
The History of Synthetic Insulated Jackets
With the why of synthetic insulated jackets generally addressed, let's talk history.
Outdoor gear has had a few key moments of innovation and development. Stuffing down into quilted baffles was one, and securing a solid frame onto compartments for extended transport was another. But the industry pivoted in an undeniable, revolutionary way in the 1960's and '70's when companies began to experiment with plastics.
It wasn't all at once, but in a roughly 20-year span entirely new product categories were developed. The fleece jacket, the breathable rain jacket, and the synthetic insulated jacket were all created. Plastics, or synthetic materials, totally changed the gear industry.
The synthetic insulated jacket has a couple origin stories, but all of them stem from the U.S. military. The military decided (around 1970) to experiment with polyester over wool fabric in their jackets to help keep gear lightweight but effective in wet conditions. MSR, a fledgling outdoor company, debuted the Mountain Parka in 1973, copying the polyester move. (Yes, the same MSR now known for backpacking stoves and water filters.) This was technically the first synthetic insulated jacket, and came equipped with pit zips, another innovation. The insulation was called PolarGuard, and lasted until the mid-2000's.
Other outdoor companies didn't jump on the synthetic insulation bandwagon until the mid-80's, when the military requested fabric another company to create a synthetic alternative to down for water resistance. The specificity of this request resulted in a patent, which states:
"The invention relates to a synthetic thermal insulator made of fibrous components and more particularly relates to such a material which is a replacement for down."
If you continue to read the patent you'll see a surprisingly apt description of down sleeping bags and garments, including their benefits to humanity and inherent downfalls, thus creating a need for synthetic alternatives. The result of this patent was PrimaLoft, which is now a company in its own right, and the most common synthetic insulation on the market.
What Is Synthetic Insulation?
Since the patenting of PrimaLoft, synthetic insulated jackets have hit the outdoor market like a torrential storm. Despite all the models and makes of jackets, the actual insulation in those jackets still comes from a relatively small number of companies. Before I go into each company and its products, it's important to understand what synthetic insulation is, because the more you know…well, the more you know.
Synthetic insulation is mostly comprised of polyester and is created in short-staple fibers or long-staple fibers. Synthetic insulated jackets typically use short-staple fibers because they mimic down better, are more compressible, and keep you warmer initially. These fibers are rolled into dense mats, also called batts, are pressed into bunches and stuffed into jackets.
Given that synthetic insulation was developed to mimic down, you might imagine that the structure of synthetic insulation looks exactly like down. In practice, not so much. The key aspect of down that synthetic insulation copies is the method of retaining heat. Manufacturers do this by creating air pockets within the synthetic filaments (fibers), which your body heat fills. The heat is trapped by the fibers and keeps you warm. This is also how down functions.
Down, however, is balled into clusters. Synthetic insulation for the most part consists of many short-staple fibers pressed together, not in a cluster shape. These batts do mimic down, but over time become less compressible and warm, two of the long-term flaws of synthetic insulation.
The Different Types of Synthetic Insulation
The wonderful world of capitalism has taken the initial government-funded patent for synthetic insulation and allowed multiple companies to create something similar. There aren't many producers of synthetic insulation, but there are enough that a short list is necessary.
PrimaLoft
PrimaLoft is the result of the original military patent for synthetic insulation and is now its own company. It produces high-end synthetic insulation that is used by many outdoor companies. It's also known for environmentally-conscious innovation, and was the first synthetic insulation manufacturer to be approved by bluesign, an environmental health and safety standard for textile manufacturing.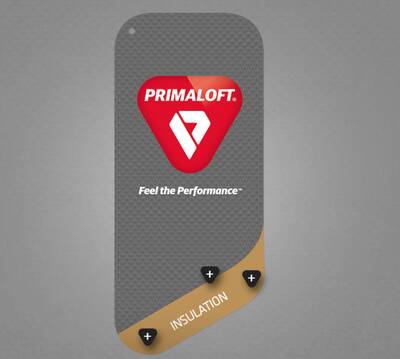 It has three main lines of insulation: Gold, Silver, and Black. Keep in mind that PrimaLoft and other companies try to fill jackets with specific types of insulation for a specific purpose. Gold is the premier line for PrimaLoft and the synthetic insulation market. There are nine variations of the Gold line at the time of writing, and variations of all the other lines too. Silver is often used for more active jackets, while Black is made entirely from post-consumer recycled materials.
PrimaLoft is the industry leader when it comes to synthetic insulated jackets and is known best for warmth and comfort.
Thermoball
The Thermoball technology is technically under the PrimaLoft umbrella, but I'm putting it as its own category because at this time only The North Face jacket line is using it. It's important because it denotes a new type of synthetic insulation, one that does mimic down in every way.
Thermoball insulation is created in clusters, just like down, and is supposed to provide 10% more warmth than other synthetic insulation methods. It's comparable to 600-fill down, too…but that's all marketing speak. Actual users will find it to be fairly similar to other PrimaLoft offerings, if a bit more puffy.
It's important because it marks a technological step forward, one that indicates synthetic insulation is continuing to try to get closer to down, and possibly succeeding in the near future.
CoreLoft
CoreLoft is Arc'teryx's proprietary insulation, and is used in most of their synthetic lineup. It's warm, but not quite as warm as PrimaLoft Gold. It tends to strike a solid balance of warmth, breathability, and comfort.
Climashield

Climashield is another synthetic insulation manufacturer, but it's mostly used in sleeping bags. This is due to the long-staple fibers the company uses. These are basically long interwoven strands of material, rather than short-staple, which are small chunks pressed together. Climashield insulation is not as compressible due to to this, and not nearly as "puffy" feeling. This is perfect for sleeping bags, but not as luxurious-feeling for jackets.
Climashield ended up taking over PolarGuard, which was the first synthetic insulation available.
Polartec Alpha
Polartec is best known as the pioneer of fleece fabrics, but it dabbles in the art of synthetic insulation as well. Their line is called Alpha (or Alpha Direct) and was also developed out of a military request. In this case, the military wanted a synthetic insulation that utilized down's weight and warmth properties, but also breathed better during intense activity. In short, they got very picky.

Polartec Alpha delivers, and is one of the more breathable synthetic insulators on the market. It's used in active cold-wear; think icy explorers hauling 40-pound packs up to basecamp or Pacific Northwest peak baggers.
Alpha is not used in many jackets, but those that have it are for a very specific group of backpackers.
FullRange Insulation
FullRange is a proprietary insulation used by Patagonia, specifically for the Nano-Air series of jackets. It was built with breathability in mind, and is arguably the most breathable synthetic fabric on the market (everything is arguable!). Industry-leading, this insulation has created a new sub-genre within the synthetic insulation field which is all about breathability and rapid drying.
Polartec Alpha and FullRange insulation are fierce competitors, often used in the priciest synthetic insulated jackets you can find.
What's the Outer Material on Synthetic Insulated Jackets?
With all the talk of the insulation in synthetic insulated jackets, it's easy to forget that there other materials in the jacket too — you aren't just walking around with a big sheet of insulation wrapped around you.
The outer material on synthetic jackets is very similar to down jackets in the outdoor industry. It usually consists of polyester, often is very thin, and is treated to be water resistant and wind resistant, yet breathable and soft.
Breathability is impacted almost as much by the outer material as by the insulation. Even if the insulation allows hot air to escape the first layer, the outer material may block it from getting completely out. Jackets with FullRange and Polartec Alpha typically have a much different outer material than those with PrimaLoft Gold or CoreLoft, and therefore breathe much better.
Are Stretchy Panels Necessary?
The synthetic insulated jackets that are more geared to active pursuits tend to have different fabric in different places. Some just have material that is lighter, thinner, or less durable, while others have full panels of stretchy mesh.
This almost always has to do with a reduction of weight, increase in mobility, and greater breathability. Whether or not you need these stretchy panels really depends on what you want the jacket for: warmth or breathability?
Durable Water Resistance (DWR) on Synthetic Insulated Jackets
The last bit of coating on most synthetic insulated jackets is Durable Water Repellent (DWR). This is a solution used heavily in rain jackets to make water bead up and roll away. It's used in synthetic insulated jackets (and down jackets) in light doses for very minor water resistance.
In general these jackets will not withstand more than thirty minutes in dense fog, so don't expect them to.
How to Layer Synthetic Insulated Jackets
The concept of layering is a long-standing backpacking tradition. You need to have a functional, versatile layering system to stay on top of weather changes, especially when an unexpected storm rolls through.
You'll need baselayers, midlayers, and outer layers (or shells) to do this effectively.
The synthetic insulated jacket is a midlayer that transitions easily to an outer layer if it's not raining or incredibly windy. These jackets offer a decent amount of warmth when worn over a baselayer. When the temperature hovers between 40-60 degrees Fahrenheit, you can expect to wear them pretty comfortably as an outer layer. If it gets colder, or if the wind and rain kick up, you'll want to layer it under a shell.
The real difference between the synthetic insulated jacket and other midlayers, like fleece or down jackets, is that it does exceptionally well at keeping you very warm even if it's damp and even if you're sweating bullets. Fleece typically works well for this too, but it's just not as warm as a synthetic insulated jacket. Down jackets are warm, but terrible when you start to sweat or when it's humid outside.
Those of you who work up an active sweat in freezing conditions will appreciate the advancements made in synthetic insulated jackets, specifically those that use Polartec Alpha and FullRange insulation. These strike the balance of warmth during highly-active pursuits, all without getting that sticky, clammy, post-chilled feeling nobody wants.
How Should a Synthetic Insulated Jacket Fit?
One aspect of the layering system is how a jacket fits you. This is true with any piece of clothing, but it's worth thinking about when making a purchase. Most synthetic insulated jackets are made to be a midlayer in cool environments, so the sizing is a trim or "athletic" fit. They will hug your body and allow a rain jacket (or even another, larger jacket) to be layered over.
On the other hand, they won't be so tight that you can't wear a long-sleeve baselayer or even a thin fleece underneath.
A few synthetic insulated jackets are truly massive puffies, and should be considered outer layers. These have a larger fit, and will be harder to put under something.
Think about how you like to layer, your level of activity, and therefore how you want your jacket to fit.
Synthetic Jacket Features
There are features that make up a jacket that have nothing (or very little) to do with the insulation. These are functional, practical, and rife with personal preferences. Below are the most important ones (and what they mean) for synthetic insulated jackets.
What Are Baffles?
I love a good baffle. For those scratching your heads, a baffle refers to the pattern used to secure the insulation inside a jacket. Jackets (down or synthetic) tend to have horizontal baffles, either thin or thick, and square baffles. A few models have triangular baffles, which are unique and look a little different.
Baffles make the coat look a certain way, so if your jacket is a fashion statement (who am I kidding it usually is!), you might have a preference. Long, evenly spaced horizontal baffles are the most common, but they also look most like the infamous Michelan Man, which means companies have struggled to produce jackets that look better but still insulate effectively.
The real aspect of baffles that should matter to you is warmth. Baffles keep the insulation in place, and therefore keep you warm. If the baffles are sewn incorrectly the insulation will slide around and clump, creating cold spots and an uncomfortable hike.
Should Your Synthetic Insulated Jacket Have a Hood?
The largest choice you'll make when selecting synthetic insulated jackets is whether or not it has a hood. This is, first and foremost, a personal preference. Do you like hoods? Do you use them? I personally get jackets with hoods because it seems like a small weight penalty for the warmth and ease of use it provides. I also have cold ears.
Most of the jackets we recommend on this site have hoods, but are also made without hoods. Think about your layering system here, and if you plan to bring a beanie or cap for your head and ears.
One final consideration on the hood front: synthetic insulated jackets are meant primarily for cold, wet weather, and you'll often wear an external shell for rain or mist. Do you want a synthetic insulated hood right next to your rain jacket's hood?
What Kind of Pockets Are Important?
Everyone's favorite feature: pockets! Most synthetic insulated jackets have at least two pockets for your hands. These should zip, and it's best when they have insulation packed around them and a soft material inside. Many models also have a chest zip (internal or external) for extra storage.
You want to make sure your pockets are set at a comfortable height for you, warm up your hands, and close fully when not in use.
The chest zip is often the pocket where you can store the coat. You stuff it in to create a small, compressed ball. This feature  is only on higher end jackets (and those dialed in to be lightweight), and is handy when backpacking or climbing.
Making Sure the Zippers Work
A zipper can really make or break a jacket. It can make or break pretty much anything, because a broken zipper is just about the most annoying thing ever. Snagging zippers are pretty rough too.
YKK is the standard for outdoor industry zippers (and many other industries), and most of the synthetic insulated jackets we recommend use them. In short you want small teeth, an easy pull, and no snagging.
Some highly-breathable models of synthetic insulated jackets have two-way zippers, which means there are actually two zipper pulls down the front of the jacket. This may seem confusing, but it's useful! It allows you to keep a very specific part of the jacket zipped up (like the belly-button to the collar bone), while leaving the top and bottom of the coat open for breathability.
Are Hem Cinches Necessary?
A small feature, but one that's worth noting, is the hem cinch. These are elastic bands usually found in the hood and waist of a jacket that, when pulled tight, trap in warmth. This can be immensely useful in extreme cold, as it keeps in all the warmth your body is working hard to produce.
You'll want to look for high-quality toggles, because they tend to break easily (and first). Durable plastic and an easy-to-use spring action are what to look for.
Backpacker Types
With the full scope of synthetic insulated jackets now resting firmly in your mind, it's time to talk about why we chose certain types of jackets for certain Backpacker Types.
The Wilderness Backpacker looking for a synthetic insulated jacket is primarily concerned with weight, warmth for that weight, and the ability to breathe in critical situations. Quality features like hem adjustments, easy zippers, and mesh panels for breathability are important. These jackets are worn as both a midlayer and outer layer — you'll wear them while hiking in the cold and around camp at the end of the day.
Our Picks reflect the above mentality with jackets that are meant for solid insulation in active environments.
The synthetic insulated jackets for the Ultralight Backpacker are very similar to the Wilderness Backpacker with one key difference: weight. However, most synthetic insulated jackets weigh the same, and the ones we recommend for Wilderness Backpacker are already very lightweight. It's hard to go lighter with synthetic insulation (it just weighs what it weighs), which is why down jackets are a more common choice for the Ultralight Backpacker. However, for those concerned about damp conditions, a synthetic insulated jacket is a necessity.
Our Picks reflect these needs, with our Budget Option being significantly lighter than the others, but also much less warm.
The Day Hiker's synthetic insulated jackets follow in the footsteps of the Wilderness and Ultralight Backpackers. Again, these picks all strive for warmth and breathability when damp, but the Day Hiker places even higher importance on breathability during highly-active situations.
The two newest insulations — FullRange and Polartec Alpha — get the job done, but come with a very high cost. As such, the Day Hiker's Premium Picks are a standout, and should be considered if breathability is of utmost importance.
Car Campers are very different from Wilderness and Ultralight Backpackers. They aren't concerned with breathability, but warmth and ability to dry quickly when wet are critical. The main differences here are puffiness (i.e., amount of insulation) and extreme warmth.
We recommend much warmer and bulkier jackets for the Car Camper, because comfort reigns king (or queen!).
The Urban Hiker needs a jacket that is stylish, warm, and can function decently as an outer layer or midlayer — a jacket of all trades with a solid heap of style. Color options are important, too, as you'll want to fit in with crowds at the bar, the park, or the office. Breathability is not as important, because you probably won't be hiking massive hills across town.
We found the offerings for the Car Camper also work very well for Urban Hiker. The combination of high warmth coincided with style and many color options.
Affiliate Policy: We support the hours that go into our reviews, testing, and guides through affiliate commissions on purchases made through links in this article.