Black Diamond Sprinter Overview
The Black Diamond Sprinter headlamp is stylish and powerful. Whether you're blasting down a technical trail at night and need to see every pebble in your path, or running through city streets after the sun has gone down and just want be seen in traffic, the Sprinter has you covered.
With its exceptionally bright beam, USB rechargeable battery, dimming capability, and flashing red taillight option, you'll surely be able to see and be seen in all the ways you desire. These features and quality craftsmanship from Black Diamond make the Sprinter headlamp our Premium Pick for the Day Hiker and Urban Hiker.
Black Diamond Sprinter Star Rating
Comfort

Durability

Brightness

Battery Life
Summary
The Black Diamond Sprinter is the ideal headlamp for runners, whether it's pavement or trail. With a bright white spot beam in the front and a highly visible blinking or solid red in the back, the Sprinter makes sure you are visible, and the path is visible for you.
That is coupled with an over-the-head design that keeps the headlamp from moving around, and a rechargeable lithium ion battery that lasts 4 hours on bright.
Spelunk through the world of headlamps with our comprehensive guide, and see the full Black Diamond Sprinter review below.
Black Diamond Sprinter Specifications
Feature Type
Feature Specs
What This Means
Max Lumens (Light Output)*
200
More than enough light to see during a run.
Max Beam Distance*

High: 50 M (164 feet)

Low: 2 M (6.56 feet)

Not the farthest reaching beam, but a solid even light that illuminates your path.
Max Battery Time*

High: 4 hours

Medium: 24 hours

Low: 42 hours

Most runs will last around 4 hours, there and back. The Sprinter is designed to output at nearly full capacity for this time.
Beam Type(s)
Spot, Red Taillight
A wide, even spot light up front. The taillight on back has two strobe settings and a solid setting. Fairly bright, too.
Modes
PowerTap, Dimmable, Strobe
Control the brightness of white and red light independently, front light has PowerTap for automatic adjustments, and taillight strobes.
Red or Green Light?
Red
A red taillight for clear visibility while you run.
Water Resistance
IPX4
"Stormproof" really means it can resist water being sprayed at it from any angle. So, rain-proof. Don't submerge this headlamp.
Tilt
Yes
Clicks into pre-set tilts with one hand. Easy to operate.
Lock Mode?
Yes
Hold the main button down for 4 seconds while headlamp is off. It will flash a smaller light and stay locked. Do the same to unlock.
Battery Type
Lithium Polymer Rechargeable via USB
A fancy battery that can't come out of its casing. Holds charge a long time.
Headband Type
3-Band
Fits over your head like a helmet for increased stability and comfort. Adjustable on each strap.
Weight
3.7 oz. (105 g)
Fairly lightweight, and with the extra strap you'll hardly feel it.
Manufacturer Warranty
3 Year Limited Warranty
Not the best warranty in the business, but decent for electronics.
Retail Cost
$79.95
A high price for a specialized piece of gear.
*Studies show that manufacturer claims on Max Lumens, Beam Distance, and Battery Time are inflated compared to traditional ANSI standards. Our listed specs are those of the manufacturer, which are typically accurate for the first 2-10 minutes of the headlamp's use with a full charge. While this is unfortunate, it is currently industry standard, which means most headlamps suffer from these inflated specs and wash across the board.
Gear Review of the Black Diamond Sprinter
Origins: Easing You In
In my late teenage years I got into nighttime trail-running and, beyond the shoes and correct outfit, I had to search for the perfect headlamp. Before then I walked at a slower pace under Los Angeles' light pollution, meaning I never really needed extra light to find the way on my usual trails.
However, once I caught the "need for speed" through mountain biking, I began venturing into the more remote sections of the Santa Monica Mountains. I needed to know what it'd be like to fly down the trails on foot at night. In those days bulky halogen headlamps were still mainstream — LED lights were just beginning to hit the market. It has been pretty incredible to watch the technology evolve over the past 15 years.
Last night I headed out on one of these epic trail jaunts, accompanied by the new Black Diamond Sprinter headlamp, one of the more advanced models of the LED breed.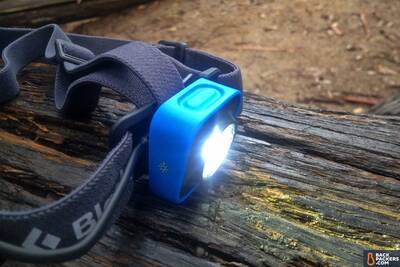 I parked in a neighborhood by a little-known trailhead located above a city named after a tree-swinging jungle man — yes, that's vague on purpose! — and unplugged my fully-charged Sprinter headlamp from the micro-USB cable by my gear-shift. Preferring not to draw attention from the neighbors, I kept the headlamp off until I disappeared completely among the sagebrush.
As I ascended the muddy, rutted out single track I paused to flip on the Sprinter headlamp, holding down the button for four seconds to disengage the locking mechanism. Setting it to high, a broad white beam blasted from between my eyes, illuminating a sphere of "daylight" through the blanket of moonless darkness that surrounded me. I adjusted the tilt of the beam downward and proceeded up the trail over the ridge line. I then descended deep into the blackness of a canopy-covered canyon. Hopping over a thin stream at the canyon bottom and dodging groping tentacles of poison oak, I then reemerged up the other side, well over an hour later, to the yipping calls of coyotes in the distance.
Surfacing along the ridge in the heart of the mountain range, I shut off the Sprinter and let my eyes readjust to the dark. I approached an ancient sandstone giant cavernously carved out by prehistoric tides and perched myself at the peak of this jagged cluster, like the bird-monarch who never landed here, but for who this place received its name. (It's a secret spot, if you know it I'll see you out there!)
I sat there, gulping down water from the bottle in my daypack. Then I dawned more layers (it was a chill winter's evening) and readjusted the elastic bands on the Sprinter headlamp to accommodate my beanie. Staying warm under the shelter of my jacket as the cool breeze whipped up the side of the boulder face I watched thin streaks of clouds roll by. Peering South I watched the glowing golden contour of the city coastline contrasted against the midnight simplicity of the vast Pacific Ocean.
Refreshed and rehydrated, I scrambled down the steep sandstone surface, back onto the main trail. I clicked the Sprinter beam back onto high, said a silent goodbye to my ancient rocky friend, and bolted back through the labyrinth of brush-lined trails — another 1.5 hours to the car.
Revelation: The Moment I Knew
In that exact moment, as I departed from my stony perch to begin by return journey back to the car, it hit me. Maybe it was the endorphins kicking in, or perhaps it was due to a slight drop in body temperature, but as I clicked the Sprinter back onto high and that white flare burst forth from between my eyes, animated, alter-ego visions of myself as Cyclops from the X-Men bubbled up.
As I sprinted along the trail the opening credits from my favorite childhood cartoon rung in my ears. Recharged by blissful recollections of boyhood, and empowered through the evocation of a dormant superhero from somewhere deep within, I picked up the pace. Almost as if I'd stepped through some kind of portal, time flew by, and I found myself winding back through the muddy sagebrush single track, approaching the fluorescent glow of streetlamps where my little white car waited patiently.
Thanks to the uncompromising visibility provided by the Black Diamond Sprinter headlamp I had successfully and sure-footedly broken a personal speed record for night-running this trail.
Digging Deeper
With so much cool tech integrated into the Black Diamond Sprinter Headlamp, I feel like a cyborg (and Cyclops) every time I strap it to my dome.
First off, this headlamp comes with two powerful lights joined by an electrical cable. The front white spot beam can be adjusted for brightness, and with the PowerTap touch-sensitive button on the side it can switch between any two programmed variations of your choice.
Speaking of buttons, the main top button where all the programming happens has a great tactile feel, and gives a very definitive "click" when pressed. It also has a built-in locking mechanism that can be engaged for storage purposes. This helps avoid battery drainage while in your backpack.
The second light on the back is a 3-bulbed red LED that enables a city runner to be seen from behind at night. Primarily a safety feature, this back light has 3 different modes: constant, quick strobe, and slow strobe. It can be used independently from the front light by engaging its own separate button, or it can be programmed to synchronize with the front light.
The back light is embedded into the main power source of the headlamp, which is a fixed battery that's rechargeable via the micro-USB port.
Just below the three red bulbs sits a tiny indicator light that will tell you about the battery life when unplugged and the charging status while plugged in. It utilizes varying colors and flashing sequences to relay this information, and makes decent sense after reading the instruction manual.
Comfort
The Sprinter sits beautifully upon my elegant crown. It's very well-balanced due to the rear battery mount and can be easily adjusted to fit any sized melon.
Durability
That thieving coyote finally released my captive headlamp from between his jaws when he saw that I had caught one of his hind legs in a vice grip between my teeth. As he scurried away shamefully I examined the headlamp for signs of damage. Thankfully, there were none, aside from a bit of saliva and the odor of dog breath…Really though, the Sprinter seems pretty tough. It has a solid plastic casing and high-quality bands, but we'll have to see how it holds up over time.
Brightness
At 200 lumens while on high, it felt eerily reminiscent of that time as a child when I peered at the sun for too long and saw spots for the next two days. That's a good thing, right?
Battery Life
Just as advertised, on a full charge the battery can last for just over four hours of continuous use while set to its brightest mode. It had more than enough juice for my big adventure, and still some to spare.
Style
Very retro, circa 1999, with battery pack on the back and elastic band right over the head. And man, that blue and charcoal color scheme matches perfectly with everything else I own. It's almost like they're marketing to me!
Grievances
It's an awesome headlamp overall, but there are three things I wish were different.
First, I'd prefer the rechargeable battery to be easily removable so that I could carry a spare while hiking and swap it out on the trail. The way it currently is, I'd have to bring a portable cell phone charger/battery bank and USB cable, and attach it while wearing if it ran out of juice. That's not practical at all..
Second, although it's advertised as "splashproof" and has an IPX4 rating, it's not quite as waterproof as some of the other headlamps I've owned. I'm sure it's fine against rain, but I wouldn't make the mistake of accidentally dropping it in a puddle.
Finally, I know there's a red light in the back and I'd just have to rotate the headlamp around to the front to make use of it for reading, but how I wish the Sprinter had another one built into the front alongside the white beam for easy reading. It would make it more versatile, rather than a fine-tooled runner's product.
Final Word
The Black Diamond Sprinter Headlamp is sleek, comfy, and so bright it may occasionally be mistaken for a Bowing 747 hurtling towards you.
Where to Buy Black Diamond Sprinter
We tested the most recent edition of the Black Diamond Sprinter, which is blue and charcoal and has a maximum of 200 lumens. There is only one model.
Compare Black Diamond Sprinter prices below.
Review Policy: We do not accept payments or gifts from brands and vendors, and strive to provide unbiased, independent advice. Brands typically provide review samples which we return, and in some cases we purchase the item so we can keep using it long after the review. Affiliate Policy: We support the hours that go into our reviews and testing through affiliate commissions on purchases made through links in this article. These don't effect the outcome of our reviews or selection of gear, as per our Review Policy.